Why You Should Make Your Own Salsa (With Recipe Included)
This Super Bowl, throw away the jar and chop up some veggies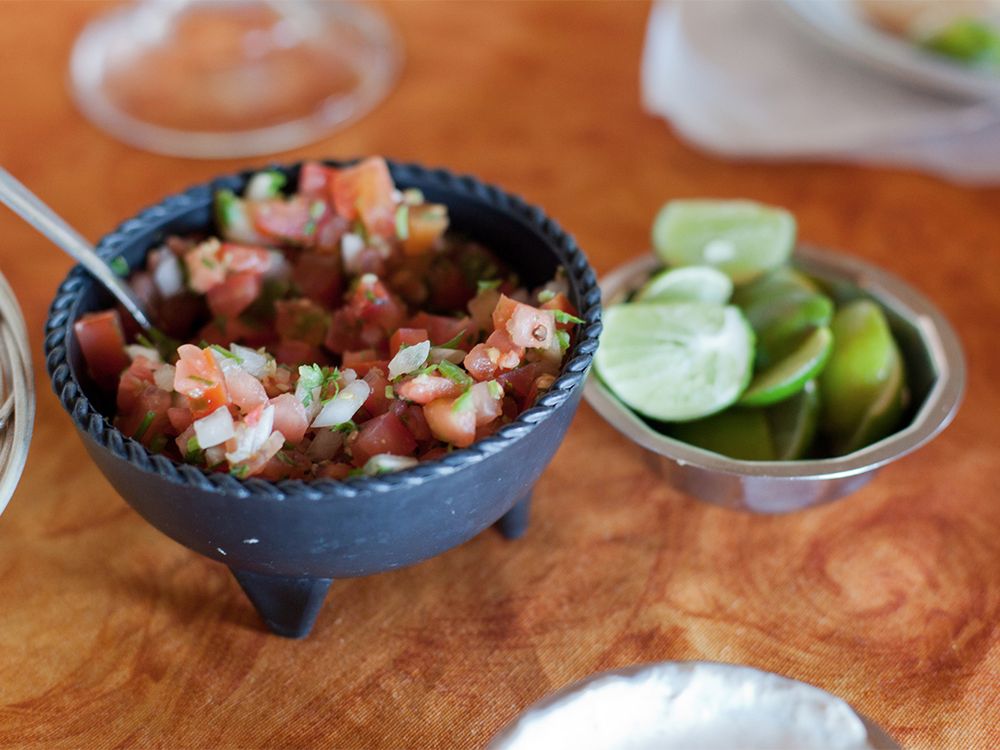 About 8.2 million pounds of tortilla chips are consumed each Super Bowl accompanied by bowls of various dipping options. And, the king of the dips is the sexy yet traditional salsa. Just the name salsa makes you want to have a party, and it wouldn't be one without it. But most likely the salsa that pops into mind is purchased in glass jars with more of a resemblance to a sugary can of tomato soup than the vegetables it is supposedly made of. For a real bowl of deliciousness this year, make your own salsa.
Salsa truly is a treasure in the culinary world as something that has basically been untouched for centuries. We can thank the Spanish missionary Bernadino de Sahagun for recording in detail the culinary traditions of the Aztecs. Of salsas he writes,
... sauces, hot sauces, fried [food], olla-cooked, juices, sauces of juices, shredded [food] with chile, with squash seeds, with tomatoes, with smoke chile, with hot chile, with yellow chile, with mild red chile sauce, yellow chile sauce, sauce of smoked chile, heated sauce, he sells toasted beans, cooked beans, mushroom sauce, sauce of small squash, sauce of large tomatoes, sauce of ordinary tomatoes, sauce of various kinds of sour herbs, avocado sauce.
Just as Sahagun discovered in the mid sixteenth century, the variety of salsas, as they are even more so today, are endless.
For tips on making a delicious pico de gallo, we spoke with Chef Pati Jinich, bestselling cookbook author of Pati's Mexican Table: The Secrets of Mexican Home Cooking and host of the cooking show "Pati's Mexican Table." (Full disclosure: I used to work for Pati in a previous job)
1. Understand your chiles
"Add the Jalapeño or Serrano gradually. It's easy to add on heat, but an incredible pain to try to reduce it: the only way is to make more Pico without the chile to tone the heat down."
Before choosing a chile, make sure you know your how much heat you can take. Take a look at a Scoville scale and find out the measurement of pungency your mouth can handle. If you are not sure, then start with less heat and gradually move up the scale. And in this case, the jalapeño is slightly more mild than the serrano.
2. The salt matters
"I like using coarse sea or kosher salt."
Salt definitely makes a difference in cooking and the type of salt does matter, especially for an unheated sauce like a pico. Table salt is not ideal for cooking as it usually has additives such as iodine that change the flavor. Many chefs prefer coarsely grained sea or kosher salt because it is simply pure salt and adds a greater burst of flavor.
3. Must use limes
"In pico de gallo, it's the limes, not the lemons, that rule."
For the juiciest and most flavorful limes, look for the small round ones that are often referred to in the US as key limes. They are also known as Mexican limes, West Indian limes or bartender's limes. If you see limes that look like green lemons, than they are not true limes. What is commonly mistaken as "limes" in the grocery store are the large fruited Bearss, Persian or Tahiti lime. These limes are actually a hybrid of the key lime and citron (the father of the lemon). They tend to have thicker skin, ears like the lemon and are actually less juicy. Ironically, when limes are ripe they turn yellow in color.
4. Let it be
"Let all the ingredients sit and macerate for at least 10 minutes before serving. That way their flavors will marry better. If you are not planning on serving it in the next two hours, cover and refrigerate, or the Pico will get a bit mushy."
Now that you have her tips, here is Pati's recipe:
Pico de Gallo Salsa
Serves: makes about 4 cups
Ingredients
1 pound ripe tomatoes, about 3 cups, halved, cored, seeded (optional) and chopped
1/2 cup white onion, finely chopped
1 jalapeño or serrano chile, finely chopped, or more to taste (seeding is optional)
1/2 cup cilantro, rinsed, drained, lower part of the stems removed, roughly chopped
2 to 3 tablespoons fresh lime juice, more or less to taste
2 tablespoons olive oil, optional
1 teaspoon kosher or sea salt, or more to taste
To Prepare
Place all of the ingredients in a bowl, toss well and serve.
The salsa can be prepared up to 12 hours ahead of time, covered and refrigerated. And it can be eaten with anything you want to try it with! 
Pico de gallo is just one of the many delicious options for making your own salsa. What is your favorite?