Dazzling Displays: 8th Annual Photo Contest Winners
Out of more than 50,000 photographs submitted, editors – and readers – picked seven showstoppers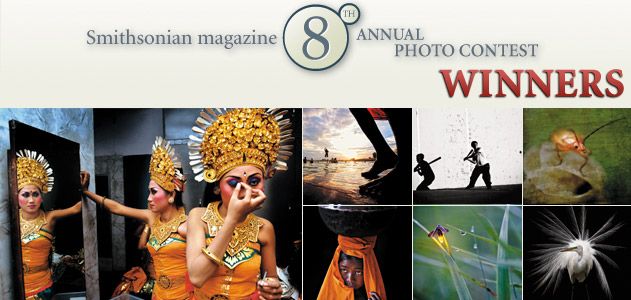 When a troupe of Indonesian dancers came to Bhopal, India, to perform a balletic adaptation of the Ramayana—the ancient Hindu epic detailing the worldly exploits of the hero Rama, freelance photojournalist Prakash Hatvalne, 54, was ready. "I reached the venue a little early," he recalls. "As I went into the greenroom and was talking to the [dancers], I saw some of them making final touches to their makeup and costumes." While one checked herself out in a mirror and another adjusted her eyelashes, Hatvalne pressed the shutter on his Nikon D50 digital camera. Smithsonian judges selected the resulting image as the grand-prize-winning photograph in our 8th annual photo contest. Given a choice between $2,600 in prize money and a vacation from Smithsonian Journeys, the Institution's travel arm, Hatvalne opted for a trip to the Grand Canyon. He and his wife, Anita, will be traveling from India to Arizona this summer.
This year's winning photographs invite us to appreciate spontaneous, everyday encounters: a firefly illuminating a blade of grass, a festival celebrant captured mid-leap, a young girl hiding her face in a headscarf or a batter sizing up a pitched baseball. "I wanted to capture a powerful moment, what one can only see hurtle by in a second, now frozen in time," Christopher Lucka says of his stopped action shot.
This year nearly 12,000 contestants from all over the world submitted more than 52,000 entries in five categories: Altered Images, Americana, the Natural World, People and Travel. In addition to the finalists and winners selected by Smithsonian's judges, online readers cast votes for their favorite photograph—an egret fanning its feathers. A gallery of all 50 finalist photographs can be found at Smithsonian.com/finalists. Our 9th photo contest is open for entries until December 1, 2011. C'mon, we want you to enter!
Grand Prize Winner »
Readers' Choice Winner »
Altered Images Winner »
Americana Winner »
The Natural World Winner »
People Winner »
Travel Winner »
Among other duties, editorial assistant Jesse Rhodes is responsible for our photo contest.