After two and a half years of renovation, the newly reopened galleries for modern and contemporary art at the Smithsonian American Art Museum seem appreciatively larger—with cleaner sight lines, taller white walls and double the available space for installing art in the historic third-floor wing.
"We are so lucky to be working with this space," says contemporary art curator Sarah Newman. "The sense you get immediately, when you walk in, is one of expansion."
More importantly, its content has expanded as well in its breadth of representation. Of the nearly 100 works in its initial reopening exhibition, "American Voices and Visions," 52 percent are by artists of color and 42 percent by women.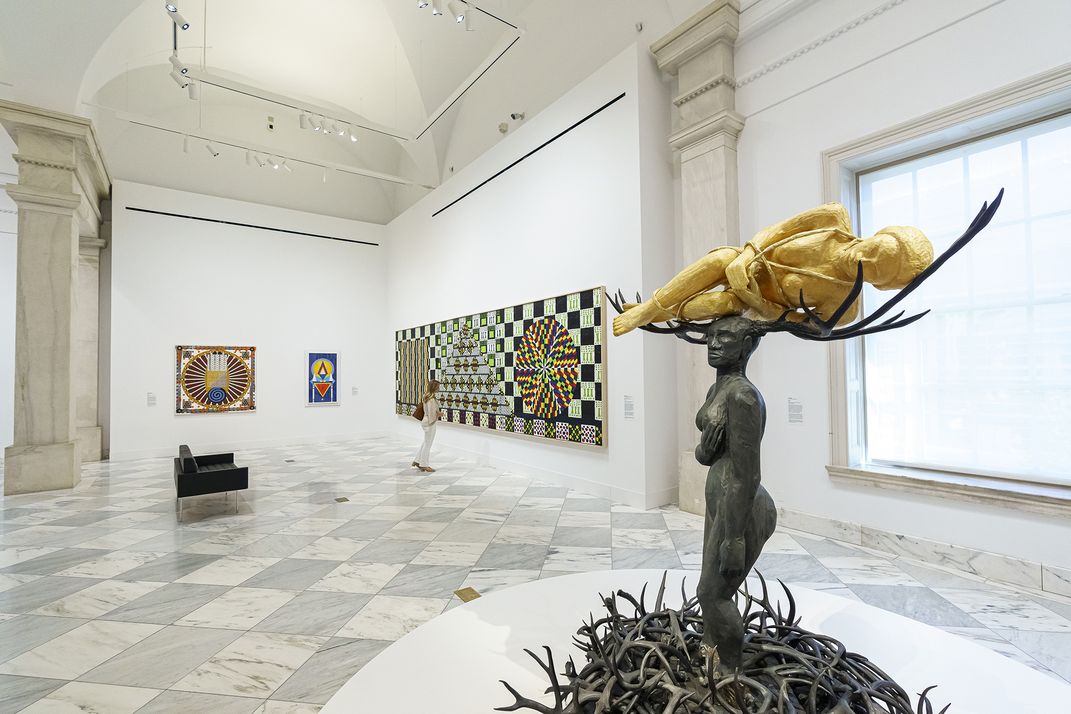 As such, the new exhibition, museum director Stephanie Stebich says, "is an important marker in revisiting dominant narratives to illuminate often-overlooked contributions, something that will echo through the installation of all our galleries in the coming years."
Newman says it's a broadening "of what art could be, of who could be an artist, or what art could be made of, of what it could mean, of who it could be made for."
The new approach comes through 42 recent additions to the museum collection on display from Asian American, Black, Indigenous, Latino, LGBTQ+ and female creators, as well as the museum's strong collections of craft and self-taught artists. The works of these artists are freely included among the better-known names in American contemporary art since 1945.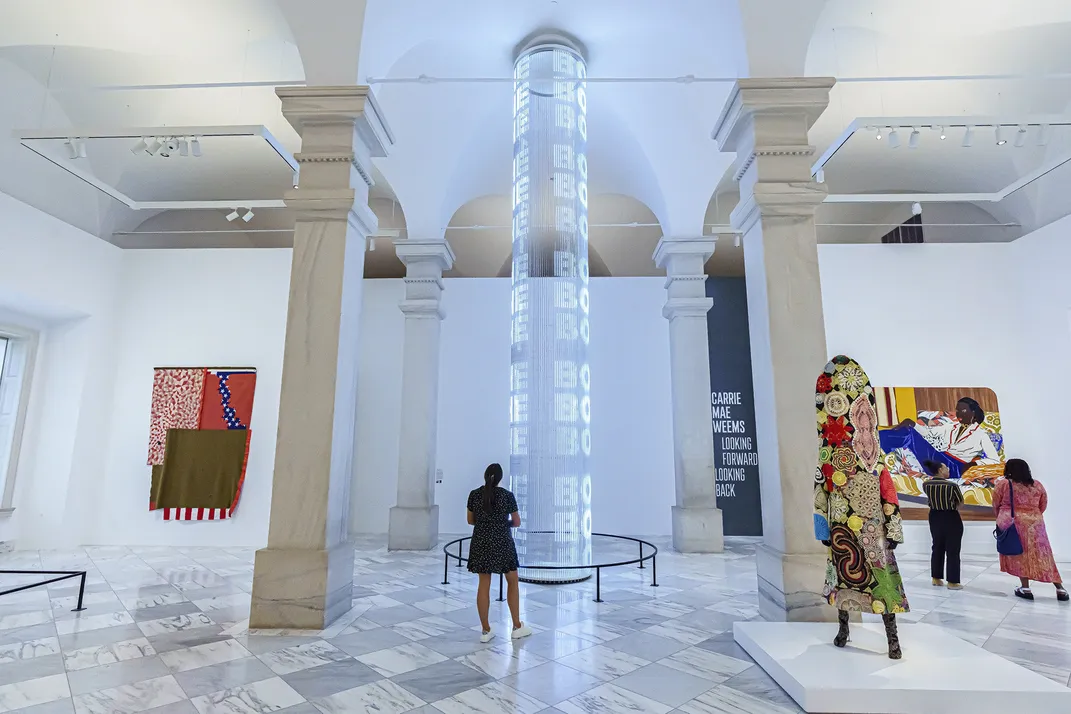 The artistic pillars of the museum's Lincoln Gallery—so named because the president had his second inaugural ball there—still stand. On one end is Alexander Calder's stabile Nenuphar, made especially for the museum's opening in 1968. On the other is Jenny Holzer's dazzling 2007 tower For SAAM, spelling out seven hours of nonstop aphorisms in white LED diodes. In between, Martin Puryear's 15-foot white pine Vessel (dated 1997-2002) invites interpretations.
"There's this sense of frisson between the contemporary works on view and the history of the space," Newman says. "And that's something that I hope is productive fission. It's something that I know a lot of artists are thinking about. Artists are constantly thinking about history—about what they can learn from history but also how they can comment on history, its injustices, its absences. So we've really tried to emphasize that as well."
One of the museum's most popular pieces, Nam June Paik's 1995 Electronic Superhighway: Continental U.S., Alaska, Hawaii—a pulsing map of the 50 states lined with 575 feet of multicolored neon tubing, with each state defined by flickering video from 336 televisions and 50 DVD players—is now accompanied by revolving examples from the museum's substantial archive of the artist's work.
That work and the archive form "the foundation for the media art initiative that started here in 2006-2007 and really has been a signature strength since then," says Saisha Grayson, the museum's curator of time-based media and digital art.
"One of the things that this reinstallation has allowed us to do," she says, "is to bring that story fully into the story of modern and contemporary art from the postwar period to today."
Reflecting the desire to put works in conversation with each other, Paik's electronic map is faced with two other contemporary map interpretations by Firelei Báez and Tiffany Chung. And nearby is another television set showing whatever happens to be on, in Gretchen Bender's 1989 TV Text & Image (Dream Nation).
Electronic Superhighway also helps herald another new aspect of the floor: a state-of-the-art gallery dedicated to time-based media, which includes film, video, audio and digital technologies that unfold over time.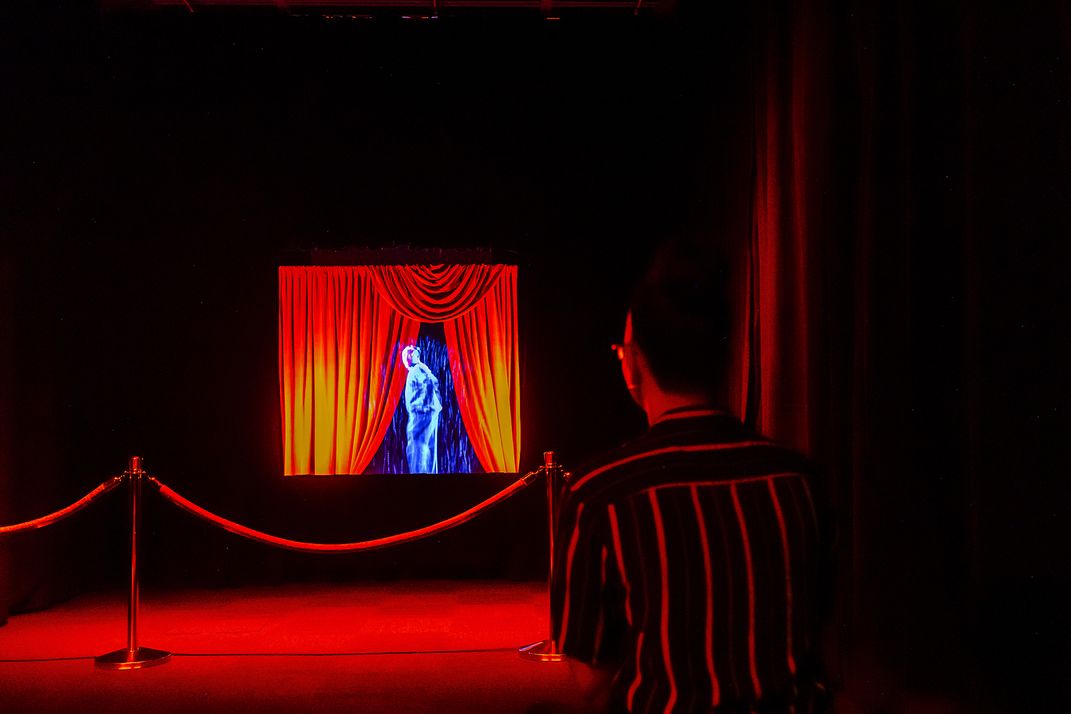 Its first presentation, "Carrie Mae Weems: Looking Forward, Looking Back," brings back the image of the president who once held his ball in the space. Weems' 2012 Lincoln, Lonnie and Me—A Story in 5 Parts is an 18-minute work done in the 19th-century Pepper's ghost effect, in which ghostly images seem to appear, in this case behind red velvet curtains and an actual velvet rope, through a trick of projection and reflection (here, on Mylar).
To the foreboding sounds of Blind Willie Johnson's slide guitar in "Dark Was the Night, Cold Was the Ground," images appear from smoke and snowflakes—a tap dancer, a boxer, the 16th president, a trickster, a Playboy Bunny—and we hear Weems intone the Gettysburg Address, repeating some of its phrases for emphasis ("it can never forget, it can never forget, it can never forget"). We also hear from photographer and activist Lonnie Graham ("There's no change that's going to occur") before the piece ends with alternative rock band Urge Overkill's appropriately ghostly version of Neil Diamond's "Girl, You'll Be a Woman Soon."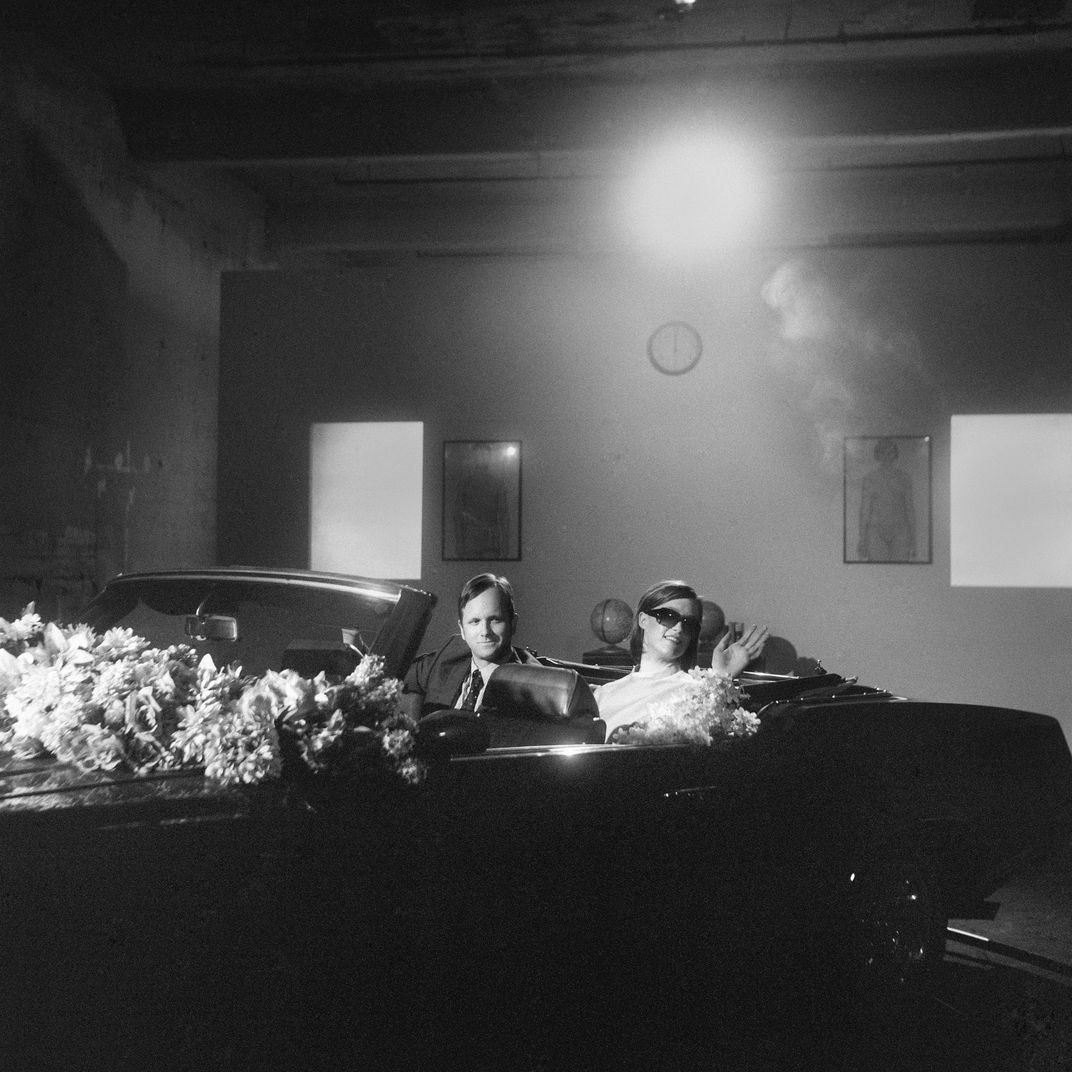 The video installation is accompanied by eight photographs from Weems' "Constructing History" series, which recreates pivotal moments of the 1960s. (Her restaging of the John F. Kennedy assassination also briefly appears in the video installation.) All of the works were recently acquired by the museum; the installation is the only major video work by Weems in a public collection in the Washington, D.C. area.
The dedicated space, which will be switched out each year, "is really an opportunity to make both sure the collection moves forward to where artists are going," Grayson says, "and then at the same time to make sure these big works get shown."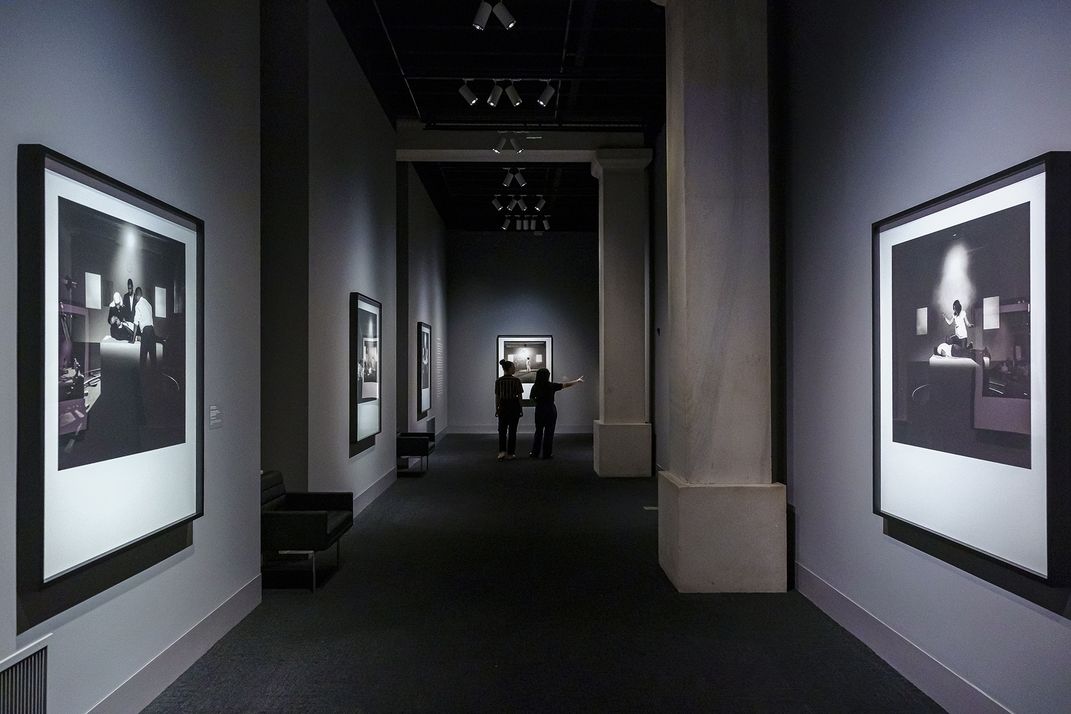 The enclosed space for time-based media contrasts with the other, more open spaces of the gallery, which nonetheless are roughly gathered in thematic groups. A room of Abstract Expressionism that includes some of the earliest works in the gallery from Willem de Kooning, Clyfford Still and Joan Mitchell is joined by under-recognized art from Oregon-born artist Claire Falkenstein and George Morrison, a member of the Grand Portage Band of Chippewa.
Abandoning traditional chronological organization, though, the next room looks at feminist art from the 1970s and expressions of identity.
The Washington Color School is represented with the recently conserved 20-foot-long Beta Upsilon from Morris Louis, on view for the first time in 35 years. It had to be carefully restored after a visitor left a pair of 31-inch graphite marks on its surface. It hangs again, alongside work from Sam Gilliam, Anne Truitt and Alma Thomas, the latter of whom is the subject of a separate exhibition on the museum's second floor.
"She is one of D.C.'s most well-known and beloved artists," says Melissa Ho, the museum's curator of 20th-century art. Thomas' three-panel 1976 Red Azaleas Singing and Dancing Rock and Roll Music, Ho says, "is one of her last works and also the largest of her career. It's part of a significant bequest that she left to the museum. Thanks to her generosity, we have the most extensive holdings of her paintings of any institution."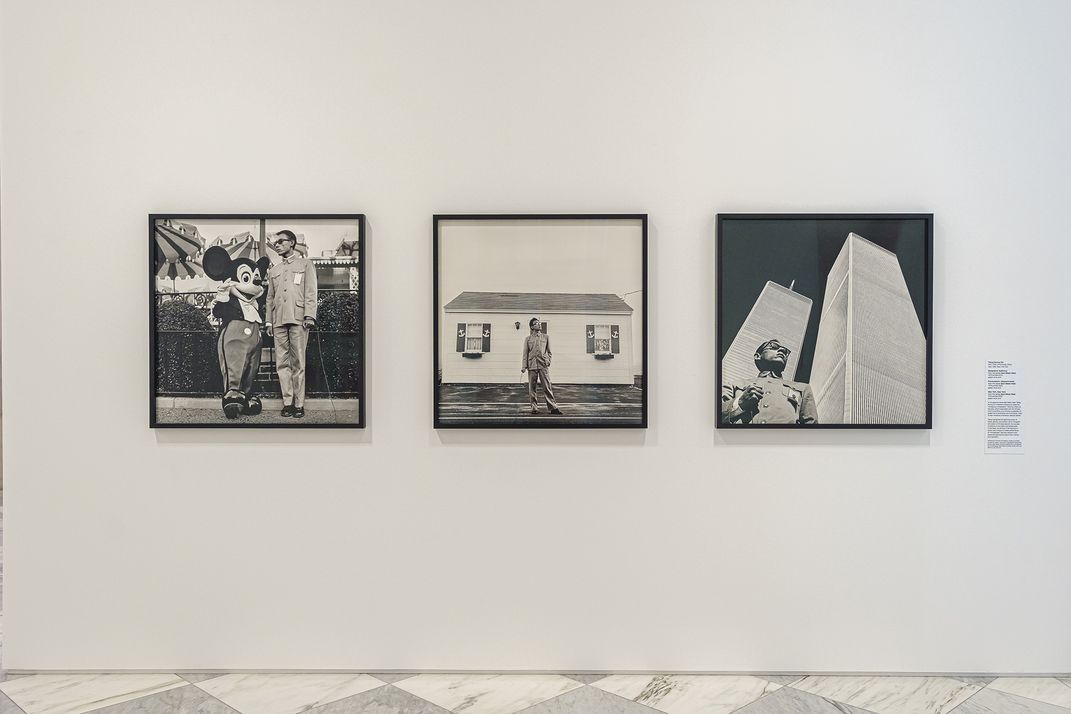 A new gallery dedicated to photography premieres with work from Diane Arbus, Tseng Kwong Chi and Ken Ohara. "We'll be switching out these works every six months," Newman says.
And newly acquired works by Báez, Chung, Tseng, Audrey Flack, Miguel Luciano, Martha Rosler, Alison Saar, Jeffrey Gibson and Kay WalkingStick are on display alongside holdings of Sean Scully, Louise Nevelson and Nick Cave.
The renovation of the third-floor modern and contemporary galleries is the first phase of a multiyear renewal and reinstallation of the museum's permanent collection that should be complete in 2026—the year of America's semiquincentennial.
"American Voices and Visions: Modern and Contemporary Art" is on view at the Smithsonian American Art Museum in Washington, D.C. "Carrie Mae Weems: Looking Forward, Looking Back" continues through July 7, 2024.