By the time Alma Thomas retired in 1960, she'd had a successful career. The first graduate of Howard University's fine art department, who went on to the Teachers College at Columbia University, she spent 35 years working at Shaw Junior High School, where she nurtured the next generation of artists. Throughout that time, she created her own paintings and traveled to Europe to study art during school vacations. Yet it wasn't until Thomas left the teaching profession at the age of 68 that she became a full-time artist. In 1972, when she was in her early 80s, she became the first African American woman to have a solo exhibition at the Whitney Museum in New York. In 2014, her painting Resurrection was the first artwork by an African American woman to be included in the White House collection, at the request of first lady Michelle Obama.
That painting is currently on view at the Smithsonian American Art Museum (SAAM) as part of the exhibition "Composing Color: Paintings by Alma Thomas." Melissa Ho, the curator of 20th-century art at SAAM, sees the show as an opportunity to celebrate Thomas as both a national and a local artist. Although she was born in Columbus, Georgia, in 1891, her family moved to Washington, D.C. in 1907 to escape the violent racism of the Deep South. Thomas became a beloved member of the Washington community. People still live today who had the opportunity to know her. Some of them were her relatives, and others were her students.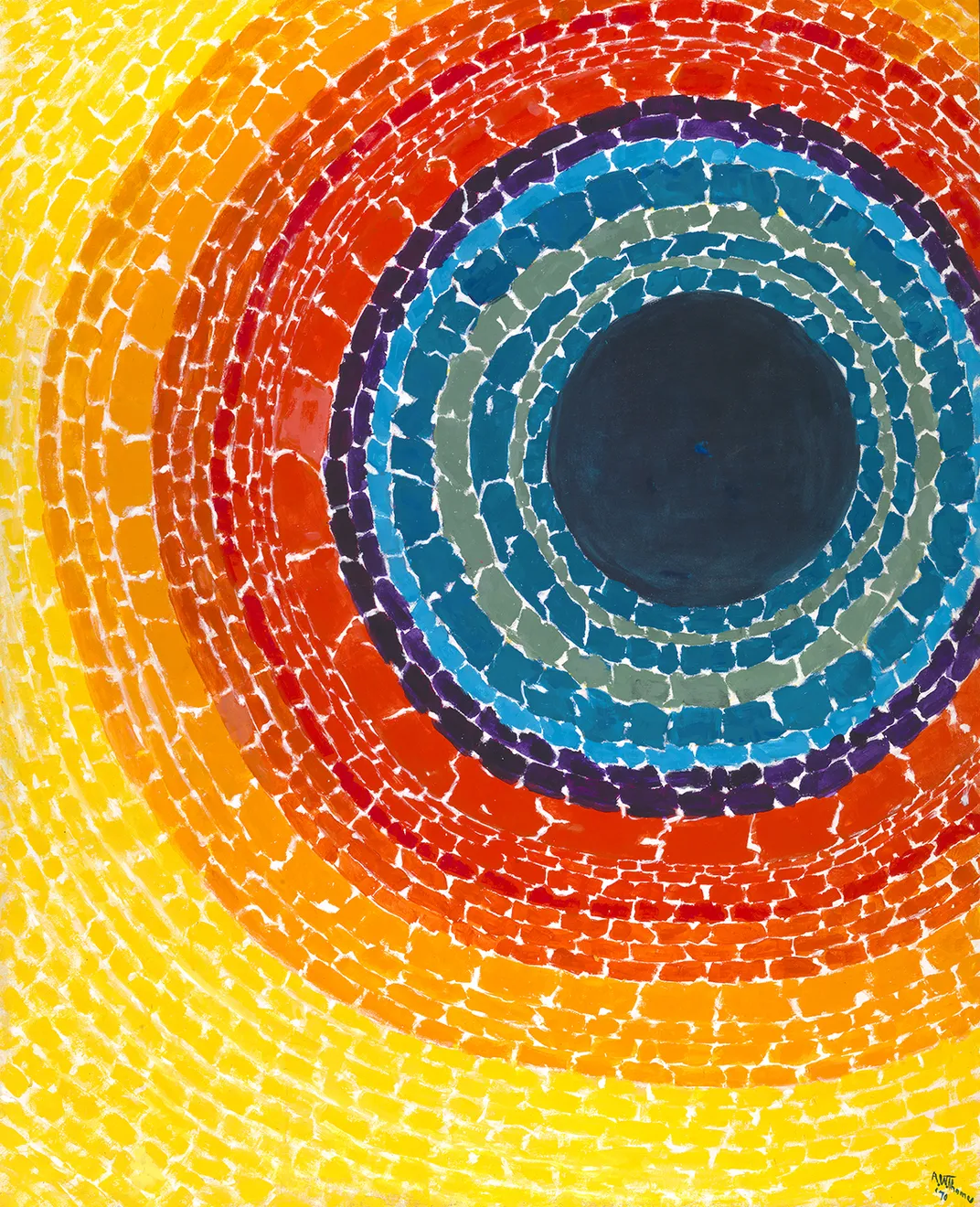 Thomas was a key figure in the community that congregated at Washington's Barnett-Aden Gallery, the first Black-owned gallery in the United States. In her early years, she painted landscapes, portraits and still lifes. Later on, she was influenced by painters like Morris Louis and Kenneth Noland who belonged to the Washington Color School, an Abstract Expressionist movement that flourished in the nation's capital from the 1950s to the 1970s. As Thomas moved away from representational art and experimented with abstract forms, she ultimately became a colorist like Henri Matisse. As Ho says, "It's remarkable, you know, the late-career explosion of creativity, where her whole artistic process transformed."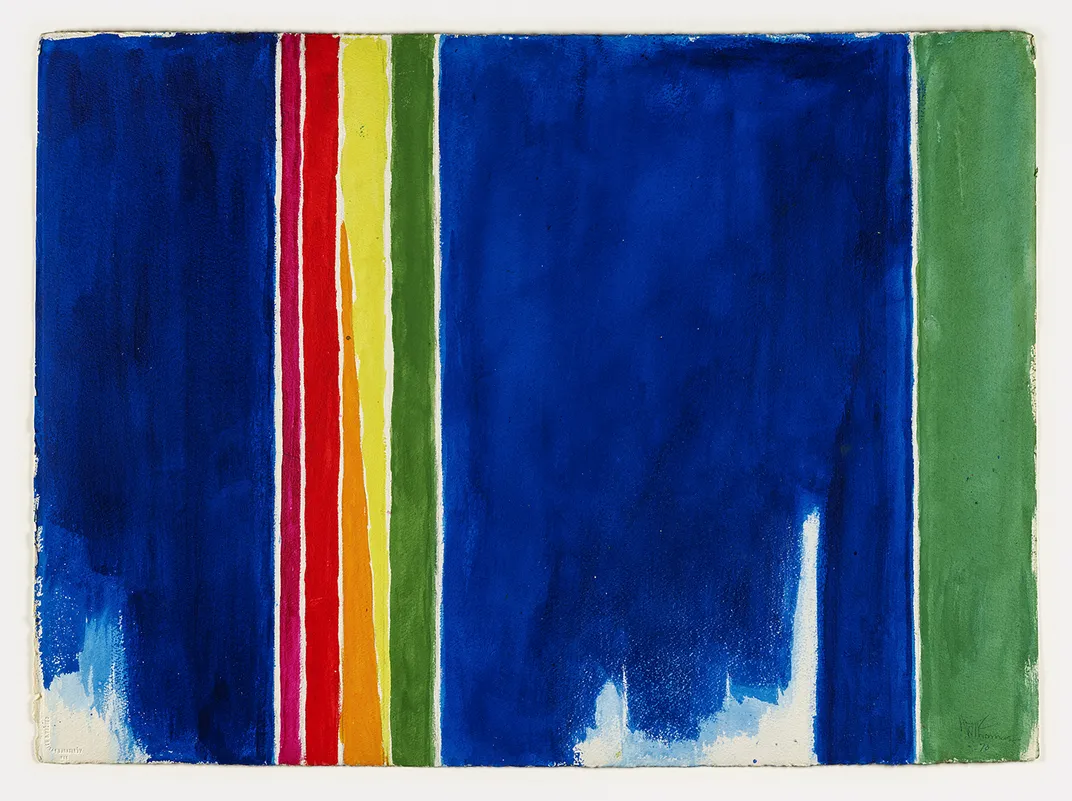 The SAAM exhibition includes Atmospheric Effects I, a multicolor abstract artwork, and Blast Off, a bright orange interpretation of a space shuttle launching. While Thomas painted both in 1970, the latter work more clearly exemplifies the style of tiled brushstrokes she is now known for. Blast Off is on loan from Smithsonian's National Air and Space Museum.
Thomas' interest in the space program was remarkable in itself. "This is a time when many Black artists and intellectuals are explicitly critical of the U.S. space program as being this distraction from social inequity at home and from the war in Vietnam," Ho says. But Thomas wanted to unite humankind. As she once put it, "Through color, I have sought to concentrate on beauty and happiness, rather than on man's inhumanity to man."
Ho says this beauty "could be as nearby as looking out her kitchen window at her backyard. But it also could be how she was really inspired by these images that were coming back from these breakthrough space missions where, for the first time, we're seeing images of our own planet from a distance. We're seeing the beauty and the fragility and the specialness of planet Earth, as a sphere, hanging in space, and some of her paintings really reflect that as well."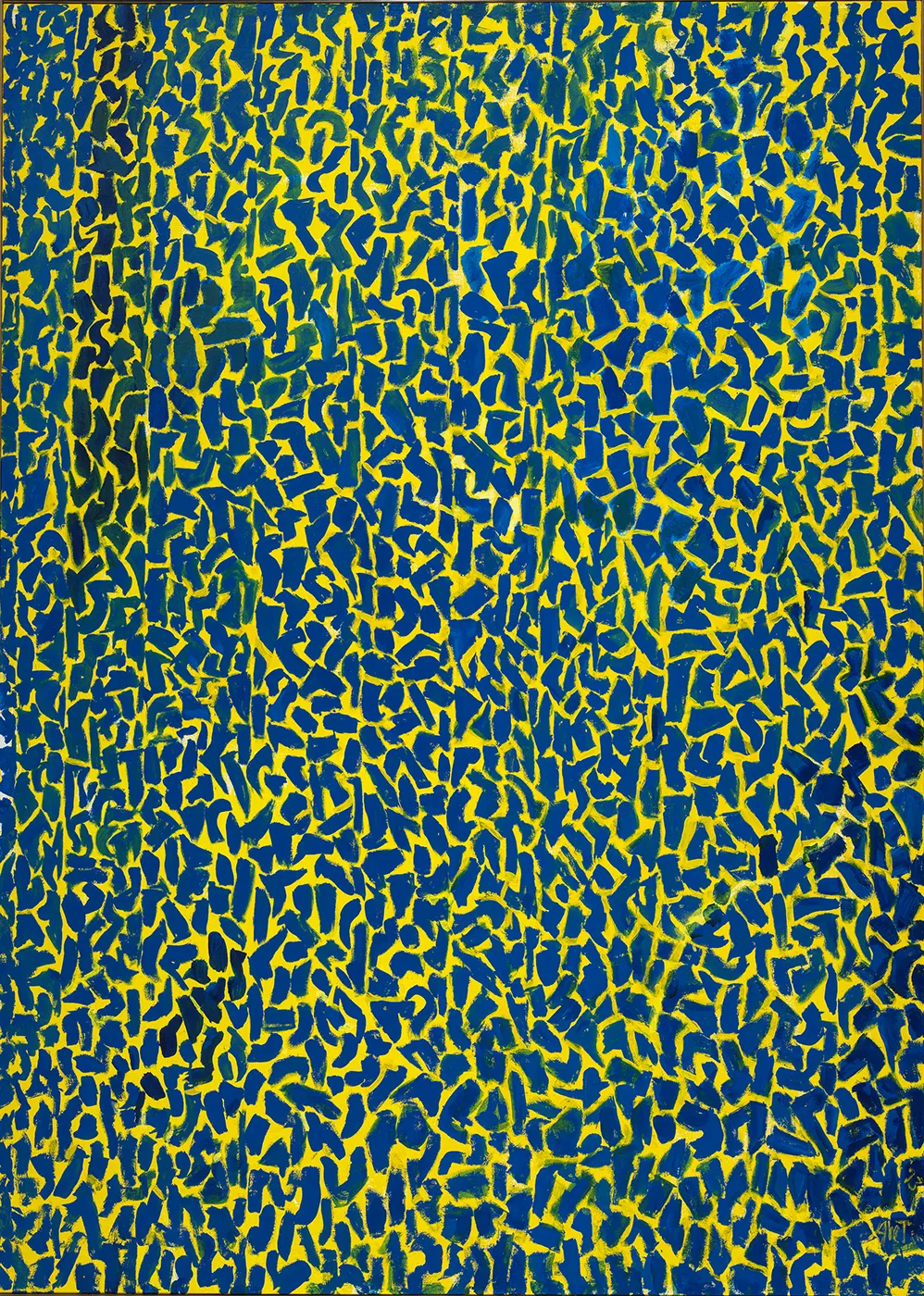 Thomas' space-oriented works fill the first gallery of the exhibition. The second gallery space features her work on earth and seasons, and the third focuses on nature and music. Some of the paintings reflect her personal connection to Washington, D.C. Aquatic Gardens allows audiences to see a beloved local site, Kenilworth Park and Aquatic Gardens, through Thomas' eyes. The royal blue and yellow abstract painting considers how plants and water interact in nature.
"One of the connecting elements is, of course, her use of brilliant color as an expressive tool," Ho says. "And that's why we use this title, 'Composing Color.' She's using her composition of color. She's creating meaning. She's creating emotions. She's triggering our senses."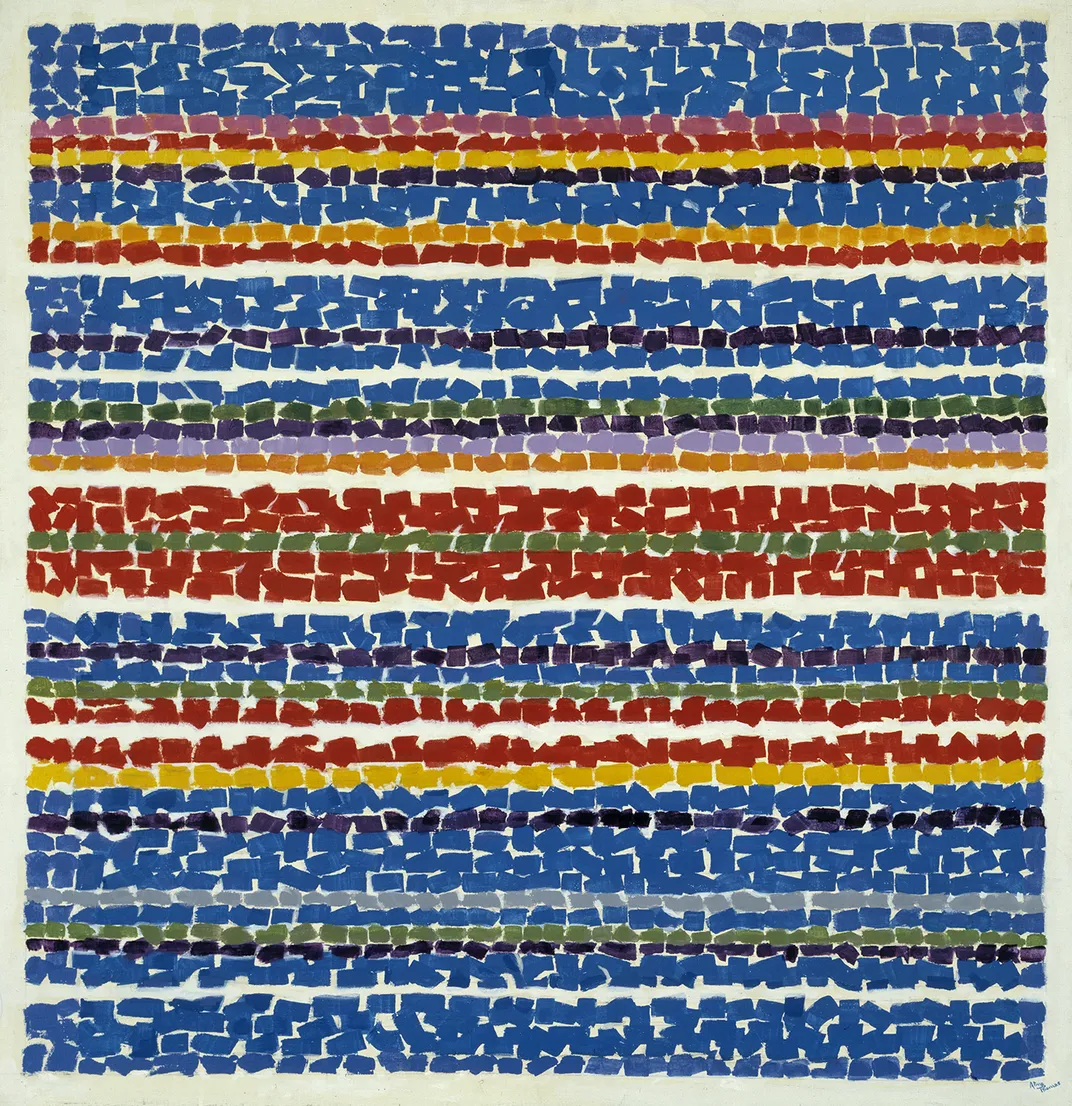 SAAM holds the largest public collection of Thomas' artworks, with 29 paintings and 3 works on paper. Thomas developed a relationship with the museum after Joshua C. Taylor, its director in the 1970s, acquired her painting Light Blue Nursery. With its horizontal multicolored stripes of paint dabs, the work is intriguing both for its precision and its abstraction. "I think anytime an artist distinguishes themselves with a language that is just so expressive of their personality and their spirit and their vision, that's a special thing," Ho says.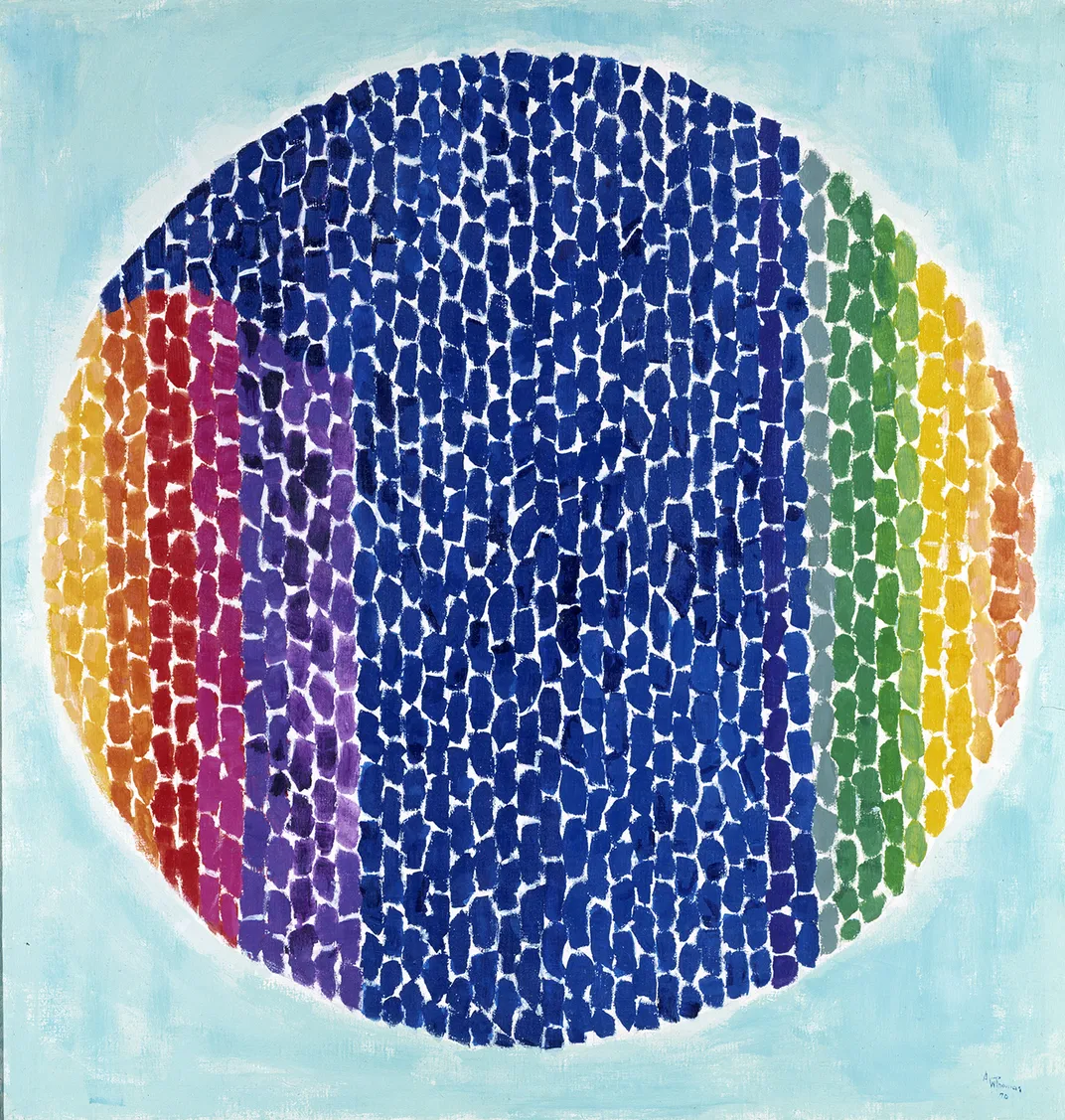 Once Thomas developed her signature style, she continued to expand its vocabulary through complex conceptions like the 1970 painting Snoopy—Early Sun Display on Earth, which uses multiple colors to depict Earth as viewed from space. Her 1973 painting Spring Grass is rendered entirely in light green. She found rhythm in her painting and knew how to hold on to a good groove. Although her language is consistent, no two artworks are the same.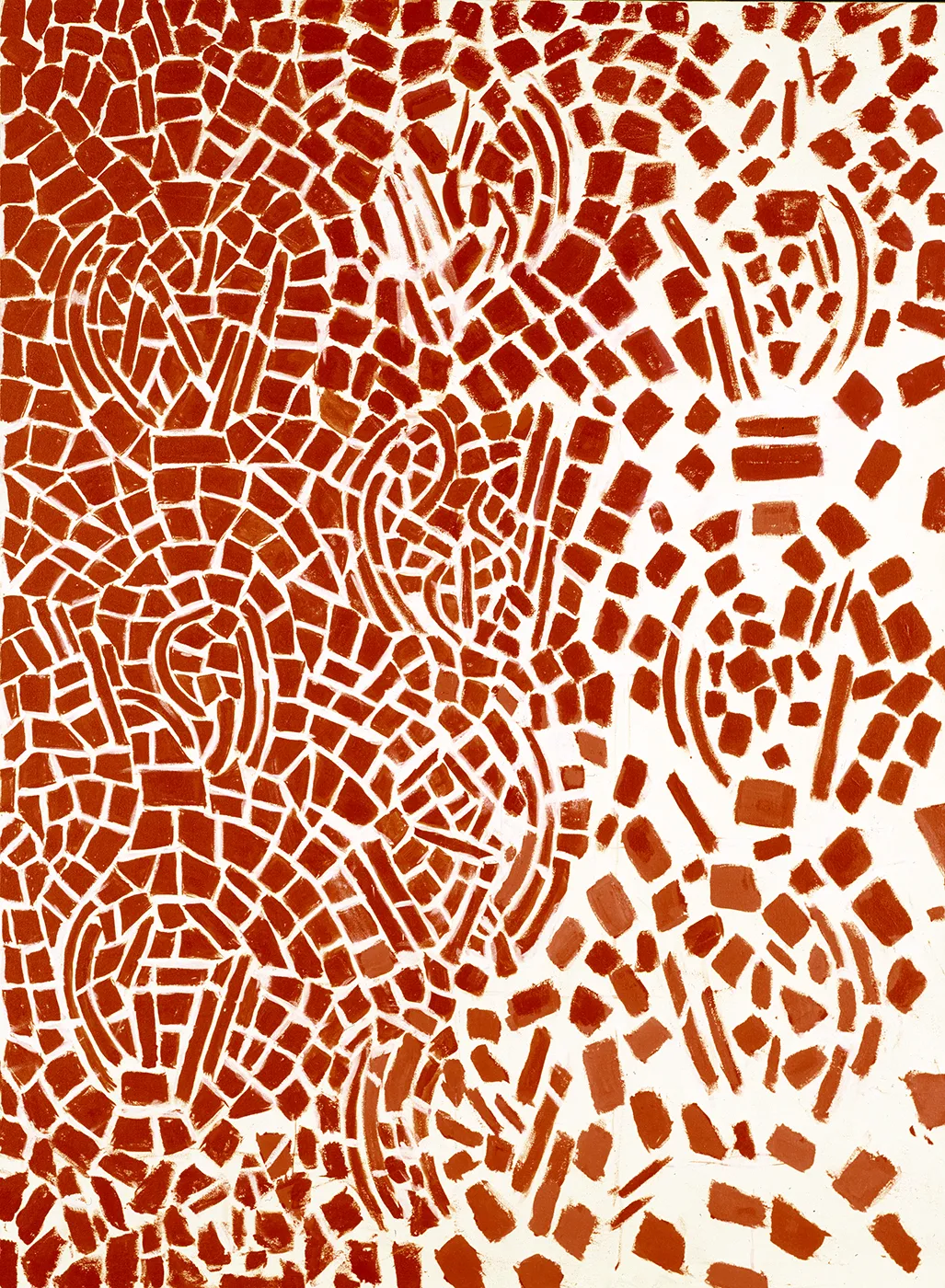 Toward the end of her life, dealing with arthritis and failing health, Thomas continued to create art, propping herself up on tables to work. Later works like Untitled (Music Series), painted shortly before her death in 1978, demonstrate her tenacity and dedication to continue her mission even as her life was ending. "The important thing is for us to create, to give form to what we have inside us," Thomas once reflected. "We can't accept any barriers, any limitations of any kind, on what we create or how we do it."
"Composing Color: Paintings by Alma Thomas" is on view at the Smithsonian American Art Museum until June 2, 2024.