A new exhibition at the Smithsonian American Art Museum (SAAM) can not only be viewed by the public—it can also be heard, and felt, and danced along to.
The first major show of time-based media art at the museum in eight years, "Musical Thinking: New Video Art and Sonic Strategies" features recent work from ten leading contemporary artists in the field, which includes film, video, audio and digital technologies that unfold over time.
Saisha Grayson, SAAM's curator of time-based media who put together the exhibition, says that the pieces the museum has been collecting since she began her job in 2018 all seemed to have such strong musical components—from jazz to hip-hop—that it seemed natural to create an exhibition of works that each in their way used the strategies of music creation. While music is a thread that ties together the recently acquired work, extraordinary effort is being made to make sounds translate to the widest possible audience, including the deaf and hearing impaired. That means there not only are captions to films, and QR codes pointing to visual descriptions and ASL interpretations, but the museum is also using haptic technology in a new way, such that musical vibrations can be felt so strongly on the benches where the groundbreaking technology has been installed that they are called "butt kickers."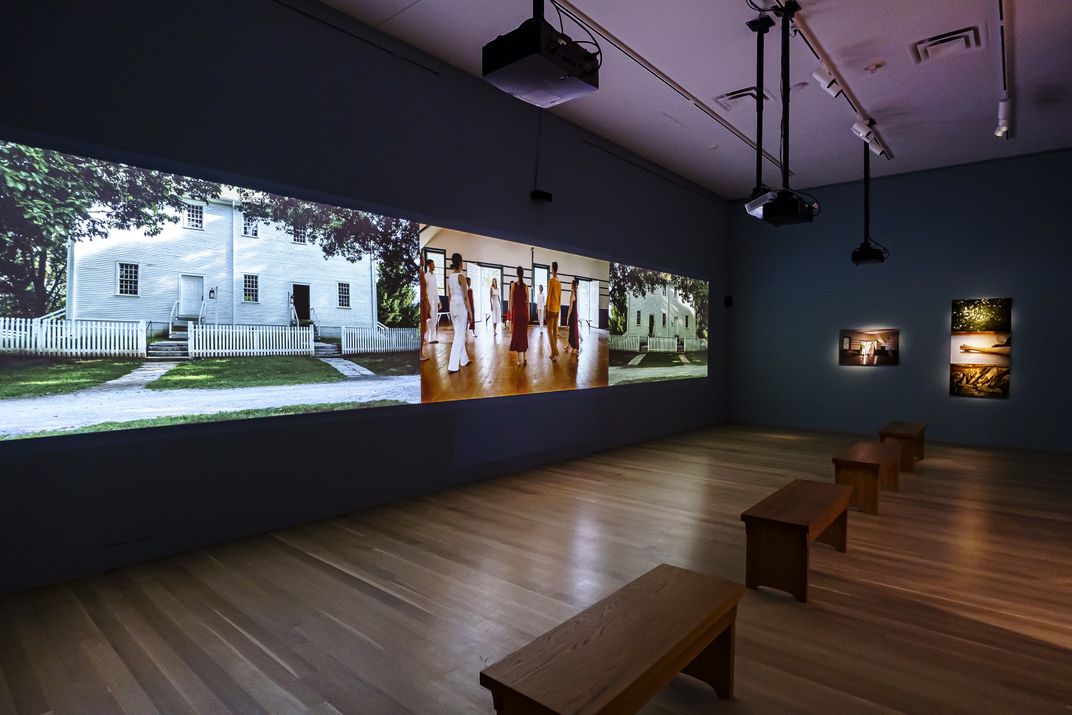 Things begin gently, however, with a room dedicated to "When the Spirits Moved Them, They Moved," a three-channel video installation from the "Performed Places" series by filmmaker Mariam Ghani and choreographer Erin Ellen Kelly, reproducing imagined dances that emerged in the 19th-century Shaker Village in rural Pleasant Hill, Kentucky.
Surprisingly, it's one of three references to bygone Shaker communities in the exhibition. The other two come in the video artwork of Cauleen Smith, in which the readings of a Black Shaker elder, Rebecca Cox Jackson, are recited and shots of a Shaker cemetery in upstate New York are seen amid scenes of the sculptural Watts Towers of Los Angeles and a rural ashram in California. Smith's two videos, one accompanied by a slowly moving disco ball, also celebrate the music of jazz pianist and harpist Alice Coltrane and her Hindu spiritual journey.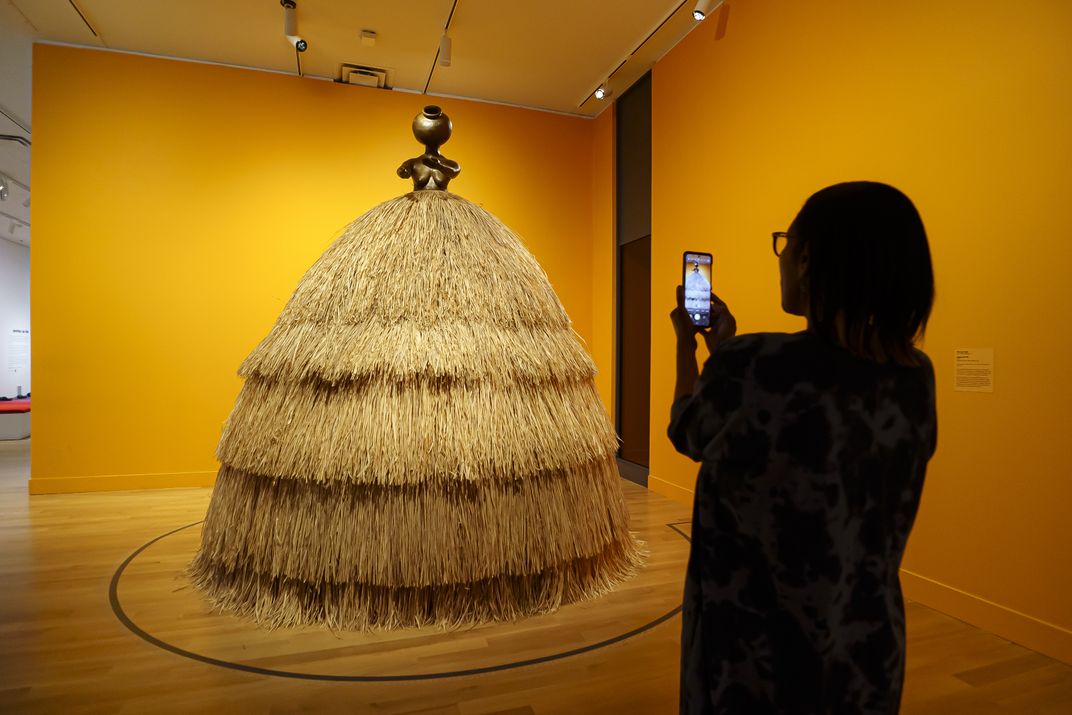 Another artist duo, Simone Leigh and Liz Magic Laser, present the nine-minute video "Breakdown," which features mezzo-soprano Alicia Hall Moran powerfully emoting inane lines from TV and movies depicting "female hysteria." Leigh is also represented by one of her large sculptures, Cupboard VIII, of a female figure with outstretched arms and an open jug mouth.
Grayson says that one aim in planning "Musical Thinking" was "to create an experience that highlighted a lot of media works but wasn't one black box after another; where the physical experience was particular to each of the intentions of the work."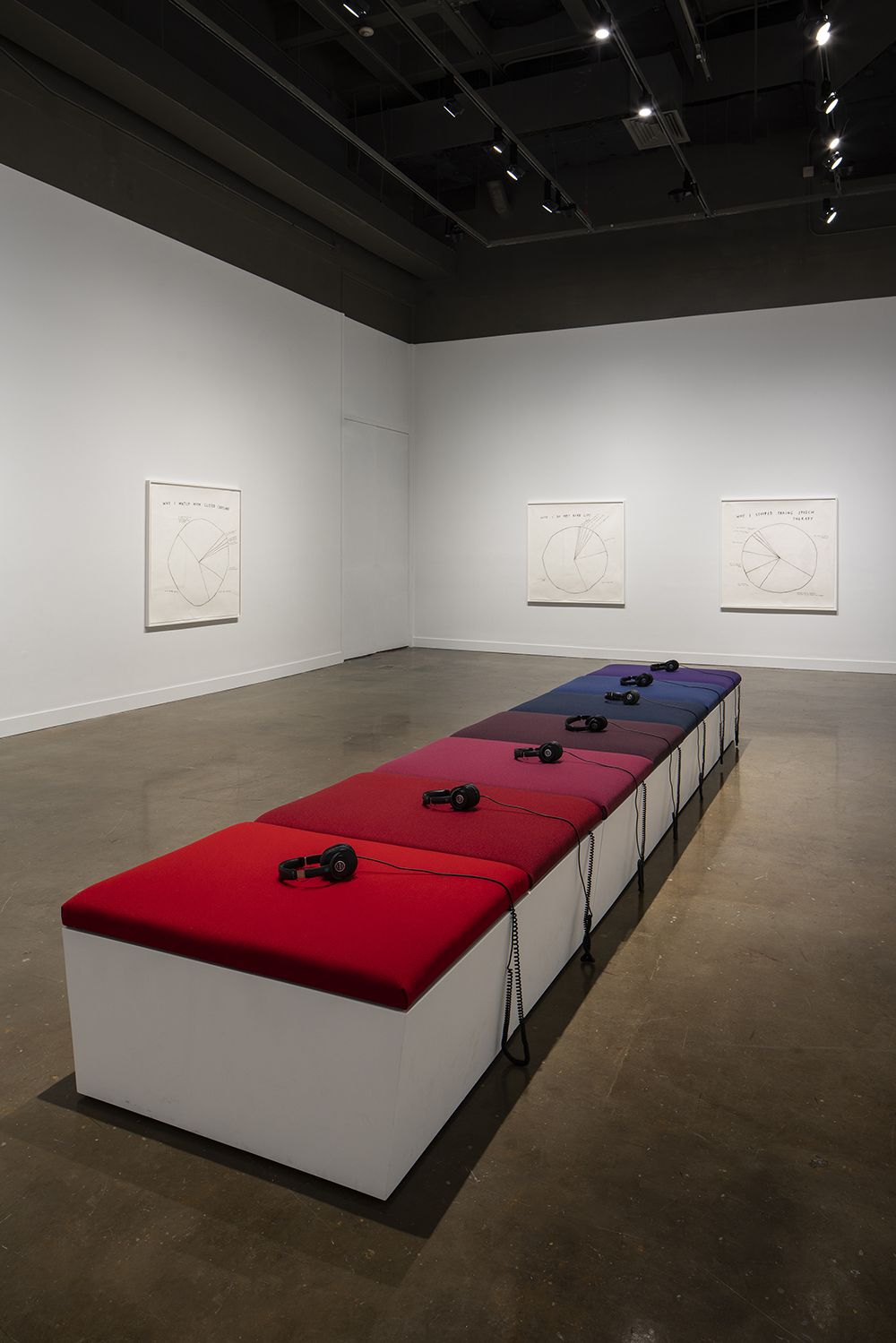 So while many of the works have their own screening rooms, others stand in galleries ready for individual inspection. In the case of the listening bench for Christine Sun Kim's One Week of Lullabies for Roux, visitors use headphones to take in seven soothing tracks composed for her newborn. Then Martine Gutierrez's three-minute video Clubbing begs for full-on participation. In the video, the artist presents herself dancing to pulsing club music in a number of guises. Visitors are invited to get on a light-up dance floor to dance along.
And many have, Grayson says. "I've seen some really wonderful interactions—everything from whole families, to what I think might have been a bachelorette party, where all the girls were trying to learn the choreography," she says. "The first day we opened, there was a wheelchair user up there spinning around, so it just felt very affirmative."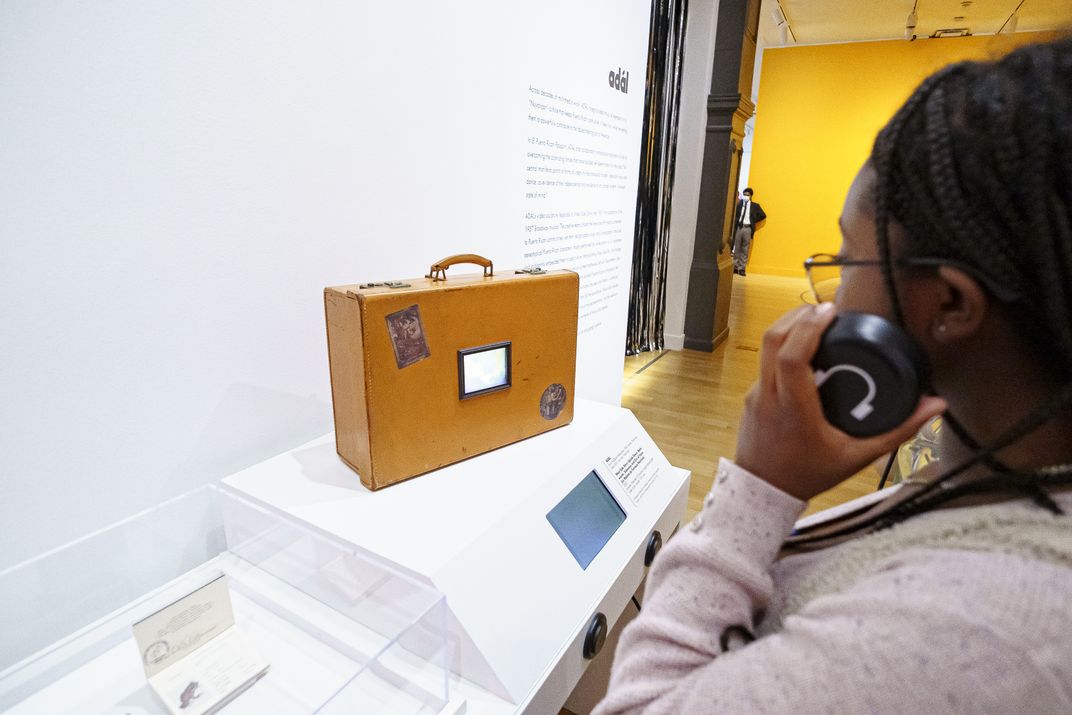 Those drawn to "Musical Thinking" to catch the kind of music videos that once reigned on MTV might find their closest connection in Arthur Jafa's striking 2016 Love Is the Message, The Message Is Death, which features rapid fire images of the Black experience in America alongside the music of Kanye West's gospel-tinged track "Ultralight Beam." A collage of hundreds of postcard-sized images spread across a wall in Jafa's APEX GRID accomplishes much the same impact minus the music.
Visitors may have to bend over to see the smallest work: West Side Story Upside Down, Backwards, Sideways and Out of Focus by the late artist ADÁL, in which a video embedded in a suitcase conflates scenes from the popular 1961 musical with actual documentary footage of Puerto Rican struggles to a percussive soundtrack by Tito Puente. 
Some music is presented visually, through original scores done with unusual musical notation. Inspired by Sioux composer Zitkála-Šá, Diné composer Raven Chacon presents scores saluting contemporary Native women musicians using arrows instead of notes. A 2015 video shows a "performance" of Chacon's 2001 work Report, which choreographs gunshots by shooters lined up behind a series of music stands.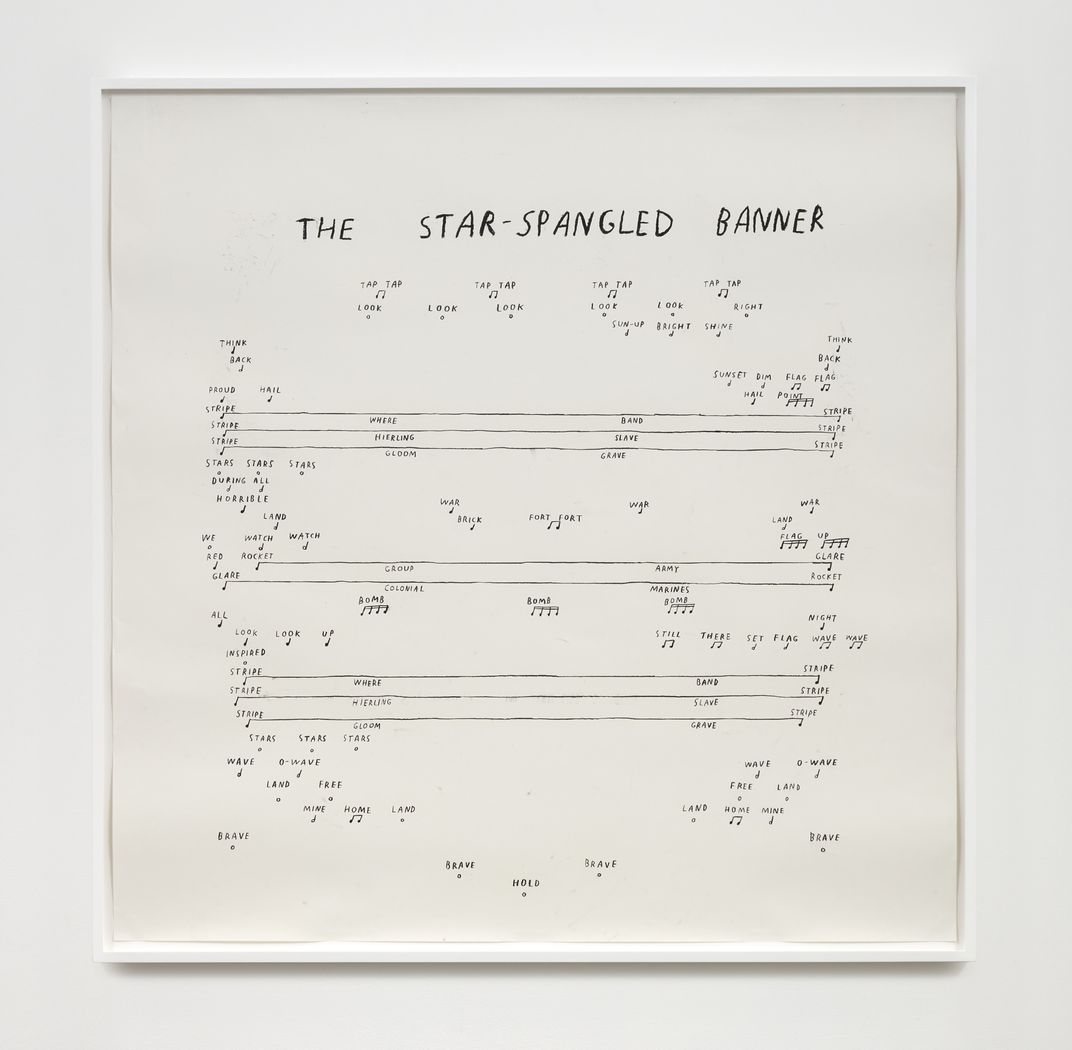 Christine Sun Kim, who performed the ASL interpretation of the national anthem at the 2020 Super Bowl, presents the same kind of large notation charts she made in preparation of the game, featuring the anthem's more contentious but rarely heard third verse that mentions slavery. Another Kim piece, a 25-minute video called Close Readings, shows what happens when friends are invited to provide captions to partially blurred movies, like The Addams Family to The Little Mermaid. Viewers can see the suggested captions next to the actual captions of each scene.
It was Kim's connection to the Motion Light Lab at Gallaudet University, which develops new technologies tied to Deaf culture, that got the team there working with SAAM to develop four benches equipped with a unique haptics system. Marked by blue lights, the benches bring motion and vibrations to what others hear so that deaf visitors can sit and feel the music.
"The inclusion of haptics for audio interpretation is something … that I don't know has been done in an art context before," Grayson says.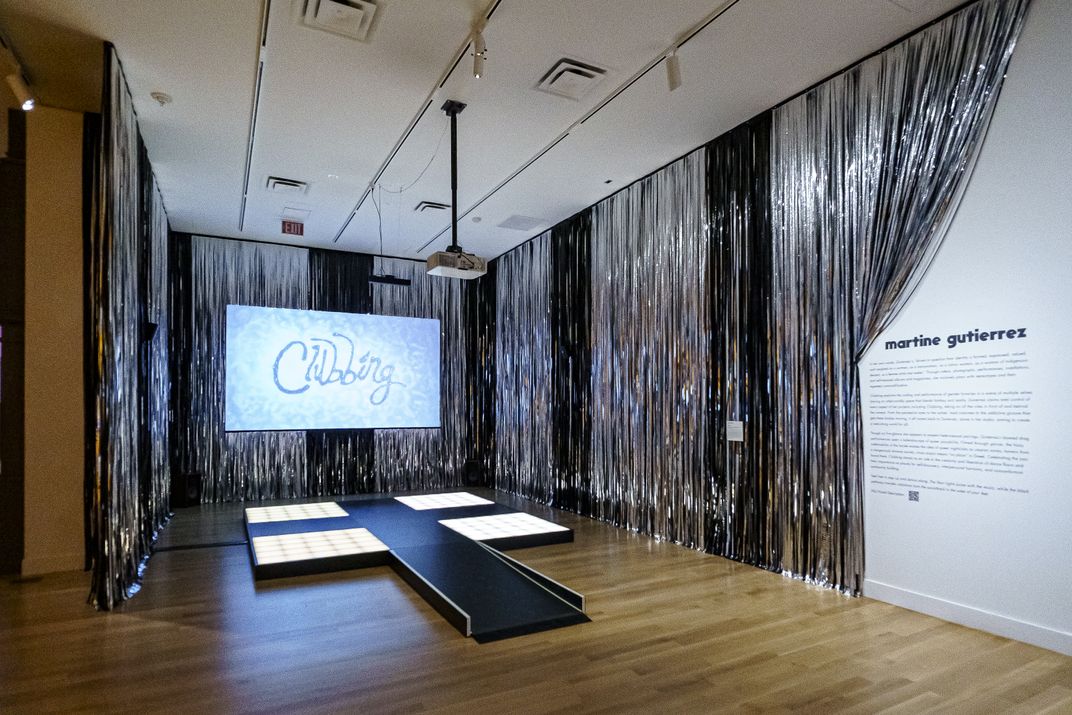 Melissa Malzkuhn is the creative director of the Motion Light Lab, which previously created the first bilingual ASL-to-English storybook app to support literacy development, among other innovations. "It was a natural foray for us, our curiosity, and our motivation in exploring new ways to create inclusive experiences," she says.
"When you consider that this is totally unchartered, there are always challenges," says Malzkuhn, who is third-generation Deaf, of the low-frequency transducers known as "butt-kickers." "What we now know that we did not really expect was how people would react to the haptics. Accessibility actually made the experience better for everyone."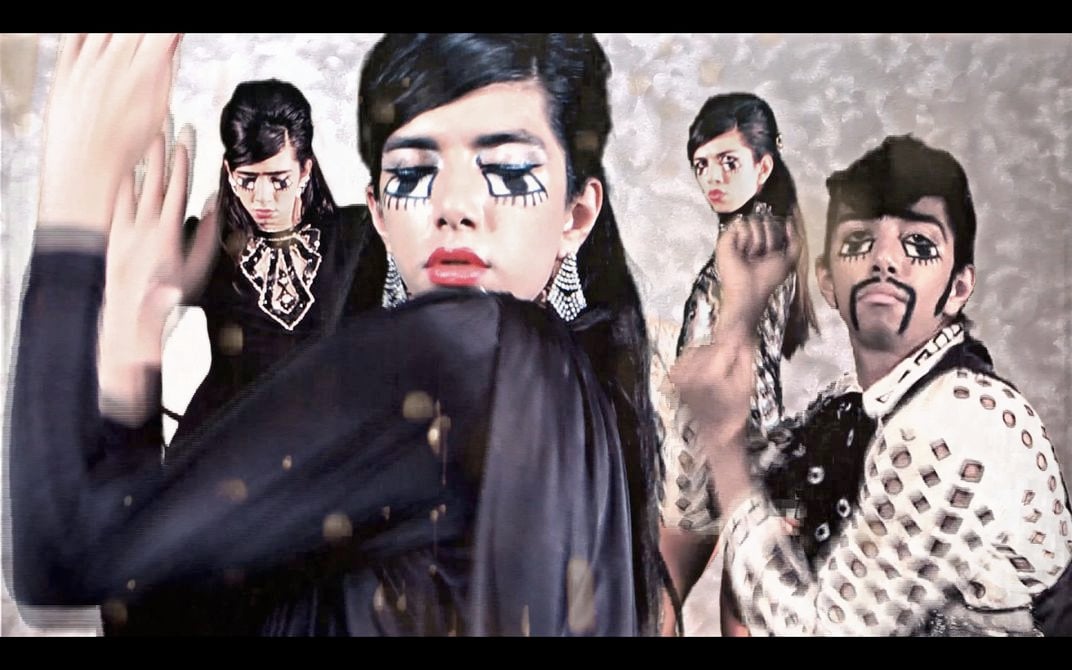 "Musical Thinking" is the first exhibition to open in SAAM's third-floor home for modern and contemporary art after it was closed for construction for three years. When it fully reopens on September 22, along with rethought sight lines and higher walls to accommodate bigger works, the floor will have a permanent area for the museum's collection of time-based media, which now numbers about 160 works.
The term covers film and video art, but it also includes video games, what Grayson calls "an algorithmically driven cinema piece" and the museum's most famous piece of time-based media, Nam June Paik's Electronic Superhighway, with music and videos flashing, representing 50 states, outlined in neon.
"Musical Thinking: New Video Art and Sonic Strategies" is on display at the Smithsonian American Art Museum in Washington, D.C. through January 29, 2024. An accessibility guide and a free digital catalog are available online.