USDA Approves First Lab-Grown Chicken in the United States
Two companies have received the green light to produce and sell chicken they have cultivated from cells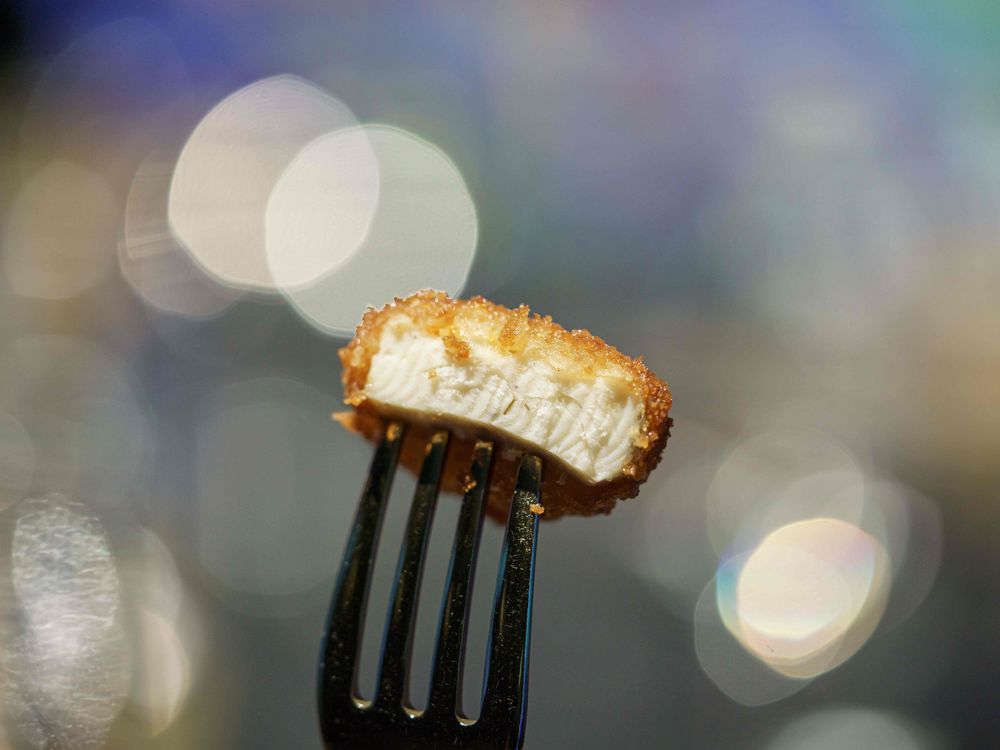 The United States Department of Agriculture (USDA) has given two companies approval to sell chicken grown from cells in a lab.
Lab-grown, or cell-cultivated, meat is made by feeding a mix of nutrients to animal cells in stainless steel tanks, writes Vox's Kenny Torrella. Companies hope the product can be an alternative to meat produced by killing animals, which has a large carbon footprint.
"Instead of all of that land and all of that water that's used to feed all of these animals that are slaughtered, we can do it in a different way," Josh Tetrick, co-founder and CEO of Eat Just, which operates Good Meat, one of the companies that just received USDA approval, tells Jonel Aleccia and Laura Ungar of the Associated Press (AP).
Good Meat launched in Singapore in 2020, when Singapore became the first country to approve the sale of cell-cultivated meat. Now, the United States becomes the second.
"The news coming out of the U.S. is an exciting development for the entire cellular agriculture ecosystem," Maarten Bosch, CEO of Mosa Meats, a Dutch cultured meat company, tells Time's Aryn Baker. "With regulators in Asia and North America signaling that cultivating meat is a safe alternative to slaughtering animals, policymakers worldwide will be jumping into action so as not to miss out on the huge economic and environmental opportunity presented by cellular agriculture."
The process for cultivating the meat involves isolating tissue samples from living animals and then growing their cells, which are used in making the products, writes MIT Technology Review's Casey Crownhart.
The Food and Drug Administration (FDA) decided that Good Meat's chicken was safe to eat in March. The FDA gave the same clearance to Upside Foods, the second company that received USDA approval Wednesday, last November. The USDA's sign-off was the last hurdle to clear before the two companies can start selling their lab-grown chicken in the U.S., per Vox.
"This announcement that we're now able to produce and sell cultivated meat in the United States is a major moment for our company, the industry and the food system," Tetrick tells NPR's Allison Aubrey.
The companies will start by selling their product to high-end restaurants, and it won't be widely available right away, writes Time. Growing the meat at scale is a limiting factor. Upside Foods hopes its facility in Emeryville, California, can expand its production from 50,000 pounds of cell-cultivated meat a year to 400,000, according to the AP. This would only represent a tiny fraction of the tens of billions of pounds of chicken available for humans to eat in the U.S. each year.
"It's an incredible, historic moment," Eric Schulze, vice-president of product and regulation at Upside Foods, tells MIT Technology Review. "The next giant hurdle is scaling up. Frankly, that's what matters."
The traditional method of raising animals for slaughter has a number of drawbacks. Around a quarter of global greenhouse gas emissions are from food production. A 2021 study found that 57 percent of food production's greenhouse gas emissions were from the production of animal-based foods.
According to the
Good Food Institute
, an NGO working to advance plant-based and cultivated meats, cell-cultivated meat emits 80 percent less greenhouse gas than conventional meat production, per
Time
. Supporters of lab-grown meat also say its production doesn't require antibiotics, according to NPR.