Hurricane Idalia Hits Florida Amid Projected 'Above-Normal' Storm Season
The hurricane is the strongest to strike the state's Big Bend area in about 125 years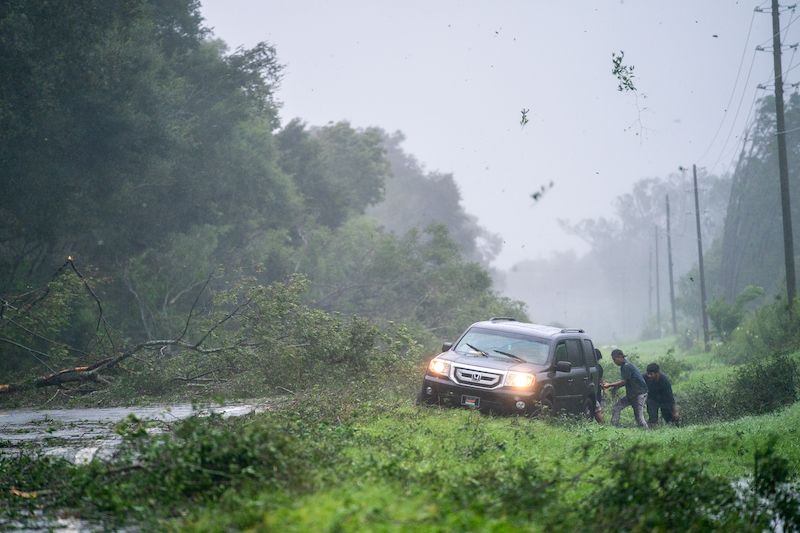 Hurricane Idalia made landfall in Florida Wednesday morning as a Category 3 storm, causing significant flooding and bringing maximum sustained winds close to 125 miles per hour. The hurricane was the strongest to hit the state's Big Bend area in about 125 years, reports Chris Oberholtz for Fox Weather. 
"It got pretty gnarly for a while, but it was nothing compared to some of the other storms," resident RJ Wright of Cedar Key tells the Associated Press' Terry Spencer. 
At least 30 of Florida's 67 counties were issued some type of evacuation order in preparation for the hurricane. Airlines canceled more than 1,000 flights, disrupting travel plans ahead of Labor Day weekend, and several major bridges were also closed. As of Wednesday morning, hundreds of thousands of people had experienced power outages. So far, the storm has been linked to two traffic-related deaths. 
Casey DeSantis, the wife of Florida governor Ron DeSantis, posted on social media that the storm caused a 100-year-old oak tree to fall on the governor's mansion in Tallahassee on Wednesday. Though she and her children were at home, no one was injured in the treefall, she wrote.
100 year old oak tree falls on the Governor's Mansion in Tallahassee — Mason, Madison, Mamie and I were home at the time, but thankfully no one was injured.

Our prayers are with everyone impacted by the storm. pic.twitter.com/l6MOE8wNMC

— Casey DeSantis (@CaseyDeSantis) August 30, 2023
Idalia is the ninth named storm during the Atlantic hurricane season this year—storms earn names when they take on a rotating circulation of winds that reach at least 39 miles per hour. Per the National Oceanic and Atmospheric Administration (NOAA), up to 21 named storms are likely to occur this Atlantic hurricane season, which spans from June 1 until November 30.
In May, NOAA initially predicted a near-average Atlantic hurricane season, but the agency later changed its forecast to "above normal" because of record high ocean temperatures this summer. July 2023 was the world's hottest month ever documented, which brought sea surface temperatures in Florida above 100 degrees Fahrenheit—normal temperatures for that time of year hover between 73 degrees and 88 degrees. 
Ordinarily, an El Niño year such as this year might not be so extreme—usually, the climate pattern creates wind conditions that hamper hurricane development in the Atlantic and strengthen it in the Pacific. But the warmer water this summer could counteract El Niño's minimizing effect, Matthew Rosencrans, lead hurricane season outlook forecaster at NOAA's Climate Prediction Center, told NPR's Jeff Brady and Rebecca Hersher earlier this month. 
"As a hurricane intensifies, it stirs up a lot of water, and it usually stirs up cold water from below very easily," Bob Henson, a journalist and meteorologist with Yale Climate Connections, tells Slate's Shirin Ali. "But if it's passing over an area where there's warm water down to 100 feet, it's less likely to stir up cold water that would inhibit its growth."
Incredible satellite image from space showing all the sediment that has been churned up by Hurricane #Idalia in the Gulf of Mexico and Caribbean Sea.

The wind, waves and deep upwelling of water caused by the storm churned up huge amounts of sediment and debris. pic.twitter.com/Zt7zCRiNX1

— Colin McCarthy (@US_Stormwatch) August 30, 2023
Earlier this month, Hurricane Hilary hit Mexico's Baja California and led to the first-ever Tropical Storm Watch issued by the National Hurricane Center for Southern California. Climate scientists have predicted that global warming will continue raising ocean temperatures and cause more severe hurricanes. 
Idalia was downgraded to a Category 1 storm as it headed north toward Georgia, but sustained winds are still expected to hit 80 miles per hour. NOAA warned of "significant impacts" from the storm surge continuing along the Gulf coast of Florida into the evening. Storm surges, or abnormal rising of water from a storm's winds, have historically caused the most hurricane-related deaths in the U.S., per the agency. 
"We fear that residents will walk outside, see it's sunny outside and think everything's fine. But there's more water coming," Rob Herrin, spokesperson for Hillsborough County Fire Rescue, tells Nouran Salahieh and Holly Yan of CNN. "There's still so many hazards after the winds and rains have cleared."