Water Temperatures Hit 'Hot Tub' Levels in the Florida Keys
A buoy in Manatee Bay recorded 101.1 degrees Fahrenheit on Monday evening, as coral reefs suffer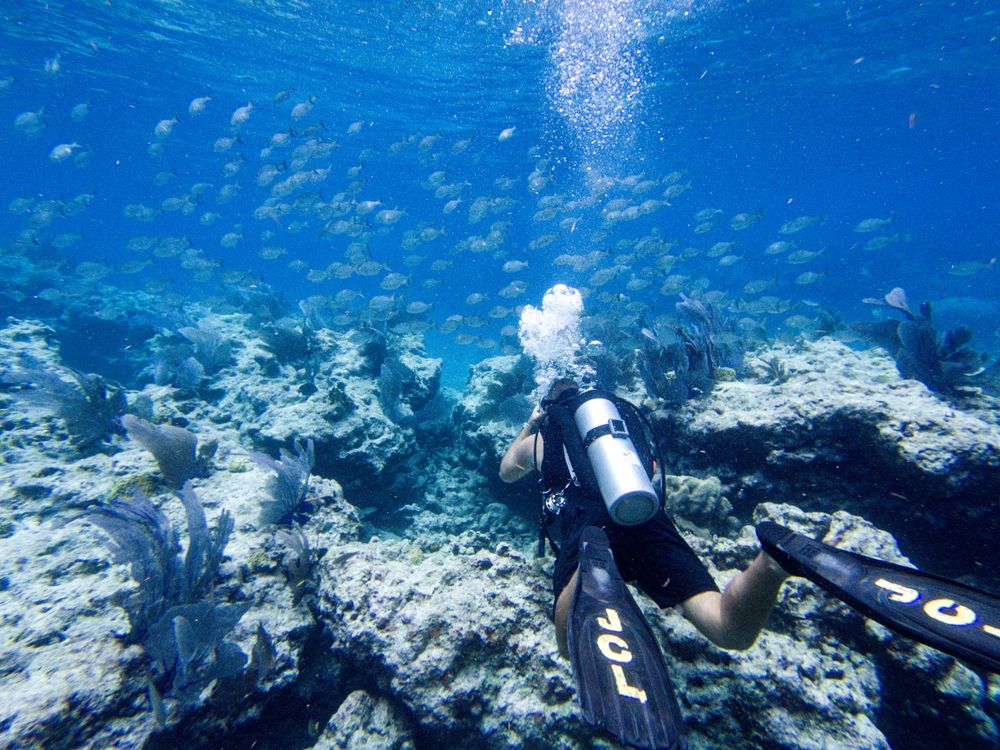 Beachgoers in South Florida can forget taking a dip to cool down: Water temperatures in the Florida Keys hit 101.1 degrees Fahrenheit on Monday evening.
Meteorologists are debating whether the reading captured at a buoy at Manatee Bay, located northwest of Key Largo, constitutes a new world record. But either way, scientists are concerned.
"This is a hot tub," says Jeff Masters, a meteorologist with Yale Climate Connections, to the Associated Press' Seth Borenstein. "I like my hot tub around 100, 101. That's what was recorded."
Monday was the second straight evening of water temperatures above the 100-degree mark. Sunday's reading at the same buoy showed 100.2 degrees Fahrenheit. Before that, water temperatures around the area had been hovering in the upper 90s for the last two weeks.
At this time of year, the water should be between 73 and 88 degrees Fahrenheit, per Reuters' Maria Cardona.
Actually it briefly reached 101 late today! If verified, this would challenge the hottest sea surface temperature ever recorded on Earth. Much more detail here and nuance too... @WFLA https://t.co/qzbaPqrbf8 pic.twitter.com/894aEJIe5O

— Jeff Berardelli (@WeatherProf) July 25, 2023
The prolonged hot temperatures could have devastating effects on the Florida Keys' already vulnerable coral reefs, some of which are suffering from bleaching because of the heat; a few have already died.
"This is definitely the worst bleaching event that Florida has ever seen," says Andrew Baker, director of the Coral Reef Futures Lab at the University of Miami, to the Washington Post's Brady Dennis, Amudalat Ajasa and Chris Mooney. "We knew something like this was going to happen at some point—we just didn't know when. We still managed to be surprised by the magnitude of this event and how early it came in the season."
Monday's 101.1-degree reading tops the unofficial world record of 99.7 degrees, which was recorded in Kuwait Bay in July 2020. But the two locations do not necessarily provide an apples-to-apples comparison, as Dinah Voyles Pulver reports for USA Today.
The Kuwait Bay reading was captured 25 to 38 feet below the surface some four miles off the coast. The Manatee Bay reading in Florida, meanwhile, was only five feet deep and much closer to land.
The shallower depth, coupled with heat from the land and the presence of seagrass, may make the recent reading less indicative of what's actually going on in the ocean. Scientists say offshore buoys, like the one in Kuwait Bay, provide the most accurate readings.
Florida is not alone in facing extremely warm waters. Around the world, sea surface temperatures broke monthly records in May and June, and in April, they were the warmest since satellite records began. In Antarctica, sea ice was nearly one million square miles below average in June—a "record-smashing-low extent for this time of year," wrote the National Oceanic and Atmospheric Administration (NOAA) in a tweet.
While the recent SST anomaly is terrifying, it is not unexpected. CMIP6 models predicted the monthly 0.7°C anomaly (comp. to 1982-2011) to be reached between 2017&2040. This wouldn't have happened without climate change, we are in a new climate state, extremes are the new normal. https://t.co/qaAjJdxwGy pic.twitter.com/0a1B28E7dx

— Dr Jens Terhaar (@JensTerhaar) April 24, 2023
More broadly, heat waves and high temperatures are also plaguing many parts of the world. Earth experienced four consecutive days of the hottest global average temperatures ever recorded in early July. In the last 30 days, the United States has broken more than 2,400 high daily temperature records, according to the National Centers for Environmental Information.
Longyearbyen—the northernmost town in the world, located above the Arctic Circle on the Svalbard archipelago in Norway—was hotter than Paris in early July. Phoenix has sweltered through 26 straight days of temperatures at or above 110 degrees Fahrenheit. A township in northwestern China reached almost 126 degrees Fahrenheit last week, and Death Valley recorded 125.6 degrees earlier this month.
A new analysis this week finds human-caused climate change is to blame for the extreme heat in North America, Europe and China.
"Without climate change, we wouldn't see this at all, or it would be so rare that it would basically be not happening," Friederike Otto, a climate scientist at Imperial College London who worked on the new study, which has not yet been peer-reviewed, says to NPR's Nathan Rott.