El Niño Has Arrived
The natural climate pattern usually increases global temperatures and could lead to record-breaking heat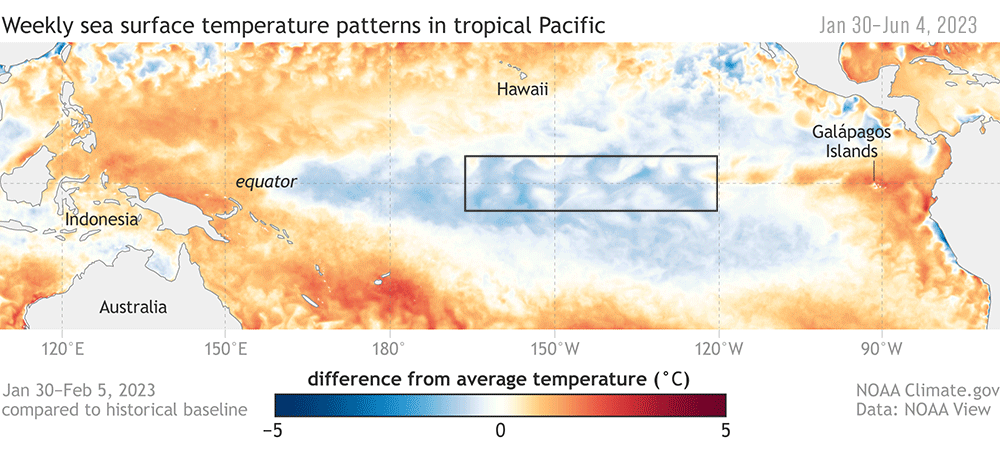 El Niño is officially upon us, and its effects will likely gradually strengthen into the winter, the National Oceanic and Atmospheric Administration (NOAA) announced last week. Researchers declare the onset of El Niño when the temperature of the water in the tropical Eastern Pacific is at least 0.9 degrees Fahrenheit (0.5 Celsius) above average for a three-month period. The natural climate pattern usually leads to hotter weather across the world.
"It's too early to say how the current El Niño storyline will unfold, but if it does unleash its full power in 2024 then it's very likely that yet another record global temperature will be breached," Richard P. Allan, a professor of climate science at the University of Reading, U.K., tells Joanna York of France 24. 
El Niño usually increases drought conditions across certain regions of the world—including Canada, which is currently on track for its worst ever wildfire season as hundreds of fires ravage the country. Indonesia, Australia and a large part of the Amazon may also see warmer, drier conditions, while areas like the southern U.S. will probably see more precipitation and flooding. The rainfall could provide temporary relief to the Southwest, which is experiencing a 23-year-long megadrought. But too much precipitation in a short period of time could also lead to flooding and landslides. 
El Niño's opposing pattern, La Niña, causes colder surface water temperatures in the Pacific and usually brings cooler, wetter conditions to the northern U.S. and Canada and drier conditions to the south. La Niña usually intensifies Atlantic hurricanes while El Niño suppresses them. 
Different strengths of El Niños can lead to different effects. NOAA researchers predict an 84 percent chance of greater than moderate strength El Niño by winter and a 56 percent chance of a strong El Niño developing.
"No two El Niños or La Niñas are perfectly alike," Antonietta Capotondi, a physical oceanographer at the Cooperative Institute for Research in Environmental Sciences (CIRES) said in a statement in 2020. 
El Niño and La Niña, both phases of the El Niño-Southern Oscillation (ENSO), occur every three to seven years and usually last nine to 12 months. But the arrival of El Niño this year comes after a rare "triple dip" La Niña—or three consecutive years of the climate pattern. 
While the hottest years tend to occur during El Niño, the past eight years have been the warmest on record, yet another example of how human-caused climate change can disrupt natural weather patterns. 
The World Meteorological Organization recently predicted the next five years will be the hottest on record and also predicted the Earth will likely temporarily hit 1.5 degrees Celsius above pre-industrial temperatures for the first time between now and 2027—a critical climate change threshold. 
"It is possible that, if we get a large El Niño, we're going to get very close," Professor Adam Scaife, head of long-range prediction at the U.K. Met Office tells NBC News' Sam Meredith. "It could be the first year above 1.5 degrees."