The Fight to Save Thousands of Heirloom Apple Trees
There's more to apples than the supermarket selection may suggest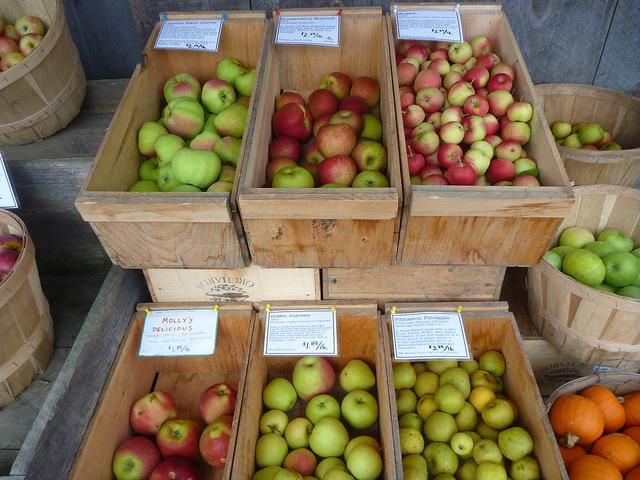 No matter the time of year, American supermarkets carry apples. Though the variety may not always be great, there are a few that are nearly guaranteed to be there: Red Delicious, Gala and Granny Smith. But while these varieties make up the vast majority of apples on store shelves, they are just a tiny fraction of the thousands of types of apples once grown throughout the country. Now, a group of Oregon apple lovers are hoping to save these heirloom treats.
The small non-profit, Temperate Orchard Conservancy, is attempting to clone and collect seeds from roughly 4,500 varieties found in a 40-acre farm outside of Molalla, Oregon, previously owned by Nick Botner, Lyndsey Hewitt reports for The Portland Tribune. Hewitt explains:
"Botner amassed the largest private collection of apple trees in the United States on his property in Douglas County. But as he approached his 90th birthday, Botner put his farm up for sale. He gave the orchard conservancy permission to clone his massive collection so that the rare varieties grown on his farm aren't lost."
But this is no easy task. New trees can be grown from apple seeds, but there's no guarantee that their fruit will look and taste the same as their parents, Hewitt reports. Instead, orchard farmers clone trees by grafting cuttings from full grown apple trees onto healthy stumps.
"You're taking a scion, a cutting from a tree, a little twig, and you're grafting it to a rootstock (the roots on the tree)," Joanie Cooper, president of the Temperate Orchard Conservancy, tells Hewitt. "If you went to Safeway, you couldn't purchase a Honeycrisp apple, plant the seeds and come up with the apple you just ate."
But grafting Botner's orchards are more challenging than most. The trees are in rough shape, Cooper tells Smithsonian.com. "He's not able to tend to it," she says. And now, disease is common among his trees and without regular pruning, many have stopped sending up the new growth necessary for healthy scions. In an ideal world, these cuttings would be about the size of a pencil, says Cooper. But many of these scions stand only about an inch tall.
But the team isn't giving up, hoping to preserve the many lesser-known North American varieties. While the farm this still represents just a handful of the estimated 15,000 varieties that grew in every backyard and orchard in the country, this dedicated group of apple-lovers hope that they will help preserve some of the diversity of North America's apple varieties for future study (as well as snacking), Molly Fosco reports for Seeker. "Today, only 15 varieties comprise 90 percent of the apples produced throughout the country," she writes.
Cooper's group has successfully grafted about 3,500 scions from 4,500 heirloom varieties, she says. This past year they took another 1,500 grafts, which includes duplicates of Botner's trees and some donated varieties. With any luck, about half of these are expected to take, Cooper says.
The group plans on selling copies of these scions to the public and offer custom tree grafts as well. They also are cataloging and submitting the seeds to the Global Seed Vault in Svalbard. Though the seeds themselves won't be able to replicate their parents, they could provide relief in case of an emergency. "If you have a disaster you have seeds to start with," says Cooper. "If a territory was decimated for some reason or another, they would have a place to start."
This backup plan alleviates some of the concerns with relying on such a small number of apple varieties. "The reason so many people died [during the Irish potato famine] was because they only grew one kind of potato," Cooper tells Hewitt. "They had nothing to fall back on. When you have a monoculture, it can be dangerous. You need diversity in all fruits and vegetables."
And they don't plan on stopping at apples: Soon, the Conservancy will set to work cloning Botner's grapes, cherries, plums and peaches.