Mario Batali on Why Farmers Should Be the True Stars of the Restaurant World
In his new cookbook, Mario Batali looks to farmers from across the country for inspiration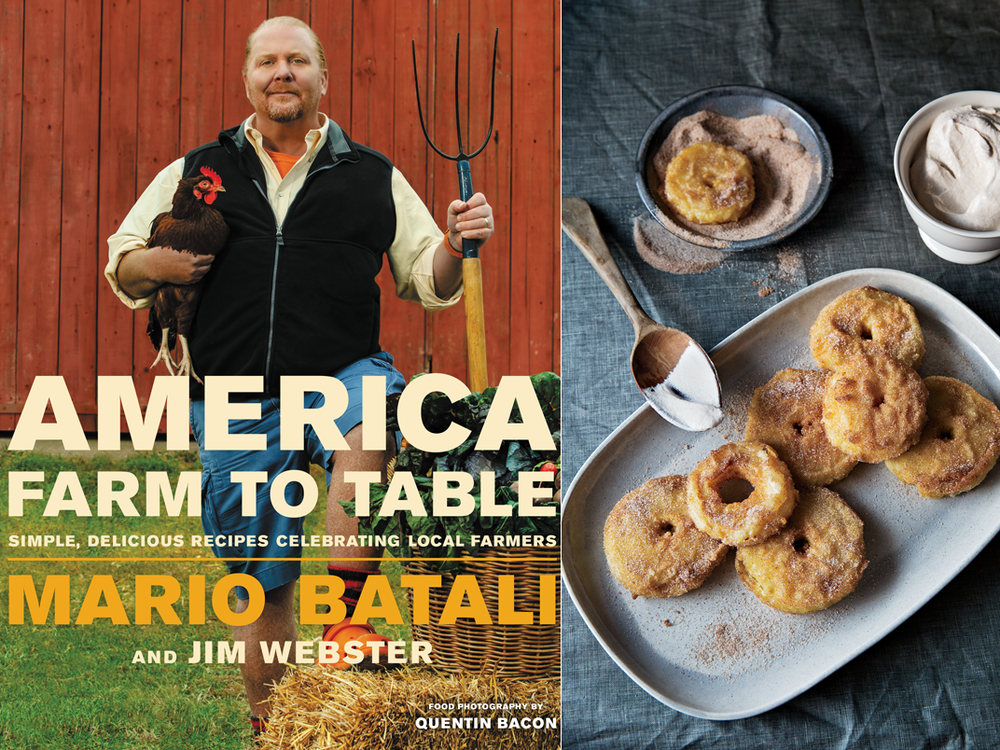 The premise of a chef becoming a world-famous figure is a recent phenomenon, with multiple television networks airing their own versions of reality cooking shows and competitive culinary battles. But if chef-lebrity Mario Batali has his way, the farmer, a person critical to the creation of the meal on your plate, will take over center stage. In his new book, America—Farm to Table, Mario Batali shifts the spotlight: "where chefs once ruled the waves, local small farmers are the new rock stars." The famous restaurateur and chef teamed up with Washington Post writer Jim Webster to capture the stories of a select group of farmers from across the country and create recipes from their specialty ingredients.
To gain access to these deserving future celebrities, Batali looked to his chef friends from Maine to California. He asked chefs from Jose Andres in Washington D.C. to Matt Dillon in Seattle which growers they depend on for their most beloved ingredients; the taste and freshness of the ingredients are just as important to the final plate as the culinary art. The chefs' favorite farmers are beloved for the attention to detail, such as the composition of the soil used. The growers highlighted spend months tending to the ground and pore over seed catalogues searching for the best specimens to grow. They care for their fruit trees and vegetable plants just as a chef prepares a clean mise en place and slaves over a stove. But, over the past six years, there has been a continual rise in interest for locally grown food by the public, with farmers markets increasing in number by 76 percent. 
Now, there is no better time to learn to cook with farm fresh ingredients and America—Farm To Table tells you how. The array of recipes Batali has created in this book reveal the true beauty and taste of home cooking with farm fresh food. This cookbook is the perfect companion for a trip to the farmer's market. 
I corresponded with Batali about his new book, America—Farm to Table, over e-mail. Recipes from the book are below. 
What inspired you to write a cookbook that celebrates local farmers?
For as long as I've been in kitchens, restaurant menus have been inspired by fresh produce: what's available at the market and most flavorful. In other words, my cooking has always been inspired—if not dictated—by farmers. In this book, I call attention to their work explicitly. To encourage readers to think differently about the way they approach cooking and creating menus at home.
Why did you pick these specific cities and chefs?
Some cities are ones whose food and culture I love, like New Orleans. Others were picked because they are home to chefs I admire, like Jose Andres. And others were places I wanted to explore, like Damariscotta, Maine. And I got to work with the patron saint of Maine cooking: Melissa Kelly.
Who is your favorite farmer?
My wife, Susi Cahn.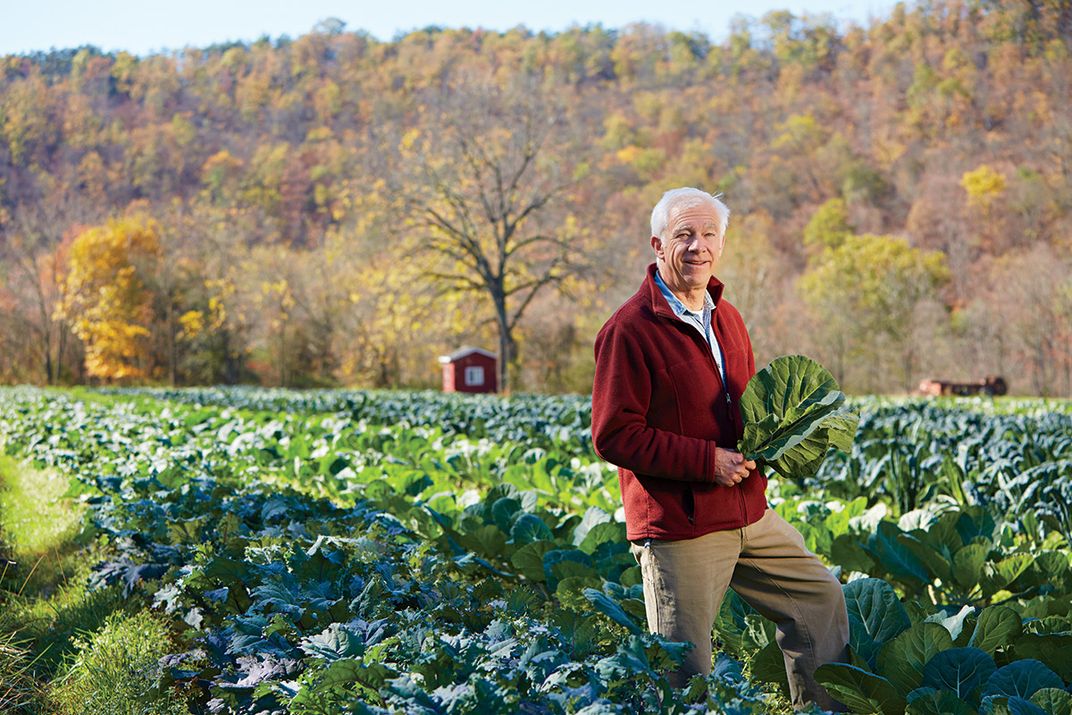 In the book, you call farmers rock stars. Can you elaborate?
About a decade ago, chefs were unexpectedly incorporated into the narrative of popular culture. Restaurants and cooking moved to primetime, and young people started to aspire to become cooks. I think that once Americans start to better understand where their food comes from— and the makeup of a more sustainable food system— focus will realign toward farmers. Today, kids want to be Emeril Lagasse. Hopefully tomorrow, they'll want to be Rick Bishop.  
What is the significance to having an entire chapter about oysters?
Oysters have their own chapter because I love them. But they're also one of, if not the most sustainable seafood because they can be farmed without impacting the environment. They're an ocean-friendly seafood option. 
How do you see the relationship between the farmer and the chef growing in the future?
I see the relationship between the farmer and home cook will become more symbiotic. Cooks will come to better understand what is grown in their local food system, what's seasonal, and what's tasty and what's affordable. And they'll cook accordingly.
Which products do you most recommend buying at a farm or farmers market? Why?
Depends entirely on where you are and the time of year, but I can guarantee that if you buy milk and eggs from a local farm your life will improve immensely.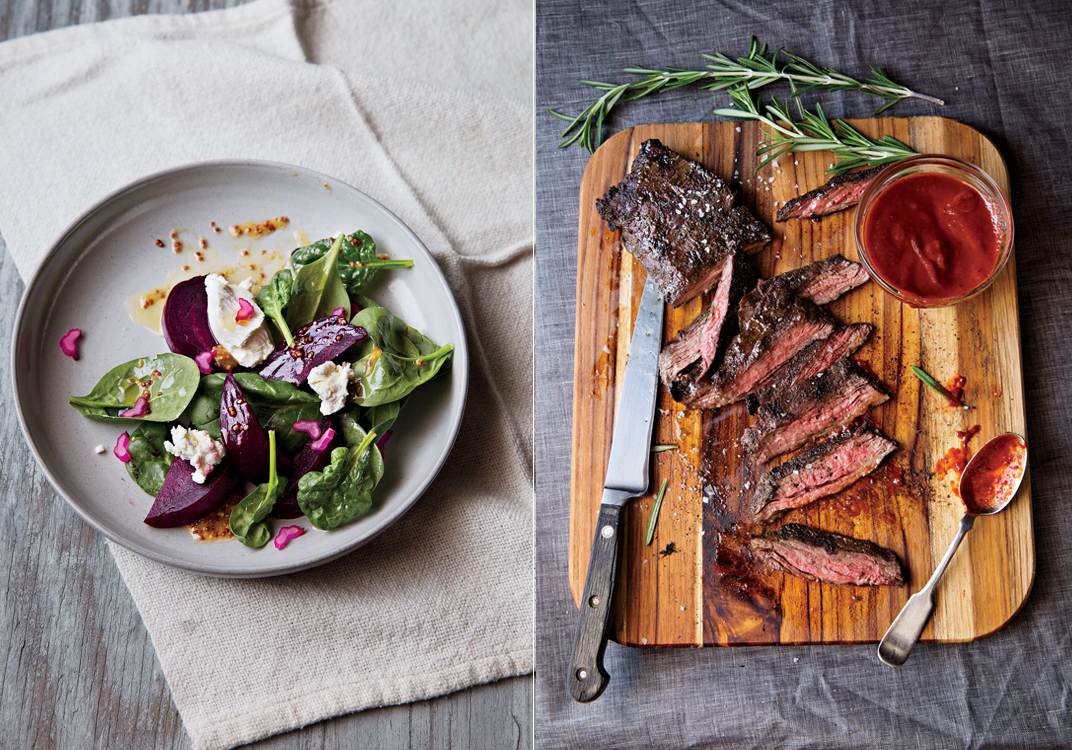 Recipes from AMERICA FARM TO TABLE by Mario Batali. Copyright (c) 2014 by Mario Batali. Used with permission by Grand Central Publishing. All rights reserved.
Beet Salad with Baby Spinach and Goat Cheese
Serves 6
Ingredients:
2 large bunches beets, with greens
2 tablespoons extra-virgin olive oil
2 cups baby spinach, washed and spun dry
¼ cup Red Wine Vinaigrette (recipe below)
Kosher salt
8 ounces crumbly goat cheese, such as Coach Farm or La Tur
Directions:
Preheat the oven to 400°F.
Cut off the beet greens, leaving ½ inch of the stem on each, and reserve them for ravioli filling or soups. Scrub the beets, toss them with the olive oil, and spread them in a baking pan. Roast until very tender, 50 to 60 minutes. Let cool slightly, then rub off the skins under running water and slice the stems into 1⁄8-inch pieces.
Cut the beets into ½-inch chunks and place them in a large bowl with the stem pieces. Add the spinach and toss with just enough vinaigrette to lightly coat. Season with salt.
Divide the salad among six plates, crumble some of the goat cheese over each salad, and serve.
Red Wine Vinaigrette
Makes 1 cup
Ingredients:
¼ cup red wine vinegar
1 tablespoon ice water
1 tablespoon grainy mustard
½ cup extra-virgin olive oil
Kosher salt and freshly ground black pepper
Directions:
Whisk the vinegar, water, mustard, and olive oil together in a small bowl and season with salt and pepper. The vinaigrette can be stored in an airtight container in the refrigerator for up to 1 month.
Grilled Skirt Steak with Cherry Barbecue Sauce
Serves 4
Ingredients:
For the Steak
¼ cup fresh rosemary leaves, finely chopped, plus 4 sprigs for serving
2 tablespoons juniper berries, crushed
1 bunch fresh oregano, finely chopped
4 cloves garlic, finely chopped
½ cup extra-virgin olive oil
2 pounds skirt steak, cleaned of the fat cap and sinew
For the Barbecue Sauce
¼ cup extra-virgin olive oil
1 medium onion, chopped
2 jalapeños, chopped
2 tablespoons ancho chile powder
2 (6-ounce) cans tomato paste
1 (12-ounce) can Dr. Pepper
Zest and juice of 2 oranges
¼ cup packed brown sugar
1 cup frozen tart cherries
¼ cup red wine vinegar
To Assemble

Kosher salt and freshly cracked black pepper
1 tablespoon ancho chile powder
Directions:
Make the Steak
In a 1-gallon zip-top bag, combine the chopped rosemary, juniper, oregano, garlic, and olive oil, seal the bag, and shake well to blend. Place the steak in the bag and massage to coat with the herb mixture. Seal the bag and refrigerate for at least 4 hours or overnight.
Make the Barbecue Sauce
In a medium saucepan, heat the olive oil over medium heat until smoking. Add the onion, jalapeños, and chile powder and cook until softened, about 8 minutes. Add the tomato paste and cook for 3 minutes, then add the Dr. Pepper, orange zest, orange juice, sugar, and cherries. Bring the mixture to a boil, then reduce the heat to maintain a simmer and cook, stirring frequently, for 10 minutes more.
Transfer the mixture to a blender or a food processor fitted with the metal blade, add the vinegar, and blend until smooth. Transfer to a plastic container and set aside until ready to serve. (If you're not using it immediately, the barbecue sauce can be stored in the fridge for up to 2 weeks.)
Assemble the Dish
Preheat the grill or broiler.
Remove the steak from the marinade, brush off the marinade, and season aggressively with salt and pepper. Place the steak on the hottest part of the grill and cook for 4 minutes on one side, then turn carefully with tongs and cook for 2 minutes on the other side.
Remove the steak from the grill and let it rest for 3 minutes.
Place 2 tablespoons of the barbecue sauce in the center of each of four plates. Slice the steak on an angle about ¼ inch thick, against the grain, and divide the slices evenly among the plates in little piles on top of the sauce. Sprinkle each plate with some of the ancho chile powder and serve immediately, with a sprig of rosemary on the side of each plate.
Apple Fritters with Cinnamon Chantilly
Makes 12 to 14 fritters
Ingredients:
For the Batter
1 cup cake flour
½ cup cornstarch
1 tablespoon baking powder
1 teaspoon kosher salt
1 cup ice-cold plain seltzer
1 large egg
2 tablespoons extra-virgin olive oil
For the Cinnamon Chantilly
2 cups whipping cream
¼ cup confectioners' sugar
2 teaspoons ground cinnamon
For the Cinnamon-Sugar
2 teaspoons ground cinnamon
1 cup granulated sugar
For the Fritters
1 quart peanut oil, for frying
3 Honeycrisp apples, peeled, cored, and cut into .-inch-thick rings
Directions:
Make the Batter
In a bowl, stir together the flour, cornstarch, baking powder, and salt. In a separate bowl, whisk together the seltzer, egg, and oil. Add the liquid to the dry ingredients and whisk until smooth. The batter should be the texture of crepe batter. If too thick, add more water; if too thin, add more flour.
Make the Cinnamon Chantilly
Place a metal bowl in the freezer to chill.
Place the cream in the chilled bowl and whip until soft peaks form, then add the confectioners' sugar and the cinnamon and whip for 20 seconds more. Refrigerate until ready to serve.
Make the Cinnamon-Sugar
In a bowl, combine the cinnamon and granulated sugar. Set aside.
Make the Apple Fritters
Heat the peanut oil in a high-sided pot until it registers 360°F on a deepfry thermometer.
Dip each apple slice into the batter. Let the excess batter drip off and carefully place the apple slice in the hot oil. Fry 3 to 4 slices at a time until a light golden color. Drain briefly on paper towels and then dredge in the cinnamon-sugar mixture, coating the fried apple slices evenly.
Serve with cinnamon chantilly on the side.