What Made Edna Lewis the Mother of Soul Food
The Virginia-born chef did more than anyone to elevate Southern food to haute cuisine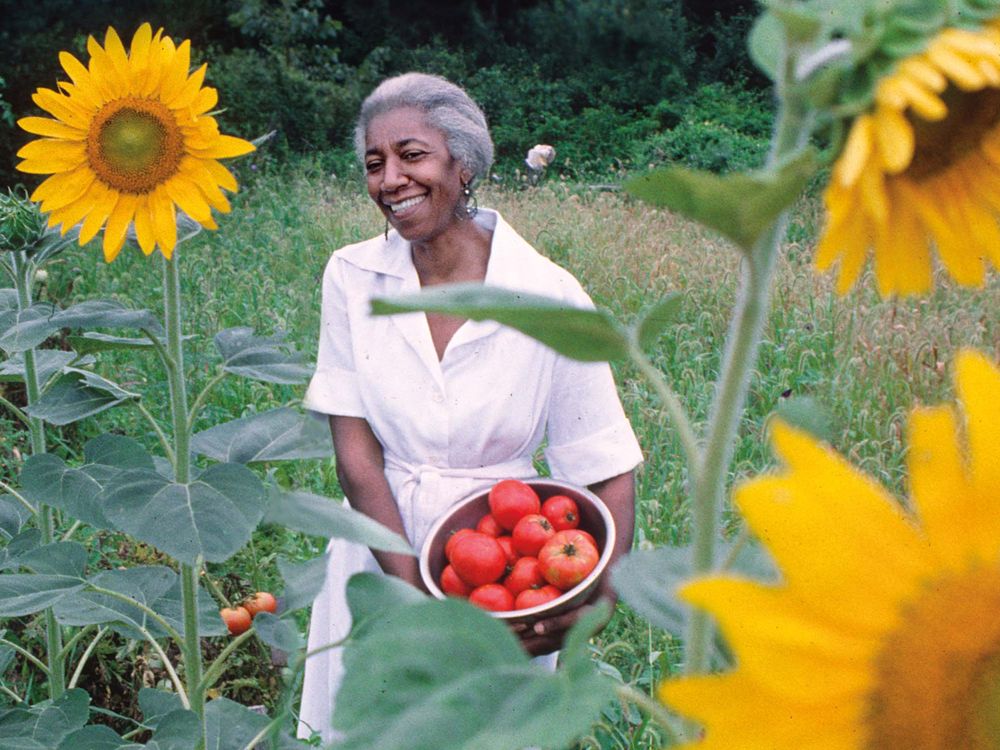 Some children are obsessed with soldiers, dinosaurs, princesses. Edna Lewis grew up in love with food and the land that yielded it. "I loved walking barefoot behind my father in the newly ploughed furrow, carefully putting one foot down before the other and pressing it into the warm ploughed earth, so comforting to the soles of my feet," Lewis wrote in her seminal 1976 cookbook, The Taste of Country Cooking.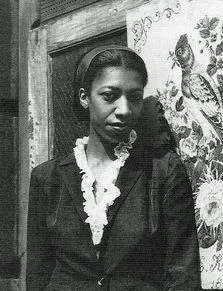 On some occasions, the plough would expose the roots of a sassafras bush, which Lewis and her father would take back home to brew tea the next morning. "Planting season was always accompanied by the twilight arrival of the whippoorwill repeating breathlessly and rapidly," she recalled on another occasion. For Lewis, the "birds, the quiet, flowers, trees, gardens, fields, music, love, sunshine, rain and the smells of the earth" were her muse and would play a large part in her ascendance to the heights of American cooking as the grande dame of Southern cooking.
Born in 1916, Lewis was raised in Freetown, Virginia, a farming community co-founded by her grandfather, who had been born into slavery. There were no local schools for Black children, so Lewis' grandfather hired a Black teacher from Oberlin College in Ohio to tutor young Edna and the youth of Freetown in the living room of his white log-and-clapboard house.
From an early age, Lewis learned to forage, hunt and prepare a variety of dishes, such as newly dug sweet potatoes and crisp shad roe; one of her childhood duties was gathering wild berries, greens, nuts and mushrooms from the surrounding woodlands. But she also learned fancy Continental recipes from women in the community, many of whom had spent time 130 miles up the road in Washington, D.C., working as cooks and preparing French-influenced cuisine for their employers, says Karen Sherry, senior curator at the Virginia Museum of History and Culture. "For centuries French cuisine was considered the epitome of fine dining in the Western tradition," Sherry notes, adding that these recipes were crucial to young Edna's culinary development.
Amid the Great Depression and the Great Migration, Lewis moved north by herself at age 16, finally settling in New York, where she first worked as a laundress. But she had no experience in ironing, and that first job lasted just three hours. Her sewing was strong, though, and she spent a brief period as a seamstress; she even crafted one dress for Marilyn Monroe. During this time, she married Steven Kingston, a cook with the U.S. Merchant Marine. The couple would have no children, though Lewis would later adopt an adult son, Afeworki Paulos, from Eritrea.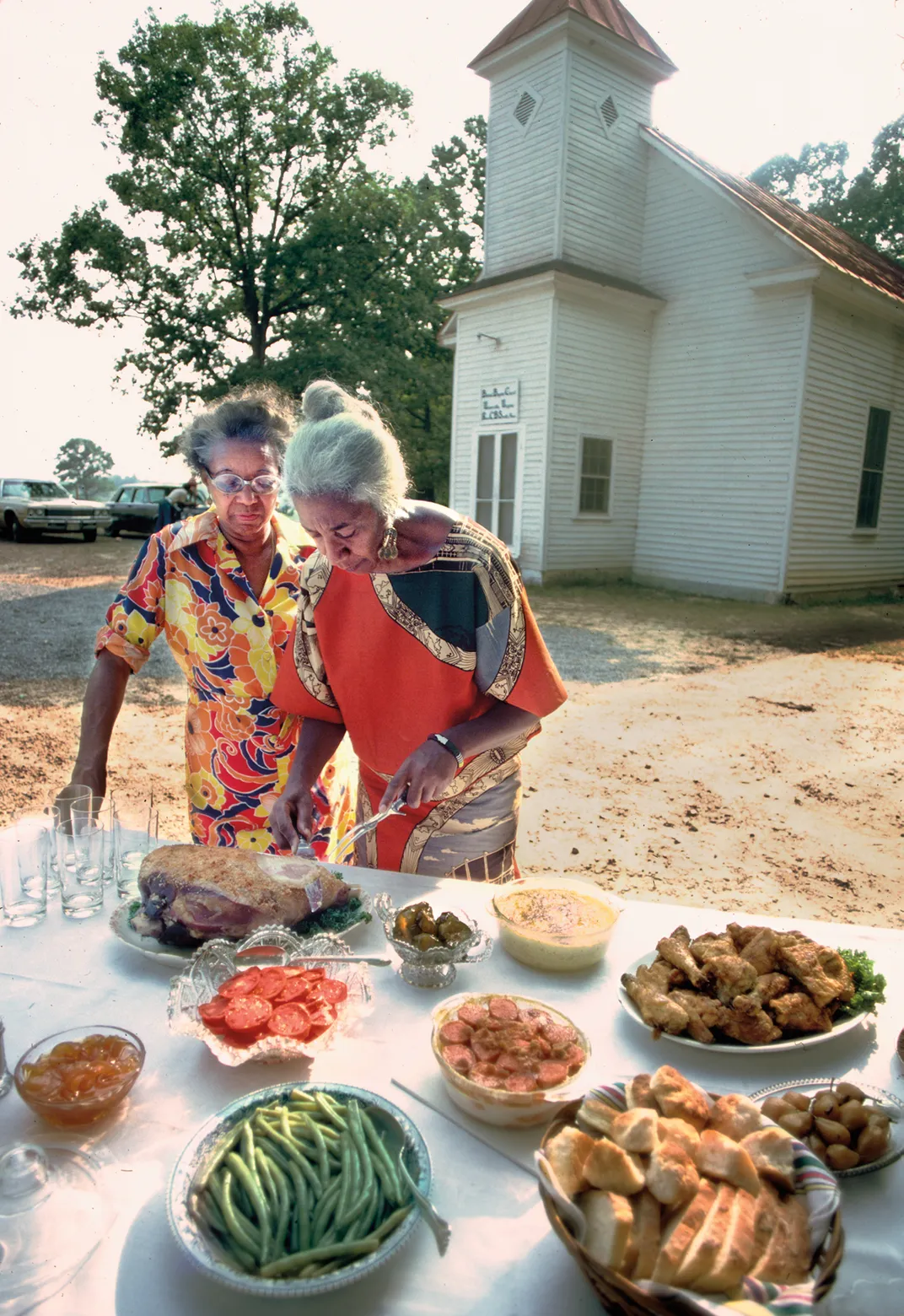 In 1948, Lewis, with Karl Bissinger, a photographer, and Johnny Nicholson, an antiques dealer, opened Café Nicholson, a French-inspired restaurant on Manhattan's East Side. As one of the era's few Black female chefs, Lewis quickly became famous in the city, and the café became a haunt for the likes of Gloria Vanderbilt, Tennessee Williams, Paul Robeson and Salvador Dalí. Lewis blended French and Southern cuisine, preparing fried oysters, Virginia ham, filet mignon and chocolate soufflés. The novelist William Faulkner once asked Lewis if she had trained in Paris and was shocked to learn she had never left the United States.
Lewis left Café Nicholson in 1954 to pursue other business ventures, which included running a pheasant farm with her husband, working as a caterer and culinary teacher, opening a restaurant in Harlem, and teaching for a decade in the African Hall at the Smithsonian National Museum of Natural History. A proponent of locally sourced food long before it was fashionable, she would go to great lengths to seek out only the most genuine and freshest ingredients.
When a broken leg forced her to stop cooking and confined Lewis to bed in the late 1960s, she began to put her recipes down on paper. This unexpected time off allowed her to compile The Edna Lewis Cookbook, co-written with Evangeline Peterson and published in 1972. Four years later, she released The Taste of Country Cooking, working alongside editor Judith Jones, who had collaborated with Julia Child. These books would establish Lewis as a champion of Southern cooking and an enchanting storyteller. Lewis' second cookbook was a best seller, catapulting her onto the national stage and motivating other American chefs to embrace Southern food—and to honor seasonal, local ingredients. It has been reprinted 23 times and saw a revival in 2017, when it shot up the Amazon best-seller list after a 2017 episode of "Top Chef" in which contestants prepared a dish in homage to Lewis' philosophy of food.
While writing her cookbooks, Lewis sought the help of her sister Jen to recall the flavors and cooking techniques of their childhood. On trips back to Virginia, she would try out recipes while staying with Jen, who lived on a farm close to where they'd grown up. Lewis' niece Nina Williams-Mbengue, then a young girl, assisted Lewis by typing out her handwritten notes. Part memoir, part cookbook, The Taste of Country Cooking presented vivid stories of the seasonal farming and harvesting traditions of Lewis' childhood, and of the Black South more broadly.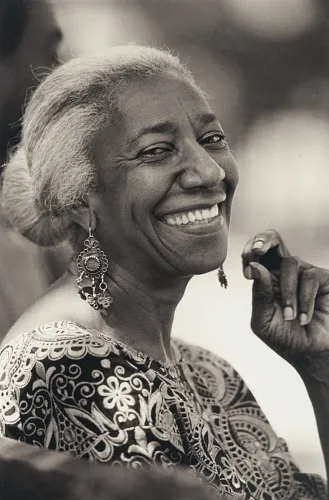 The American culinary industry had long treated European foods, particularly French cuisine, as the standard for quality. Now Lewis introduced the world to the deep delights of authentic Southern cooking. "She helped to legitimize Black and Southern foodways," says Joanne Hyppolite, curator of record for foodways at the National Museum of African American History and Culture. Thanks to Lewis, high-end restaurants across the country now serve mouthwatering Southern dishes with the seriousness previously reserved for Continental dishes. What's more, Lewis' first two books were among the first popular cookbooks to give rightful recognition to their Black author. In earlier books on Southern cooking, some white employers documented the recipes of domestic workers without giving credit to their Black cooks.
Hyppolite says the modern farm-to-table movement has roots in the work of Black farmers and chefs like Lewis, with their attention to fresh seasonal ingredients. By introducing the world to a refined version of Southern food far beyond biscuits and fried chicken, she says, Lewis' work has helped correct misperceptions that African American foodways are inevitably unhealthy.
Michael Carter Jr., a descendant of Freetown co-founder Robert Ellis, is a fifth-generation farmer in Orange County, Virginia, and the founder of Carter Farms, where Lewis' sustainable approach reigns supreme. Having tilled some of the same Virginia soil as Lewis, Carter in 2020 converted a portion of his family's farm to Africulture, an organic agriculture practice that he founded based on growing African crops and following Lewis' principles of local sourcing. A self-described farmer-activist, Carter says, "Well before becoming a popular movement, farm-to-table was a way of life for Lewis and this community." He credits Lewis with inspiring current efforts to diversify the U.S. agricultural supply chain by depending on small local farmers. Like Lewis, Carter also educates the public about the Black roots of American cuisine, giving lectures about Africulture at places like Virginia State University, in which he examines the contributions that people of African descent have made to food and farming, both domestically and internationally.
Lewis continues to inspire today's culinary celebrities, including James Beard Award-winning vegan chef Bryant Terry, who considers her a muse. In his most recent cookbook, Black Food: Stories, Art, and Recipes from Across the African Diaspora, released in 2021, Terry declares that his book is "grounded in the work of chef Edna Lewis, who celebrated local cuisines with seasonal ingredients." Other chefs inspired by Lewis include Mashama Bailey, another James Beard Award winner, who is a restaurateur and serves as chairwoman of the Edna Lewis Foundation, and Kwame Onwuachi, also a James Beard Award winner and restaurateur, who in 2021 launched the Family Reunion, an annual celebration of Black cooking and contributions to the food industry, held in Loudoun County, Virginia.
Throughout her career, Lewis constantly moved between the South and the North, serving as chef at Fearrington House in Pittsboro, North Carolina, Middleton Place in Charleston, South Carolina, and Uncle Sam's steakhouse in New York. In 1988, at the age of 72, she became head chef at the landmark Brooklyn restaurant Gage & Tollner. Under Lewis' guidance, the 109-year-old eatery transformed its menu for the first time in more than a century, adding items like corn pudding and pan-fried quail. According to a Newsday profile, Lewis would visit Union Square Market every morning before dawn to purchase produce for the restaurant. Nearly every year, no matter where she was based, Lewis would travel back to Orange County to reunite with her family and church, especially on holidays like Emancipation Day. When she returned to the North, she would always make sure to bring back jars of summertime preserves or pickles to be savored on a chilly winter day in New York.
In the early 1990s, Lewis decided to hang up her apron and move to Georgia, where she forged a remarkable friendship with Scott Peacock, then the head chef at the Georgia governor's mansion. Often described as the "odd couple of Southern cooking," Lewis and Peacock became close, and in Lewis' declining years, Peacock served as her caretaker, even co-writing her last book, The Gift of Southern Cooking: Recipes and Revelations From Two Great American Cooks. Published in 2003, the book showcases the two chefs' distinct styles. There are recipes for skillet cornbread, caveach and turtle soup.
By the time Lewis died in 2006 at age 89, she had received every major accolade the culinary industry offers. Lewis was officially named a "Grande Dame" by Les Dames d'Escoffier International; won the first-ever James Beard Living Legend Award, in 1995; was awarded an honorary PhD in culinary arts from Johnson & Wales University; and received lifetime achievement awards from both the International Association of Culinary Professionals and the Southern Foodways Alliance. She is also one of only five American chefs who have appeared on a U.S. stamp.
In her native Orange County, a recent "menu trail" guided visitors to seven restaurants serving meals based on Lewis' recipes. Offerings included smothered braised rabbit at Vintage Restaurant, roast quail stuffed with wild rice and white grapes at Spoon and Spindle and a classic apple brown betty at both Gordonsville Ice House and ClearWater Fire Grill.
In these ways, Orange County is bringing history into the present while honoring the woman who "changed perceptions about Southern food and African American foodways," as Sherry says, "and her unique and powerful voice that combines love, history and a strong sense of social justice." Right until the end of her life, Lewis maintained her deep, almost mystical reverence for nature. As she wrote in In Pursuit of Flavor, "Perhaps it is because of the natural, undisturbed compost that nurtures them year after year, or perhaps it is because they grow only where the soil, light and humidity are right for them, but wild things never fail us."
---
Savory Sample
Bring some of Lewis' earthy magic into your kitchen
Lewis' recipes evoke her connection with the earth—and her love of earthy flavors. This recipe, for instance, recommends asking the butcher to let the pheasants hang for a week, to increase their gaminess. Never mind that most of us no longer procure meat from a friendly neighborhood butcher. Usually we keep an anxious eye on sell-by dates to avoid gamy meat. But earthy? We are on Lewis' side when it comes to flavorful roasts, pungent herbs and zesty fruits.
Roast Stuffed Pheasants
From In Pursuit of Flavor (1988)
Nutty wild rice goes well with pheasant, and the sweetness of the grapes is a pleasant contrast to the birds' gaminess. You will need 2 cups of raw wild rice to make 4 cups cooked.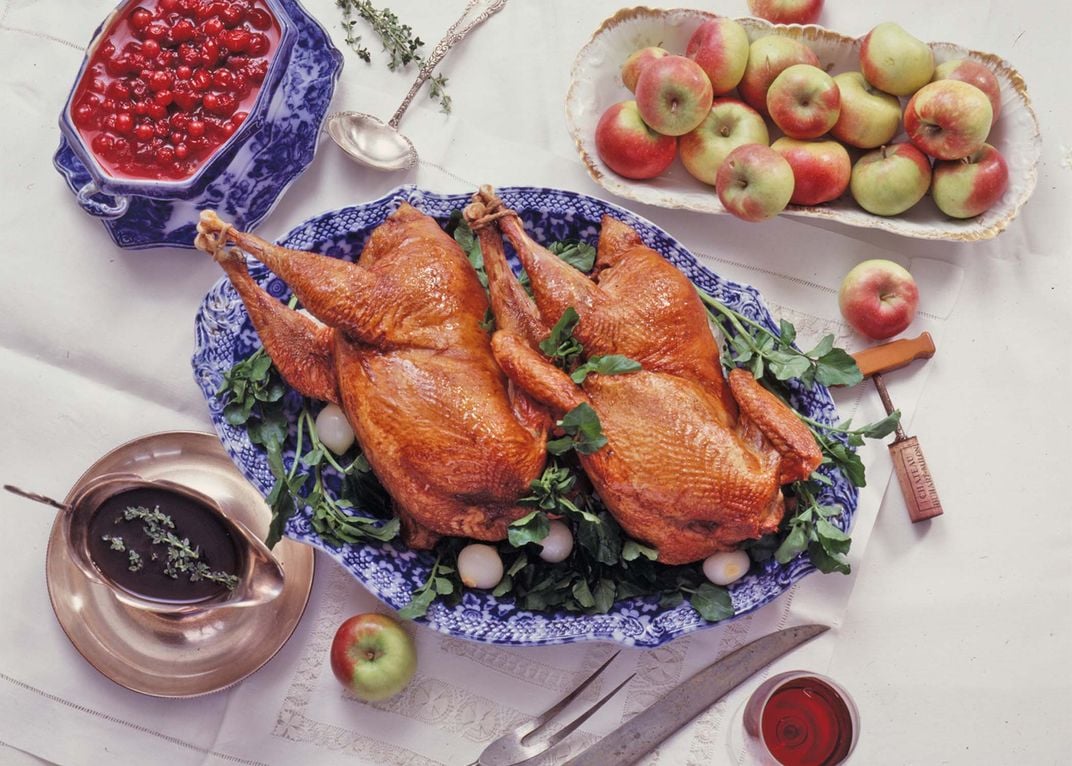 ---
SERVES 4
4 cups cooked wild rice
1 teaspoon dried thyme leaves
1 teaspoon salt
1 teaspoon freshly ground black pepper
2 tablespoons melted butter
Two 2½-pound well-aged pheasants
1 cup seedless white grapes
---
Put the wild rice in a large bowl and season it with the thyme, salt and pepper. Toss well and then add the melted butter. Toss again.

Preheat the oven to 375°F.

Rinse the outside of the pheasants and pat them dry. Spoon the stuffing into the cavity of each bird. Roast in a shallow pan for 1 hour, then remove the birds from the oven. Poke the grapes into the stuffing using a long-handled spoon. Return the birds to the oven and roast for 30 minutes longer. Press the birds with your fingertips; if they feel springy, they are done. Serve at once.