Mimi Sheraton's 10 Most Memorable Meals
From dinner by candlelight in Denmark to Peking duck in China, the celebrated food critic reveals her most memorable culinary experiences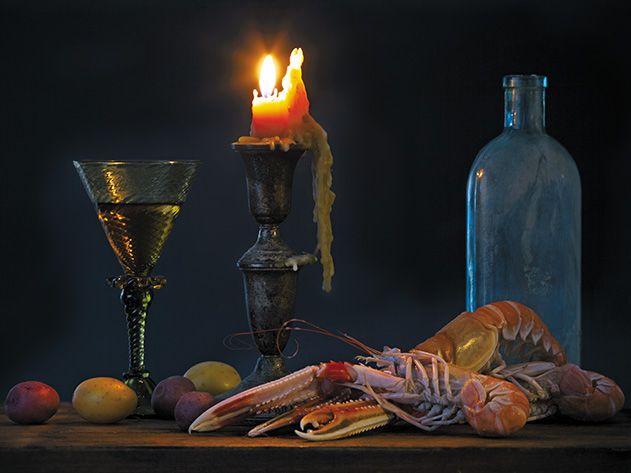 Editor's note, April 7, 2023: Mimi Sheraton, the esteemed restaurant critic and food writer, died yesterday at the age of 97. In her memory, we're revisiting this 2013 story she wrote about her ten most memorable meals.
With all of the humble to haute eating I have been lucky enough to do over the course of 21,170 restaurant meals in 49 countries since 1953, the occasions for truly illuminating, transcendent experiences have been as rare as a tennis-ball-size black truffle. But every once in a while I have been stunned by an extraordinary ingredient, a dish, a meal or a setting that has been transforming, completely altering my view of a food or a cooking technique or even the spirit of a presentation. Here are the most memorable of such gastronomic epiphanies:
1. Nordic lights. The pervasive effect of harmonious surroundings on the dining experience became apparent in the 1950s when I wrote about home furnishings and regularly visited Scandinavia, then the center of modern design. Lucky to be invited to dinners in several homes in Denmark and Sweden, I was introduced to the local custom of dinner by candlelight, the only illumination in the room throughout the meal. I was enchanted by the warm, sunny glow of candles on tables, mantels and wall sconces, casting flickering light on the impeccably prepared foods, mostly local and many foraged. The simplest preparations—a glossing of butter here or a touch of horseradish cream there—enhanced wild mushrooms and the tiny new red potatoes, along with dill-scented cured salmon, tiny sea-fresh shrimp and crayfish, all sparked by the clean taste of caraway-flavored aquavit. The candlelight had a quieting effect as voices dropped to intimate levels and an almost spiritual aura pervaded the table, but fortunately not to the exclusion of the mischievous sardonic Nordic humor.
2. A green fig plucked from a tree in an Italian garden. Until early one September morning long ago, the only figs I knew—and liked a lot—were dried: golden-brown, sticky and chewy with a burnished sweetness spiked with the intriguing crackle of tiny pinpoint seeds. But on the fateful morning in the Marche town of Senigallia beside the Adriatic, I tasted a small, plump jade green fig plucked from a tree in a garden. Sparkling with dew, the sun-warmed, suede-like skin yielded to a night-chilled, honeyed center—sheer ecstasy in a fruit that bore little resemblance to the dried version. I have had many delectable fresh green figs since but none that compared with the original, whether eaten out-of-hand, or split open on a plate and dabbed with a swirl of crème fraîche or a rivulet of heavy sweet cream.
3. Giant Syrian tomato. Blessed with having enjoyed many great tomatoes, such as Italy's San Marzano, our own New Jersey beefsteaks and Louisiana's glowing, sweetly pink Creoles, I was caught completely off guard a few years ago in the Napa town of Calistoga at the Forni Brown Gardens. At this farm that provides exquisite organic heritage vegetables and herbs to the elite restaurants of the Napa Valley and environs, I was given a cut half of a newly celebrated tomato, the Giant Syrian, a.k.a. Lyco- persicon esculentum. Round and plum red with very few seeds, this jolly giant of a fruit fairly quivered with succulence and a bloody richness, and had a beefy essence so complete that for once I did not think of reaching for salt. To meet up with the Giant Syrian, one must be near a farm that grows it, or plant its seeds in a home garden. I keep promising myself to take a chance on my sunny Greenwich Village garden, with seeds that I can order online.
With luck, one of the heirloom seed savers also might lead me to growers closer to New York just in case my own farming efforts fail.
4. Bucatini aglio olio. This elemental Roman specialty is a challenge and a joy and vies with linguine with white clam sauce as my favorite pasta. The challenge is to wind the thick cords of bucatini (an extruded spaghetti-like pasta with a slim center hole) around a fork and to convey them to mouth without being splattered by the hot golden olive oil (olio) scented with garlic (aglio). Touted as a late-night hangover preventive in Rome, thick bucatini provide sensuously chewy satisfaction heightened with the nutty garlic bits, verdant mincings of parsley and, for the brave of palate, fiery red flecks of the dried chilies peperoncini. (No cheese, please.) To achieve perfection the pasta should be Italian—made of durum wheat flour and molded in a brass die. It should be cooked only slightly al dente so it is not too stiff to wind yet is not mushy, and its cooking water must be well salted. The bits of garlic have to be sautéed in the best virgin olive oil to only the lightest, sunniest gold, and the flat Italian parsley leaves (no stems) must be freshly minced and sprinkled on just before serving, with luck in a warm wide bowl. There is no margin for error in a dish so simple, a reminder of the old admonition, "Never trust plain cooking to a plain cook."
5. Radis au beurre à la NoMad. Although the French kitchen is generally considered complex, I have come to appreciate it most at its simplest. That revelation came to me at lunch in a workmen's bistro in the porcelain-producing city of Limoges. I became intrigued watching some denim-clad laborers begin their meal with radis au beurre—snappingly icy, peppery radishes gentled with cool, sweet butter and crunched with coarse salt. I was fascinated by the way they handled the ingredients: Each radish was cut halfway through with a slim, sharp knife holding a tip of soft butter that remained atop the radish as the knife was withdrawn, then all was dipped into salt. Rarely able to execute that maneuver gracefully, I found radis au beurre heaven last year in Daniel Humm's inspired version at his hit New York restaurant the NoMad. There each petite white-tipped pink French radish is individually molded in a tiny round cup of sweet butter. All that is needed for total bliss is a few grains of the sea salt. Proof that the lily can indeed be delightfully gilded. (Editors' note: The NoMad closed during the Covid-19 pandemic and did not re-open.)
6. Caviar. For purists (like me) that would mean only Russian, with Iranian as a second choice, not because the sturgeon from the Caspian differ, but because the Russians are better at processing the precious roe. Odd to think that when as a child I tasted caviar it seemed horrible: All that oily fishiness popping on the tongue! And then one day when I was about 20, I tried again and couldn't believe that I had not loved it at first taste. What seemed fishy suddenly was perceived as an alluring deep-sea flavor and with a silky gliding texture and a titillating, tongue-curling edge of ripe earthiness that spoke of endurance and quality and development. A lesson in growing up and maturing tastes? Gradually I learned to choose from each season's best crop, which at times means the brown-gold osetra or the smaller grained gray-black sevruga that may have a better flavor even than the lusciously satiny most highly prized beluga, although now roe from that endangered giant sturgeon is banned. When buying any caviar, there must be the pre-purchase check on aroma (bright and fresh, never fishy) and the grains (whole and shiny, never shriveled and not mashed together and with no liquid leaking between them). Talk about simple perfection! Great caviar needs nothing more than itself with perhaps only occasional nibbles of fresh toast to renew the palate and sips of icily neutral vodka that highlights the caviar's unctuous charm more effectively than champagne. The only thing left to learn is where to get the money to pay for Russian sevruga and osetra—if you can even find them.
7. One perfect truffle. Of her much beloved black Périgord truffles, Colette was quoted as saying: "You smear it with foie gras, you bury it in poultry overloaded with fat, you chop it up and drown it in brown sauce....To hell with thin slices, strips, trimmings and peelings of truffles! Is it not possible to like them for themselves?" Not only possible, but essential. The only way to really grasp and remember the truffle's black magic flavor and exquisitely overripe, vaguely evil aroma is at least once to bite into one without any enhancement other than the kiss of butter or bacon and brandy that were brushed on before the truffle was wrapped in parchment and placed in a metal pan to be roasted under white ashes, a classic known as truffes sous la cendre—truffles under the ashes. It is a seduction I first experienced at the bygone Rôtisserie Périgourdine on the Place St. Michel in Paris. Young and impecunious, I splurged for a truffle listed under main courses and was stunned to receive only one charcoal dark, fragrant truffle nested in the center of a flower-folded starchy white napkin presented on a small silver tray. As it was a bit smaller than a golf ball, I feared starvation for the rest of the evening, but was surprised to be thoroughly sated by the stunning licorice shimmer of the butter-firm interior, as well as with the strong aroma and flavor of autumn leaves, cold woodland air, mystery, earthiness and an incredible balance of bitter, sweet and salty. The only truffle that need apply is the world's most elegant Tuber melanosporum. Nevermind bland, so-called summer truffles or Italy's white Alba truffles, heavenly as they are in their own but very different way.
8. Peking duck in Beijing. Many great dishes are named for their creators, but oddly, no one is honored for Peking duck, perhaps the greatest culinary invention of all. Imagine what went into that dish's development: knowing that to blow the slaughtered bird up with air and hang it for 24 hours will free the skin from the flesh as fat drips slowly out. Then to devise the savory glaze of rice vinegar, honey, plummy hoisin sauce, ginger, sesame oil and a pinch of hot chili peppers. The bird is then set vertically on a rack in the oven and brushed with sauce intermittently as the roasting proceeds. And to think of serving, most authentically, first the skin wrapped in hot thin crepes seasoned with hoisin with brushes of scallions and cucumber slivers to be followed by the meat and finally a heady soup of cabbage simmered with the bones of duck carcass. (Less traditionally and less ethereally, skin and meat are sometimes wrapped up together.) Having had Peking duck often, I was newly beguiled several years ago at the Da Dong Beijing Roast Duck Restaurant in Beijing, where women at the table were served the first course of crisped skin with small dishes of coarse, diamond-bright crystal sugar to be sprinkled on. I was told that a long-ago Chinese empress considered spices too strong for delicate feminine palates and thought sugar more appropriate. Certainly it delighted this feminine palate as the crackling sweet sugar mollified the underlying oiliness of the skin.

Da Dong Beijing Roast Duck Restaurant, 3 Tuan Jie Hu Bei Kou. Tel: 86-10-6582-2892.
9. Yakitori. Yaki means grill and tori means bird and thereby hangs the tale of what has to be the succulent apotheosis of grilled chicken. At my first sampling at Toricho on the Ginza in Tokyo, I was totally enchanted by the tiny bits of moist nuggets of dark chicken meat punctuated here and there with a wisp of scallion, or a dice of green pepper or a chunk of mushroom, all run on tiny bamboo skewers and grilled over charcoal behind the ten-seat counter and before my very eyes. Skewers were served one at a time for maximum hot freshness, alternated with cracklings of crisply grilled chicken skin, tiny balls of ground white meat, and bits of poultry livers, gizzards and hearts. Marinated in a blend of mildly sweet mirin wine, rock sugar and a combination of aged soy sauces, the poultry took on a burnished bittersweet flavor and a glaze that protected the meat's juices, all to get an extra touch of heat with a dip into aromatic sansho pepper powder or the spicier blend, shichimi. Not only the food at Toricho registered so strongly in my memory. I was even more impressed by the commitment to quality in this decades-old restaurant. Believing refrigeration destroys chicken's flavor, the owners of Toricho used to close down in July and August when unchilled chicken might spoil.

Toricho, Ginza, Namiki-Dori Street, Tokyo. Tel: 81-3-3571-4650.
10. The single best meal of my life—so far. By 1979, there had been a 15-year lapse since my first and only visit to Chez L'Ami Louis, that always exorbitantly expensive, lustily delicious, unprepossessing bistro in Paris's 3rd arrondissement. In that year I made a two-and-a-half week trip through France to report on the then new nouvelle cuisine created by chefs described as "young Turks." Returning to Paris and exhausted by the cleverness of the new, I looked for the oldest chef in town. A bit of research indicated Antoine Magnin, then reportedly 80 years old and cooking at L'Ami Louis since it opened in 1924. The dinner four of us had there was so totally stunning and soul satisfying it virtually wiped out memories of the new. And indeed that incomparably creamy and decadent foie gras simply served with chunks of bread toasted over a wood fire, the sizzling giant snails, the roseate garlic and thyme-scented gigot of lamb, the legendary roast Bresse chicken, the blood-red entrecôte and crackling roasted kidneys continue at what I think of as Louis' place, even while most of the nouvelle creations have disappeared, although their melodies linger on. My account proved to be a wildly popular article, and a valuable lesson professionally: When everyone is looking to the right (or the new), better to check up on the left (or the old).
L'Ami Louis, 32 Rue Vertbois 75003 Paris. Tel: 01-48-87-77-48.