Chef Margarita Carrillo Arronte on Why Mexican Cuisine Is a UNESCO Treasure
Meet the woman dedicated to preserving traditional Mexican cuisine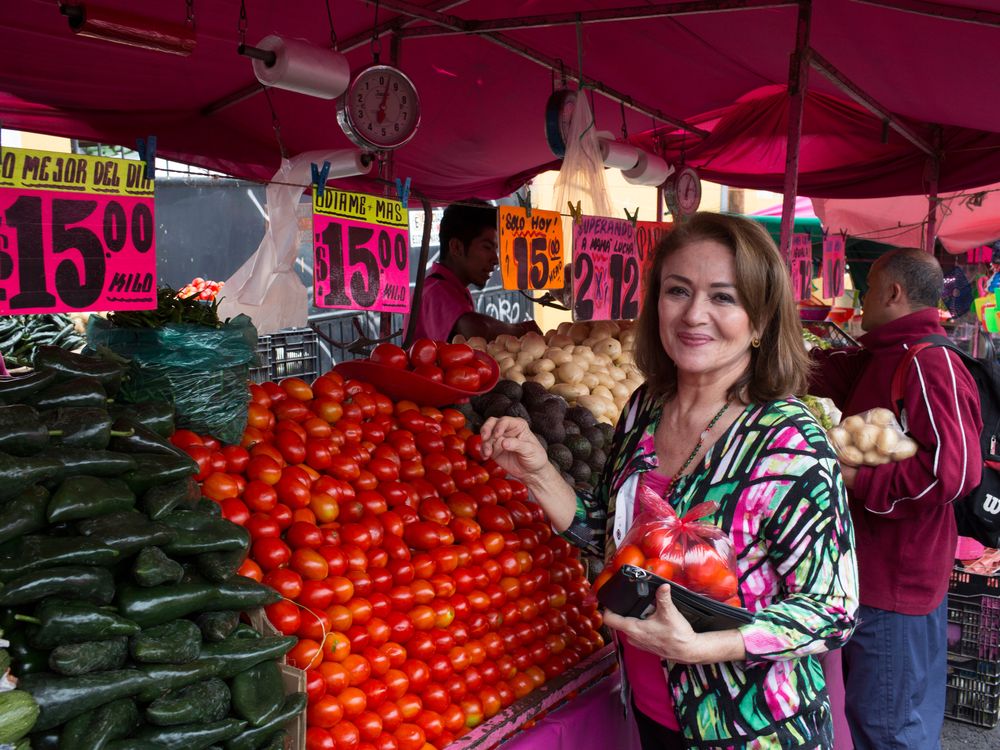 Margarita Carrillo Arronte spent much of her childhood in the kitchen, watching her mother and grandmother cook. Originally from the Mexican border city of Ciudad Juarez, the world-renowned chef, TV host, and author travels around the globe extolling her country's rich and varied cooking. She is also a member of the Conservatory of Mexican Gastronomic Culture, the organization responsible for the successful campaign to put traditional Mexican cuisine on UNESCO's list of Intangible Cultural Heritage in 2010. Carrillo Arronte spoke to Smithsonian Journeys about her path to becoming a chef, misconceptions about traditional Mexican cooking, and her plans for the future.
Walk me through a day in your family's kitchen.
We had breakfast together always and then went to school. Coming home from school, we had lunch together. My mother would have cooked something. She was always pampering us with food. It was a way of saying how much she loved us. We did homework and played, then we had dinner. In Mexico, we have a different system of eating than in the U.S. We have a heavy breakfast and then a heavier meal at lunchtime and then a light dinner. In the evening, we have just a quesadilla or a yogurt or a bowl of cereal. Something very simple.
Can you explain the concept of sobremesa?
Sobremesa is something so Mexican. After you have finished your meal, you stay with coffee—maybe the older men have a cognac, or maybe a cigar—and then talk, talk a lot, and be there for sometimes hours, depending on the day. My father came from his office every day to have lunch with us. It was the time for conversation.
How did your experiences in the family kitchen influence the path of your life?
Very much. We had a house with a huge kitchen, and inside the kitchen we had a small table where we had breakfast and lunch. We call it antecomedor, which is "before dining room." My mother was there cooking, or serving food, and we were all talking. It was a very active part of the day, our meals.
You were a teacher before you were a chef. What prompted this transition?
When the first school of culinary education in Mexico opened at one of the private universities, my husband encouraged me to join. He told me, "Well, you should formalize what you already know." And that's what I did.
How would you describe Mexican cuisine? What are its essential elements?
Traditional Mexican cuisine is mainly based on corn, chilies, beans,
and pumpkin seeds. This is traditional Mexican. And of course we have lots 
of beautiful sauces like moles (a pureed mixture of chilies and other ingredients), almendrados (almond sauces), and encacahuatados (peanut sauces). When the Spaniards came, they found an already developed culture, including cuisine. They brought cows, goats, sheep, hens, pigs, and they brought oil. It was very important, this fusion of ingredients of the Old World with our New World cuisine.
In the convents there was an important phenomenon. The nuns were either Spanish or Creole, meaning from Spanish parents but born in Mexico, with a very strong Spanish culture, and they were allowed to have a maid in the convent. The nun would ask her maid to cook this and that, and then the maid would add the little chilies and the little herbs familiar to her. This mingling of cultures started in the convents.
Are there misconceptions about Mexican food?
Oh, yes. The most important misconception is that Mexican food is not healthy; it's fattening, greasy, fried, cheap—which is completely wrong. Our cuisine was included in the list of Intangible Cultural Heritage of the world by UNESCO. If our food was like people think it is, it wouldn't have been included in this list. It's a very healthy food and very old. And it has evolved, taking elements of the new cultures that have arrived to Mexico.
In what ways does Mexican food abroad differ from authentic Mexican cuisine?
Traditional Mexican food doesn't travel well because it has a lot of regional spices and mainly herbs. Mexican food abroad is Tex-Mex. I have nothing against it. It differs in cooking techniques and ingredients, and the final result is completely different. I know it's good, but it's not Mexican.
What is the best way for travelers to experience authentic Mexican cuisine?
I would recommend that they not go to the tourist places. In some places, you can just go to the market and see what's going on around you. Go and eat where the locals eat.
Why was securing the UNESCO recognition important to you? On a broader scale, what does it mean to Mexico?
First of all, we know and now everybody knows that our food is not this Tex-Mex food that is known all over the world as Mexican.
I have a lot of fun with young students who are studying to become chefs. First they were very impressed
by the French and Italian and lately by the Spanish cooks who are so famous all over the world. With this recognition,
 it was like "Hey, look what you have at home." They turned and looked at Mexican traditional food, and now they're very interested in learning it well. Our mothers and grandmothers cook traditional Mexican, and we have it every day. We didn't recognize it as such an important thing. It was very important to have a self-evaluation, to recognize its worth.
The kitchen has traditionally been a woman's space in Mexico. Is it still? 
Definitely. But now, after the recognition, many men are considering Mexican cuisine worth dedicating their professional life to. They have come into the kitchen and learned from women. In Mexican restaurants, mayoras are the most important people in the kitchen. These ladies came into the restaurants maybe sweeping or washing dishes, or came as cooks, and then after a time earned the title of mayora. They are the ones who have the knowledge of ancient Mexican food, very humble women from different ethnic groups. In Mexico we learn from the mother, from the grandmother, with women passing on knowledge.
You've achieved so much in the food arena. What comes next?
I still have plans of traveling all
over the world, spreading the word of traditional Mexican food. Being included on this UNESCO list is not an award where you receive a diploma and put
it on the wall in your living room so
it will be there forever. It's a serious commitment that the government and the people of Mexico have made with UNESCO. Every year we have to inform UNESCO what we're doing in order to keep this wealth—promoting, preserving, protecting. We have to keep on working all the time.
Recipe: Bay Scallop Ceviche
This recipe is simple to make and relies on the freshest of seafood. Though many people believe that the lime juice used in ceviche "cooks" the scallops, that is not actually the case. Many hotels and restaurants blanche them, but at home I follow the traditional method. —Margarita Carrillo Arronte
Serves 6

2 cups mixed orange, grapefruit, and mandarin juice
1 pound 2 ounces small fresh bay scallops
3⁄4 cup lime juice

2 bay leaves

1⁄2 red onion, chopped
1⁄2 habanero chili, seeded and chopped
1⁄2 cup extra virgin olive oil

2 tablespoons chopped cilantro (coriander) leaves, plus extra for garnish
4 tablespoons chopped peppermint or spearmint leaves
1 cup orange and grapefruit segments, chopped
Salt and pepper
1 slice lemon (garnish) 1 slice lime (garnish) Tortilla chips

Pour the mixed citrus juice into
a saucepan, bring to a boil, and reduce by half. Set aside. Place the mixture in the refrigerator to chill.

Put the scallops in a bowl or dish, add enough lime juice to cover. Then add the bay leaves, cover with plastic wrap, and marinate for 20-30 minutes. Drain, put in a clean bowl, add the onion, chili, reduced citrus juice, olive oil, and the herbs. Salt and pepper to taste. Mix well. Add the fruit segments. Garnish with the lemon and lime slices, and place tortilla chips on the side.
Adapted from Mexico: The Cookbook, by Margarita Carrillo Arronte.