How Germany's Spaghetti Ice Cream Came to Be
Italian German ice cream maker Dario Fontanella invented "spaghettieis," a clever dish that has captured the hearts of many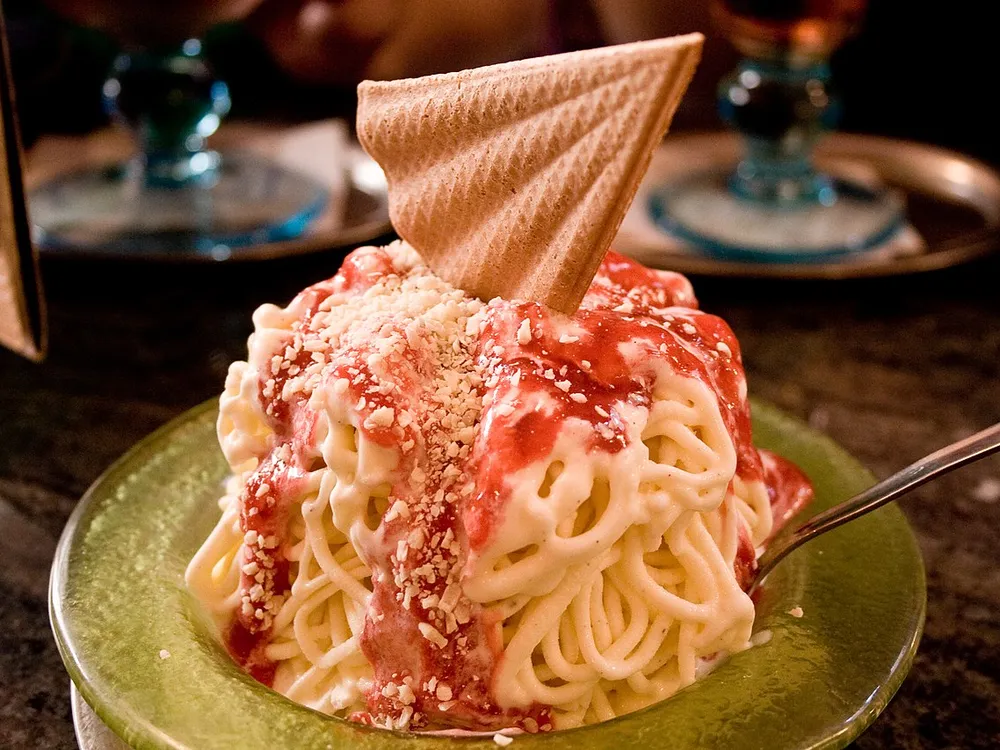 When Dario Fontanella dreamed up a wacky dessert imposter for his children in the 1960s, the Italian German ice cream maker couldn't have foreseen that his concoction would one day delight millions of people, young and old. Spaghetti ice cream, or spaghettieis, as it came to be called, gives the appearance of a bowl of spaghetti through methods that he invented to shape ice cream into thin strings. What looks like marinara and parmesan cheese is actually a fruit sauce and grated white chocolate.
"In the early days of the spaghettieis, children often started to cry when he served them," says Desi Fontanella, Dario's wife. (Desi spoke to Smithsonian on behalf of her husband, due to a language barrier.) "Since they ordered a sundae, they were rather disappointed about getting served a pasta dish."
Now, decades later, some 30 million cups of spaghettieis are sold in Germany each year. The popular dessert has become a staple in ice cream shops the country over.
Dario, 71, owner of Eis Fontanella, an ice cream shop in Mannheim, Germany, comes from a long line of ice cream masters. His grandfather opened a gelato shop near Venice in 1906, and his father established an Italian gelateria in Mannheim in 1933. Dario joined his father's business in 1970, and by 1985, he was at the helm. Today, Eis Fontanella is at the forefront of ice cream innovation, as spaghettieis continues to grow in popularity throughout Germany under Dario's lead.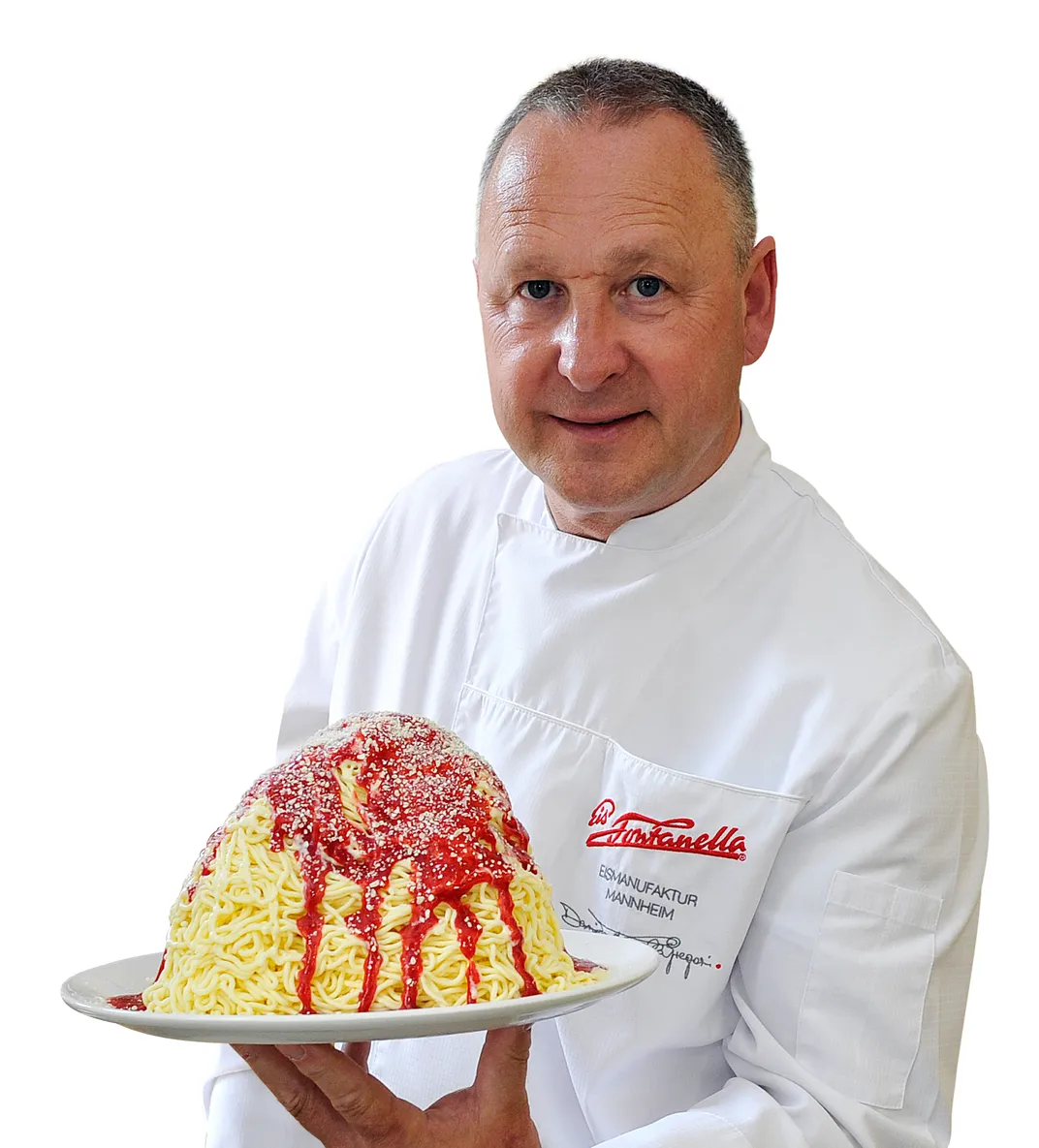 Dario Fontanella had invented spaghettieis before his official entry into the family business. The idea first came to him in 1969, while on a skiing trip to Cortina d'Ampezzo, Italy. There, he ordered a dessert called a Mont Blanc. Traditionally, the dish features chestnut puree piped onto a vanilla parfait using a pastry bag, giving the paste a stringy appearance. This particular restaurant, however, used a stainless steel spätzle maker, instead of a pastry bag, to give the chestnut mix a unique spaghetti-like appearance. Inspired, Dario experimented with this method to create an ice cream treat. In his first go, he arranged dyed batches of spaghettieis into an Italian flag. According to Desi, Dario's father was appalled by the strange-colored pasta. Ever since, Dario has taken a more realistic approach.
When Dario unveiled the new ice cream creation at Eis Fontanella in the 1970s, it catapulted business. Today, operations have expanded to include multiple shops selling spaghettieis, cakes, pastries, coffee and more than 200 flavors of ice cream, in addition to ice cream trucks and a factory for packaging sweet treats. In 2014, the city of Mannheim recognized Dario for his creativity and innovation, endowing him with the Bloomaulorden, an award created in 1970 that is given to citizens who exude the spirit of the city.
The history of ice cream creations
Fontanella isn't the first to form ice cream into a surprising shape. The most striking predecessors of spaghettieis came about in mid-18th-century Europe, when ice cream molds were popularized, allowing ice cream to be presented in unusual shapes, from animals to vegetables to portraits of political figures. The metal molds had a practical function in addition to aesthetics: They helped cool and solidify the ice cream in a time when ice and salt were both scarce. Now, with the expansion of refrigeration and other technology, and the widespread use of sugar, ice cream innovation is more a matter of creativity than necessity.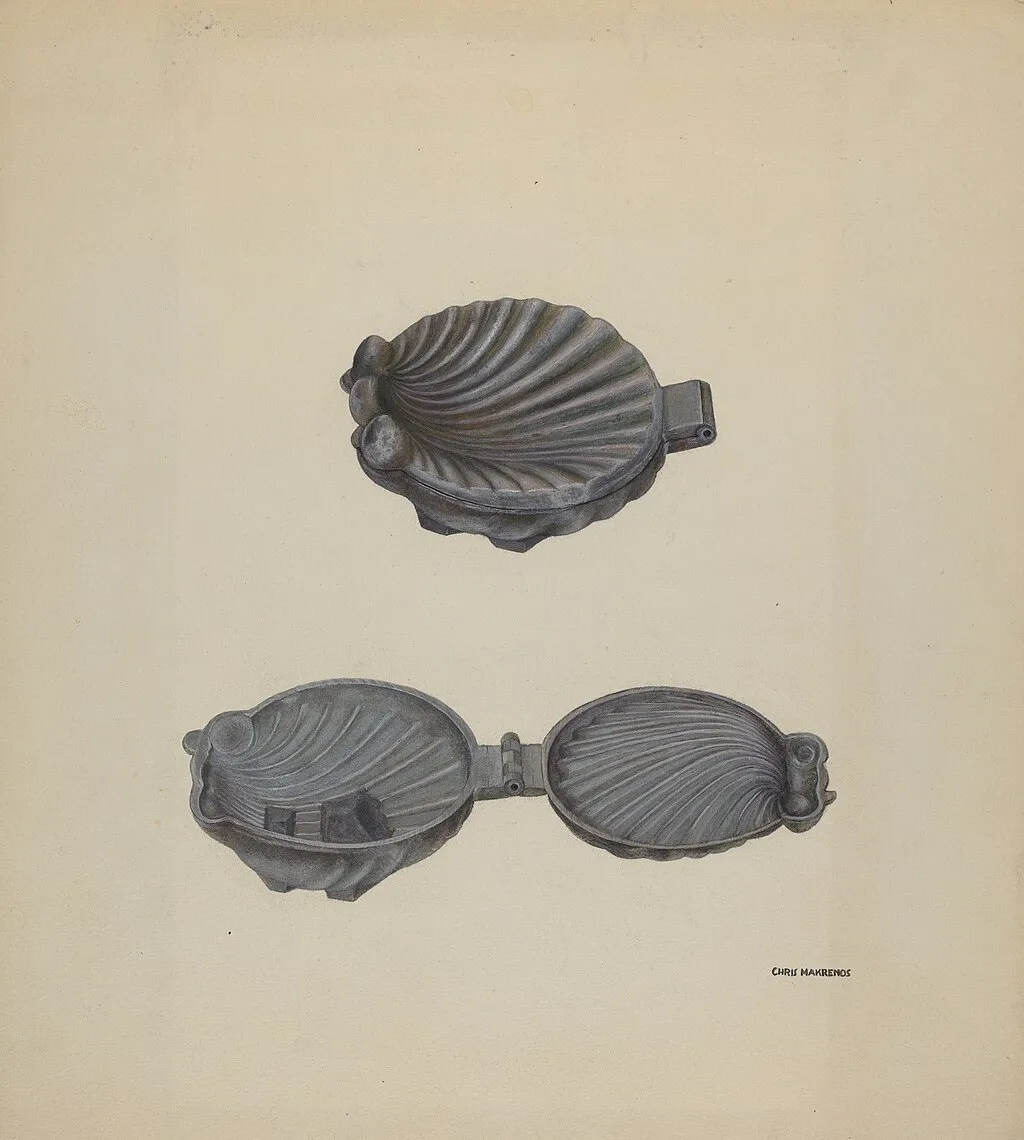 "The idea of molding ice cream is nothing new," says food historian Michael Krondl. "But molding it into spaghetti? That's unique."
Krondl has written numerous books on the history of desserts and how they tie into social change. From his experience, the stranger the invention, the more popular the dessert. The element of surprise has always been an important novelty in dessert making, and that is why he thinks spaghettieis has caught on in Germany.
Desserts that fool the eye into thinking they are something else entirely have infiltrated the world of game shows and reality television. The Netflix show "Is It Cake?" challenges contestants to spot the difference between everyday objects and extremely realistic cakes. Before "Is It Cake?" made its debut, the TLC show "Cake Boss" caught the attention of millions of viewers as head baker Buddy Valastro made extravagant cakes that sometimes looked like sculptures or wild scenery.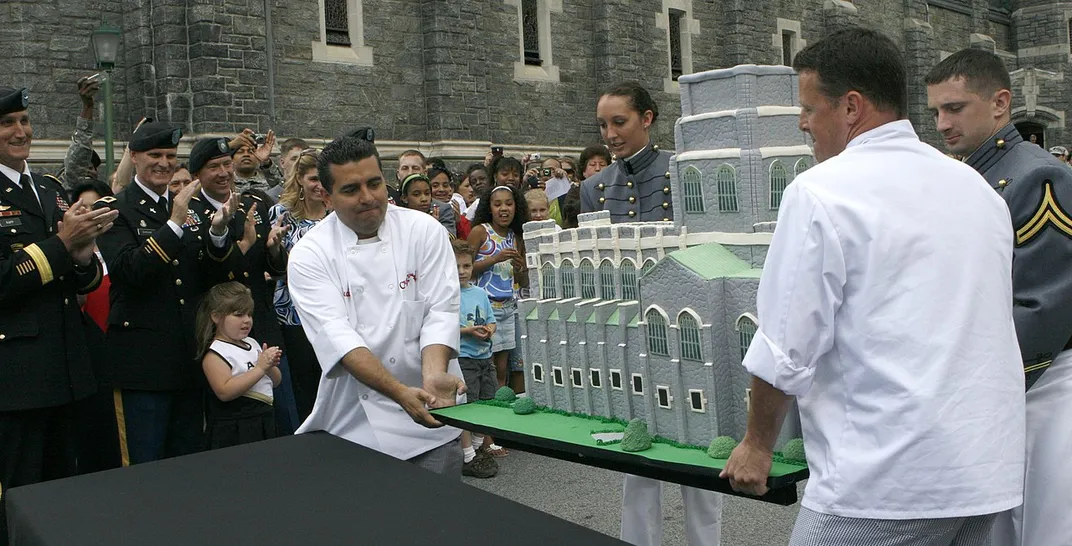 "I've noticed that throughout American history, moments of social anxiety around truth tend to be accompanied by similar 'fool the eye' pop culture phenomena, from P.T. Barnum's hoaxes to a painting technique called 'trompe l'oeil,'" writes Maggie Cao, an art historian at the University of North Carolina at Chapel Hill, for the Conversation.
How to make spaghettieis
Spaghettieis is made by first layering whipped cream down on a dish. Then, vanilla ice cream is compressed using a spätzle press or a potato ricer. The secret to shaping perfect noodles is keeping the spätzle maker cold. The red sauce that smothers Dario's version of the dish is a strawberry jam, made with fresh strawberries and orange juice. Lastly, white chocolate is grated over the dish to look like a sprinkling of parmesan cheese.

Dario has crafted different spins on the original dish. For spaghettieis carbonara, the strawberry jam sauce is replaced with eggnog or vanilla cream sauce. Spaghettieis bolognese features a dark caramel or chocolate sauce with nuts, producing a meaty appearance.
The dish has no copyright or trademark, meaning many ice cream shops across the world have been selling spaghettieis for decades. Stateside, the Eishaus in Covington, Kentucky, is known for its own unique takes on the dish, like batches of Nutella-flavored noodles. While the intellectual property could have given the Fontanella family a monopoly on the spaghettieis industry, they prefer the sweet treat to be available to all.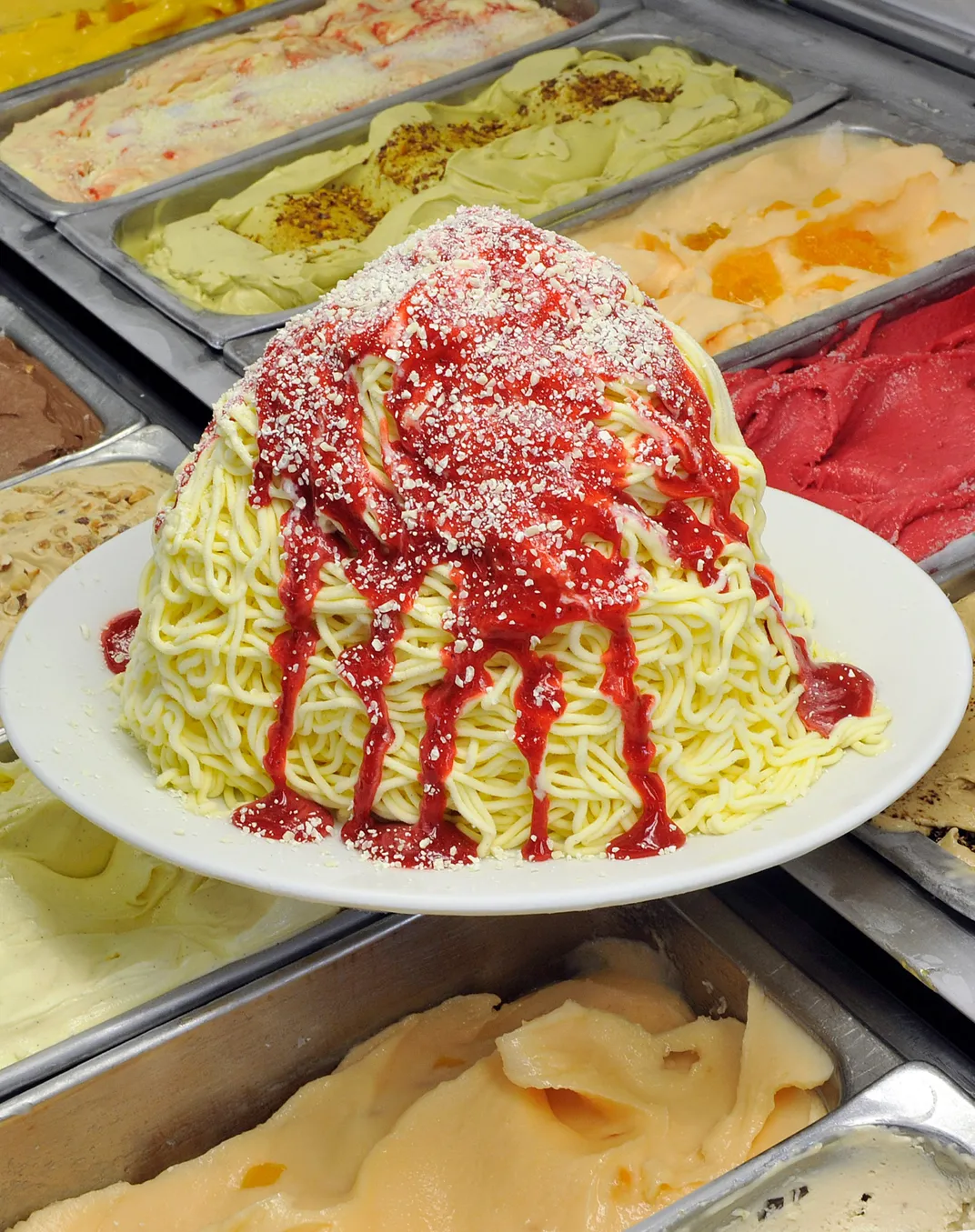 Dario Fontanella's Spaghettieis Recipe
Ingredients
4 scoops of vanilla gelato
2 cups of fresh strawberries, washed and hulled
1 tablespoon sugar
½ cup of unsweetened whipped cream
White chocolate
Preparation
Wash and dry a spätzle press and place it in the freezer for about 15 minutes.
Place the washed and hulled strawberries in a blender. Add the tablespoon of sugar and blend until smooth.
Place a dollop of whipped cream on a chilled plate.
Scoop two gelato balls into the spätzle press, squeeze the gelato through the holes and swirl it onto the plate, covering the whipped cream.
Pour strawberry sauce over the spaghettieis.
Grate white chocolate like parmesan cheese over the strawberry sauce.