The Ever Expanding World of Wine Takes Your Palate to Unexpected Places
Never before have so many diverse wines, from so many places, been available to so many people around the globe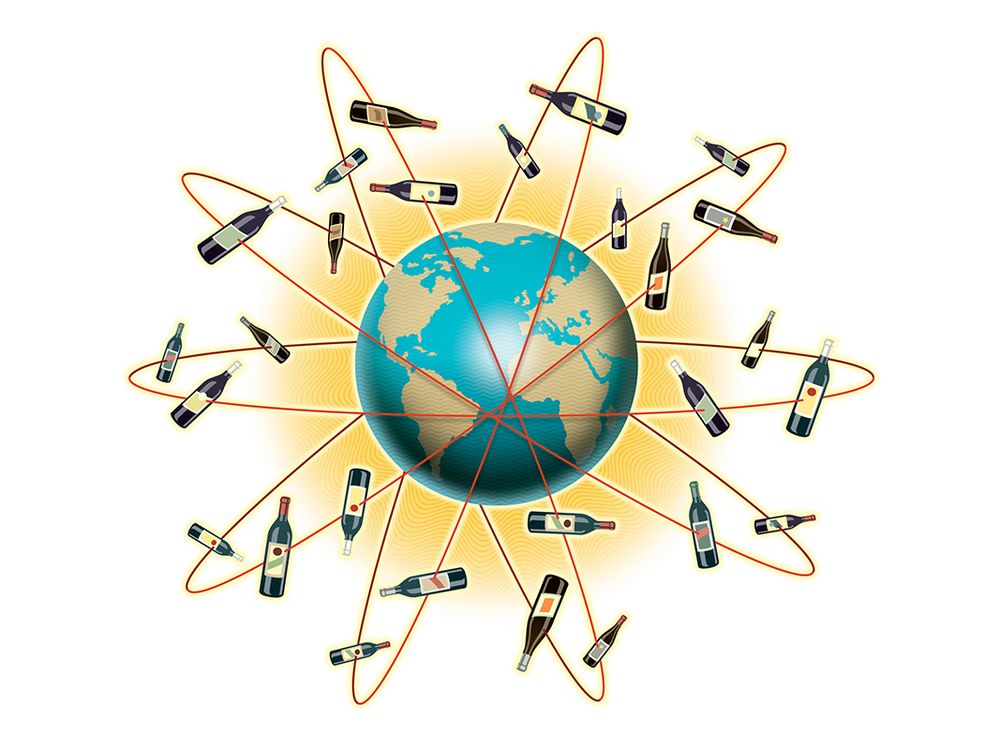 For all of recorded history and even before, wine has been intrinsic to the lives of the Greeks, Romans, and other peoples of the Mediterranean and Caucasus regions. The best wines in ancient times were largely reserved for a select few. For others, wine was rough, sour, acrid—consumed not in pursuit of some form of connoisseurship but largely because it was safer than water.
Most wines were consumed locally, not far from where they were made. By the 18th and 19th centuries, however, some wines were identified as better than the rest and became commodities to be shipped to wherever they were in demand. Their names became famous: Bordeaux, Burgundy, Champagne, sherry, port, Madeira, Rhine wine.
In the past quarter century, this portfolio has expanded dramatically. We now live in an era that would be almost unrecognizable to wine lovers of our grandparents' generation. Never before have so many different wines, from so many places, in so many diverse styles, been available to so many people around the globe.
Of the seven continents, only Antarctica does not have vineyards. Australia, South America, Africa, North America, and Asia have all joined in. While the wines of Argentina and Chile sell by the millions of bottles each year in the United States, wines from Uruguay and Brazil are now also appearing in stores. Israel and Lebanon, South Africa and Turkey all make good wine. And let's not forget India, Thailand, Japan, and China, which have their own adolescent wine industries.
Closer to home, every state in the U.S. now makes wine. A lot of it is not very good, but you'd be surprised at the high quality coming from unexpected places. The Finger Lakes region of New York has taken its place as a world-class producer of Riesling. So has northern Michigan. I've had fine wine from Idaho and Utah and, yes, even from Texas.
In New Mexico, the Gruet winery makes excellent sparkling wine from grapes grown in the Rio Grande Valley. And speaking of sparkling wine, some terrific bottles now come from the south coast of England, where the pale calcareous soil—picture the White Cliffs of Dover—is very much like
the famous chalky terrain of
France's Champagne region. It used to be considered too cold to make fine wine in England. But that was before climate change.
Even more exciting than the new producers of wine are the age-old areas that were little known before, but are now thrilling wine lovers everywhere. Sicily, for example, was known for making vast quantities of dull, powerful wine, often used to punch up weak vintages in France. Now the reds and whites of Mount 
Etna and the Vittoria region are superb, complex, and delicious.
The Greek island Santorini was never known for good wine. Neither were the Canary Islands of Spain. But the vibrant whites of Santorini are now a vivacious pleasure with seafood, while the reds of the Canaries are great values for smart wine lovers.
The list of historic wine localities discovered by the rest of the world in recent years goes on and on. The Jura in eastern France, with its peculiar yellow wines and pale reds, was ignored even by the French. Now its wines are prized in San Francisco, Tokyo, and New York. Few people even 10 years ago had heard of Ribeira Sacra, in western Spain, where the breathtakingly steep slopes rising from rivers were first planted with grapevines by the Romans. Now their delicious reds, made from the Mencía grape, are a worldwide delight.
Each year the discoveries continue. Some of the most exciting have happened in countries where vigorous wine cultures that had thrived for centuries were stanched by the collectivist economics of communist governments. The country of Georgia, hidden away 
in the Caucasus on the hinge between Europe and Asia, may well have been the place wine was invented several millennia ago. Today some of its best wines are still made using ancient methods and are thoroughly idiosyncratic and wonderful.
The choices can seem so vast that wine lovers today sometimes feel intimidated. It can seem easier to open a familiar Merlot, or even grab a beer. But for the adventurous spirit, the rewards of going farther afield are vast. Wine is so much more than a grocery list of flavors in a glass. It's an invitation to explore.
Five Worldly Wines to Try
Kiralyudvar Tokaji Furmint Sec, Hungary, 2013; $21. Communism quashed the historic wine cultures behind the Iron Curtain. They are now reviving, and this kaleidoscopic dry white, made from the Furmint grape, is a beautiful example.
Benanti Pietramarina Etna Bianco Superiore, Sicily, Italy, 2012; $55. The wines of Sicily were once despised as heavy and clumsy, but the Mount Etna region is now among the world's most exciting sources. This wine, from the Carricante grape, is one of Italy's best whites.
Domaine Zafeirakis Limniona, Tyrnavos, Greece, 2012; $20. Limniona, an indigenous Greek grape, had practically disappeared by the end of the 20th century. Now it's been resurrected.
Saetti Lambrusco Frizzante Salamino di Santa Croce, Emilia-Romagna, Italy, 2014; $20. Lambrusco is often disparaged, especially by those who remember the popular, cloyingly sweet, mass-produced versions that were popular in the United States in the 1980s. This is the real thing, earthy and delicious.
Bodega Chacra Cinquenta y Cinco, Patagonia, Argentina, 2015; $50. Age-worthy pinot noir from Argentina? This graceful, savory wine is gorgeous.