Celebrated Middle Eastern Food Writer Claudia Roden Shares Stories and Recipes From Her Kitchen
For Roden, food is a lens to understand history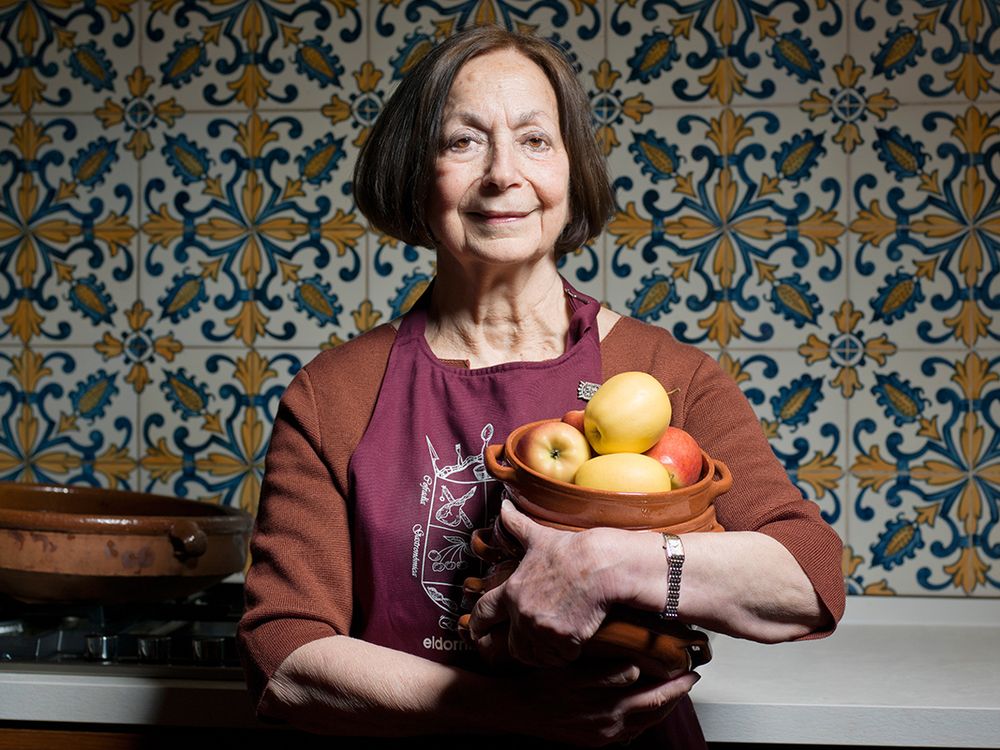 "The history of this food is that of the Middle East. Dishes carry the triumphs and glories, the defeats, the loves and sorrows of the past," Claudia Roden writes in her classic, The New Book of Middle Eastern Food. As the author of ten books, with another on Mediterranean cuisine in the works, Roden approaches the subject of food with a scholarly discipline and the persistence of an anthropologist in search of the last member of a disappearing tribe.
Roden, who comes from an old Syrian-Jewish merchant family, grew up in Cairo until the Suez crisis prompted a flight to London in 1956. It would be 30 years before she would return to that city, and when she did, "all the foods on the table were exactly the same as they were before I left—dips, stuffed vegetables, filo pies, vegetable omelets."
"For me," she says, "researching food has been my way of discovering the Middle East and its people—a world that fascinated me because it was also my own."
Tell me about the kitchen in the Cairo home where you grew up. What did it look and smell like?
The kitchen was the domain of the cook, who slept in the servants' quarters on the roof terrace of our building. It was practical but primitive—we had an icebox, and an iceman came every day to replenish the big block of ice. Vendors came at the back door with crates of vegetables. Awad, the cook, came from 
a village in Upper Egypt and was taught to make our family dishes. When we entertained for large numbers, a relative would come to help with her servant. While the cooks worked in the kitchen, the women sat around the dining room table making little delicacies like almond fingers, filo triangles, stuffed vine leaves, kahk (biscuits), ma'amoul (date- and nut-filled cookies) and chatted; children were allowed to join in and do some of the rolling and wrapping. It was a time of gossip and fun. When we were small, our nanny cooked for us, and we ate with her in a little room that was between the kitchen and the dining room. Our nanny was from Slovenia, when her village was part of Italy. While we spoke French at home, we spoke to her in Italian. She cooked dishes from her home, including potizza (a type of stuffed pastry or bread), polenta, and pasta. Many different aromas came out of the kitchen, including onions, garlic, tehina, pomegranate, molasses, rose and orange blossom water, and a variety of spices that reflected the family origins in Aleppo and Istanbul.
Immigration is in the headlines. Explain the interplay between it and food, particularly as it relates to the Middle East.
Food is a way that an immigrant community insinuates its culture in a new homeland, especially as street food. I just read that couscous is currently
 the most popular food in France, partly because it is cheap, but people have come to love the filling dishes of grain, meat, and vegetables. In Britain, according to some surveys, hummus is found in 45 percent of the fridges of the land.
Speaking of hummus, let's deconstruct the "hummus wars," and the countries that claim the dish as theirs. "Even the best of friends may easily turn against each other if they find themselves in opposite hummus camps," chef Yotam Ottolenghi writes.
Hummus has been eaten in several countries for generations, and no 
one ever complained until Lebanese manufacturers saw that Israeli companies were selling Israeli mezze and hummus in the United States. Palestinians also feel that Israelis have stolen their traditions and culinary culture, although a large part of the population of Israel comes from countries where hummus was traditional. But more usually food has the power to bring people together and bond.
The tradition of Middle Eastern hospitality seems to exemplify that power to promote bonding.
A host [in the Middle East] is honor bound to be generous and to give all he can to a guest. To entertain a guest is the greatest joy. It was an important part of our life in Egypt and was all about giving food. In our family,
 guests and men were always served first. Even in London, my mother always served men first. In Egypt, when a platter was passed around the table for people to serve themselves, they would always serve their neighbors first and give them the best morsels. Guests always left a little something on the plate when they couldn't eat any more, because as soon as it was empty the hostess filled it up again. There had to be a lot left on serving platters or the hostess would feel that guests could have eaten more and they had not made enough.
Walk us through your favorite Middle Eastern market.
A favorite is the Istanbul Misir Çarşısı, which means "Egyptian bazaar," because the spices once arrived via Egypt. It is a huge labyrinth of alleys under a vaulted roof. Food vendors display their wares amid carpet shops, jewelers, and leather goods sellers. Giant chunks of white cheese sit by piles of olives and cured fish. Lamb sausages hang over jumbled mountains of thinly sliced spiced beef. Syrupy pastries filled with nuts sit beside little pots of creamy white milk puddings.
Spice merchants, baharatçı, sell every kind of aromatic, as well as dried fruit and nuts, grains, and dried vegetables, such as baby okra, little red chilies, and hollowed eggplants that look like leather bells hanging on strings. Powerful aromas emanate from mounds of red, gold, and brown powders, curious looking roots, bits of bark, shriveled pods, berries, bulbs, and rosebuds. The vendors call you and offer you a taste.
Middle Eastern food evokes the idea of spirituality, in biblical references or as part of religious celebrations, like 
Eid al-Fitr at the end of Ramadan. One story in your book took my breath away. You were in Istanbul, and it involves a piece of bread...
I was with friends in a restaurant. The table was wobbly, and all I could find to put under the leg on my side to steady it was a leftover piece of hard bread. Everyone jumped to retrieve it, and the person who got it kissed it. Bread is believed to be a direct gift from God. I realized that what I had done was a sacrilege.
Yogurtlu Kebab; Kofta With Tomato Sauce and Yogurt
"Hardly any dishes were invented by restaurant chefs in Turkey, 
but this one was, by a man called Iskander; that is why it is also known as Iskander kebab. It made its appearance in the 1920s, after the Ottoman Empire had crumbled and Turkey became a republic. The cooks who had worked in the kitchens of the Sultan and in the homes of the aristocracy became unemployed and looked for ways to survive. Many opened restaurants, mostly kebab houses.
This dish has remained a mainstay of such restaurants, where it is sometimes served dramatically in a dome-shaped copper dish—the type used at the Sultan's Palace. I serve it in deep, individual clay bowls, which can be kept hot in the oven. It is a multi-layered extravaganza. There is toasted pita bread at the bottom, covered by a light sauce made with fresh tomatoes, topped by a layer of yogurt. This is sprinkled with olive oil colored with paprika, and with pine nuts. Skewers of grilled minced meat kofta or small burgers are laid on top. The tomato sauce and meat must be very hot when you assemble the dish. The yogurt should be at room temperature." —Claudia Roden
Serves 4

1 pound tomatoes, peeled and chopped
4 tablespoons olive oil Salt and pepper
1 teaspoon sugar
1 thin pita bread

1 1⁄2 pounds ground lamb

1⁄2 cup chopped flat-leaf parsley

2 medium onions, grated

2 1⁄2 cups whole milk natural yogurt at room temperature

1 teaspoon paprika

2-3 tablespoons pine nuts, toasted or untoasted

To garnish, 2 tablespoons finely chopped flat-leaf parsley (optional)

Place the tomatoes in a pan with 1 tablespoon of oil, salt, pepper, and sugar, and cook over medium heat until they soften.

Toast the pita bread until it is crisp, then break it into small pieces.

Put the meat in a bowl and add salt and pepper, parsley and onion. Mix well and knead to a soft paste, then shape into 12 or 16 small burgers. Cook them under the broiler, turning them over once, until they are brown outside but still pink inside.

In each individual bowl put 1⁄4 of the toasted bread. Cover with 1⁄4 of the tomato sauce and top with a layer of yogurt. Mix the paprika with the remaining oil and dribble over the yogurt, then sprinkle with pine nuts. Arrange the burgers on top. If you like, garnish with chopped parsley.
Recipe adapted and photo excerpted from The New Book of Middle Eastern Food by Claudia Roden. Copyright © 2000 by Random House. Excerpted by permission of Alfred A. Knopf, a division of Random House LLC. All rights reserved. No part of this excerpt may be reproduced or reprinted without permission in writing from the publisher.