Why Making "Derby-Pie" Might Land You a Lawsuit
The Kentucky Derby's traditional dessert has a tangled legal history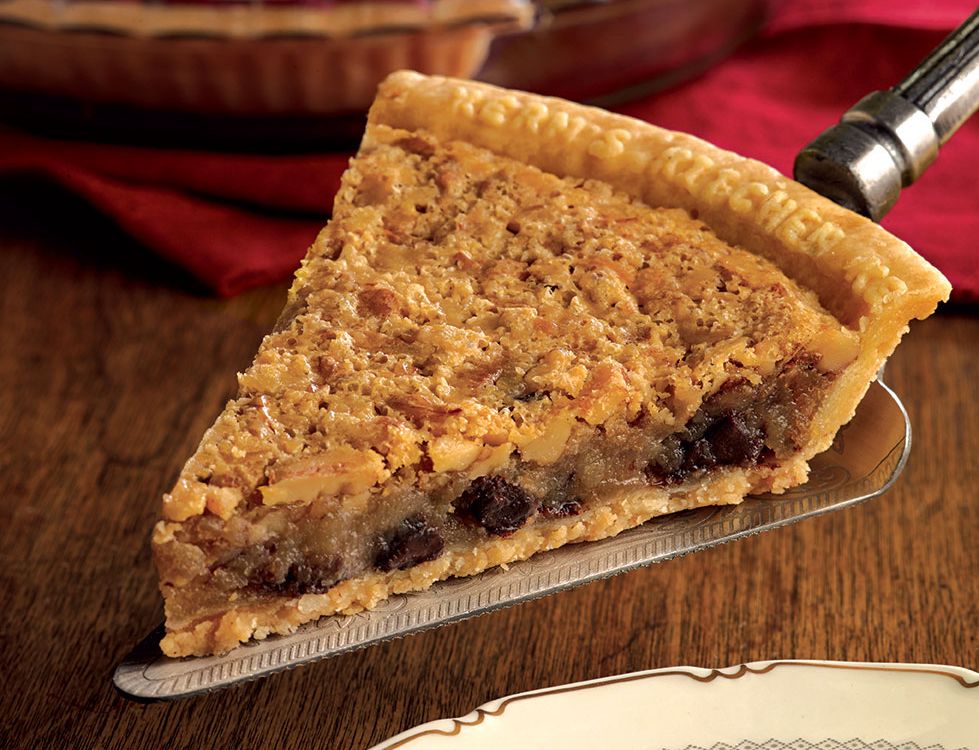 The Kentucky Derby is more than just a horse race: it's a festival packed with all sorts of annual traditions that date back decades, if not centuries. From flamboyant hats to mint juleps, the Kentucky Derby's trappings are nearly as iconic as the race itself, but of all its traditions, the stickiest might be what many call a "derby pie."
At first glance, the iconic dessert might not seem that special: what most people call "derby pie" is basically a pecan pie spruced up with bourbon and chocolate chips. But while the name is common with diners and anyone can find different versions of the sticky-sweet treat at restaurants and bakeries across the south, only one company has the legal right to use the name "Derby-Pie," Nina Feldman reports for NPR.
Louisville's Kern family has been making "Derby-Pie" for more than 50 years, ever since they ran the Melrose Inn in Prospect, Kentucky. There, Leaudra, her husband Walter and their son George made the sweet treat for the first time. While the restaurant closed years ago, the family continues to sell Derby-Pies through its company, Kern's Kitchen. They pump out more than 1,000 "Derby-Pies" every day – and thanks to a trademark filed decades ago, they are the only people who can legally call it that, Chuck Martin writes for the Cincinnati Enquirer.
"You can say, 'We have chocolate pecan pie, but we do not have "Derby-Pie,'" Susan Fouts, a hostess at the Science Hill Inn in Shelbyville, Kentucky tells Feldman. "You didn't know if they'd sent a plant in to see if we were doing it or not."
For years, the Science Hill Inn served what they called "derby pie." But one day, like many other restaurants and bakeries around the country, they received a cease-and-desist letter from Kern's Kitchen in the mail, Feldman reports. Ever since, servers at the Science Hill Inn have had to be careful about how they serve their version of the traditional dessert.
"Most people don't understand that if you own a trademark, it's your responsibility to protect it," Alan Rupp, Grandma Kern's grandson and the current owner of Kern's Kitchen tells Martin. "I'm not looking to sue anyone, despite what a lot of people think."
Kern's Kitchen trademarked the name "Derby-Pie" in the late 1960s and has vigorously defended the copyright ever since. According to Kern's lawyer, Donald Cox, the company has sued in order to protect the trademark more than 25 times over the decades and sends about one or two cease-and-desist letters per week, Brett Barrouquere reports for the Associated Press. Notably, the company took Bon Appetit to court in 1987 after the magazine published a recipe for "derby pie," arguing that it was a generic term. While Bon Appetit won the first case, Kern's trademark was later upheld by an appeals court.
Kern's Kitchen's staunch position when it comes to defending its ownership of "Derby-Pie" has earned it a litigious reputation among foodies and free-speech activists alike. In 2013, the Electronic Frontier Foundation bestowed Kern's Kitchen with the dubious honor of being inducted into its "Takedown Hall of Shame" for the company's practice of sending cease-and-desist notices to individual websites that published recipes for so-called "derby pie," as well as some of their hosting companies.
The "Derby-Pie" isn't the only dessert with a legally protected name. Just a few years ago, the New York City-based baker Dominique Ansel trademarked the name "Cronut" after his combination croissant-donut concoction went viral in 2013. But while U.S. copyright law allows for names to be trademarked, recipes can't, meaning restaurants can still sell what some might traditionally call a "derby pie" even if they can't officially call it that.
For those looking to celebrate the Kentucky Derby in style and don't see "derby pie" on the menu, keep an eye out for the pie's traditional ingredients. But if you're hankering for the authentic treat, Kern's Kitchen—whose pie recipe incorporates walnuts, not pecans, and no bourbon—has been cranking out an estimated 50,000 of its signature pies in the past two months to prepare for Derby Day.