Venice Will Start Charging an Entry Fee Next Year
By charging daytrippers to visit on peak travel days, the city hopes to combat overtourism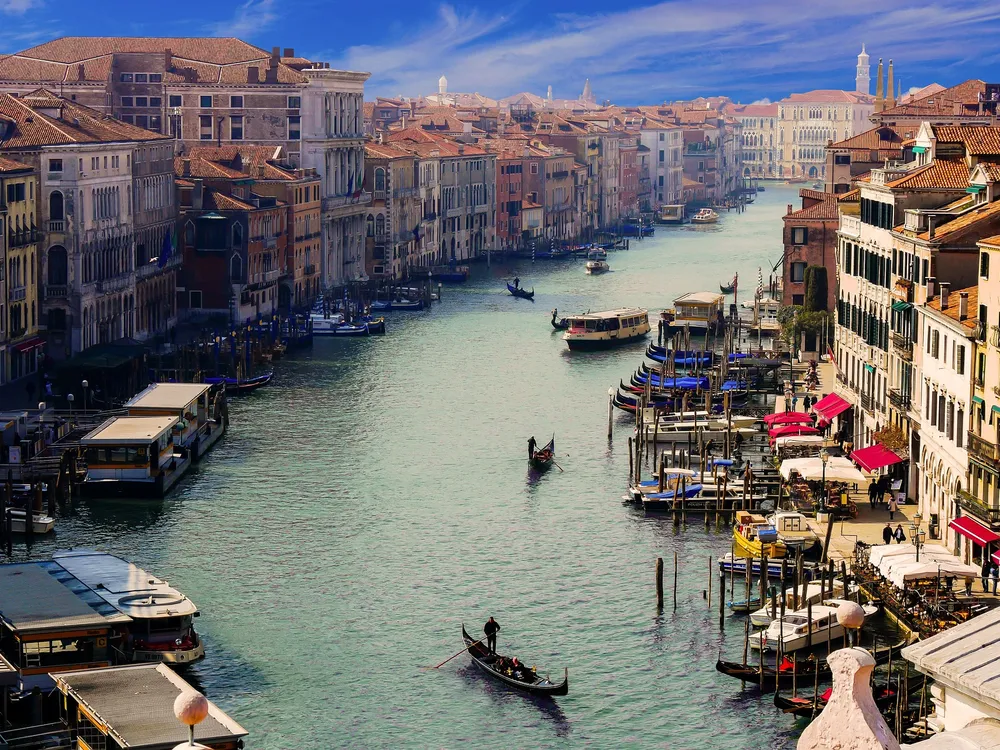 To manage overwhelming tourist numbers, Venice will begin charging some visitors a fee on high-traffic days next year, reports Reuters' Keith Weir.
Though public officials are still working out all the details, the fee will be €5 (about $5.35) for tourists over age 14 who are visiting the historic Italian city for the day. If all goes according to plan, Venice will charge the fee on 30 specific days in 2024, likely over holiday weekends or on weekends during the peak summer tourism season.
"Regulating tourist flows in certain periods is necessary, but that does not mean closing the city," says Luigi Brugnaro, Venice's mayor, according to Forbes' Rebecca Ann Hughes. "Venice will always be open to everyone."
Venice doesn't expect to profit from the fee, which will likely cover only the administrative costs of implementing the plan. Instead, the city wants to strike a more sustainable balance between the people living and working in Venice and those who are just visiting.
"The aim is to discourage daily tourism in certain periods, in line with the delicacy and uniqueness of the city," per a statement from the city, via Google Translate.
Venice's leaders have been discussing such measures since 2019, though they didn't move forward because of the Covid-19 pandemic and other delays. Earlier proposals suggested charging as much as €10 for daytrippers, per CNN's Julia Buckley.
Sperimentazione del contributo di accesso per i turisti giornalieri a #Venezia: si partirà dalla primavera 2024.

Oggi in Giunta abbiamo dato il via libera all'emendamento con il testo finale della delibera che ora andrà in Consiglio Comunale.
La sperimentazione nel 2024 sarà… pic.twitter.com/xF3kZouvlm

— Luigi Brugnaro (@LuigiBrugnaro) September 5, 2023
Tourists, meanwhile, continue to overwhelm the city—so much so that UNESCO is considering whether to add Venice to its List of World Heritage in Danger, which identifies vulnerable sites around the globe.
Famous for its winding canals, Venice (and more than 100 surrounding smaller islands) sits atop a lagoon fed by the Adriatic Sea. Venice and its lagoon have been protected as a UNESCO World Heritage Site since 1987.
Other regions of Italy are similarly suffering from overtourism. For example, in the small town of Pienza in southern Tuscany, tourists complained so much that the town decided to silence its historic bell at night—against the wishes of some residents.
In some incidents, travelers have damaged the country's historic and cultural landmarks or disregarded rules put in place to protect them. Last summer, two tourists were caught surfing in Venice's Grand Canal; this year, a traveler was captured on video carving his girlfriend's initials into the Colosseum in Rome.
In addition to the new Venice fee, Italian leaders have taken other steps to curb tourism and prevent bad behavior. They've implemented fines for loitering and vandalism and barred large cruise ships from docking in Venice. In Rome, officials announced a similar entry fee for the Pantheon earlier this year. Italy is also beefing up its rail offerings to encourage tourists to travel more sustainably.