Tourist Carves Girlfriend's Name Into the Colosseum
Video footage shows a man using keys to scratch a message into the 2,000-year-old amphitheater's wall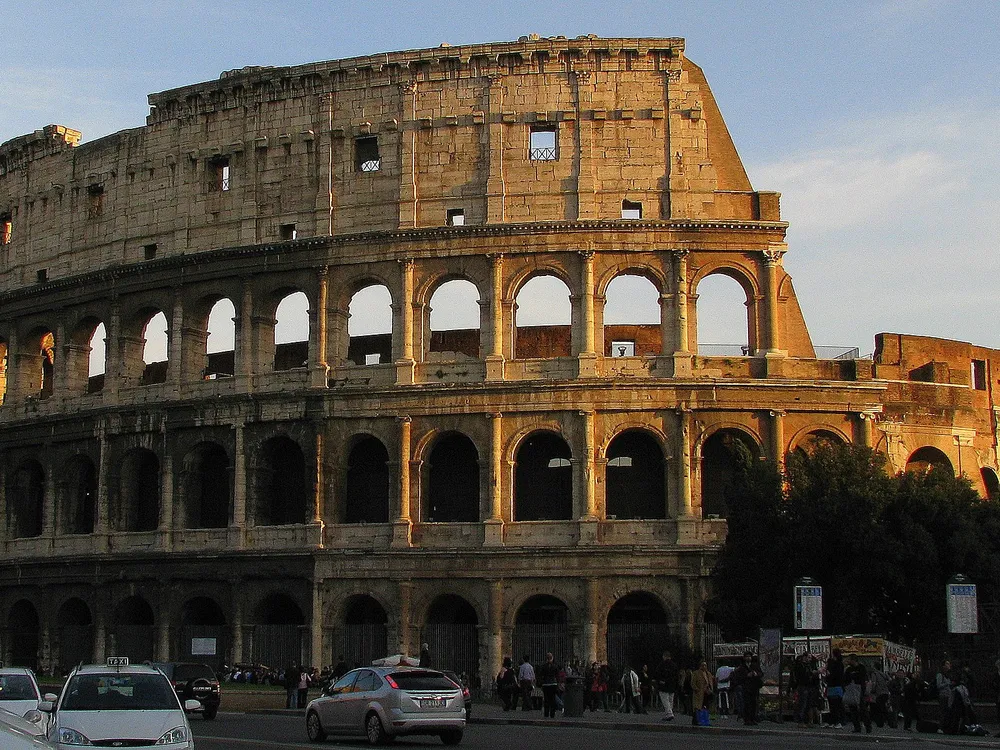 A video has surfaced showing a tourist carving into a wall of the 2,000-year-old Colosseum in Rome. 
The footage shows a man wearing a light blue shirt using a set of keys to scratch into one of the landmark's brick walls on Friday. He engraved the words "Ivan+Haley 23/6/23" while a woman wearing a white dress stood by and watched.
The unidentified man now faces a fine of up to $16,300 (€15,000) and up to five years in prison for the act, Elisabetta Povoledo reports for the New York Times.
The Colosseum was built beginning between 70 and 72 C.E. under the rule of the emperor Vespasian. With room for as many as 50,000 spectators, the large structure hosted gladiator fights, battle reenactments, public executions and many other events. Today, it is among Italy's most popular tourist attractions, and millions visit every year.
The wall Ivan carved his message in was built during restorations in the 19th century. Even so, "that doesn't change the fact that it's vandalism," says Alfonsina Russo, the Colosseum's director, to the Times.
Ryan Lutz, a traveler from Orange, California, captured the moment on video and posted the footage on YouTube and Reddit. Authorities say Lutz should have alerted the Colosseum's security right away instead of pausing to take the video.
But as Lutz tells Trisha Thomas and Rebecca Precciuti of the Associated Press (AP), he started filming because he was so dumbfounded by the man's actions. Then, with the footage in hand, he says he approached security officials, who didn't take any further actions. Lutz says he volunteered to give them the video footage and pointed to the perpetrator.
In the video, Lutz can also be heard confronting the offender directly, saying "Are you serious, man?" The tourist simply turns around and smiles. Lutz can then be heard cursing the man under his breath as he walks away.
"It was kind of a bummer end for my trip to the Colosseum," Lutz tells the Orange County Register's Laylan Connelly.
Despite tougher laws implemented three years ago, Italy continues to grapple with poor behavior at many of its cultural and historical destinations. This incident is the fourth time in 2023 alone that someone has vandalized the Colosseum, according to the Italian news agency ANSA. In previous years, tourists have also been caught breaking in for early-morning beers and carving letters into the landmark.
Elsewhere, problems include tourists illegally surfing in Venice'  s  Grand  Canal and pushing a scooter down Rome's Spanish Steps. 
Reputo gravissimo, indegno e segno di grande inciviltà, che un turista sfregi uno dei luoghi più celebri al mondo, il Colosseo, per incidere il nome della sua fidanzata. Spero che chi ha compiuto questo gesto venga individuato e sanzionato secondo le nostre leggi. pic.twitter.com/p8Jss1GWuY

— Gennaro Sangiuliano (@g_sangiuliano) June 26, 2023
Gennaro Sangiuliano, Italy's culture minister, condemned the latest Colosseum incident on Twitter, writing that he considers the behavior "very serious, unworthy and a sign of great incivility," per Google Translate.
"I hope that whoever did this will be identified and sanctioned according to our laws," he added.
Daniela Santanche, the country's tourism minister, echoed that sentiment, saying: "We cannot allow those who visit our nation to feel free to behave in this way," per the AP.