Van Gogh Painting Gets a New Name Thanks to an Eagle-Eyed Chef
Ernst de Witte realized that the onions in "Red Cabbages and Onions" are actually garlic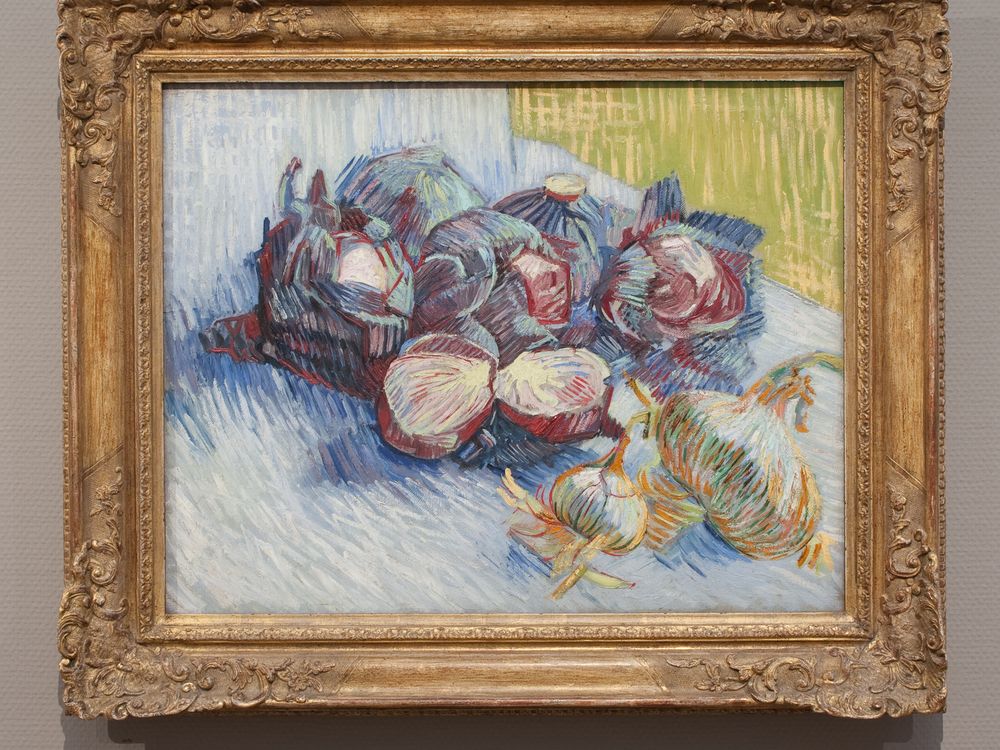 When Ernst de Witte visited the Van Gogh Museum in Amsterdam last year, he wasn't expecting to leave his mark on art history. De Witte, a chef and visual artist, was admiring work by the famed Dutch artist when his culinary expertise signaled something was amiss: Red Cabbages and Onions, an 1887 still life, had been incorrectly titled.
In the foreground of the painting, De Witte saw two heads of garlic, not onions. Confident in his identification thanks to his experience in the kitchen—he is currently the head chef of Restaurant Feu in Utrecht, Netherlands—he sent a message to the museum, which "took it seriously from the start," he tells Hyperallergic's Rhea Nayyar.
With his wife, de Witte prepared a presentation and a video comparing the way van Gogh painted the two alliums over the course of his career, including his 1889 work Still Life With a Plate of Onions. Using his own artistic talents, de Witte also made an overlay drawing on top of the suspected garlic in Red Cabbages and Onions to show how van Gogh had painted them.
Per Artnet's Sarah Cascone, the museum then handed over the information to its research team, which concluded, with the help of a biologist, that de Witte was right: The painting's ingredients had been misidentified since its public debut in 1928.
"It was a euphoric feeling, and also confirmation that I have a chef/painter's view of things," he says to Artnet. "There is a big cross pollination for me … The painting side of me helps me a lot with my color use and the composition of my dishes."
In November, the museum told de Witte it was changing the name of the painting, which is now listed as Red Cabbages and Garlic. 
To celebrate his discovery, de Witte created a dish inspired by the painting, featuring poached red cabbage and a smoked garlic creme with a vinaigrette of lemon balm, tarragon and absinthe.
"As soon as the vinaigrette comes in contact with the red cabbage components, the colors start to fade, just like the red/blue pigments in van Gogh's paintings," de Witte tells Hyperallergic. "Our guests are in love with it, especially combined with the story and the beer brewed with absinthe we pair it with."
Red Cabbages and Garlic isn't the first painting to get a new title to better reflect its content. A recent example is Edgar Degas' Russian Dancers: Following the Russian invasion of Ukraine, the painting was retitled Ukrainian Dancers after close inspection of the subjects, who wear blue and gold ribbons in their hair, as well as outcry over Russia's suppression of Ukrainian cultural heritage.
As a spokesperson for the Van Gogh Museum tells Artnet, "We constantly monitor our paintings, and it has happened before that a title was changed because something different was depicted than initially thought."