The Untold Story of van Gogh's Once-Maligned Masterpiece, 'The Potato Eaters'
An exhibition at the Van Gogh Museum spotlights the artist's dynamic depiction of peasant life—a painting that critics hated and he loved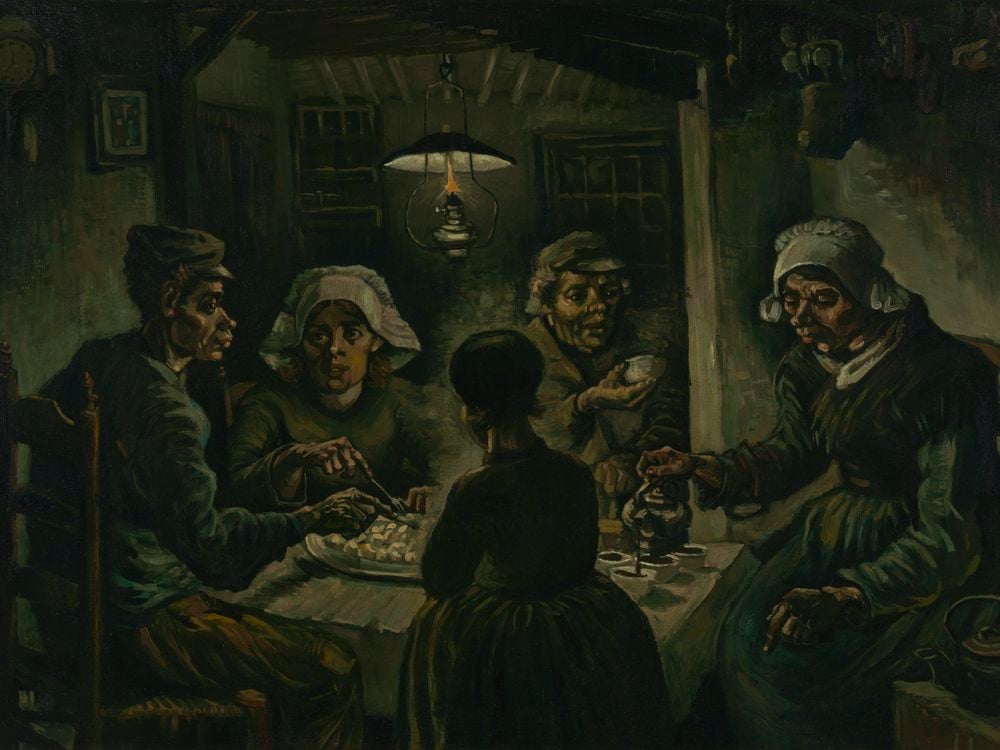 In 1885, after months of work and meticulous preparation, Vincent van Gogh completed The Potato Eaters, a dark-toned, dynamic portrait of a peasant family around their dining table. He had high hopes for the artwork, believing that it would serve as his ticket into the Parisian art market. But the painting's reception was negative, even scathing. "You can do better than this," wrote Anthon van Rappard, a fellow painter and friend of van Gogh, in a letter.
Now, reports Daniel Boffey for the Guardian, a new exhibition at the Van Gogh Museum in Amsterdam is inviting visitors to carefully consider The Potato Eaters, which the artist continued to hold in high regard despite the criticism against it. Later, during a period of personal crisis, van Gogh actually made plans to work on a second version of the painting. 
"He is very, very convinced of the power of his work and the message it conveys," says curator Bregje Gerritse to Bruno Waterfield of the London Times.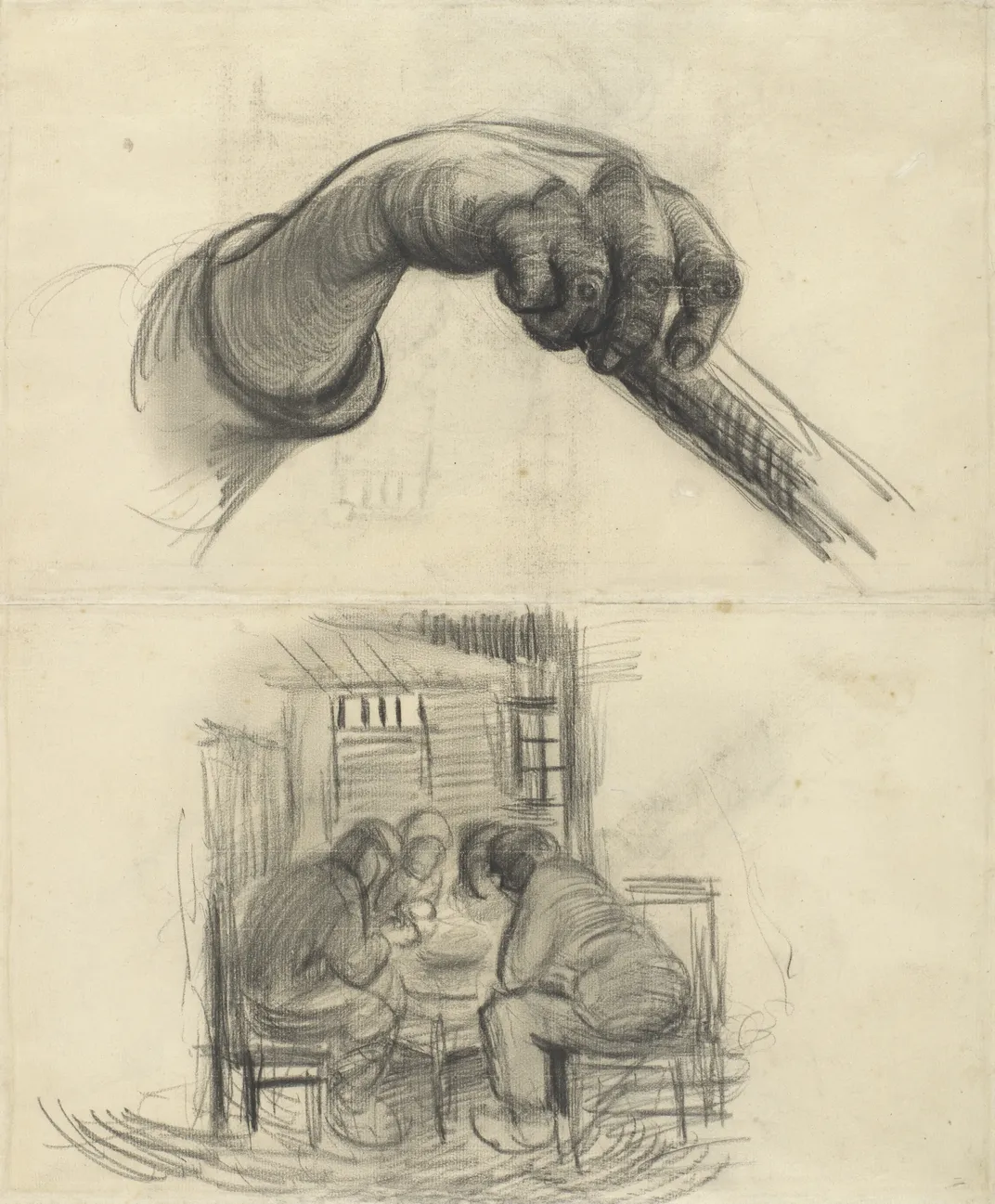 "The Potato Eaters: Mistake or Masterpiece?" features around 50 paintings, drawings, sketches and letters that tell the story of van Gogh's rustic supper scene. He began working on The Potato Eaters while living with his parents in Nuenen, a rural town in the Netherlands that was home to many farmers, laborers and weavers. It was the perfect place to capture peasant life, a subject of interest to van Gogh and many of his contemporaries. Per a statement, the exhibition includes 10 of the 40 studies of peasants' faces that van Gogh created over the span of a single winter, among them a portrait of Gordina de Groot, who appears in The Potato Eaters.
Van Gogh hoped to prove himself as a figure painter, but he had little experience painting full-length portraits. The peasant meal was a popular theme among artists at the time, and it allowed van Gogh to depict his subjects sitting down. Uncharacteristically, he created many preliminary studies for The Potato Eaters, visiting the de Groot cottage repeatedly to capture the family as they ate their evening meal. He sketched out small details—a clock, a spoon rack, a chunk of bread, a hand on a teapot—to prepare for the painting. 
The final result shows five people gathered around a table, eating potatoes and drinking coffee. The figures are painted in earth tones—"something like the color of a really dusty potato, unpeeled of course," as the artist once reflected. Their hands are gnarled from hard work, their faces bony, their eyes dark and expressive. Unlike other painters of the same subject, van Gogh did not idealize peasant life. According to the Van Gogh Museum, he wanted to convey that the family members "have tilled the earth themselves with these hands they are putting in the dish ... that they have thus honestly earned their food."
Despite van Gogh's hard work and his ambitions for The Potato Eaters, the painting was not featured in an exhibition during the artist's lifetime. In fact, writes Waterfield for the Times, it was "greeted by almost universal disapproval."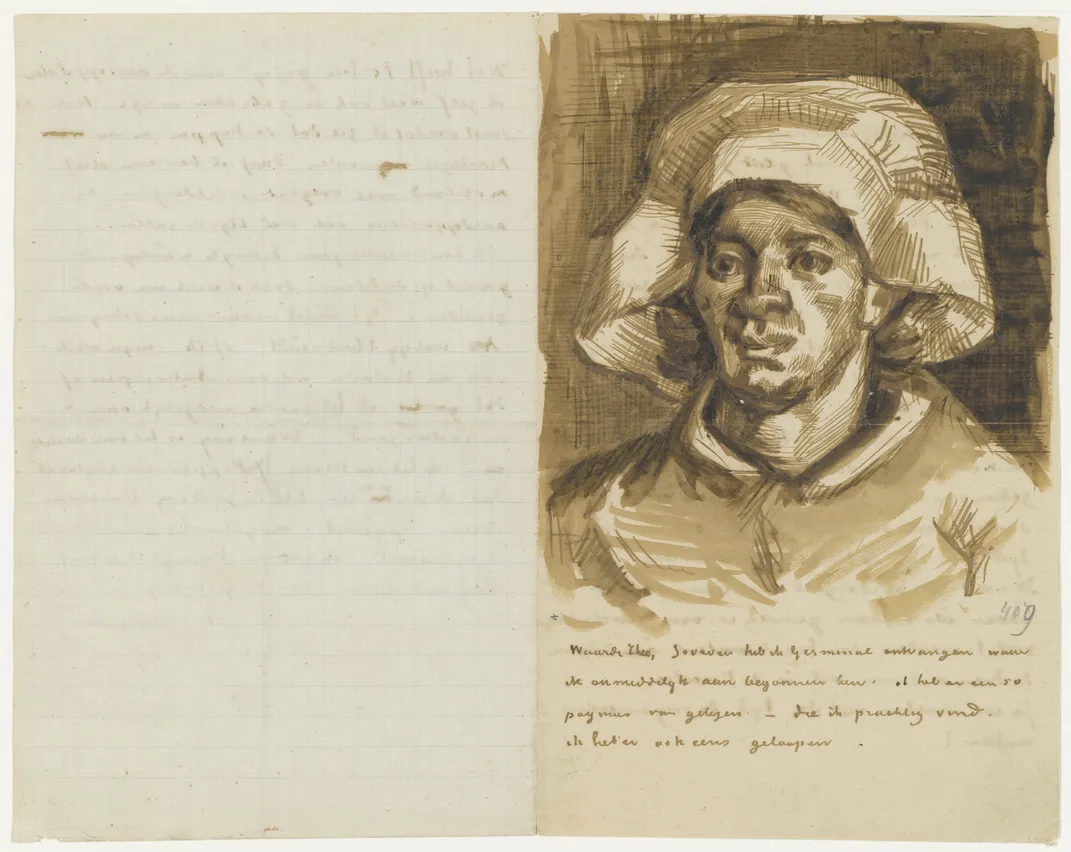 The withering letter from van Rappard exemplifies critical disdain for the painting's technical execution. "[W]hy may that man on the right not have a knee or a belly or lungs?" he chastised. "Or are they in his back? And why must his arm be a meter too short? And why must he lack half of his nose? … Art is too important, it seems to me, to be treated so cavalierly."
This review must have been particularly devastating to van Gogh because, as the Guardian points out, he struggled with group compositions—a genre of which van Rappard was a master.
Van Gogh sent the letter back to his friend with a response defending The Potato Eaters, in which he argued that van Rappard had missed the essence of the painting: "What I'm trying to get with it is to be able to draw not a hand but the gesture, not a mathematically correct head but the overall expression. The sniffing of the wind when a digger looks up, say, or speaking. Life, in short."
The Potato Eaters continued to linger in van Gogh's mind, even after he moved to France and perfected a markedly different—and now iconic—style defined by bright colors and loose brushwork. In April 1889, following a mental health crisis, van Gogh asked to be admitted to an asylum in Saint-Rémy-de-Provence in the south of France. During this period of confinement, he started planning a new version of The Potato Eaters, writing in a letter that the "canvas must be completely dark now, perhaps I could redo it entirely from memory."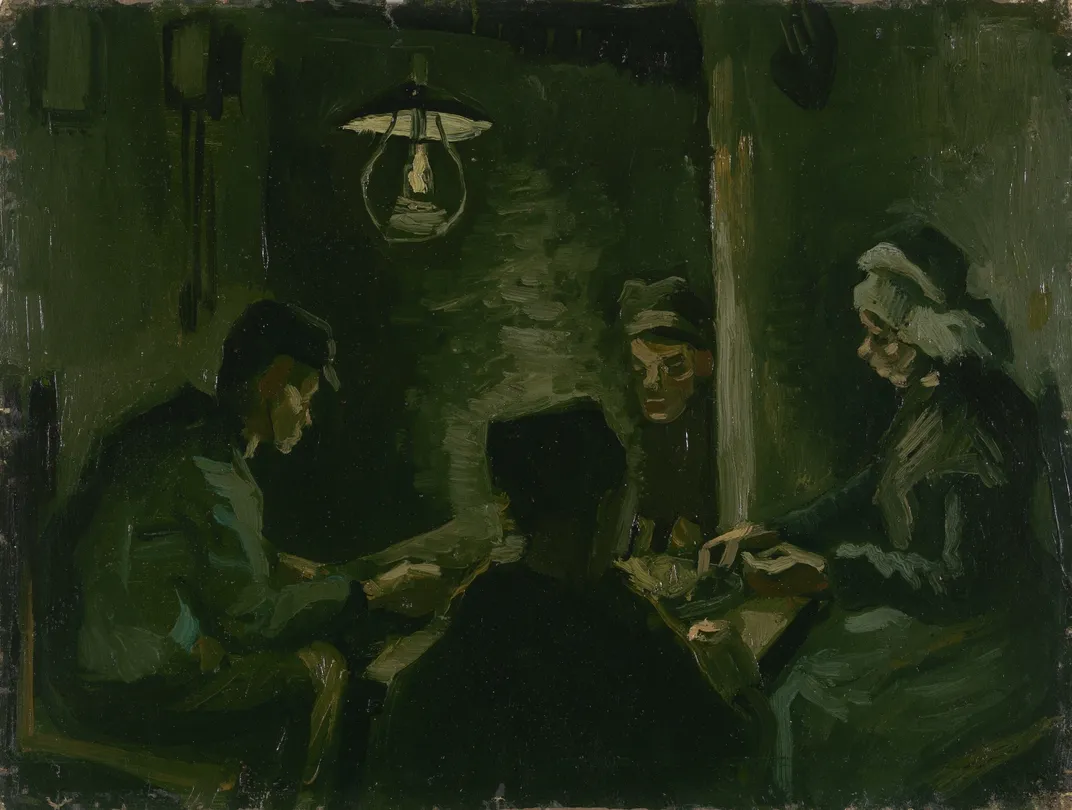 Van Gogh made preparatory sketches for the second version, including an 1890 drawing of five figures clustered around a table. This work, along with several other preliminary sketches, are featured in the new exhibition.
"Some of these are drawings that have not been on display for such a long time that our records even suggest they were never shown," Gerritse tells the Guardian.
The artist never carried out his plans for a second Potato Eaters. In late July 1890, with his mental health spiraling, the artist shot himself in the chest. He died two days later. 
Today, The Potato Eaters is considered one of van Gogh's most famous works—a vindication of his claim that the painting was "the best thing I did."
Gerritse says contemporary observers can see the artist's fortitude in his commitment to this masterpiece.
"I really like that van Gogh stands behind his own work," the curator tells the Guardian. "He says there is a certain life in it, writing that while, of course, there are technical mistakes but that technical perfection isn't what he is after; it is the impression that it conveys about peasant life that is much more important."
"The Potato Eaters: Mistake or Masterpiece?" is on view at the Van Gogh Museum in Amsterdam through February 13, 2022.