When we think about war, what comes to mind is that quest for power and territory, the violent use of destructive armaments and the horrific costs incurred in human lives lost and shattered. Russia's war in Ukraine is particularly cruel in attacking civilian targets, and it's also marked by a strong cultural element—one that is being met with resistance from not only Ukrainians, but also the international community and the Smithsonian Institution.
Russian leader Vladimir Putin has wrongly made culture both a justification and an object of war with Ukraine. As in other regions of Europe, the population of the geographic region of modern Ukraine reflects a diversity of ethnic migrations and cultural influences, as well as a succession of political rulers and changing boundaries over millennia.
Putin, though, claims that Ukrainians lack the history, culture and identity worthy of a national state separate from Russia. While drawing on periods of the czarist Russian Empire and the Soviet era to make his case, Putin denies crucial cultural realities.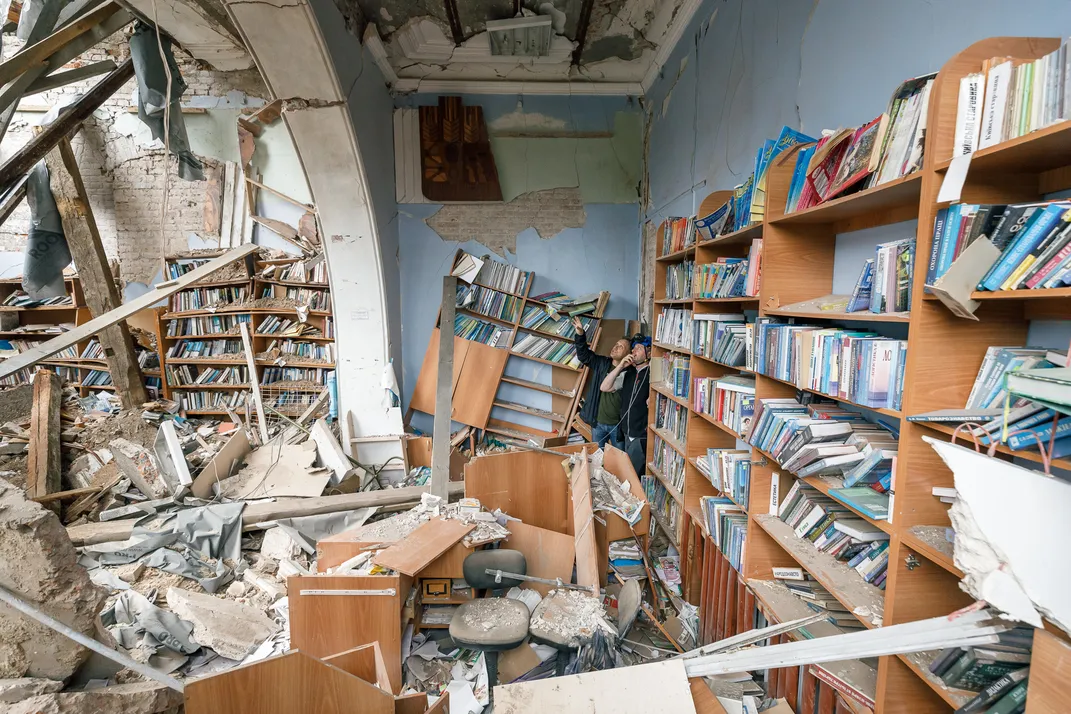 The Ukrainian language, the country's art and its history—including the Slavic-Christian state centered in Kyiv a thousand years ago, the 19th-century flowering of Ukrainian culture and nationalism, the post-World War I Ukrainian republic, the Ukrainian independence movement of the early 1990s and its reaffirming Orange Revolution in 2004 and the Euromaidan Revolution in 2013-2014—all represent an undeniable Ukrainian identity that is centuries in the making. Despite this, in 2014 Putin pursued his territorial ambitions by supporting ethnic Russian separatists in the Donbas region and forcibly taking Ukraine's Crimean Peninsula.
As the one-year anniversary of the deadly 2022 Russian invasion of Ukraine approaches, we take a close look at the ongoing work of hundreds of professionals across a landscape of Ukrainian and international organizations to defend endangered cultural heritage.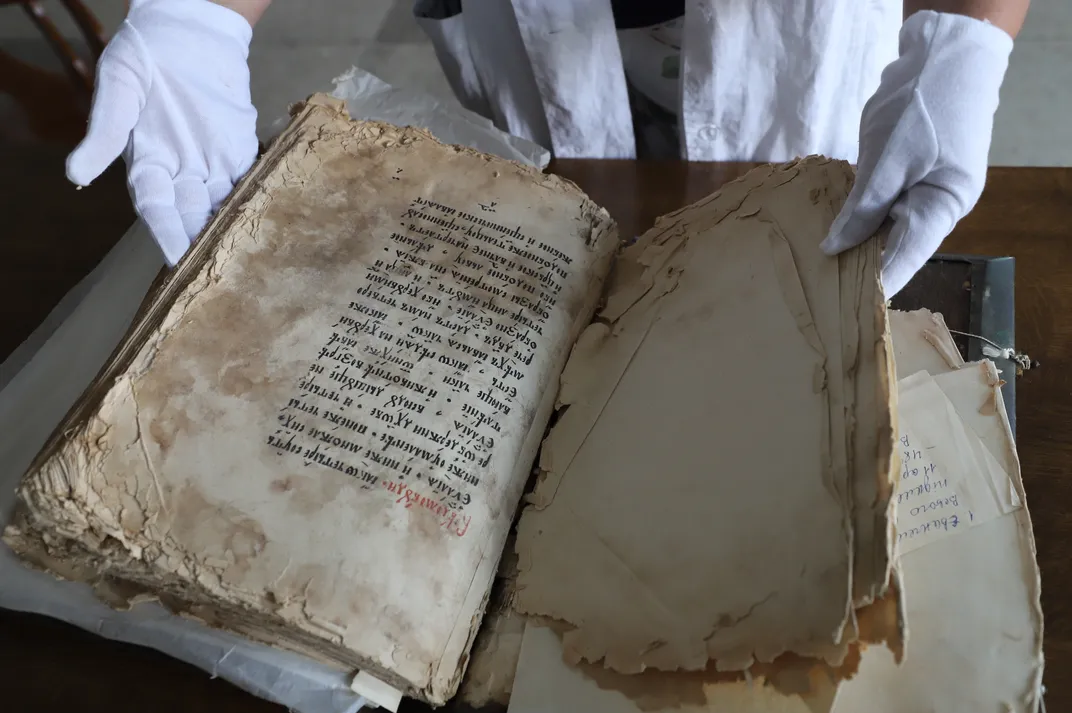 Crucial investigations are underway that will one day provide an accounting of Russia's devastating war crimes. These attacks are not just random, nor do they represent collateral damage. Rather, they suggest a targeted attack on Ukrainian history, culture and identity, a means toward Putin's ends—the destruction is a deliberate attempt to obliterate Ukrainian history and culture.
To support Putin's wrongful argument that Ukraine doesn't have a culture and history independent of Russia, his forces figure they can simply bomb away the country's cultural heritage.
To date, almost 1,600 cases of potential damage to Ukrainian cultural heritage sites have been documented, including some 700 monuments and memorials, and more than 200 museums, archives and libraries. Notably, more than 500 are religious sites—places of worship and cemeteries—with those of the Ukrainian Orthodox Church specifically targeted. The greatest number of cases are associated with regions of the most aggressive Russian attacks: Kyiv, Kharkiv, Mariupol and Luhansk. And the work of organizations, including the Smithsonian, mobilized thanks to years of cultural heritage training efforts, is aiding the country in its effort to protect artifacts, books, documents and artworks from these insidious attacks.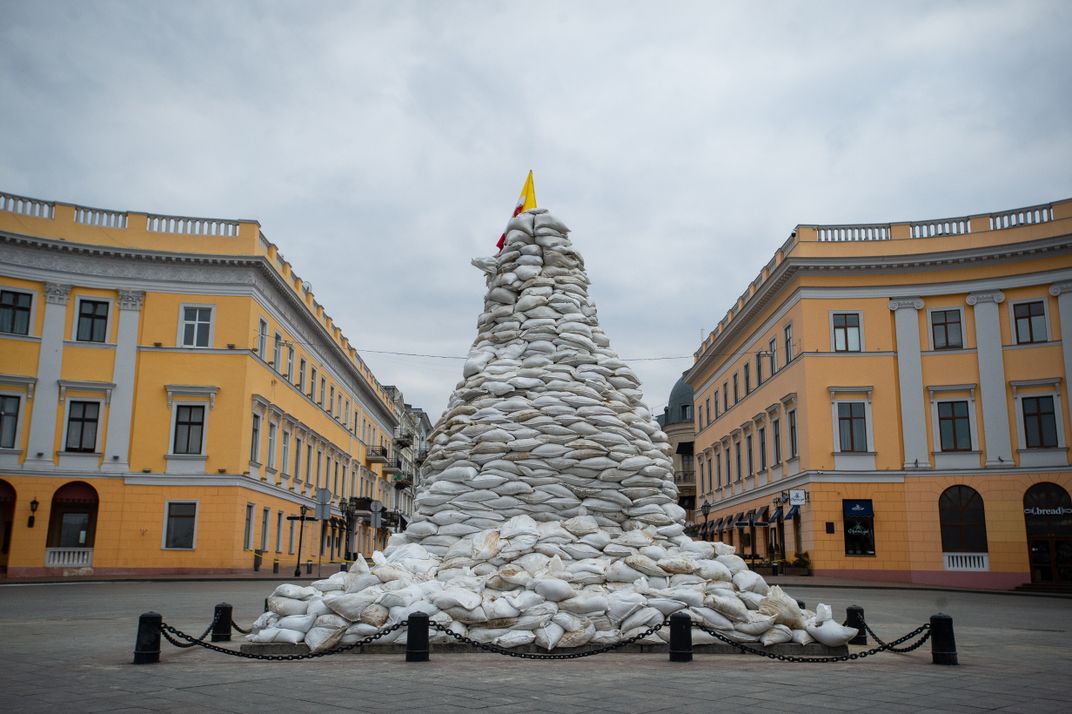 Culture becomes an object of war
In 2020, at a Washington, D.C. symposium organized by the Smithsonian Cultural Rescue Initiative (SCRI), Ihor Poshyvailo, the director of the Maidan Museum in Kyiv, warned American and international colleagues that culture was becoming an object of war, as Russification policies in the regions captured in 2014 were aimed at diminishing a Ukrainian presence.
Poshyvailo was intimately familiar with the Smithsonian's work, having served as a Fulbright scholar in 2010 while the institution mobilized on-the-ground efforts to save cultural heritage in Haiti following a devastating earthquake. The Smithsonian collaborated with Haitian colleagues to establish facilities and training programs, saving and treating some 35,000 endangered artworks and artifacts.
During that project, the Smithsonian formally established SCRI under the direction of curator and former U.S. Army  "monuments woman" Cori Wegener, leading to similar efforts in the ensuing years to respond to cultural crises around the world—from temple-destroying earthquakes in Nepal to museum bombings in Syria and Iraq. As part of SCRI's expanding research and training activities, Poshyvailo became first a trainee and then an instructor for the program and stayed in close contact with Wegener.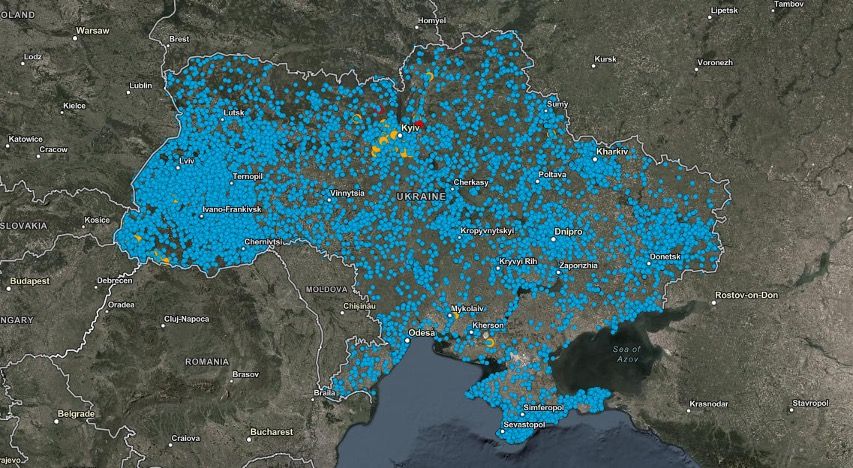 Satellite monitoring
In 2021, Wegener, in partnership with the Virginia Museum of Natural History, established the Cultural Heritage Monitoring Lab to examine the status of cultural sites in crisis zones based on methods developed for Syria and Iraq during the period of ISIS terrorism.
Using satellite imagery, the lab's team examined the cultural damage caused by another Haitian earthquake, Taliban attacks on cultural sites in Afghanistan and the treatment of cultural resources in areas contested by Armenian and Azerbaijani forces. Turning attention to Ukraine, a lab analyst noted an increase in the building of public monuments in Crimea and the Donbas—91 of them. The monuments lauded Russian triumphs, from the czarist empire, to Stalin and victory over the Nazis in World War II, to Russian heroes of 2014. Russia and its supporters were strategically marking the territory as Russian to solidify Moscow's claims—and seemingly as a prelude to more aggressive moves.
Alarmed, the lab began geolocating cultural heritage sites in Ukraine—recording the coordinates of monuments and memorials, places of worship, cemeteries, museums, libraries, archives, performing arts centers, historical buildings and archaeological sites. The inventory now includes more than 28,000 sites.
Last year, with the Russian invasion of Ukraine on February 24, the lab ramped up its efforts employing still more satellites, including some with specialized sensors that can detect heat signatures to record "kinetic" activity. That enables the monitoring of bombings, missile strikes, artillery shelling and fires. Using that data, the lab's analysts are able to see how closely the heat signatures align with cultural sites. If proximate, they call up satellite photographic imagery to examine possible damage. Given satellite coverage, they can reference images over a period of time to pinpoint when the damage occurred and how extensive it is.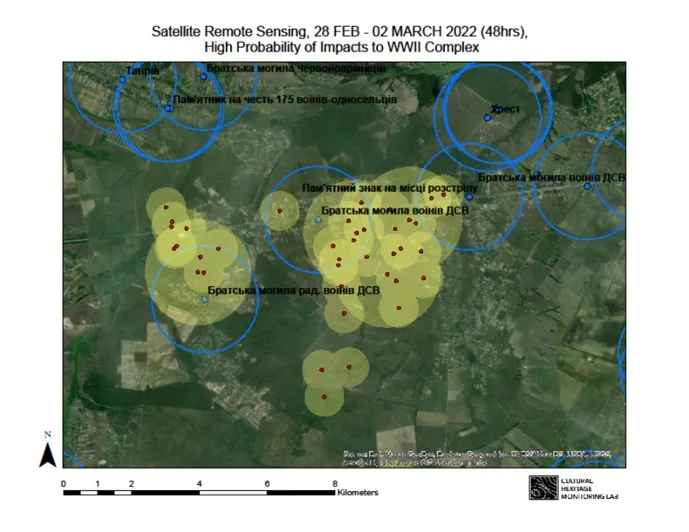 Documenting the attacks
One of the early cultural casualties of the Russian invasion was the Ivankiv Historical and Local History Museum. The museum, located about 40 miles northwest of Kyiv, was home to the nationally and internationally acclaimed folk art of Maria Prymachenko. Satellite photography of the museum on February 14, 2022, prior to the invasion, shows the museum roof and surrounding area covered by snow. An image dated two weeks later, on February 27, depicts the museum roofless with major damage, while other nearby buildings remained undamaged—an indication that the museum was specifically targeted.
Since the beginning of the invasion, the Cultural Heritage Monitoring Lab, aided by the University of Maryland Center for Development and Conflict Management and a displaced Ukrainian Fulbright scholar supported by the Smithsonian, used remote sensing to identify some 1,600 cases of potential damage to Ukrainian cultural heritage sites.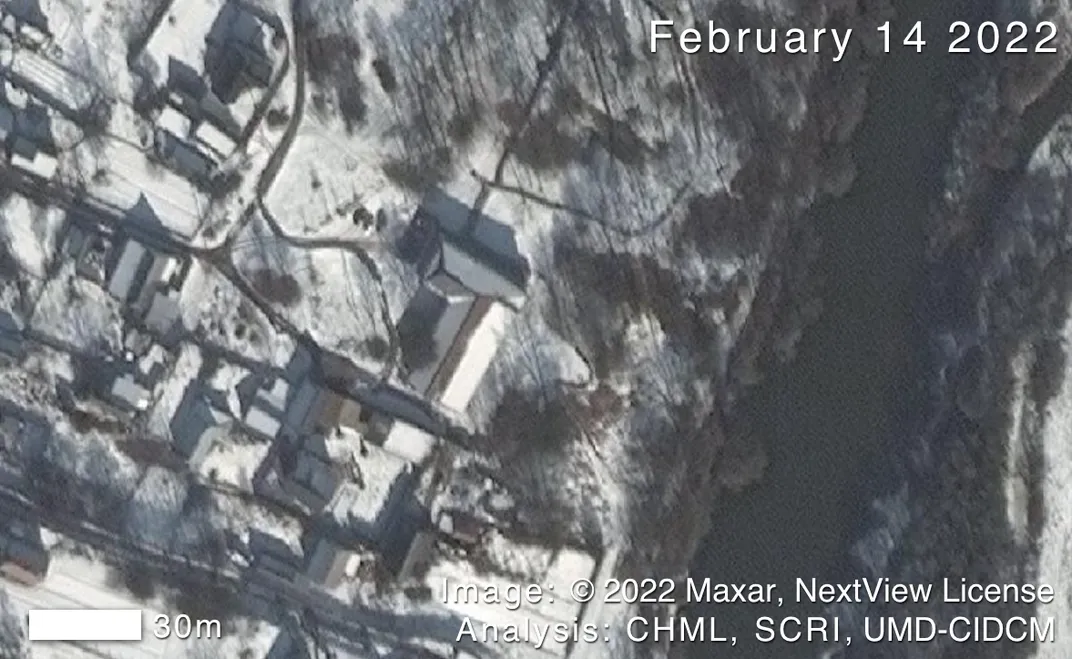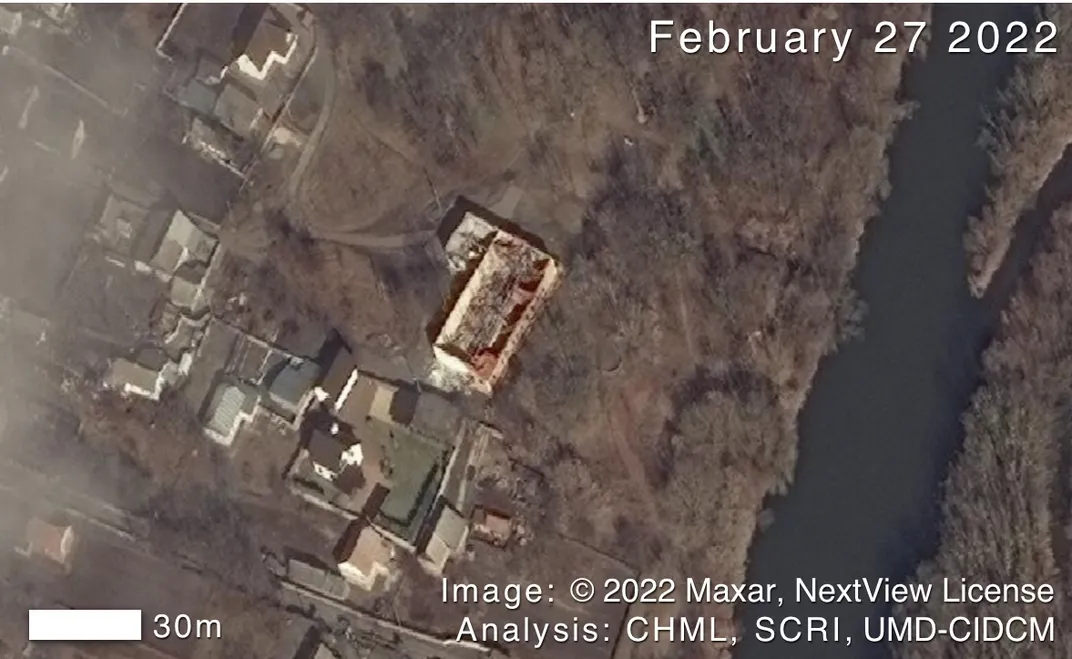 The Smithsonian, in an effort to document cultural war crimes as defined by the 1954 Hague Convention, shares its findings with Ukrainian cultural colleagues, and with the U.S. Department of State's Conflict Observatory. It follows international standards in collecting and storing digital evidence for potential legal proceedings and seeks confirmation of damage and destruction from detailed satellite imagery and on-the-ground reports.
The process is detailed, time-consuming and sometimes frustrating. In May 2022, Ukrainian Ministry of Culture and Information Policy officials received reports of an attack on the Hryhorii Skovoroda Literary Memorial Museum, dedicated to an 18th-century Ukrainian poet, philosopher and composer and located in the tiny village of Skovorodynivka, near Kharkiv and the Russian border. The minister asked the Smithsonian if we could determine its status from satellite imagery. Cloud cover over the region for days prevented good imagery. When the clouds cleared, satellite imagery confirmed what local residents had photographed with their cell phones: the tiny, isolated museum had been destroyed.
The lab has also used satellite monitoring to document looting. Toward the end of the fierce battle for Kherson in November 2022, museum staff at the Kherson Regional Art Museum reported that dozens of Russian specialists and aides haphazardly loaded two trucks with some 10,000 artworks without proper packing. Satellite imagery from November 1 reveals the large trucks parked at the side of the museum and another vehicle, a van, stationed in its courtyard. Those trucks were later reported to have delivered the artworks to the Russian-controlled Central Museum of Tavrida in Simferopol, Crimea.
On-the-ground response
At the outset of the Russian invasion, Ukrainian cultural officials and leaders responded quickly to protect facilities and collections from the shelling and bombing. UNESCO arranged online meetings bringing together Ukrainians with European and American counterparts to discuss needs, resources and responses. The Switzerland-based Aliph Foundation responded adroitly, quickly devoting several million dollars for packing and shipping supplies, fire extinguishers and other materials to scores of museums and institutions, and working closely with Ukrainian colleagues to improve collection storage facilities.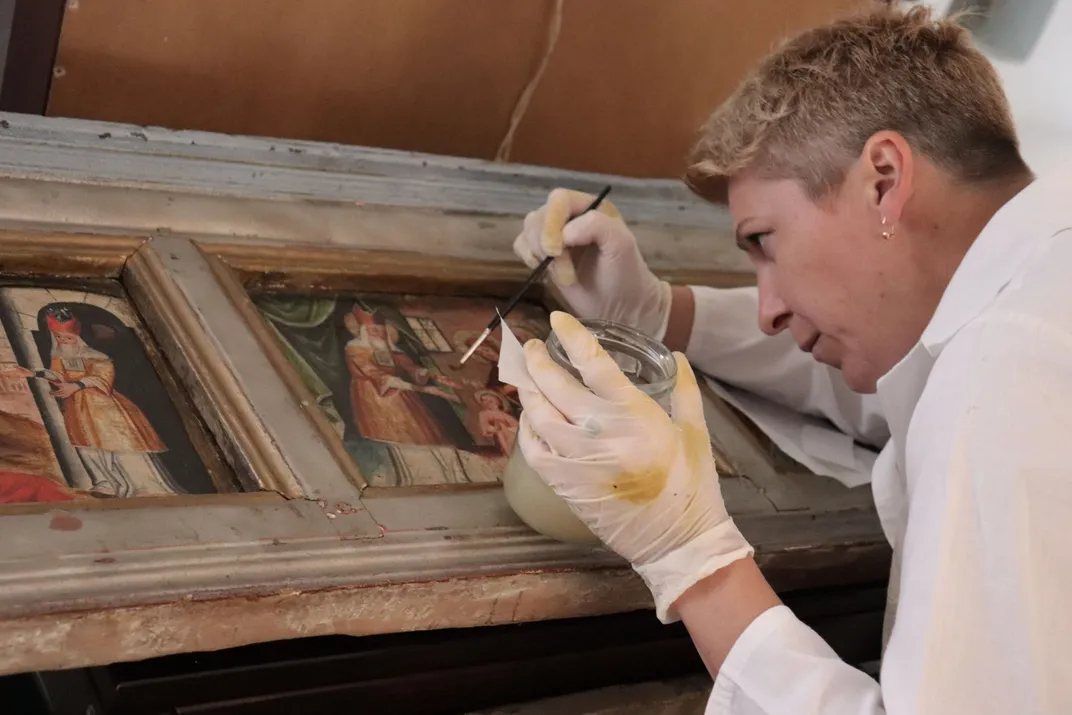 Polish organizations lent tremendous logistical help. Poshyvailo and fellow expert Vasyl Rozhko quickly formed the Heritage Emergency Response Initiative (HERI), an organized network of Ukrainian cultural workers, aiming to gather money and supplies, make deliveries, provide advice, and help secure and safeguard facilities and collections.
Noting the Smithsonian's mission as a national and international cultural institution to help protect heritage in times of war, Smithsonian Secretary Lonnie G. Bunch III declared: "The "Smithsonian stands with the people of Ukraine during their most urgent time of need." SCRI, coordinating with Aliph and working with Poshyvailo, arranged to send needed funds and supplies through its long-standing partner in the Netherlands—the Cultural Emergency Response.
Rapid mobilization
The task at first was overwhelming. Wegener received a message early on from the head of a university-based herbarium. How can the Smithsonian help pack and move some 300,000 preserved plant specimens—and quickly? HERI mobilized to provide emergency packing materials. The Smithsonian accessed funding provided by its federal appropriations and tapped stalwart donors—Bank of America and the Mellon Foundation to support packing and protection efforts and the acceleration of its satellite monitoring work.
Rajiv Shah, president of the Rockefeller Foundation—recalling the 2010 success of the Smithsonian's Haiti Cultural Recovery Project he'd supported when head of U.S. Agency for International Development—pledged major support. The Rockefeller Foundation enlisted the Omidyar Group to pitch in, as did others. Among them was the Kosciuszko Foundation, a Polish American organization that, with funding and advice from the Smithsonian, has provided emergency stabilization supplies for dozens of Ukrainian museums from its offices in Warsaw.
Many Ukrainian museums hastily evacuated their collections to other locations, sometimes to basements, underground storage facilities or safe sites removed from major Russian attack zones. While providing immediate protection, this presented another major problem. Storing collections in places without proper climate control and inadequate air circulation often leads to the development of mold, fungus and other problems that have to be mitigated.
A squad of Uber drivers
Svitlana Stryelnikova, director general of the National Research Restoration Center of Ukraine, and her staff of expert conservators at the headquarters in Kyiv and branch facilities in Kharkiv, Odesa and Lviv were charged with caring for Ukrainian national collections. But the center's few vehicles were needed for civil defense purposes and thus unavailable. How, then, could conservators make house calls around the country at facilities storing collections of art, artifacts, books, documents, photographs and scientific specimens that documented the richness of Ukraine's history, art, culture and scientific achievement?
Various alternatives failed, but thanks to contacts through the U.S. State Department, the Smithsonian enlisted Uber, which had been providing free transport for refugees fleeing Ukraine and even for relocating them in neighboring countries. The company generously embraced the challenge. Stryelnikova needed passenger vans to carry teams of up to 16 conservators daily along with equipment and supplies around the country to service stored but still endangered collections.
For the past nine months, a squad of Uber drivers has made more than 200 trips and racked up more than 30,000 miles taking conservators to hundreds of museums and offsite storage locations throughout Ukraine. The trips are daunting, as the conservators traverse war zones and find museums and facilities severely damaged, bereft of roofs and walls, and lacking power and utilities. Sometimes collections are in disarray, evidence of hurried packing and evacuation.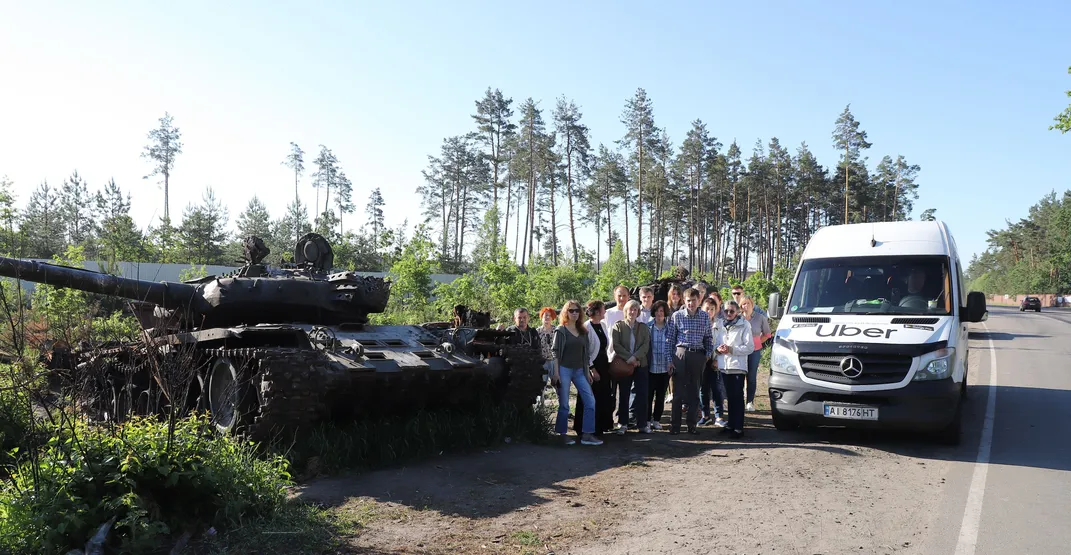 Conservators took action
Like Poshyvailo and his HERI teams, conservators across Ukraine have taken stock of the situation, salvaging collections and materials as best they can. They've conducted inventories and composed condition reports. Where possible, they've treated artworks and artifacts, and repaired damage. Then, they've carefully re-packed them with an eye toward their long-term sustainability.
Conservators from Ukrainian museums, libraries and archives have benefited from the advice of experts at the International Centre for the Study of the Preservation and Restoration of Cultural Property and specialists from the Smithsonian's Museum Conservation Institute, the Smithsonian American Art Museum, the National Museum of Asian Art, and the Smithsonian Libraries and Archives. They have tackled challenges and found solutions to questions like: What's the best way to pack hundreds of paintings quickly? How can we ensure that ancient manuscripts best survive freezing temperatures, given the lack of heat in winter? What precautions should be considered to avoid fire damage from shelling and water damage from extinguishing those fires?
Warfare introduces a whole slew of challenges beyond the ken of typical museum work—but the Ukrainian conservators, collection managers, museum directors and others have been vigilant in their defense of those items documenting their nation's history, art, culture and identity.
Cultural freedom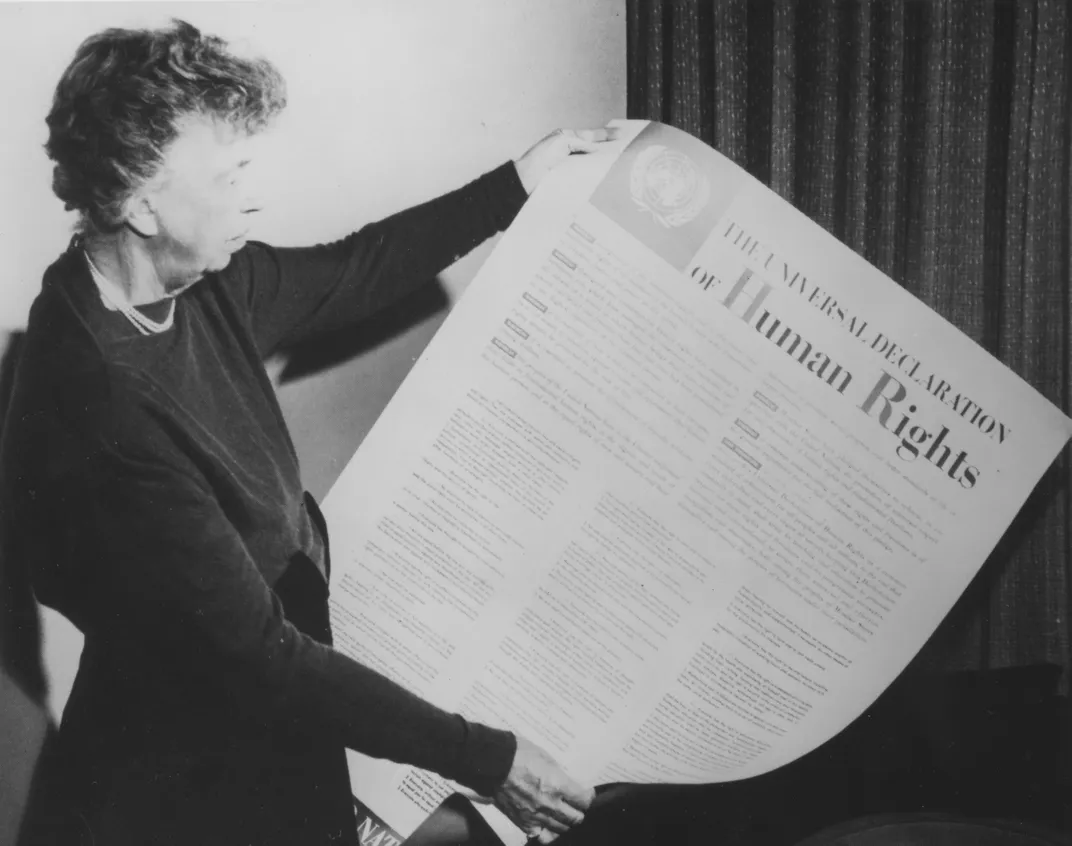 Following World War II, the nations of the world contemplated the armed conquest of neighbors, the Holocaust, genocide and mass execution, the restrictions of thought, movement, belief and association inflicted by the Nazi regime. They followed the recommendations of an international committee chaired by America's former first lady Eleanor Roosevelt in accepting the principles set forth in the historical milestone known as the Universal Declaration of Human Rights, which includes cultural rights and freedoms. The Hague Convention of 1954 followed, outlawing the purposeful destruction and looting of cultural property, which is so integral to a nation's and to a people's identity. Russia's war against Ukraine and its people is a clear and terrible affront to humanity and a violation of fundamental rights recognized in those accords.
A grateful nation
In a September 2022 presentation in New York's Ukrainian Museum during United Nations General Assembly week, Ukraine's first lady Olena Zelenska and Ukrainian Ambassador to the U.S. Oksana Markarova clearly articulated this point.
The first lady spoke eloquently of the importance of history, art and culture in defining the identity of the Ukrainian people. This identity is indeed an explicit target of Putin's war, she said. Ukrainians are fighting for their freedom, and in particular their freedom to be who they culturally are.
The ambassador noted that, with the destruction of museums, archives, libraries, cultural and religious sites, theaters, and other places of social significance, the Russian military is attempting to erase a people, to purposefully eliminate the sense and spirit of their claim to nationhood and sovereignty.
But the ambassador was unambiguous in her confidence that the Russians would not succeed. Ukrainians were strong and united in their fight on the battlefield and on the home front to defend their freedom to be Ukrainian, she said, and she thanked the U.S. and allies for helping them in that worthy battle on behalf of all freedom-loving people the world over. In presenting the Smithsonian's contribution to that effort, we could not have been prouder.
For more on the Smithsonian Cultural Rescue Initiative and its efforts in Ukraine, listen to the Smithsonian's "Sidedoor" podcast and view the latest reports on cultural heritage damage in Ukraine. 
In addition to those named above, the author wishes to thank Hayden Bassett, Katharyn Hanson, Brian Daniels and members of the SCRI, CHML, HERI and NRRC teams who have engaged in this cultural heritage work. Generous contributions from Edward and Helen Hintz and Brad Freeman have helped support the effort, as have family and friends of Jamie Seltzer and Logan Cohen who, in lieu of gifts to the newlyweds, and at their direction, donated to the Smithsonian Cultural Rescue Initiative.