The Woman Who Invented the Green Bean Casserole
Dorcas Reilly came up with the iconic American dish in the 1950s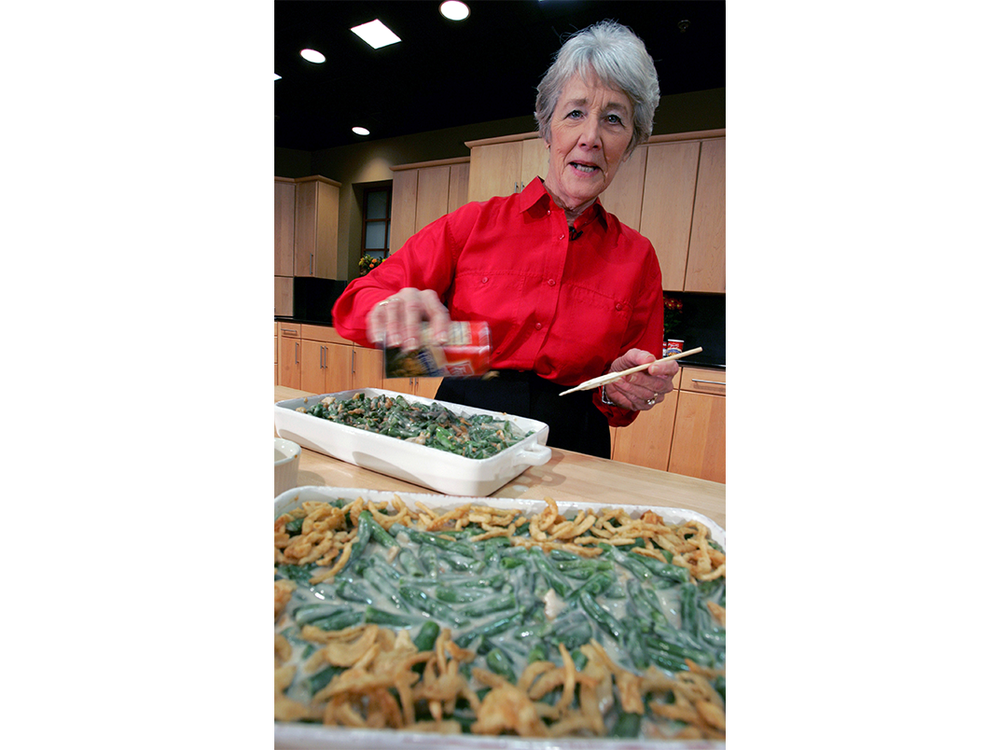 Editor's Note, November 19, 2018: With Thanksgiving approaching, we are resurfacing this October 2018 story about a holiday favorite.
This Thanksgiving, some 20 million Americans will tuck into green bean casserole, a culinary classic consisting of just six ingredients: a can of Campbell's cream of mushroom soup, milk, soy sauce, black pepper, green beans and crunchy fried onions. The retro recipe, which has been appearing on American tables for more than 60 years, can be traced back to a woman named Dorcas Reilly, who died on October 15 at the age of 92, reports Timothy Bella of the Washington Post.
In 1955, Dorcas was working as a supervisor at the home economics department of a Campbell's test kitchen in Camden, New Jersey, when she was tasked with creating a recipe for a feature that would appear in the Associated Press. The recipe had to be based on ingredients that any home cook would have on hand, including Campbell's mushroom soup and green beans.
Dorcas, who had earned a degree in home economics from Drexel University (known then as the Drexel Institute of Technology), got to tinkering. According to Today's Vidya Rao, she and her team initially toyed with adding celery salt and ham to the recipe, but ultimately settled on six simple, affordable ingredients that could be stirred together in a casserole dish and popped into the oven for 25 minutes. The prep time was minimal; the dish worked well with frozen or canned green beans, and the fried onions were pre-packaged.
It was the perfect recipe for post-War America, when cheap, fuss-free cooking was all the rage. The lifting of wartime rations on canned goods, coupled with innovations in canning and freezing that made packaged foods more accessible than ever, created a culture of convenience cooking. Though they continued to shoulder the responsibility of keeping the family fed, an ever-growing number of women were entering the workforce, fueling the demand for easy-to-make meals.
Originally called "Green Bean Bake," Dorcas' dish really took off when Campbell's began printing the recipe on its mushroom soup cans, according to Karen Zraick of the New York Times. Dorcas had created many recipes for the company (among them tuna noodle casserole and Sloppy Joe's made from tomato soup), and was somewhat surprised that the green bean casserole proved to be such a hit.
"We all thought this is very nice, etc., and then when we got the feelings of the consumer, we were really kinda pleasantly shocked," Reilly once said, according to Today's Rao. "I'm very proud of this, and I was shocked when I realized how popular it had become."
Green bean casserole has endured over the ages, with 40 percent of Campbell's cream of mushroom soup sales going towards making the dish, a spokesperson told Rao in 2015. You can find upgraded versions of the recipe (Bon Appétit, for instance, recommends ditching the canned soup for whole milk, cream and fresh cremini mushrooms) and Reilly's hand-written original recipe card even made it into the archives of the National Inventors Hall of Fame.
Reilly's pioneering accomplishments were not limited to the test kitchen. Born in 1926, in Woodbury, New Jersey, she was raised in Camden, and became one of the first members in her family to attend college. As a supervisor at Campbell's, "she was a trailblazer in a world in which women were generally on the sidelines of corporate America," according to a video tribute from her alma mater. After taking time off to raise her children in 1961, she returned to the company two decades later, now in the role of manager of the Campbell's Kitchen, a position she held until her retirement in 1988. And yet Reilly was never one to trumpet her achievements, her son, Thomas B. Reilly, tells Bonnie L. Cook of the Philadelphia Inquirer.
"She was not a flashy person," he says. "She didn't bask in the limelight. She just went in and did her job every day, like most blue-collar people."
Reilly's approach to cooking was similarly salt-of-the-earth. "I think food should be fun," she once said, "and food should be happy."