Refugees Are Teaching Germans How to Cook Their Traditional Foods
Cooking classes are bridging the gaps between Germans and Middle Eastern refugees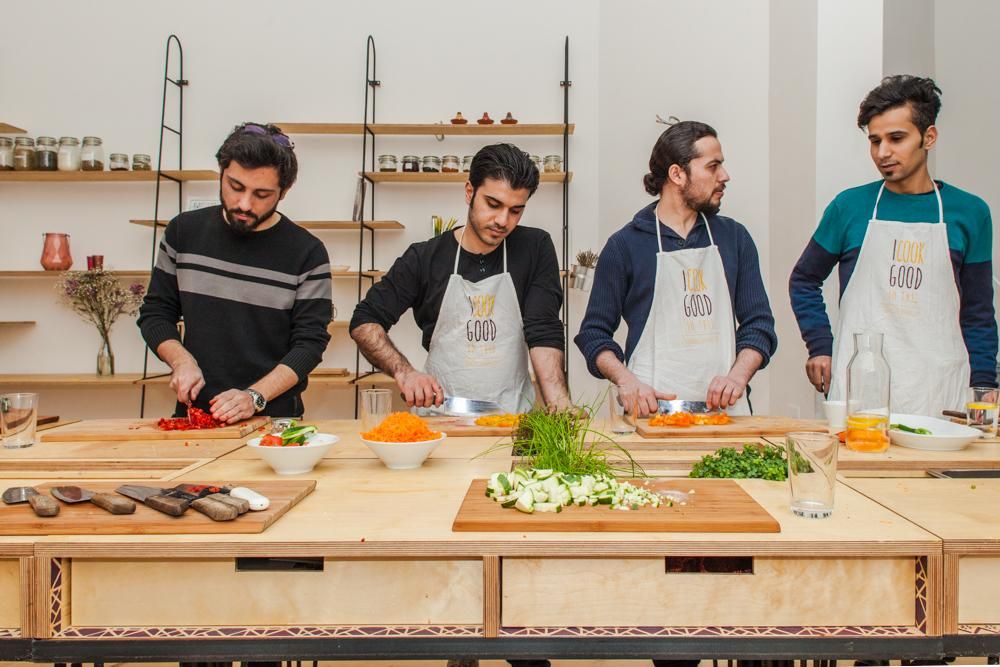 More than almost anything else, food has the power to bring people of different cultures together. As tensions in Europe toward refugees from war-torn countries like Syria, Iraq, and Afghanistan continue to rise, food is becoming a tool to help try to ease some of these issues. Now, one organization is working to bridge the culture gap between Germans and refugees by teaching Berliners how to cook traditional Middle Eastern dishes.
Über den Tellerrand ("Looking Beyond the Plate") is a Berlin-based organization that works with refugees to engage with their new neighbors by arranging cooking classes that serve up some familiar dishes. How it works is that once a month, a group of Berliners will gather at a community kitchen and dining space as a refugee chef instructs them on making a series of dishes from his or her homeland, Prathap Nair reports for Munchies.
"An international and intercultural group of students and refugees designed, created, and built this community kitchen," Lisa Thaens, one of Über den Tellerrand's founders, tells Nair. "We see it as the home of our diverse community, where everyone has the chance to contribute with ideas."
A typical night at an Über den Tellerrand class might have students learning how to make traditional meals from regions in Afghanistan that share culinary traditions with Iran, for example. Other nights might feature dishes once made at home in Syria, Jörn Kabisch writes for the German newspaper Die Tageszeitung. Even though the participants may not always share the same language, the organization believes that the act of cooking and learning about different cultures can unite people even during a contentious time.
"Food brings people together. It's a lot of communicating, because with every different culture that you meet people, you always end up cooking together, eating together, and that's the first thing that you share with someone after you meet," one participant named Noor says in a video for Über den Tellerrand.
More often than not, the refugees and asylum-seekers leading the classes aren't professional, trained chefs. Usually they are home cooks seeking a sense of community in a foreign country, looking to share their culture and family traditions, or just trying to make new friends. One volunteer teacher from Afghanistan named Reza was originally a shoemaker, but has come to rely on cooking as a way to keep his homeland in mind, Nair writes.
"The rice always needs to be chewy—three hours of soaking and ten minutes of cooking will do the job. Men like chewing rice in Afghanistan," Reza says.
Über den Tellerrand's work has yielded cooking classes, pop-up restaurants, and even a cookbook of refugee's recipes, with another due out later this year. Food might seem like a small thing, but when a person has spent years on the run with no way to return home, a traditional meal can be an important way to both share and renew their connection to their culture.