Prayer Book Owned by Thomas Cromwell, Adviser to Henry VIII, Was Hidden in Plain Sight for Centuries
The Book of Hours appears in a famous painting of the Tudor statesman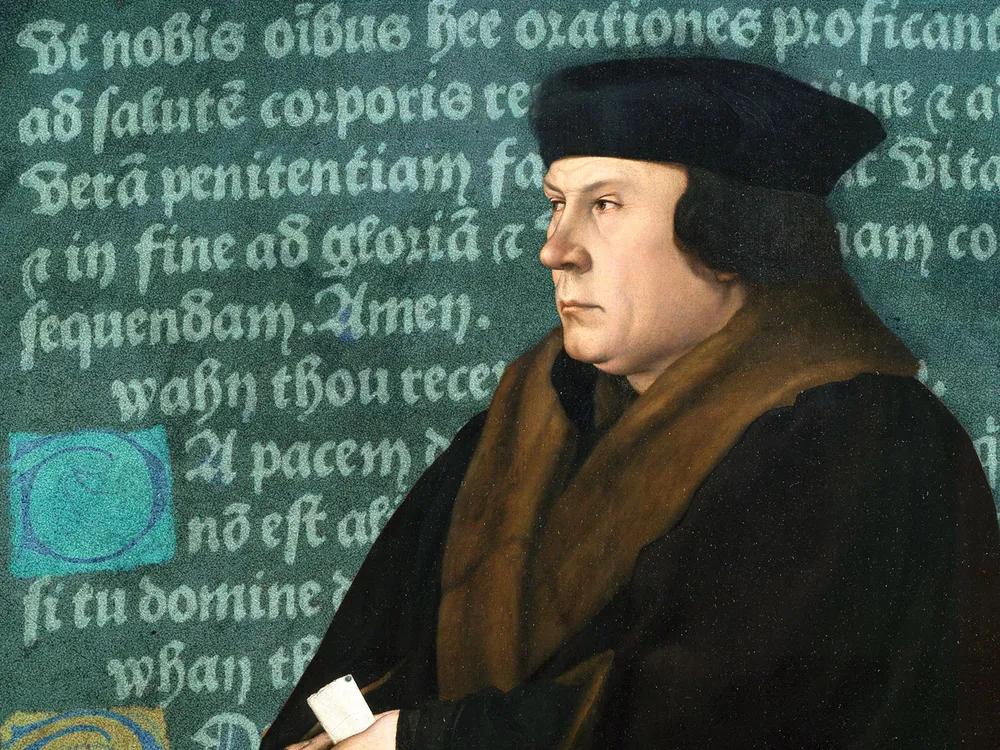 When Alison Palmer first saw a 16th-century prayer book housed at the University of Cambridge, she immediately noticed its similarities to a bejeweled volume depicted in one of the Tudor era's most iconic portraits: Hans Holbein's likeness of statesman Thomas Cromwell. Palmer, a curator at Anne Boleyn's childhood home of Hever Castle, teamed up with several of her colleagues to investigate the link further.
Now, reports BBC News, the researchers have confirmed that the prayer book is indeed the one featured in Holbein's portrait. The copy is thought to be the only object from any Tudor portrait to survive today. In a statement, historian Tracy Borman, author of a 2014 biography of the royal adviser, calls the find "the most exciting Cromwell discovery in a generation—if not more."
The son of a blacksmith, Cromwell rose to prominence at Henry VIII's court in the early 1530s, serving as the king's "ruthless fixer" and faithful servant, wrote Borman for History Extra in 2014. He orchestrated the downfall of Henry's second wife, Anne Boleyn, and played a major role in the dissolution of the monasteries during the English Reformation. A controversial figure in English history, Cromwell was immortalized in Hilary Mantel's award-winning Wolf Hall novels, which present a more sympathetic portrayal of the Tudor adviser.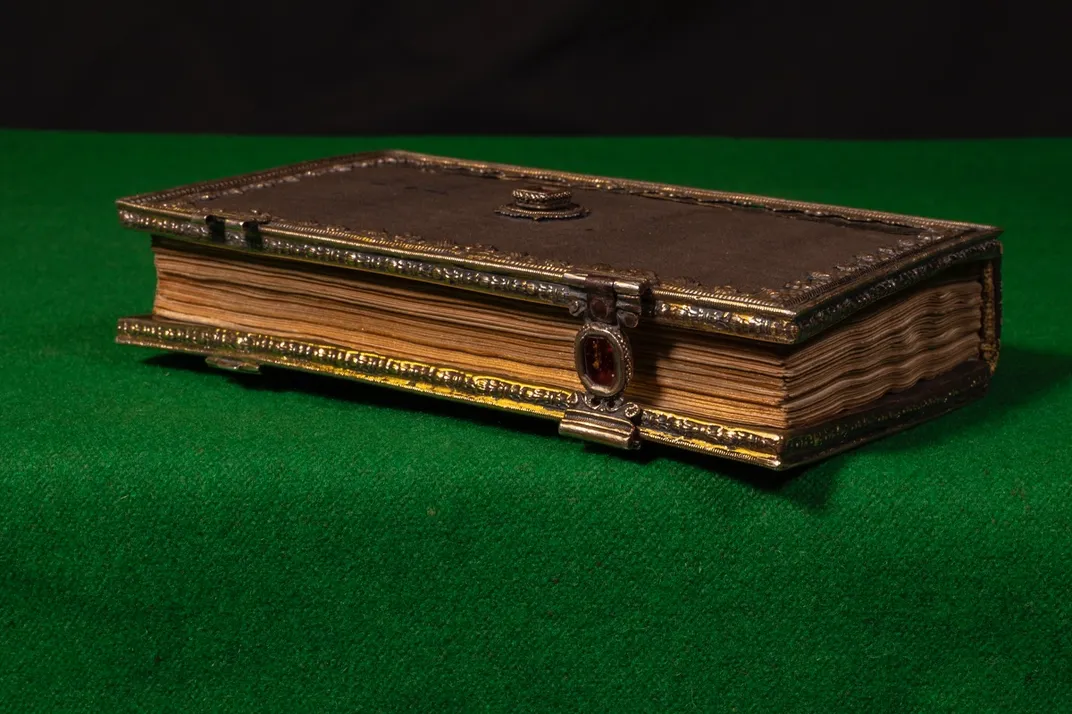 "We often see Cromwell in quite a harsh, maker-or-breaker lens, but I think this [find] shows some sentiment," Owen Emmerson, an assistant curator at Hever, tells the London Times' Jack Blackburn. "This book meant something to him."
Kate McCaffrey, also an assistant curator at Hever, realized the prayer book's potential significance while conducting research on Anne and Catherine of Aragon, Henry's first wife. In 2021, McCaffrey discovered that both women owned copies of the same devotional text, a Book of Hours published around 1527 by Paris printer Germain Hardouyn. The matching copies—one owned by Hever and the other by the Morgan Library & Museum in New York—offer a rare example of unity between queens often portrayed as fierce rivals.
"The ownership of the same book by these two leading ladies comes at a moment where Anne's star was very much on the rise, and Catherine's on the wane," wrote McCaffrey for the Tudor Society in 2021. "It is, perhaps, this extra context that makes the image of Catherine and Anne using their same book together at a time of great personal strife, but in a moment of peaceful prayer, all the more compelling."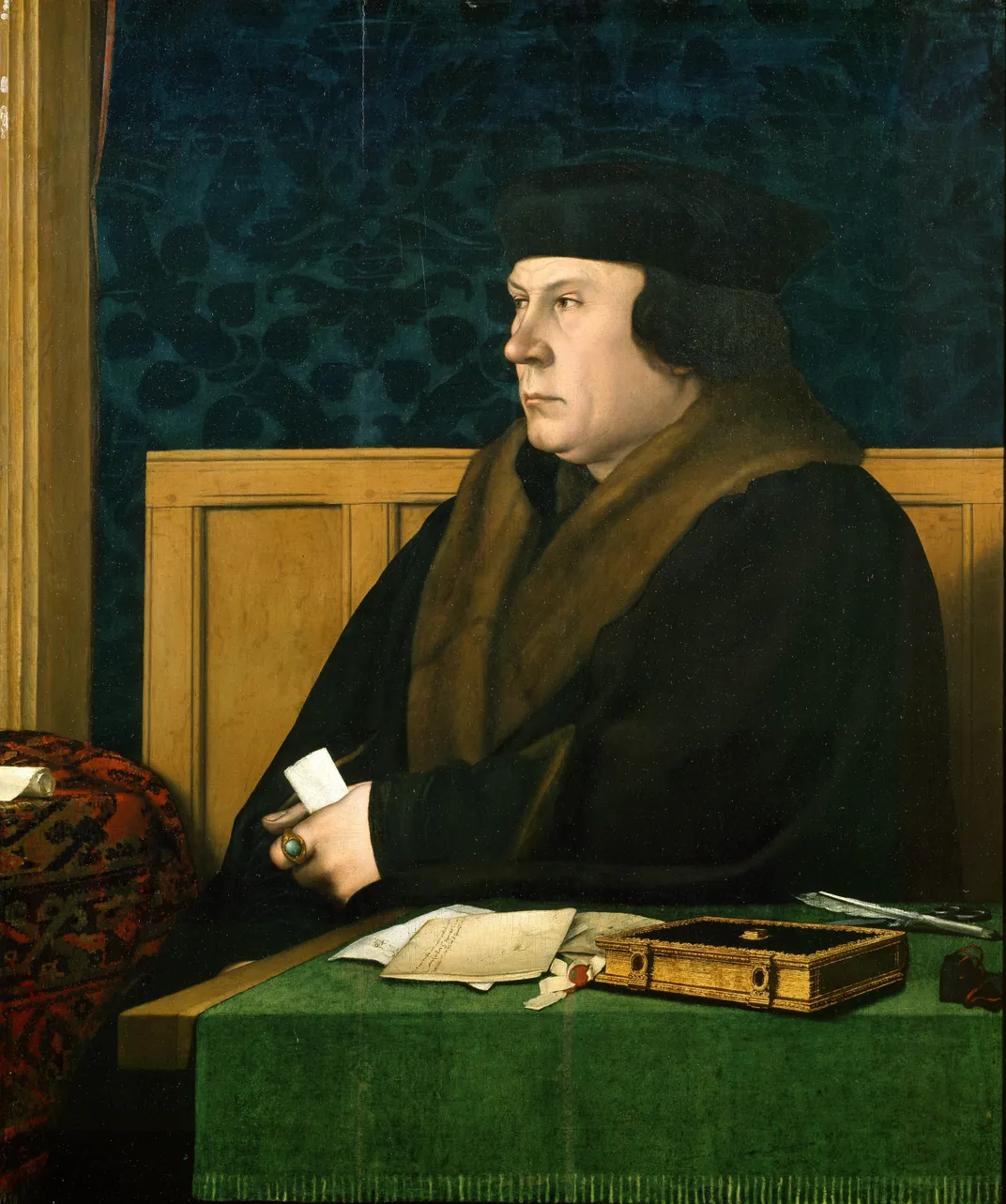 Through her research, McCaffrey learned of the existence of a third copy of the Book of Hours—one donated to Cambridge by Dame Anne Sadleir in August 1660. When Hever's curatorial team viewed the copy, Palmer pointed out its resemblance to the volume lying on a green tablecloth in the famous portrait, which Holbein painted between 1532 and 1533.
Palmer, Emmerson and McCaffrey began searching for more evidence to confirm the connection. They looked into the Cambridge book's provenance, tracing its ownership from Cromwell to Sadleir, whose husband was the grandson of Cromwell's secretary Ralph Sadleir (also spelled Sadler). The trio then shared their research with leading experts like Borman, who examined their findings and came to the same conclusion.
Previously, researchers had paid little attention to the Cambridge copy, which was known as the Hardouyn Hours after its printer. As Emmerson tells Artnet's Richard Whiddington, scholars studying this era tend to focus more on handwritten texts than printed books. Additionally, the book "has remained uncleaned for many decades, with dirt and tarnish masking the finer details of the silver-gilt binding."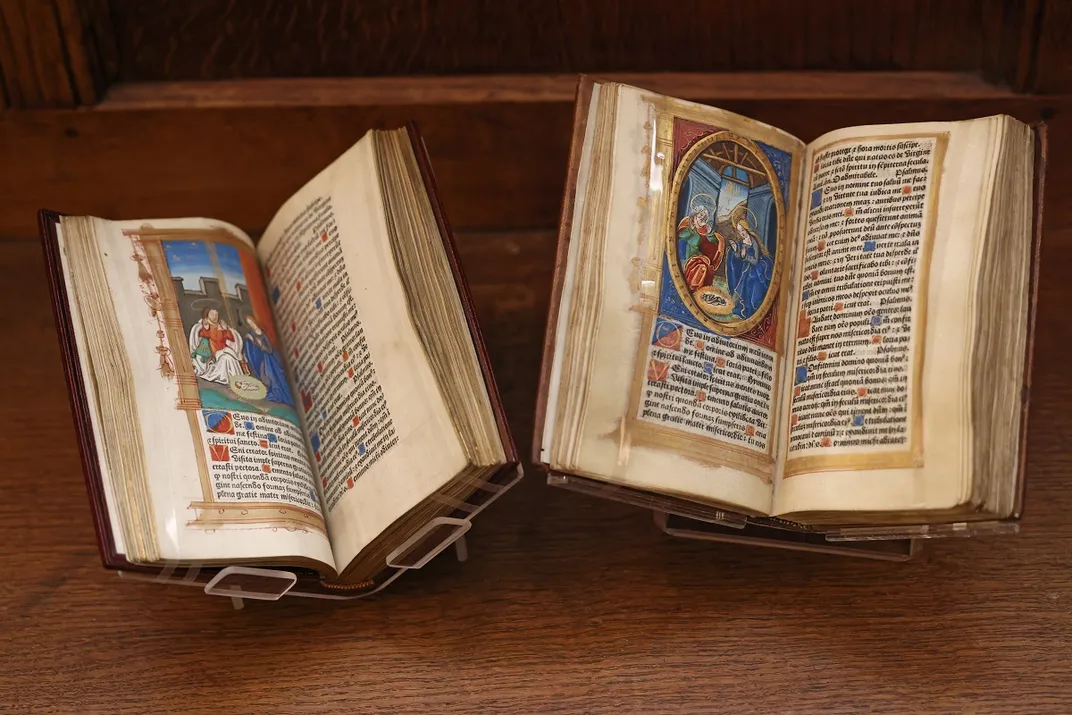 Cromwell's prayer book is now on view at Hever, where it appears alongside Anne's copy in an exhibition titled "Catherine & Anne: Queens, Rivals, Mothers." Ahead of the display, a team of experts re-examined the book, identifying the gems on its covers and clasps as grossular garnets and attributing its silver gilt edging to Pierre Mangot, goldsmith to Francis I of France. The book's inclusion in the Holbein portrait may allude to Cromwell's recent appointment as Master of the Jewels.
"This book of devotional prayers is remarkable for its unusually grand binding, covered with velvet, jewels and highly decorated silver gilt borders, all of which date from the time it was printed and illuminated," says Nicolas Bell, a librarian at Cambridge's Trinity College, in the statement. "It has been enormously exciting to position this luxurious creation in the very center of the court of Henry VIII, where we know that both Catherine of Aragon and Anne Boleyn owned copies of the very same edition."
Cromwell, Anne and Catherine all lived during a tumultuous period in English history. Beginning in the late 1520s, Henry fought to put his first queen, Catherine, aside in favor of Anne, who he hoped would provide him with a long-awaited male heir. But the king's "great matter," as Henry's quest for a divorce was called, proved more complicated than he'd anticipated, pushing England to break from the Catholic Church and embrace Protestantism. Cromwell, who'd previously worked under Henry's chief adviser Thomas Wolsey, ingratiated himself with Henry and Anne by championing their cause and, in 1533, securing the annulment of the king's first marriage.
Just three years later, Cromwell engineered the downfall of yet another queen: Anne herself. Henry had tired of his bold, argumentative wife, who, like Catherine, had been unable to bear a male child. On May 19, 1536, Anne was beheaded on trumped-up charges of adultery, incest and conspiring to kill her husband, freeing Henry to marry the demure Jane Seymour.
The newly identified prayer book "gives us a little window into" the everyday lives of three giants of Tudor history, Emmerson tells the Times. "We often see them as adversaries, but they were also in each other's company. They had to get along for propriety's sake. It's a surprising connection between these otherwise warring individuals."
Cromwell outlasted both Anne and Catherine, who died of natural causes just months before Anne's execution. But his victory proved short-lived. Four years later, Cromwell followed his ally-turned-enemy to the Tower of London. He was beheaded on July 28, 1540, sent to the block for his role in organizing Henry's failed fourth marriage to Anne of Cleves. Within weeks, the ever-mercurial Henry regretted his decision to execute his chief adviser, mourning the statesman as "the most faithful servant he had ever had."