'Nightmare Before Christmas' Pumpkin Mosaic Sets World Record
The Jack Skellington-inspired display is made from more than 10,000 gourds across 2,081 square feet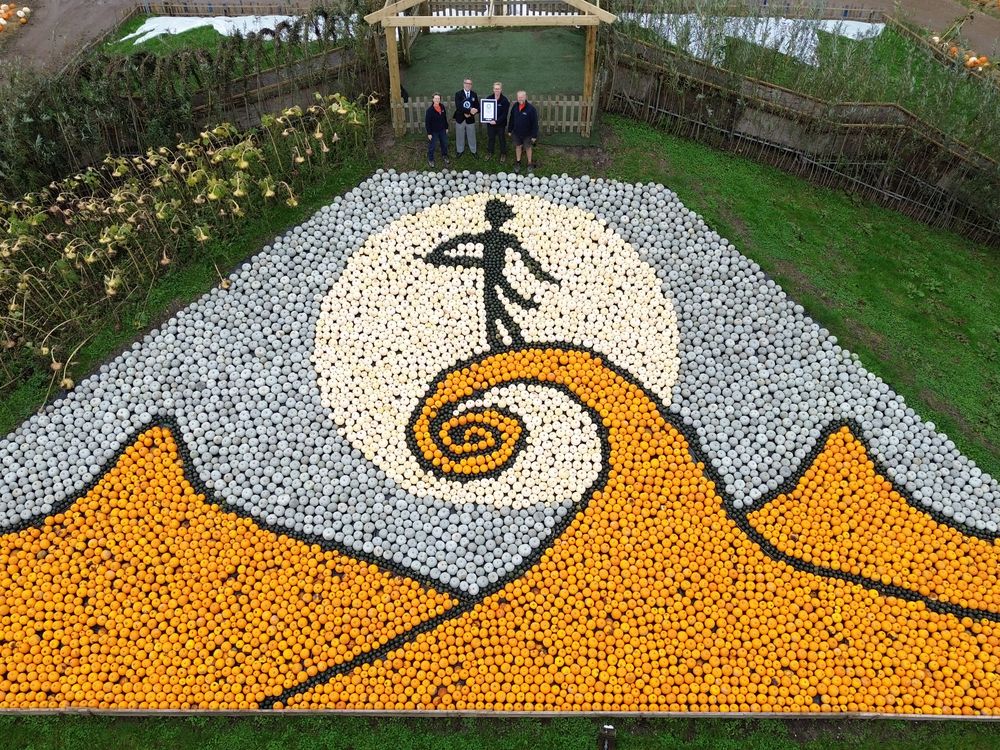 A Jack Skellington pumpkin mosaic nearly the size of a tennis court has just squashed a Guinness world record.
The 2,081-square-foot display has taken the niche title of the world's largest cucurbita mosaic. (Cucurbita is a term for pumpkins, squash and gourds.) It depicts the iconic scene from Tim Burton's The Nightmare Before Christmas in which the Pumpkin King of Halloween Town sings on a winding hilltop, a full moon looming in the background.  
Ian and Louise Nelson, owners of Sunnyfields Farm in the United Kingdom, created the mosaic with their son Tom and a team of ten staffers.
"We weren't intentionally doing it to get the record, as each year we build a big display, but we realized it would qualify and went for it," Ian Nelson tells the PA News Agency. In total, the final product took five hours to assemble.
Here's a look at how this amazing pumpkin mosaic at Sunnyfields Farm in the UK was assembledpic.twitter.com/lImGCAt4II

— Guinness World Records (@GWR) October 23, 2023
To break the record, the Nelsons had to hit 100 square meters (roughly 1,076 square feet). The family's mosaic—made from more than 10,000 pumpkins and gourds—is nearly twice that size.
"The inspired Nelson family transform their organic farm every year, welcoming visitors to pick a pumpkin from their spooky maze and soak up the frightful atmosphere," per a statement from Guinness World Records. The family's previous displays have depicted Cinderella's carriage, Paddington Bear and a jack o'lantern wearing a mask during the Covid-19 pandemic.
This year's Jack Skellington mosaic came together after the Nelsons reached out to their followers on social media for ideas. They say that roughly one-fifth of respondents suggested a Nightmare Before Christmas theme.
The record-breaking display features pumpkins and squash in several colors: The hills are made from orange pumpkins, while the moon is made from white pumpkins. The green outlines are made from Gem Rolet Squash, "a staple food in South Africa," as the Nelson family tells Guinness World Records' Eleonora Pilastro. The blue sky is made from Crown Prince squash.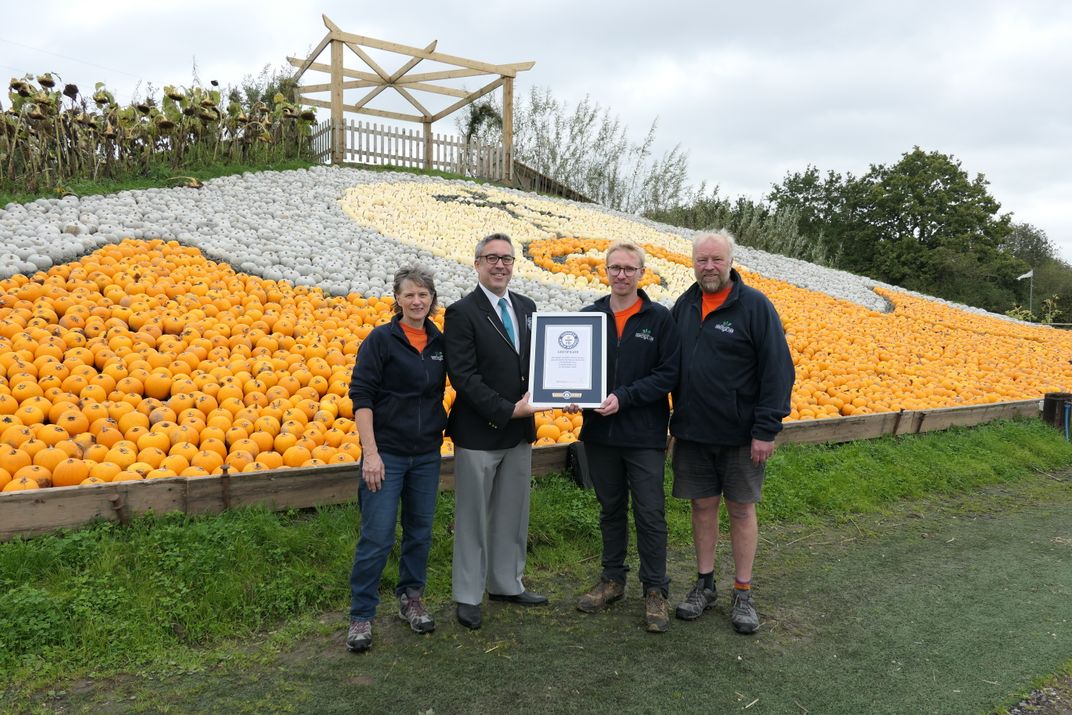 This year is the 30th anniversary of the Tim Burton film, which has become a Halloween (and Christmas) viewing staple. Over the weekend, the Hollywood Bowl in Los Angeles staged a series of live concerts commemorating the film, and the movie is currently back in theaters to celebrate the milestone.
Adam Milward, managing editor of Guinness World Records, commends the Nelson family for going above and beyond. "This is always a busy time of year for fruit and veg records at GWR," he says in the organization's statement. "Indeed, just last week, we had the privilege of recognizing a new heaviest pumpkin." (Travis Gienger, a 43-year-old horticulture teacher, set that record with a 2,749-pound gourd, which he grew in his backyard.)
Milward adds: "It can sometimes be easy to get wrapped up entirely in the biggest produce, but what Sunnyfields Farm has proven in their Halloween-themed gourd display is that when horticultural prowess is combined with a little creative flair, it's possible to reap some truly spook-tacular results."