"Lost" Feminist Dinner Set Goes on Public Display for the First Time
The 50-plate "Famous Women Dinner Set" by Bloomsbury Group artists Vanessa Bell and Duncan Grant includes portraits of the well-known and the overlooked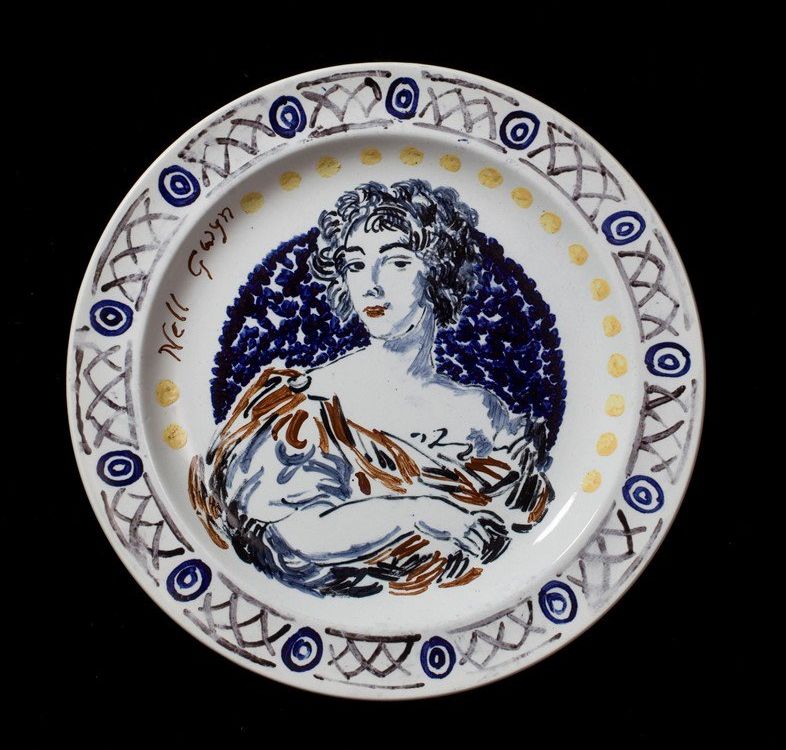 For the first time, the public has the opportunity to see a dinner service like no other.
As Sarah Cascone at artnet News reports, "The Famous Women Dinner Service" is currently on view at London's Piano Nobile gallery.
The evocative piece of feminist art, produced between 1932 and 1934, includes 50 plain Wedgewood white china dinner plates, each featuring portraits of famous and often overlooked women throughout history. Created by artistic partners Vanessa Bell and Duncan Grant, who were members of the clique of intellectuals known as the Bloomsbury group, the work includes 12 writers, 12 dancers, 12 queens and 12 beauties, along with plates depicting Bell and Grant themselves.
The set includes famous writers like Mary Ann Evans​ (better known by her pen name George Eliot), Charlotte Brontë, Christina Rossetti and Bell's sister Virginia Woolf. There are notable monarchs like Mary Tudor and Marie Antoinette as well as outsized figures of history like Sappho, Helen of Troy and Jezebel. Contemporary figures of the day, including Greta Garbo and Marian Bergeron (crowned Miss America at the age of 15 in 1933), also are included. There are some figures included whose names might take little Googling, as well, like Eleanor "N​ell" Gwyn, the actress and lover of Charles II, letter-writer Dorothy Osborne and Eleonora Duse, praised by some critics as ''the first modern actor."
All in all, the set is a playful and challenging chronicle of women through history. "It's a major proto-feminist work," Matthew Travers, director of Piano Nobile gallery, tells Cascone. "All of the women they depicted did something interesting and powerful, and often were quite scandalous—the Bloomsburys might have said 'liberated'—in the way they lived their private lives, and often did not conform to the patriarchies they were living in."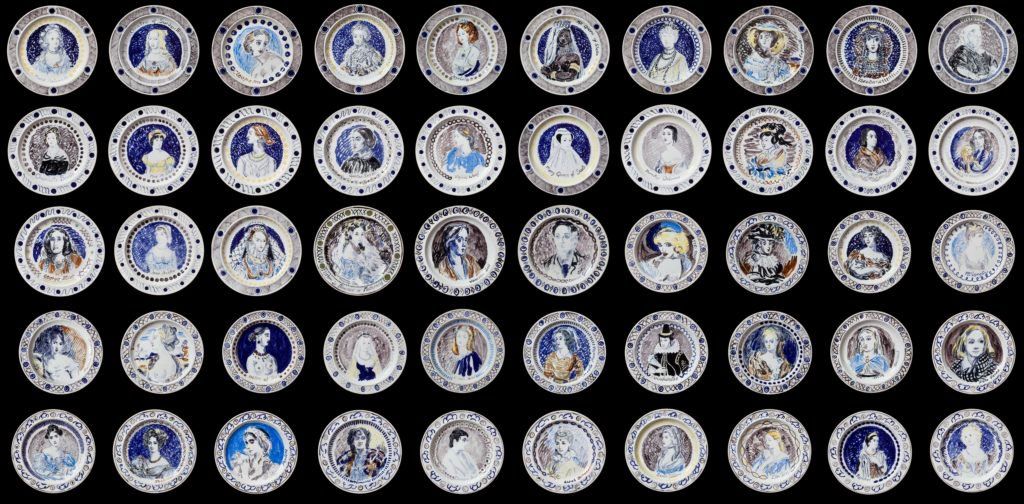 So why hasn't the complete piece been on view before? According to Hana Leaper at British Art Studies, the set was originally commissioned by art critic Kenneth Clark in 1932. While he ordered what he thought would be a nicely decorated dinner set including mustard pots and sauce tureens, what he got was the dinner set. It's not clear what Kenneth thought of the work, but it appears his wife Jane Clark was onboard with the project, communicating with Bell throughout the process.
Cascone reports that the Clarks did hold onto the set and they even used it at dinner parties. After they died, the set was sold to a collector in Germany and was essentially lost. But last year, a client of Piano Nobile revealed that they had the entire set. "What was so exciting is that they were all there and in perfect condition," Travers says. "It's so easy with ceramics that one or two could have got broken or lost. And no one knew if they had been sold in Germany as a group or individually—they could have been totally scattered."
The gallery put the set up for auction last year for $1.3 million, but it didn't sell. Now, Piano Nobile is holding the set so that Charleston, the house in Sussex where the Bloomsbury group was based and where Bell and Grant lived, can raise funds to purchase the dinner set at a discount.
The idea of engaging with women's history through a dinner set, a symbol of domesticity through the ages, is not unique to Bell and Clark. In 1979, Judy Chicago famously created the "Dinner Party," a large banquet table, that includes table settings laid out for 39 "guests of honor" that span pre-history to the contemporary age. Floor tiles list the names of another 999 other extraordinary women. That work is on permanent display at the Brooklyn Museum.
But if you want to catch "The Famous Women Dinner Service" at Piano Nobile, it will only be on view until the end of April. Then, if everything goes according to plan, it will be transferred to Charleston, which currently houses several test plates and early designs for the set.