These Fall Exhibitions Explore the Origins of Judy Chicago's "Dinner Party"
Brooklyn Museum and National Museum of Women in the Arts revisit the artist's celebration of unrecognized women, female body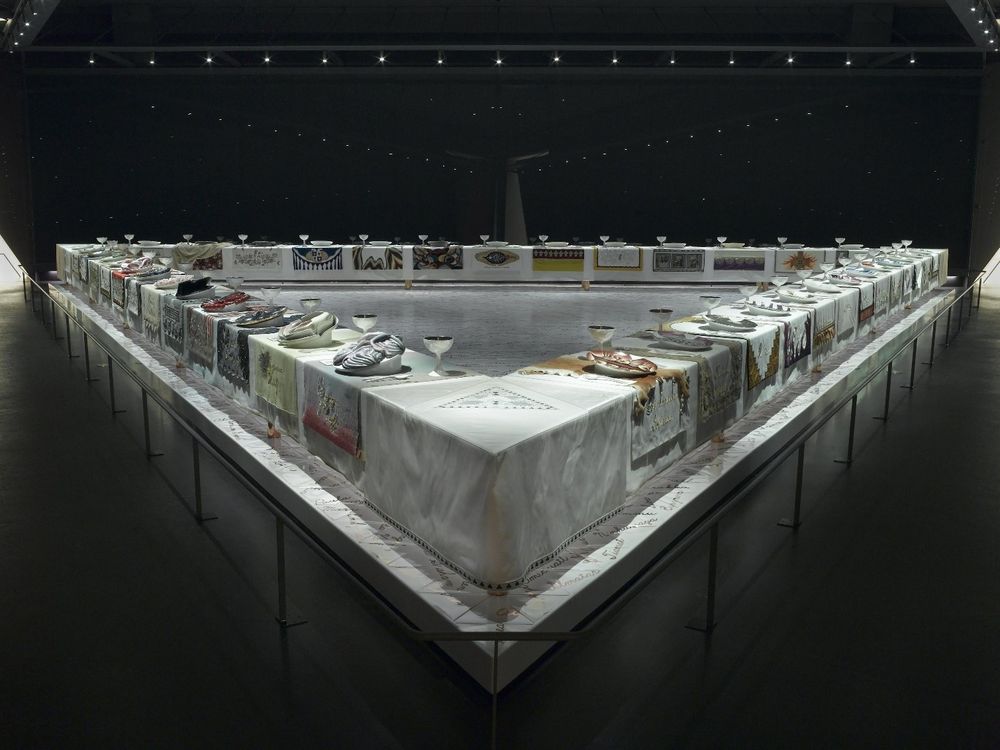 The 1,038 women featured in ​​Judy Chicago's "Dinner Party" form an eclectic and dynamic group. Among them, there's Aspasia, an Athenian philosopher who holds a place of honor alongside such luminaries as German poet Hrosvitha, Italian baroque painter Artemisia Gentileschi and reproductive rights activist Margaret Sanger. The pseudo-banquet's long list of attendees often get eclipsed by the work's central motif, though, which appears on the plate of each of the 39 "guests of honor" around the banquet table. A frank depiction of female anatomy, artnet News' Sarah Cascone sums it up well, calling the imagery "unrepentant vaginal iconography."
Chicago's 1979 installation, a striking feminist statement that honors history's unrecognized women and celebrates the liberation of women's bodies, attracted hordes of admiring—and scathing—crowds during its debut international tour. Now, nearly 40 years after the launch of this nine-year circuit, two museums are revisiting "The Dinner Party"'s enduring legacy with separate fall exhibitions.
Artnet's Cascone reports that the Brooklyn Museum's "Roots of 'The Dinner Party': History in the Making" examines the evolving phases of the work's production, while the National Museum of Women in the Arts' "Inside 'The Dinner Party' Studio" meticulously documents its creation through archival materials and film footage.
The Brooklyn Museum hosted "The Dinner Party" during its inaugural tour in 1980, and it has served as the installation's permanent home since 2007. The gallery's new show reflects this long-standing connection through rarely seen test plates, research documents, notebooks and preparatory drawings—as exhibition curator Carmen Hermo tells Cascone, the artifacts show how Chicago's work represented a reclamation of the female body: "Judy wanted to add power to what it meant to have a vagina."
Chicago and her roughly 400 assistants spent five years creating the installation. In addition to the main table, "The Dinner Party" includes a floor of tiles covered with the names of 999 mythical and historical women, six woven banners and large-scale collages depicting the lives of the featured women.
"It was to make the point that there is nothing that groups these women together who are from all different epochs, eras, countries, races, ethnicities, religions, class, except they had vaginas, which meant we didn't know who they were," Chicago tells the Guardian's Nadja Sayej this year.
According to Sayej, many of Chicago's assistants specialized in embroidery, ceramics and other skill sets associated with the craft movement. Their contributions—recognized in the Brooklyn Museum exhibition as "a triumph of community art-making"—further accentuated "The Dinner Party"'s feminist spin by elevating craft to the level of art.
Decades have passed since Chicago first envisioned her monumental work, but as she tells Sayej, the "erasure of women's achievements" remains an issue, and Chicago's masterpiece remains ever relevant today.
"For 20 years, everyone referred to 'The Dinner Party' as ... 'vaginas on plates,'" Chicago tells Sayej. "Nobody called it the history of women in western civilization, which of course, is what it is."
"Roots of 'The Dinner Party': History in the Making" is on view at the Brooklyn Museum through March 4, 2018, and "Inside 'The Dinner Party' Studio" is on view at the National Museum of Women in the Arts through January 5, 2018.