New DNA Analysis Could Help Identify Victims of the Tulsa Race Massacre
Experts have linked six genetic profiles sequenced from exhumed remains to 19 potential surnames in seven states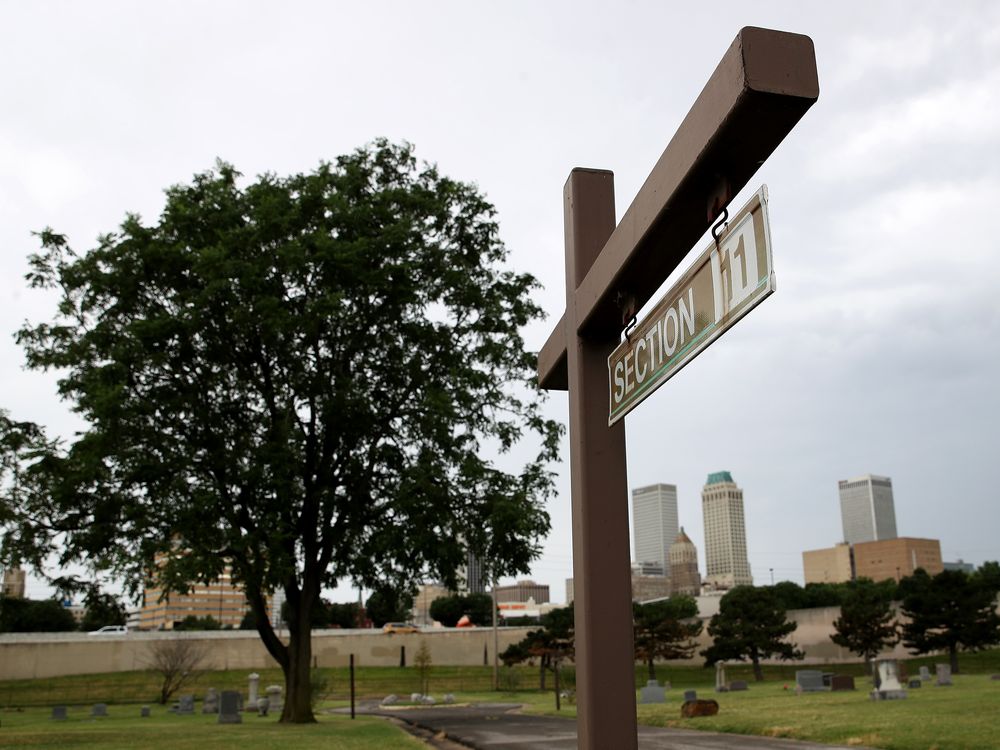 Researchers in Tulsa, Oklahoma, have generated six DNA profiles that could help genealogists identify the remains of victims of the 1921 Tulsa Race Massacre. According to a statement, scientists with the 1921 Graves Investigation sequenced the profiles from 22 sets of remains exhumed from unmarked graves at Oaklawn Cemetery. They now hope to link this genetic data to living descendants of the deceased, narrowing down the search by tying specific burials to potential surnames and locations of interest.
"We do not believe a match of this type has ever been achieved before in American history," said Tulsa Mayor G.T. Bynum during a recent press conference announcing the "major scientific breakthrough," per Anna Codutti of Tulsa World.
The Tulsa Race Massacre took place on May 31 and June 1, 1921, amid rising tensions sparked by the arrest of a Black teenager for the supposed assault of a white elevator operator. A horde of white Tulsans descended on the prosperous neighborhood of Greenwood, a predominantly Black community known as "Black Wall Street," killing an estimated 300 Black residents and leaving another 10,000 unhoused. The mob destroyed at least 1,256 homes, as well as "virtually every other structure" in Greenwood, a 2001 report found.
When the violence was over, wrote Tim Madigan, author of a 2001 book about the massacre, for Smithsonian magazine in 2021, Greenwood "resembled a city flattened by a massive bomb." No definitive tally of the death toll exists, as the majority of victims were buried in unmarked graves.
"The exact number of casualties—and the location of their remains—may never be known," Madigan added. "Many Greenwood families simply never saw or heard from their loved ones again and were condemned to live with uncertainty about their fate."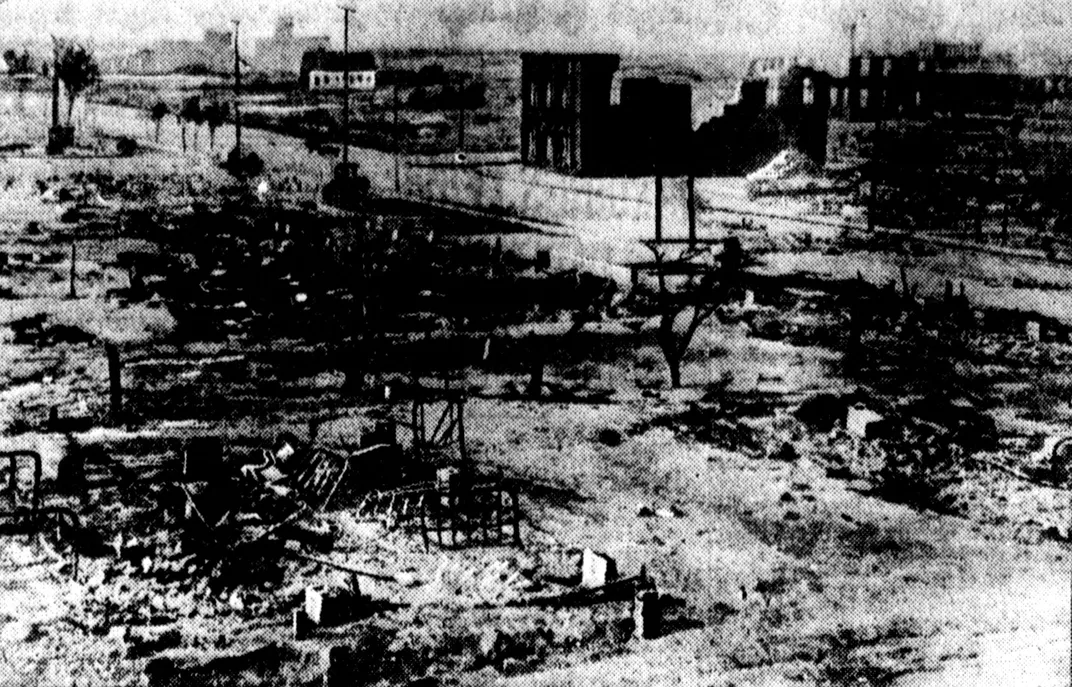 For decades, scholars, city officials and law enforcement sought to erase the story of the massacre from Tulsa's history. In the late 1990s, however, the Oklahoma Legislature established a commission tasked with investigating the attack. The group's 2001 report drew attention to the long-overlooked tragedy; in more recent years, local leaders have launched a campaign to find the missing victims and return their remains to their families.
The exhumation push represents "this generation of Tulsans trying to do what should've been done 100 years ago," Bynum tells Lauren McCarthy of the New York Times.
Excavations at Oaklawn Cemetery began in 2020. Initially, archaeologists failed to find human remains. But subsequent digs revealed 66 burials, all but 4 of which were unmarked. The majority of these graves are "thought to be unrelated" to the massacre, reported Tulsa World's Randy Krehbiel last November. Only two sets of exhumed remains bear evidence of bullet wounds.
Experts have not yet determined whether the four male and two female sets of remains analyzed for the DNA investigation belong to victims of the massacre. None display signs of trauma, such as gunshot wounds. But identifying the remains and finding their owners' death certificates could help researchers better understand burial patterns at Oaklawn, leading them to the areas of the cemetery most likely to hold victims.
"We get closer to figuring out who was buried in that cemetery and when," forensic anthropologist Phoebe Stubblefield, a descendant of survivors of the attack, tells the Associated Press' Ken Miller.
Researchers have already linked the six DNA profiles to 19 possible surnames in seven states: Alabama, Georgia, Louisiana, Mississippi, North Carolina, Oklahoma and Texas. They're now asking members of the public who spot their last names in the list and have a family history in Tulsa to contact the team at Tulsa1921DNA.org.
"How easy or how challenging the identification is going to be depends on the people on that list," Alison Wilde, genealogy case manager for the 1921 Tulsa Project, tells NPR's Scott Neuman.
In the statement, Bynum says, "There isn't a single genealogical investigation of this magnitude in the United States that has gotten this far, and yet, we are still in the beginning stages of this process. There is a lot more investigative work that is happening, and with the public's help, we are eager to enter the next phase of this process."