One Woman's Quest to Eat 244 Scones Across U.K. Is Now Complete
Over ten years, Sarah Merker has tried—and ranked—scones at National Trust sites in England, Wales and Northern Ireland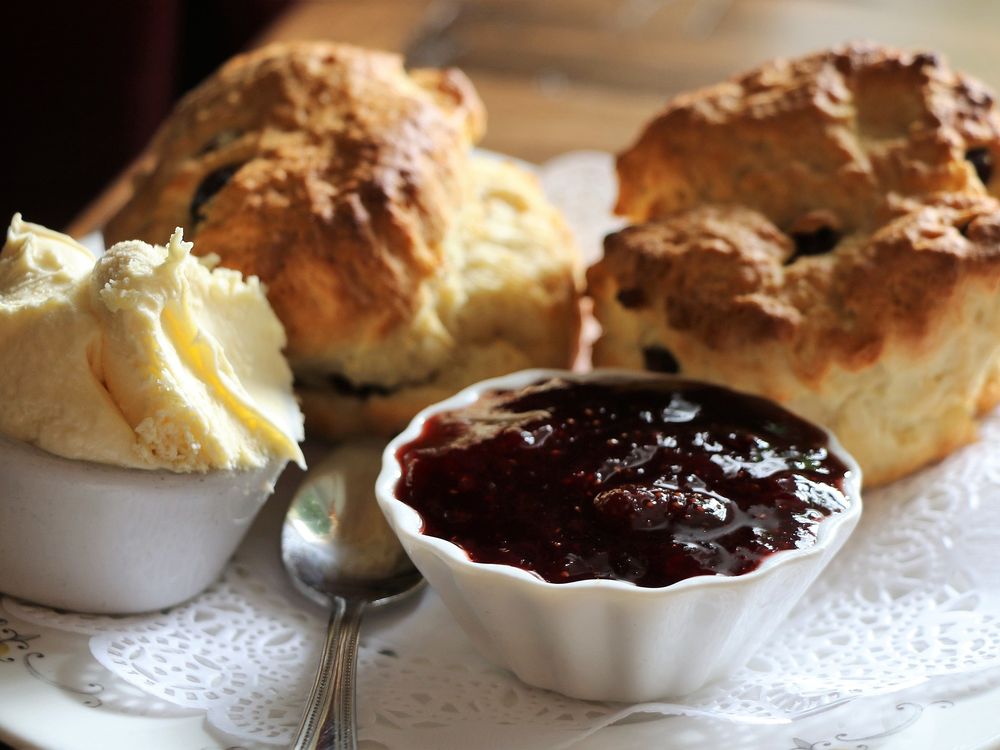 Crumbly and warm, scones are a British staple often enjoyed with clotted cream and strawberry jam during afternoon tea. One British woman loves the fluffy, round baked goods so much that she spent the last ten years traveling around England, Wales and Northern Ireland to sample hundreds of them.
Sarah Merker, a 49-year-old marketing executive from London, recently achieved her goal of eating a scone at every National Trust location that serves food—244 in total. Headquartered in Swindon, England, the National Trust is a conservation charity dating back to 1895 that preserves historic homes, castles and landscapes throughout the United Kingdom.
Accompanied by her sister and her mother, Merker officially completed the journey on March 1 by eating a scone at Giant's Causeway, a site in Northern Ireland featuring more than 40,000 basalt columns.
Merker started the project back in August 2013, when she and her husband, Peter, became members of the National Trust. As Merker tells the Washington Post's Adela Suliman, she wanted to make sure she actually used her membership, so she set a goal that would motivate her to visit many National Trust sites.
I'm pleased to tell you that I got my 244th National Trust scone! I'm also pleased to tell you that the @GCausewayNT scone was fresh, warm and absolutely delicious. The occasion wasn't entirely without drama but I'll save that for the blog. #nationaltrust pic.twitter.com/DvCNPFZBQQ

— National Trust Scones (@nt_scones) March 1, 2023
Even after her husband died of cancer in 2018, Merker carried on with the project, which became a way of keeping herself busy while also honoring his memory. She chose to eat the final scone at Giant's Causeway because she and her husband had once visited the site together.
"It didn't even occur to me to give up, it gave me something to get out and about for," she tells the Washington Post. "... Everywhere I went, I was looking at it through his eyes."
Along the way, Merker tracked all of the scones she ate on her blog, National Trust Scones. With each entry, she described the site and rated each scone on a scale of zero to five. In an October post, for instance, she wrote: "If it's a scone-with-a-view you're after, then Leith Hill Place is for you."
YESSS! Another revisit delivers the goods! I'm on a roll! Although it's the first time I've eaten a National Trust scone in the frost. pic.twitter.com/nbdiTvUYxk

— National Trust Scones (@nt_scones) January 21, 2023
The project also inspired Merker to create a cookbook, titled ​​The National Trust Book of Scones: 50 Delicious Recipes and Some Curious Crumbs of History.
The challenge, she tells PA Media's Lily Ford, has "taken up a lot of my time and effort over the past ten years, and I'll really miss it." 
Without the scone project to keep her busy, Merker isn't really sure what she'll do next. She may try to accomplish the same feat at sites managed by the separate National Trust for Scotland, or embark on an entirely new endeavor. Either way, she says she'll never stop loving—or eating—scones.
Her absolute favorite scone? Hands down, it was a Christmas pudding scone served with brandy butter that Merker gobbled up at the 1897 Treasurer's House site in Yorkshire in northern England.
In a recent interview, BBC Breakfast's Roger Johnson asked: What makes a good scone?
"It's really simple, Roger. It has to be fresh," she said. "It takes a lot to ruin a fresh scone."