Australian Museum Will Return Prized 2,500-Year-Old Vase to Italy
The institution will also repatriate two additional looted items discovered during investigations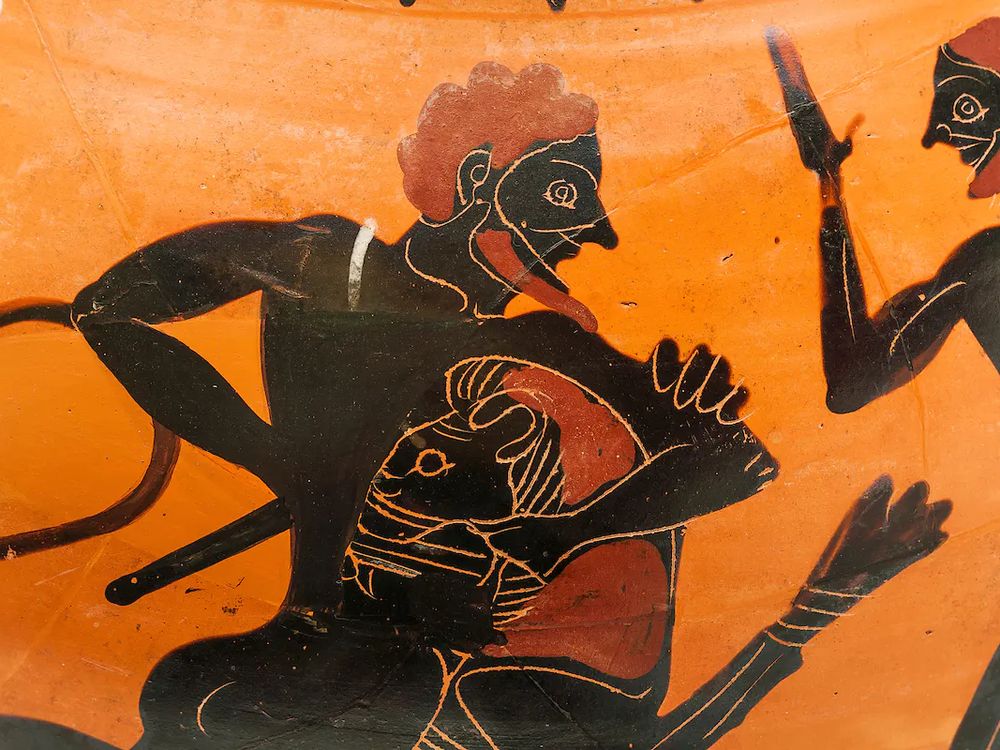 For nearly 40 years, a 2,500-year-old vase has resided in the collections of the Classics Museum at the Australian National University (ANU). It depicts Heracles (the son of Zeus in Greek mythology) fighting the Nemean lion on one side and two warriors battling on the other.
It was made around 530 B.C.E., when it would have been used for storing olive oil or wine. It's a "stunning example" of the elegant craftsmanship of the ancient Mediterranean world, as curator Georgia Pike-Rowney says in a statement from ANU.
It's also stolen.
In 1984, the university purchased the artifact "in good faith" from Sotheby's in London. Last year, however, it was contacted by Italy's Carabinieri art squad, the police unit specializing in art crimes. Italian officials had matched the vase to a Polaroid photo found in an earlier criminal investigation, proving the amphora had been illegally excavated and sold. On September 15, the museum announced it would repatriate the vase.
"The ANU has a very clear policy about repatriation," Pike-Rowney tells Peter Lusted of the Australian Broadcasting Corporation (ABC). "When we're given evidence that there's an object that needs to be repatriated, we immediately say, 'Yes, it's an unconditional repatriation.' In this case, we're not asking for anything back."
After discovering the amphora's provenance, the Carabinieri asked for all documentation connected to items in the Classics Museum. The search revealed another looted artifact: a red fish plate from Italy's Apulia region, also purchased in 1984. ANU bought the plate from Holland Coins and Antiquities in the United States, which was run by David Holland Swingler, a dealer now known for trafficking illicit items.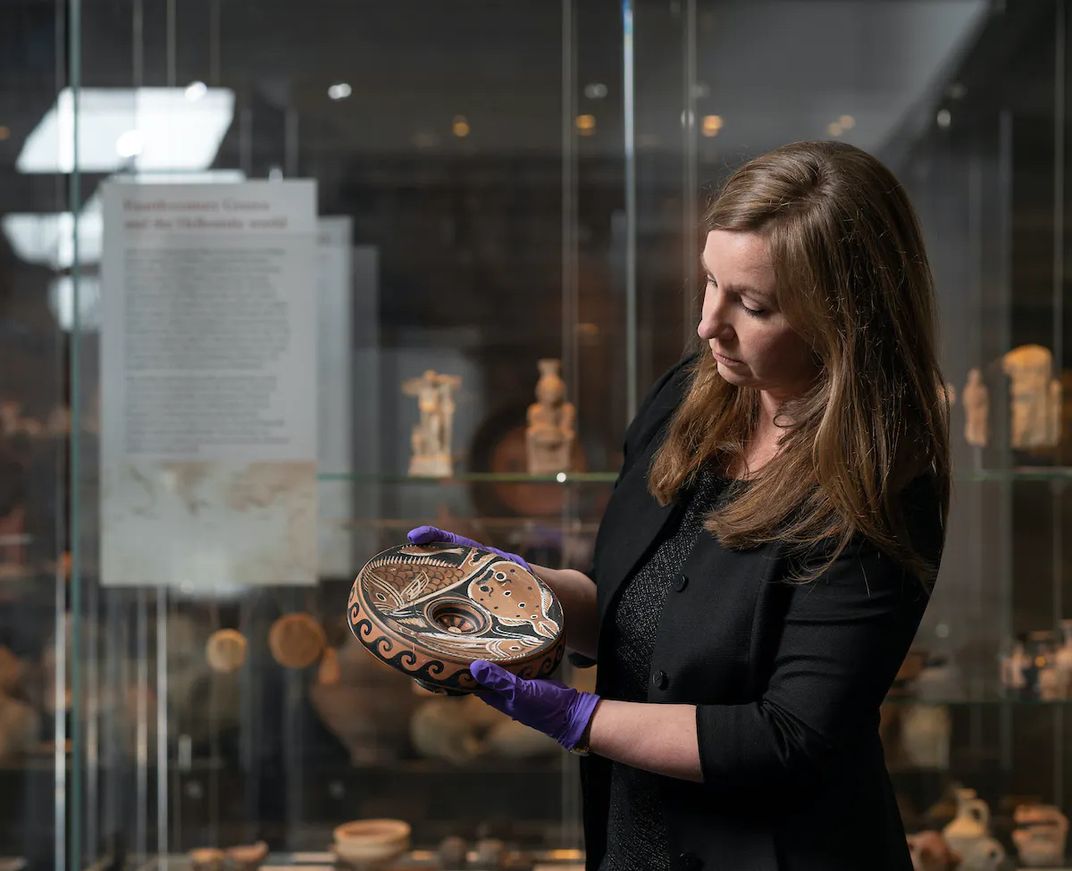 "During trips to Italy, Swingler sourced items directly from the tombaroli—literally tomb raiders—who undertook illegal excavations and then smuggled the items to the U.S. hidden in bundles of pastas," Pike-Rowney tells Julie Hare of the Australian Financial Review (AFR).
The museum will return both the fish plate and the amphora to the Italian government, with an official ceremony to come at a later date, per ANU's statement. Under a repatriation agreement, expected to be finalized later this year, the museum will be able to display the items on loan for four years, with the option for another four-year extension "for research and teaching purposes."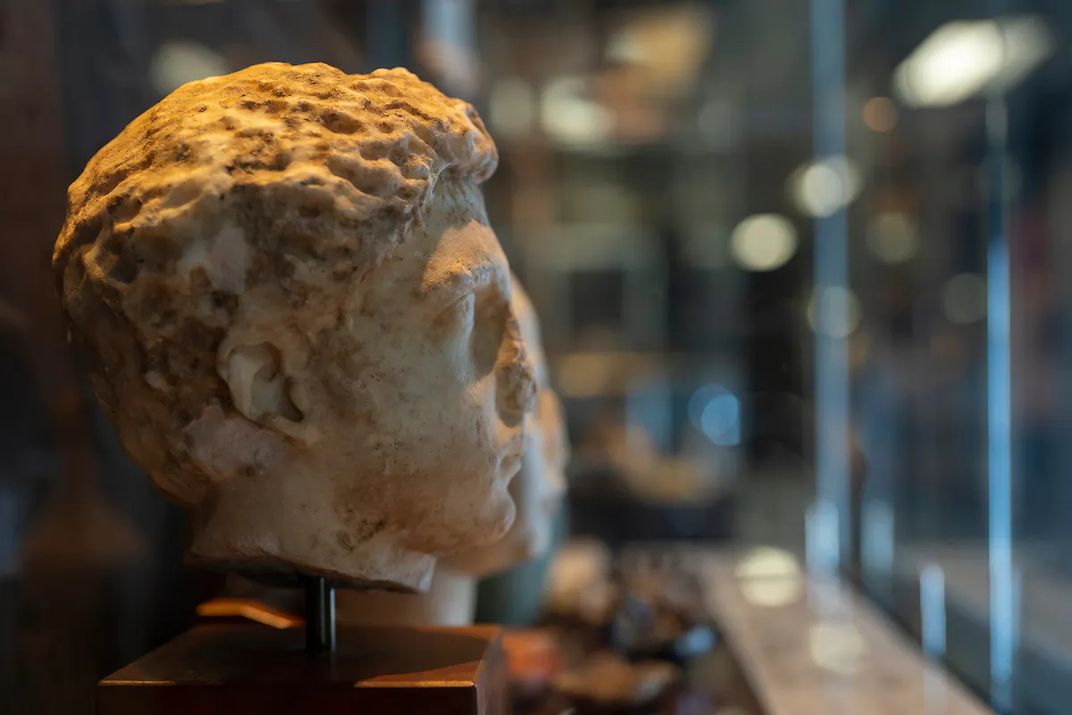 During its own investigations, the museum identified a third looted item—a Roman marble portrait head—which it will also return. The piece, which was part of a Vatican collection, was on display in Rome's Lateran Palace before disappearing. ANU purchased it from Sotheby's in London in 1968.
In recent years, calls for repatriation have intensified around the world, as museums and institutions have reckoned with the presence of looted items in their collections.
"As Australia's national university, ANU must be at the forefront of best practice in the management of restitution and repatriation cases," says Pike-Rowney in the statement. She also hopes proactively engaging in the returns process can help institutions attract new visitors. As she tells the AFR, "The nice thing about repatriation cases is that it brings new audiences to the museum because they are interested in these kinds of issues."