Darwin for Dads and More Science Finds in the August Issue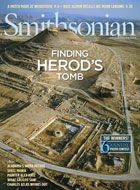 When my daughter was small, I used to take her to the American Museum of Natural History in New York City. There, I would explain why the dinosaurs disappeared and how mankind evolved from our primitive forebears. She seemed rapt. But a few weeks ago, after hearing me on the radio discuss a new book about Charles Darwin, my daughter, now 25, suggested that we reverse roles—she'd take me to the museum. She said my understanding of Darwinism needed some fine-tuning.
Thus begins Joe Queenan's excellent Last Page essay, Darwin for Dads, in Smithsonian magazine's August issue, now online. It's another month packed with science. Here are the highlights:
River of Riches: The Cahaba, an unsung Alabama waterway, turns out to be one of the most biologically diverse places in the nation
Finding Herod's Tomb: Archaeologists and treasure hunters had long scoured a mountain outside Jerusalem for the biblical king's resting place. Ehud Netzer is certain he has found it—mere steps from where he stood decades before
Mad About Shells: For centuries, scientists, collectors and thieves risked life, limb and fortune to gather the rarest specimens. Now interest is turning to the medical potential of the animals within
Galileo's Vision: Four hundred years ago, the Italian scientist looked into space and changed our view of the universe. A new exhibit brings one of his telescopes to the U.S. for the first time
Blue Sky Thinking: How an unlikely mix of environmentalists and free-market conservatives hammered out the strategy known as cap-and-trade
Evolution's Big Bang: A storied trove of fossils from Canada's Burgess Shale is yielding new clues to an explosion of life on earth
Cracking the Code: Smithsonian scientists barcode every plant on a small island near Washington, D.C.
Wild Things: Snakes, Siberian jays, laughing apes, guilty-looking dogs and a new plant structure—snow roots