Readers Discuss Our June 2018 Issue
Feedback from our readers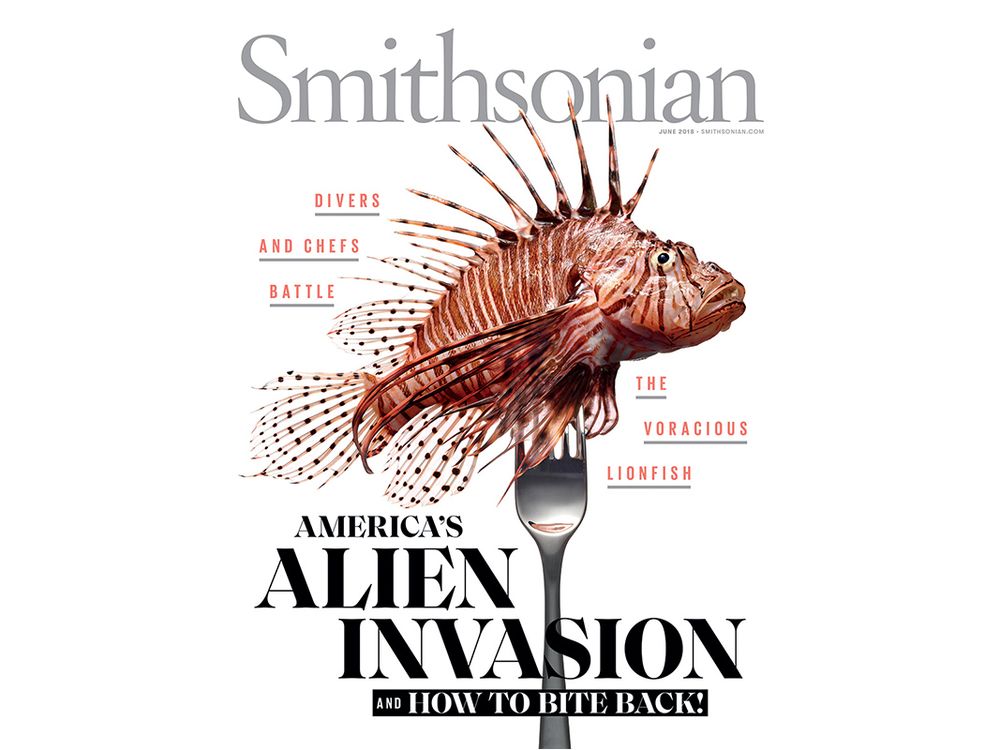 Readers had a voracious appetite for June's cover story about a venomous but tasty invader. "Lionfish 'n' chips, anyone?" Alex A. Marin suggested on Facebook. Frances Argo took the bait: "Great article about how to save the reefs and fill our tummies at the same time." Readers recommended other edible invasive species, including Asian carp from the Great Lakes and blue catfish from Chesapeake Bay. Our column about the professional baseball player Betsy Jochum ("League of Her Own") jolted Nancy Vitali of Palm Beach, Florida: "She was my gym teacher in South Bend, Indiana, back in the '50s. What a talented, special woman athlete!" And Diana Prince added her voice to our timely tribute to Fred Rogers ("The Reality of Make-Believe"): "The kindness I learned from Mister Rogers impacts every person in my life, including the strangers I meet every day."
The Fish That Roars
I applaud Mr. MacGregor ("Taming the Lionfish") for his superb and insightful firsthand report on the war against lionfish. Together with Mr. Lowy's beautiful photographs, it was a tale well spun and a welcome alarm for the fire consuming our seas.
— Perry Perez | Sunrise, Florida
As a diver myself, I can attest that these fish are everywhere! I've seen them all the way from Aruba to the Bahamas and all points in between. They have no natural predators...except us. So eat up!
— Douglas Walker | Facebook
The Art of Defiance
I am forever grateful and inspired by the women in "The Defiant Ones." I cannot imagine young children and teens walking into school every day under these circumstances. I am in awe of their strength and determination—maintaining their dignity in the face of such adversity. The stories of these courageous women should be part of every curriculum. They did so much more than march in the streets. They acted on their beliefs and made a tremendous difference in this world.
— Suzan Morris | Coventry, Rhode Island
I was tremendously impressed by Lola Flash's photographs. Such strong, beautiful faces of distinguished women. Kudos to Ms. Flash and Smithsonian magazine.
— Bob Wischmeyer | Ann Arbor, Michigan
Rhino Rescue
I hope researchers can bring the northern white rhino back from the brink of extinction ("A Movable Beast"). If their work succeeds, it will open up previously unavailable avenues for endangered species.
— RedMountain | Twitter
Found: Nazi Plunder
I kept turning to the glorious sculpture ("The Lost Maidens of Berlin") of the three dancing girls: what joy and vigorous beauty! How did the artist form those lovely dresses? I read about the artist having girls dance around a peony flowering bush....What a picture in my mind that made. Thank heavens this glorious work of art survived.
— Martha F. Barkley | Belgrade Lakes, Maine
It is outrageous that this statue has not been returned to the Mosse family. I wish Armin Hoeck could be criminally prosecuted.
— Roberta Hilbruner | Facebook
Send letters to [email protected] or to Letters, Smithsonian, MRC 513, P.O. Box 37012, Washington, D.C. 20013. Include a telephone number and address. Letters may be edited for clarity or space. Because of the high volume of mail we receive, we cannot respond to all letters. Send queries about the Smithsonian Institution to [email protected] or to OVS, Public Inquiry Mail Service, P.O. Box 37012, Washington, D.C. 20013.