Discussion of our December Issue
Feedback from our readers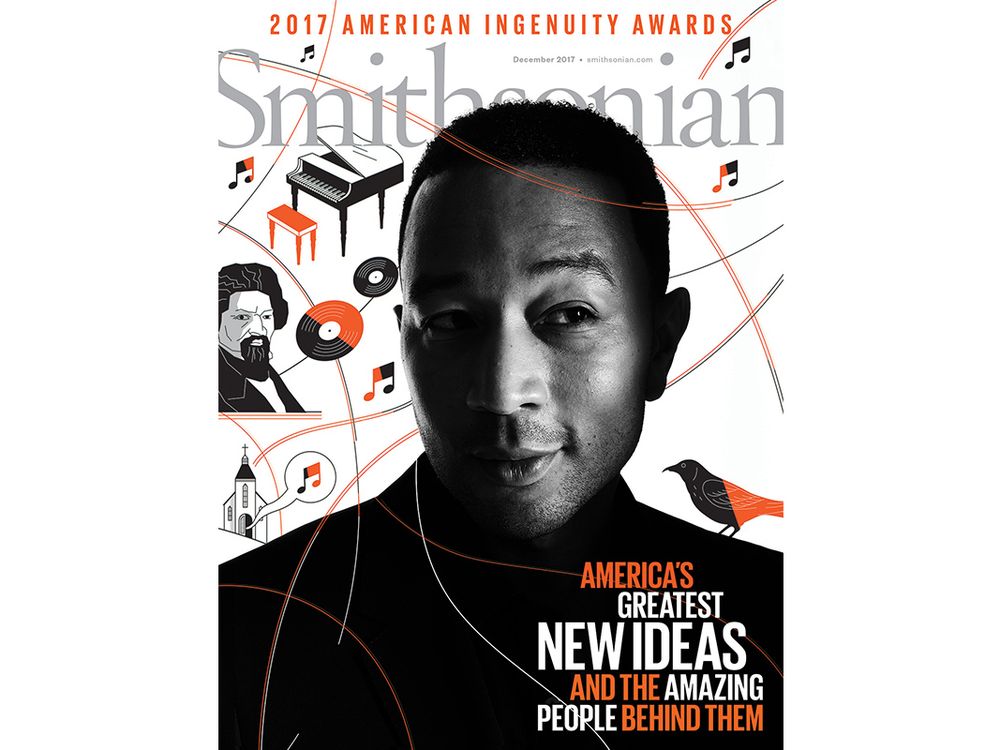 From the Editors Readers cheered the winners of our sixth annual American Ingenuity Awards, featured in the December issue. The musician-actor-producer John Legend "is indeed one of the greats," Libby Simms Rudolph agreed. "I look forward to his future creations, both music and films." Our recognition of the neurosurgeon Gary Steinberg was personal to Kit Carson: "I can think of no one more deserving of a Smithsonian American Ingenuity Award. I am incredibly proud to be a patient of his!" One commentator, though, sounded a note of caution: "I really hate the word 'miracle' so hopefully this research by Dr. Steinberg opens dialogue on how we as a nation deal with brain injuries and strokes in a reasonable, science-based manner."
Muppet Mania
TV is such a great avenue to reach children. With the addition of Julia ("The Champion: Sesame Street & Julia"), hopefully children will have a better fundamental understanding of autism that may later translate into kindness and patience during interactions in the real world.
April McCarthy, Facebook
Out of this World
Inspiring story ("The Explorer: Natalie Batalha")! Just as new biological species are often named for their discoveries, there should be a newly discovered planet Batalha. However, which one of the many?
Aaron Kim Ludeke, Facebook
Icy Sacrifice
Ever the cheerleader for science, Kim Stanley Robinson states in his excellent article ("Nightmare On the Ice") that "the penguin's egg [Cherry-Garrard] referred to is science, and the curiosity that fuels science." Ironically, the penguin eggs that Cherry-Garrard delivered back to England were useless scientifically, since the assumptions about Emperor penguin embryos that inspired the "worst journey" turned out to be wrong. The scientific establishment was indifferent to the heroic effort and suffering that went into acquiring them.
Carl Grundberg, Berkeley, California
A Realistic Robot
In the final paragraph of "Robot Love," Jeff MacGregor wrote, "One day not too far, far away...C-3PO will be rendered by a computer." Technically, he already has been, in the animated "Clone Wars" and "Rebels" series. But Anthony Daniels' performance is so essential to the role that he's one of the very few actors who voiced the same character for those spinoffs.
Tim Emrick, Lexington, Kentucky
From Graduate to Grown-Up
I would like to offer more context for your tribute to the 1967 film The Graduate ("Here's to You"). Financier Joseph E. Levine was hardly a "schlockmeister," but a highly respected award-winning producer and distributor.
Dustin Hoffman was only cast as Benjamin after Charles Grodin turned down the role, and other initial choices, including Burt Ward (Robin from the "Batman" television series), were unavailable. Anne Bancroft (who was only six years older than Hoffman) was cast after producer Larry Truman failed to convince French actress Jeanne Moreau to sign on and conversations with other actresses, including Ava Gardner, Joan Crawford and Angela Lansbury, were unsatisfactory.
Phil Hall, film historian, Fairfield, Connecticut
Corrections
In "The Strange Beauty of the Epic Fail," we had a misstep of our own: The Vasa frigate is 38.5 feet wide, not 398.
In "Bear Essential" (November), we mischaracterized the legality of hunting grizzlies in Idaho, Montana and Wyoming. As we reported, there is no longer a federal ban on the practice in the areas surrounding Yellowstone National Park. But the practice remains against the law in those states, which are said to be planning to rule on whether to approve grizzly hunting in the future.