What Makes John Legend America's Most Versatile Artist
Songwriter, singer, actor, producer, virtual reality maven. John Legend is an entertainment all-star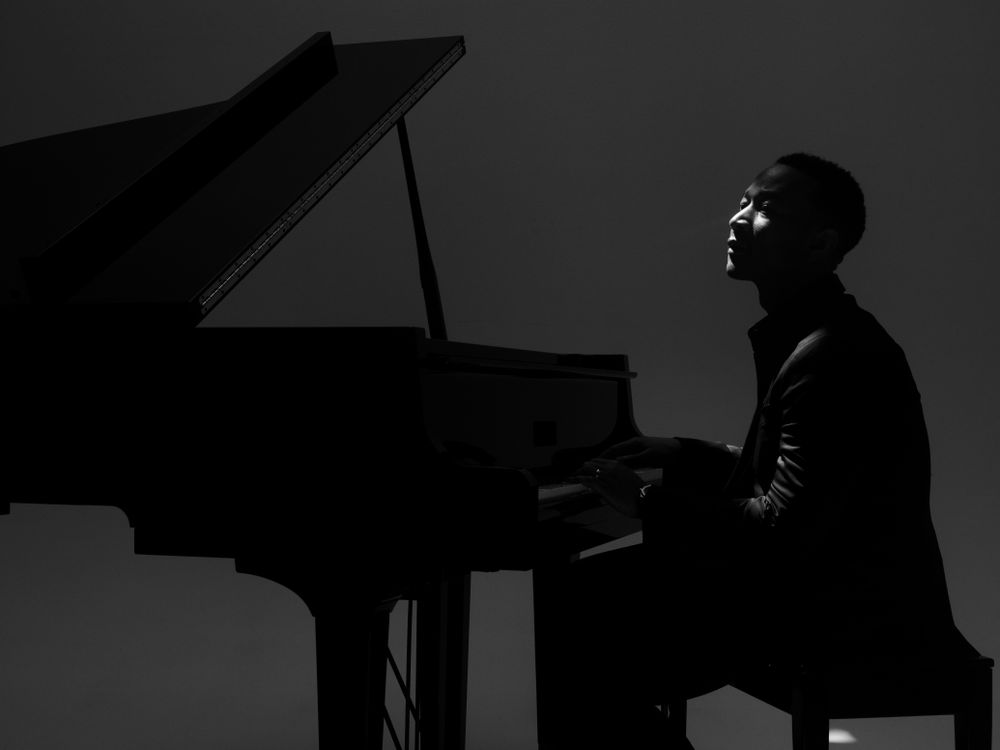 Over the last 12 months, John Legend has released a new album, appeared in his first major role in a feature film, reincarnated Frederick Douglass on television and lent his voice to the lead character in a virtual-reality animated series. And yet he sings on the album, Darkness and Light: "Legend is just a name / I know better than to be so proud."
The name is indeed manufactured; he was born John Roger Stephens in Springfield, Ohio, in December 1978. But the man is remarkably grounded, his Ivy League sophistication rooted in his family's religious values and blue-collar work ethic. He's a driven, protean artist with a knack for connecting with the past, whether musical forebears or historical figures or social movements. And yet he does so deftly, with a natural entertainer's grace. Even just noodling around at the piano—as he did during a recent photo shoot, launching into a crystalline version of the Beach Boys' "God Only Knows"—he can bring a busy room to a halt.
"I grew up in a family that loved music and art, but it was also a very religious family," Legend tells me. His grandfather pastored a Pentecostal church, where his grandmother played the organ. His mother sang and directed the church choir; his father painted and played drums and piano. He also worked in a truck factory and raised their four children after he and his wife divorced.
It was his grandmother, Legend says, who "taught me a lot about music, and a lot of my style was influenced by her from the very beginning." That beginning came early: He started taking piano lessons at age 4, practicing at home on a "beat-up upright" and singing in the church choir around age 6. "All of that was exciting to me, fun to me, and I knew from a pretty early age that I wanted to keep doing it."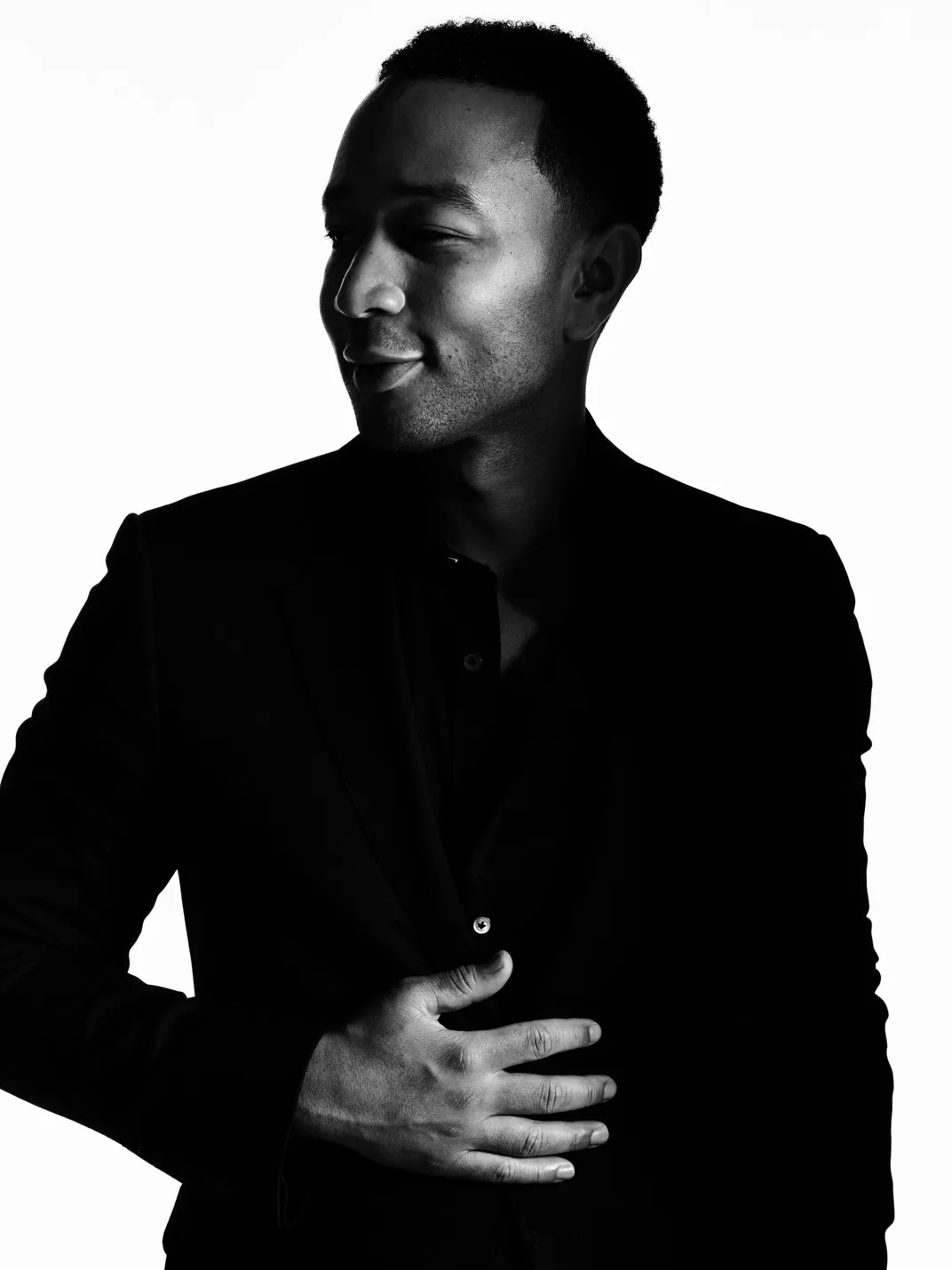 The soundtrack of his youth featured plenty of gospel—Edwin Hawkins, the Winans, James Cleveland and Commissioned—but also, because of his father, a heaping helping of Motown, including the Temptations, the Supremes, Smokey Robinson and the Miracles and Marvin Gaye. When Legend started buying records in adolescence, he ranged "anywhere from the kind of new jack swing music of that time to the great singers like Luther [Vandross] and Whitney [Houston] and Anita Baker."
He left Springfield for the University of Pennsylvania in 1995—when Philadelphia was alive with neo-soul and a scene that orbited around the tremendously influential hip-hop band the Roots.
"The Roots were holding jam sessions all the time, with people like Erykah Badu coming through, and D'Angelo and Common, Bilal, Musiq Soulchild, Jill Scott, Jaguar Wright," he says. "All these people were at these jam sessions all the time and were writing and working with the Roots a lot, so I was at school at the perfect time to be witness to all this." He collaborated with local musicians, sang in an a cappella group and directed a church choir in Scranton, two hours away—all while majoring in English with a concentration in African-American culture and holding down a work-study job. "I never slept back then," he says, laughing.
He graduated in 1999, with aspirations to a career in music but a clear sense that he would need a day job for a while. "All my friends were going off to be bankers and consultants...so I started going on these interviews to see how I would do," he says. "I ended up being a management consultant for three years." While working for the Boston Consulting Group in New York City, he began playing club dates. Along the way, he was introduced to Kanye West, and the two began working on each other's demos. He acquired his stage name after the poet J. Ivy told him he sounded "like one of the legends." This extended apprenticeship culminated in 2004, with the release of his first album, Get Lifted, which won him the first of his ten Grammy Awards.
When Darkness and Light, Legend's sixth album, was released last December, reviewers detected a greater maturity and heightened ambition. "With its meditative and ingratiating songwriting, this is unmistakably a John Legend album," says a review on Pitchfork, "yet there's a renewed sense of peace and even a sad wisdom that distinguishes it." That makes sense for a purposeful artist who has entered marriage (with the model Chrissy Teigen, in 2013) and fatherhood (their daughter, Luna, was born in April 2016) and is verging on 40 years of age. "I really loved making this album," he says. "I think it's really honest and soulful, musically, just right for right now." His tour for it included some 50 shows in the United States and overseas, and it left him unjaded: "Performing it live is like the final manifestation of all that creative work you put into it at the beginning, so it's fun, playing the songs, feeling the passion, feeling the energy, feeling the crowd."
Next came La La Land, which featured Legend in a big supporting role. (He was also an executive producer.) The movie was nominated for 14 Academy Awards and won 6. "What a first role to have, what a first film to be part of," he says. He played a bandleader named Keith, who offered the jazz purist Sebastian (Ryan Gosling) an extended, well-paying piano gig that required artistic compromise.
"In some ways Keith was the antagonist," Legend says. "His job was to make Sebastian question what his goals were, how he was going to be an artist in the world." Their conflicting worldviews center on a song titled "Start a Fire," which Legend was tasked to write in a way that Sebastian would hate (i.e., with hit potential). "It's a weird assignment," he says. "I had to ask: How do we do that, exactly? We figured out, like, the formula for what kind of song he wouldn't like—and we knew it was going to get progressively cheesier as the visual representations of it went on. I had to just go ahead and embrace the idea that my song was almost like a villain in the film."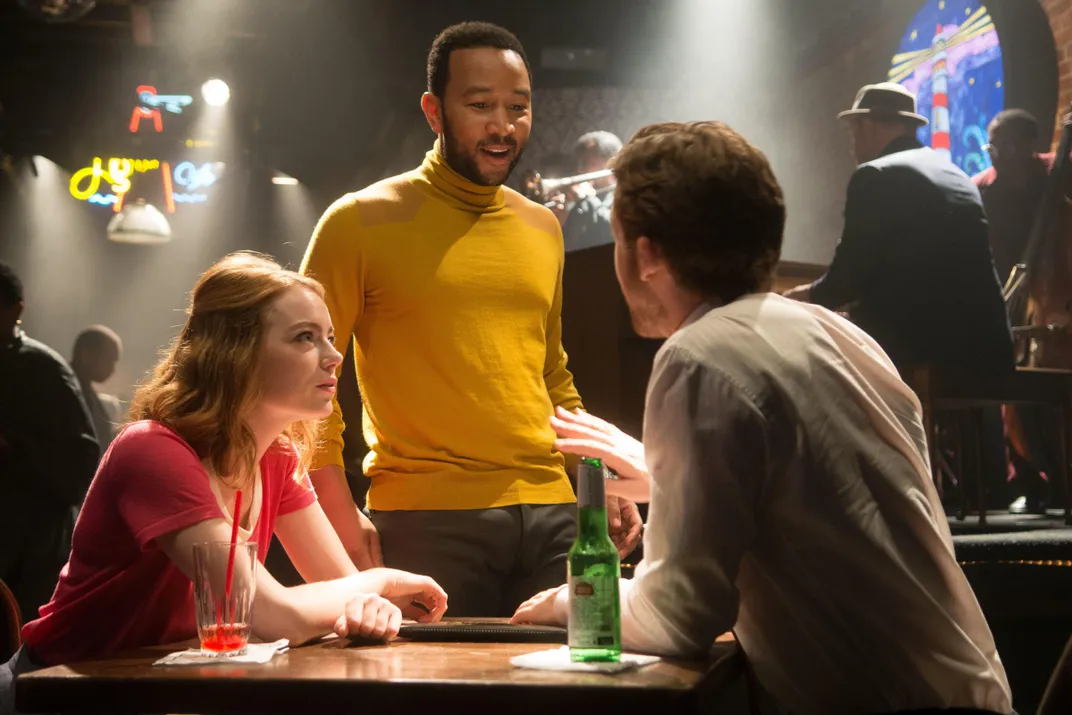 Given his songwriting fluency, even with cheese, it may take time for audiences to grasp the depth of Legend's devotion to big ideas. In college he wrote papers about cultural giants such as Toni Morrison and Marvin Gaye and over time, he says, became a history buff. You saw that in bold relief in "Underground," the WGN America drama backed by the production company Legend co-founded in 2011, also called Get Lifted. The second (and final) season of the series, about African-Americans' struggles for freedom before the Civil War, aired this year and included Legend playing a towering figure—Frederick Douglass. "The role was very limited, because the second season was more about trying to understand the larger movement around abolition," but Douglass was a longtime hero of his. If Legend could meet him now? "We'd have so much to talk about," he says, "particularly with all these conversations about the Civil War and the history of American slavery."
It was also through Get Lifted that Legend became involved with Rainbow Crow, an animated virtual-reality series for children created by Baobab Studios. "The idea is an origin story in Native American culture," he says. The crow starts out with dazzling plumage and (what else?) a beautiful voice but loses both in a quest to restore light and warmth to a fallen world. "It's about making sacrifices for our community, about coming together to solve problems and knowing that everyone can contribute," he says. "It's a cool message for the young people who are going to experience it eventually." The series, which premiered at last spring's Tribeca Film Festival, is scheduled for release next year and will require tethered VR headsets to view in its fullest.
Even with the range of roles he took on this year, Legend seems intent on expanding his horizons. Get Lifted's schedule includes documentary films, feature films and more. "A lot of it's based on what my interests were when I was in college," he says. "I loved history, I loved politics, I loved great writers, I loved African-American culture and telling stories about our history....And obviously I love music."
At the same time, he keeps in mind a piece of advice that his character in La La Land gave to the suffering Sebastian: "You can't just study the greats. You have to study the greats and then build on what they've done."
A Note to our Readers
Smithsonian magazine participates in affiliate link advertising programs. If you purchase an item through these links, we receive a commission.