The hottest table reservation is now outdoors. From Instagram-worthy settings in London's royal parks to tailgaters in the United States pulling out fancy tablecloths, cushions and flatware, picnics are no longer the domain of smooshed sandwiches and tepid flasks of tea. They're catered events.
Picnic companies are popping up around the globe to create food-based experiences for their guests. You'll now find Australian companies offering mystery picnics where the ingredients are gathered from gourmet stores en route, while in the United Kingdom you can arrange for your favorite song to be played as you walk toward a designer picnic setting at Regent's Park.
Jane Gillespie of the Luxury Picnic Company in London is one such entrepreneur who will provide a personalized soundtrack to win over her guests. With her co-founder Alicia de Freedericksz, who previously worked as a private chef for celebrities, Gillespie hosts luxury picnics in the royal parks of London that include floral arrangements, gin stations, Elle Decor-style furnishings and refined food.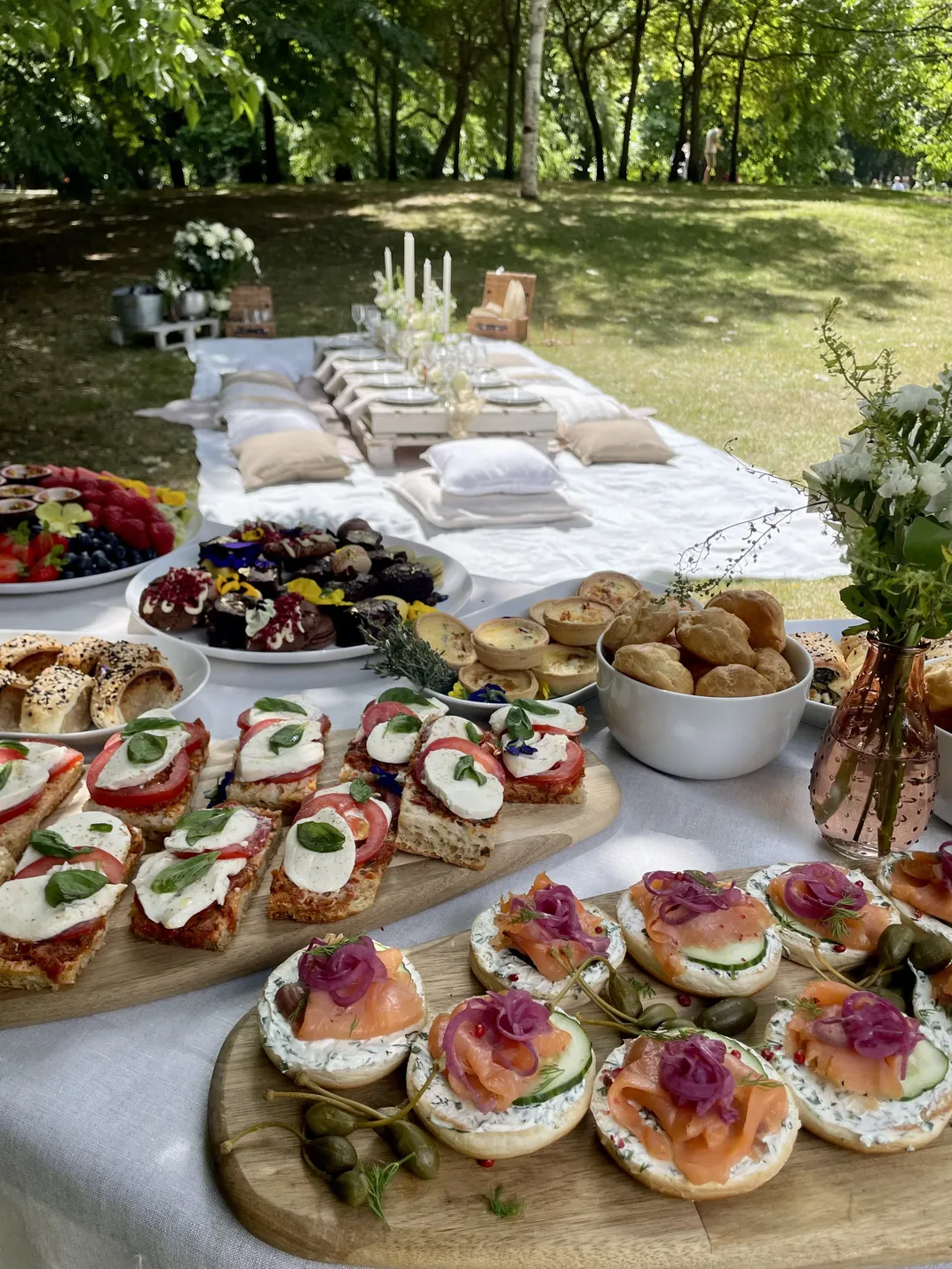 Gillespie, whose marketing business closed during the Covid-19 pandemic, came up with the idea of a luxury picnic company because the only way you could safely socialize during the pre-vaccine pandemic was outside. They launched in April 2020 to a rush of orders over social media, and the enthusiasm for the luxury picnic continued to rise. During summer 2022, they organized 216 picnics with dishes such as kimchi hotdogs and poke bowls with crispy papadum.
Some people are willing to fly to other countries to picnic. Gillespie, whose clients include Middle Eastern royalty and British celebrities, was recently asked to organize a picnic for a French billionaire and his guests who flew to London by private jet. The picnicker wanted personalized picnic baskets for each of his invitees, Panama hats for the men and fans for the women along with a rare Dom Pérignon to be served. The team had three days to pull the event together. "This was the most expensive picnic we've done," says Gillespie. "The invoice was £8,000 [over $10,000] for 12 people."
However, the Luxury Picnic Company's hampers start at a more wallet-friendly £35 (around $45) for two people, with treats such as truffle and rosemary focaccia, and berry and caramel tartelettes. "You would spend that money in a restaurant," says Gillespie. "This is just another way of doing it that is going to create a real memory."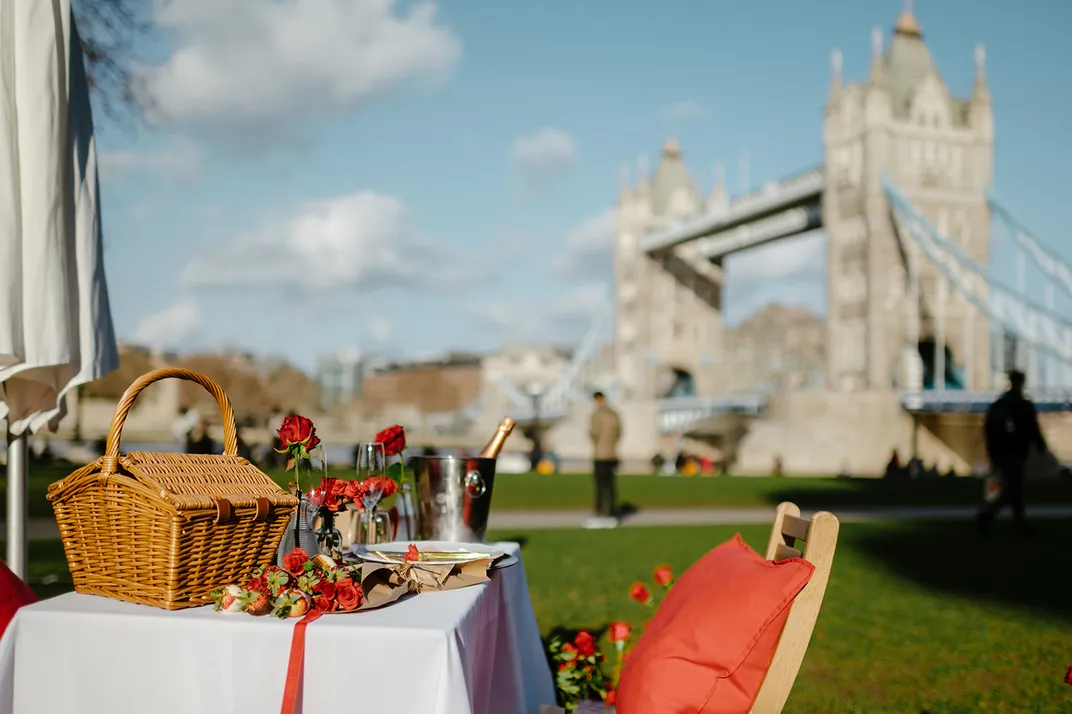 Picnics have also caught the imagination of Generation Z, who, according to Pinterest, are now often choosing picnic dates over restaurants and movie nights. Searches for picnic date ideas have increased 385 percent in the past year. Pinterest and TikTok alike are swimming with scenes of rugs decorated with fresh flowers, candlesticks, grazing boards and glassware.
Kelly McPhillips, owner of Rhode Island Luxury Picnics, says her date night picnic is her best seller. "I've noticed couples struggle to find the time to prioritize each other with their busy schedules, and my services offer them time to connect without the hassle of planning anything," says McPhillips. "I often have partners book a picnic for their significant other as a surprise. It's a chance for couples to enjoy each other's company and allow them to pause the chaos of their day-to-day, even for just a few hours."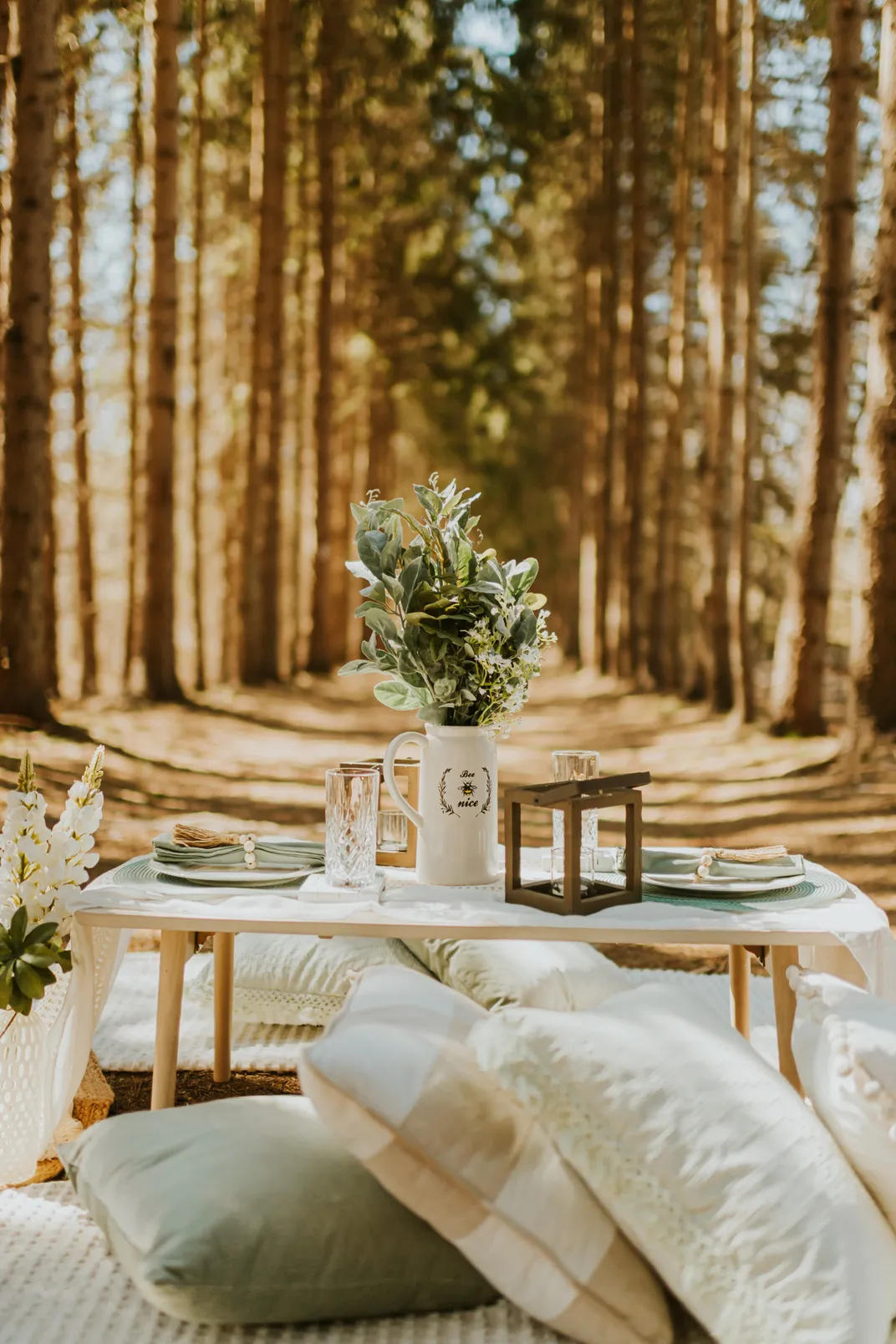 Food psychologist Jess Kovler says it's no surprise that Gen Z singles are choosing picnics to impress a date. "You can showcase your style and originality to your partner," says Kovler, who specializes in the complex human relationship with food and is the chief psychologist at Well by Messer, a metabolic health and wellness center in New York City. "It's also a way to curate and create a unique shared experience. Each person brings an item to the date to share with the other."
Today's picnics may focus on clean living and fresh air, but the word "picnic" has far more raucous beginnings. The word pique-nique first appeared in a bawdy 17th-century French poem that featured a gluttonous character called Pique-Nique. Among French aristocracy, the term came to mean a dinner where everyone brought food and drink to share. In 1801, a group of Francophiles in London launched the Pic-Nic Society. To gain entry to the indoor party in rooms at Marylebone, London, you needed to bring a dish to add to the feast and six bottles of wine. The evening featured amateur dramatics, gambling and food. Even though the Prince of Wales was said to be among the 200 Pic-Nic Society members, Richard Brinsley Sheridan, an Irish-born politician and owner of London's Drury Lane theater, called it a threat to morality. The ruckus caught the attention of satirist James Gillray, who drew a cartoon featuring a portly looking Sheridan confronting onstage a bare-breasted Lady Buckinghamshire, Colonel Greville dressed as a lowly courtier and Lord Mount Edgecumbe trying to eat some of the picnic dishes tumbling off a table.
The saucy soirees also inspired Lord Byron. In his 1809 satirical poem "English Bards and Scotch Reviewers," the British Romantic wrote: "The midnight orgy, and the mazy dance, / The smile of beauty, and the flush of wine, / For fops, fools, gamesters, knaves and lords combine."
According to Polly Russell, a food historian and curator at the British Library, the society ended in 1850. While the club of revelers disbanded, the word "picnic" lived on.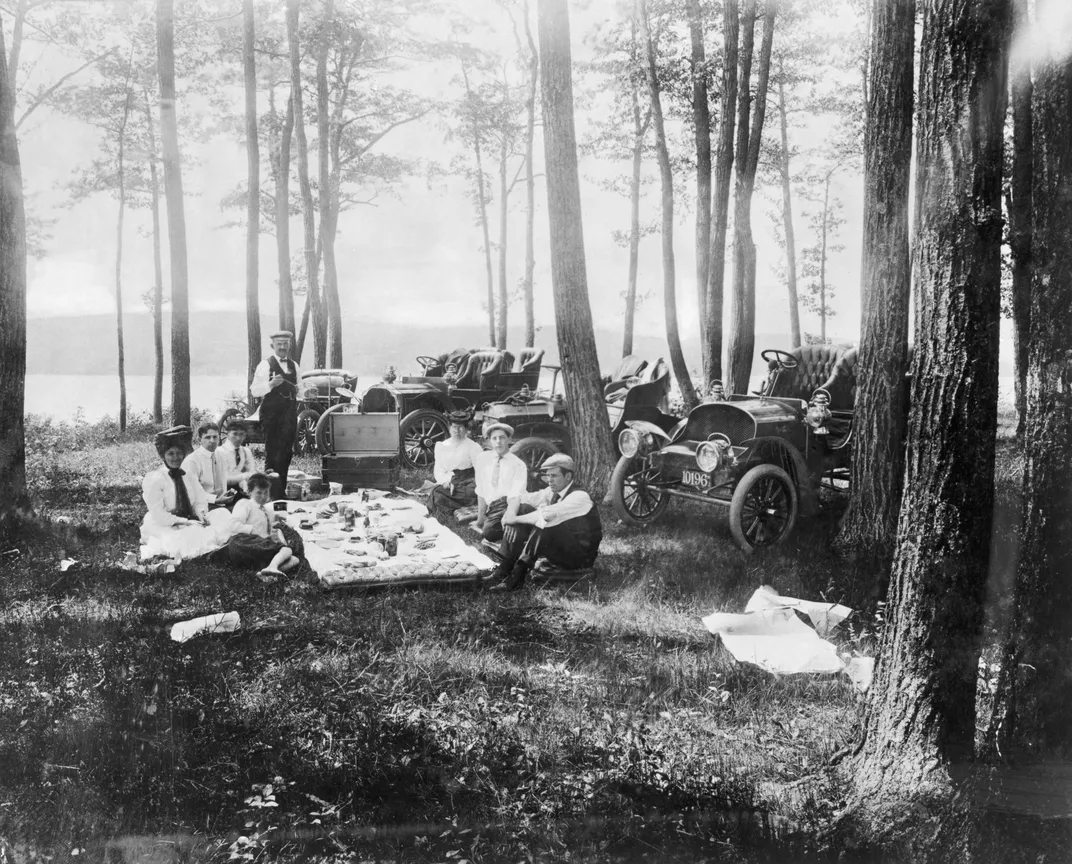 With industrialization and the growth of cities in the late 18th and early 19th centuries, an escape to the country became fashionable, and the picnic moved outside. Picnics were no longer about debauched parties, but healthy living. In the 1830s, city-dwelling Americans started to copy Europeans, throwing down their picnic rugs in parks to embrace the countryside vibe.
Nineteenth-century literature often featured picnics with rugs and wicker baskets by the riverside or, as in the case of Jane Austen's Emma, at the top of Box Hill in Surrey. The aim was to be carefree, but the menus were anything but. One example can be found in Mrs. Beeton's Book of Household Management, published in London around 1880; her picnic luncheon for 20 people featured lobster, roast fowl, veal pies, champagne and a gallon of strawberries.
"It's all very bucolic, and there were never any wasps," says food historian Annie Gray, who specializes in British food and dining from 1600 to the present and wrote The Official Downton Abbey Cookbook. "But of course, what lies behind this is that all of these people have servants."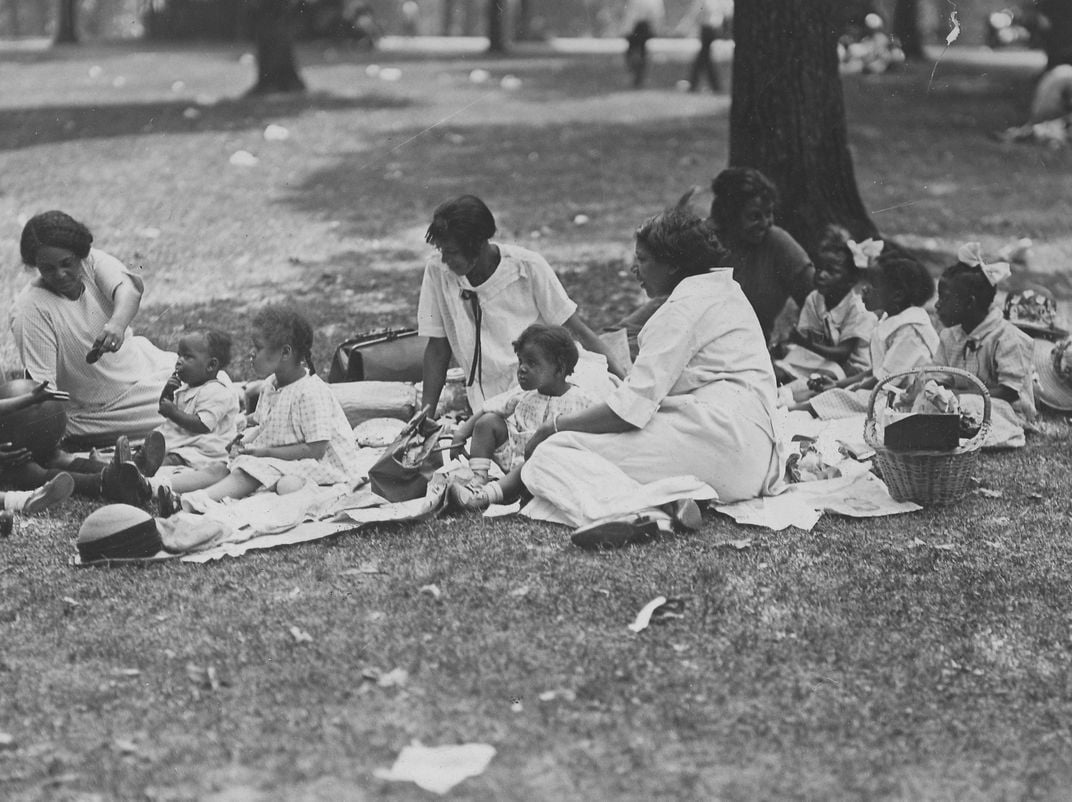 The modern picnic, laying a blanket down on the ground and toting your food in a cooler, came in the late 1950s and 1960s with car tourism. But it was in the 1970s and 1980s in the U.K. and U.S. that the marketers took hold of the picnic. "You get an explosion of kits in the 1970s with cutlery that nestles together with plastic plates that you can strap into the picnic basket," says Gray. "They were the direct inheritor of those 1920s wicker picnic baskets, but the plastic Tupperware version."
The 1970s also marked the moment that homemade food took a back seat, says Gray. Working moms who were tight on time and didn't have partners picking up the slack were filling freezer bags with prepacked supermarket sandwiches. In 1977, Kentucky Fried Chicken went so far as to create a picnic pack that came with fried chicken for up to six people, salad, rolls, plates, forks, napkins and a tablecloth for $7.50.
"There's a move toward convenience foods," says Gray. "The emphasis ends up being on the occasion: We're outside eating, let's enjoy that novelty, rather than on the food being anything special."
Many countries have long used a picnic to mark an occasion, such as the Japanese tradition of picnicking under flowering trees during the centuries-old cherry blossom festivals, or the Finnish herring picnic on May Day. Now, these new companies want to spread the idea of a picnic as a special event.
One tastemaker in London who is looking to shake up the picnic is Max Halley. A chef known for elevating humble lunch classics at his cult-favorite sandwich shop, he has joined the wave of foodies making people rethink their picnic with Max's Picnic Book: An Ode to the Art of Picnicking. "I noticed that we might not have been thinking about picnics quite as much as we could have," says Halley. "It still seems to revolve around room temperature food and drinks."
Halley has shown that it only takes a little creativity to make a picnic gourmet. Well, creativity and a Thermos flask. "Using my trusty friend, I've had tortellini in brodo, piping-hot noodles, braised meats of all kinds, curry, balls of ice cream and ice-cold gin martinis at the top of a hill during a nice long walk," says Halley.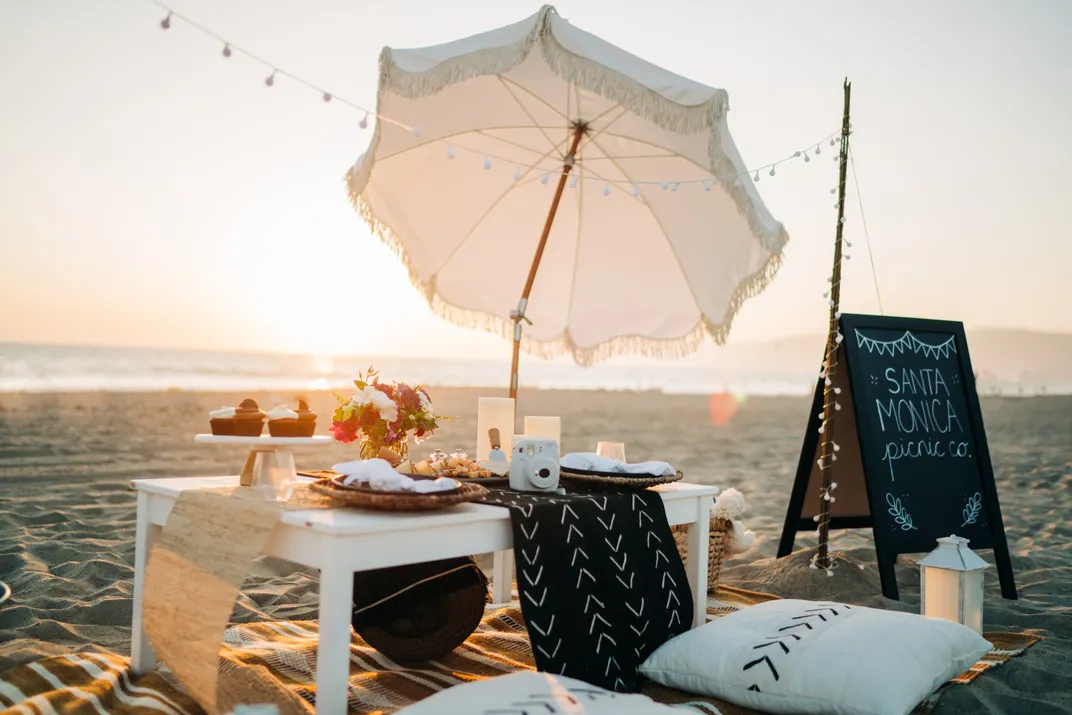 The renewed interest in the picnic and uptick in luxury picnics have helped boost smaller companies during the Covid-19 pandemic. Sam Ancona, founder of Santa Monica Picnic Co, who provides picnics for guests at the luxury hotel Shutters on the Beach, partners with other local entrepreneurs to increase his offerings and support other businesses. Ancona works with local photographers, florists, chocolatiers, cheesemakers and bakers to create that perfect picnic at sunset. "Supporting local business has been crucial in our growth over the last three years," says Ancona. "We get to work with hard-working small-business owners that share our same values and commitment to stellar service."
Since the pandemic began, picnickers have likely sought comfort in what they see as more tranquil times, Gray explains. "I think there is a huge level of nostalgia, especially at the moment," she says. "You see it whenever society gets a bit rocky. People start looking back to their childhoods and say, 'Gosh, wasn't it lovely?' regardless of whether it was or not."
What unites all picnics throughout the years is the element of delight—and the sense that no matter what you eat, serve or do, you can never go wrong. Even if you've forgotten the corkscrew or the salad dressing, or it starts to rain, as Mrs. Beeton said in the 1880s, this only serves "rather to increase the fun than diminish it."