OFFICE OF ACADEMIC APPOINTMENTS AND INTERNSHIPS
Activating the Learning Potential of Digitized Museum Objects with the Smithsonian Learning Lab
How can digital tools help educators to foster meaningful learning experiences with museum objects? How can museum- and school-based practices inform each other? What role can technology play in this process?
---
Launched in 2016, the Smithsonian Learning Lab is a free web-accessible platform from the Smithsonian Office of Educational Technology which provides access to millions of resources from the Smithsonian's 21 museums, research centers, libraries, archives, and the National Zoo. Centered around the concepts of discovery, creating and sharing, its development has been informed by ongoing research into educators' needs and enables its users to create free, shareable learning collections using a variety of interactive tools. A quick glance at the website at the time of writing showed more than 6 million Smithsonian digital resources (including images, video, audio, texts, learning resources and 3D objects) available for free educational use, and over 10,000 publicly available, user-created learning collections.

Learning collections on the platform illustrate the huge range of creative educational approaches being used with digitized museum artifacts (such as the examples showcased in a recent Smithsonian Voices post). Users in a wide variety of educational contexts use the tools to curate learning experiences for students of all ages. Staff from across the Smithsonian and educators external to the Institution are continually contributing to the richness of content available. As a Smithsonian Fellow at the Smithsonian Office of Educational Technology and PhD Student at the University of Leicester School of Museum Studies, my research project explores how educators use and interact with the Learning Lab platform as part of their practice, and the benefits and challenges associated with this process. Through better understanding educators' experiences of the platform, the research aims to contribute to ongoing user-centered platform design and support for its users.  
While using digital museum collections in the classroom can be rewarding and bring many benefits, it can also be challenging – there is a great deal of substantive work which goes into creating effective, engaging learning experiences using digitized museum objects. In the past year,  both Smithsonian staff and schoolteachers have been asked about their experiences  using the Learning Lab in their practice and how they are bringing their unique approaches to the platform. This has included  a questionnaire for educators working in various settings (the majority of whom were schoolteachers) and focus groups with Smithsonian staff who use the platform for educational purposes. More recently, a panel of schoolteachers have documented their use of the platform over 2-3 months and shared their experiences in interviews.  
The COVID-19 pandemic initially introduced some disruption to this process; the original research plans were adapted due to risks relating to the pandemic, with a shift to online methods. However, conducting the research online has enabled educators across the US to participate, and to document and share how they have used the platform across great distances. 
How are educators using the Learning Lab? 
The platform's tools and content are being used to copy, adapt, and create user-curated learning collections using both digitized Smithsonian artifacts and other uploaded resources, across a variety of educational settings.  
Schoolteachers have shared a wide range of purposes for using the Learning Lab, including searching for digital resources to complement existing teaching materials/practice, researching information on their subjects to inform the development of new materials, and looking for inspiration for developing teaching strategies. They have been using the platform to create interdisciplinary and subject-specific lesson plans, resources and activities for the classroom, to develop and curate resources and pre-made collections for student use, to facilitate student creation of collections, for enrichment and extension activities, and to help students build background knowledge in preparation for field trips. 
Smithsonian staff shared that they are using the platform for many different purposes, including to provide teaching/learning materials for various audiences, to develop supplementary materials as part of Smithsonian-led programming, for collaboration and outreach (including co-creation of resources, showcasing, documenting, and presenting), to participate in large-scale collaborative projects, to store and collate resources, and as a means for making content accessible.  
What pedagogies are being used with the Learning Lab? 
Smithsonian staff and schoolteachers are using the Learning Lab in combination with a range of educational approaches, including inquiry-based and discovery learning, close looking with museum objects, hands-on activities and exploration of concepts across disciplines, and the use of questioning and Thinking Routines. It is being used to facilitate critical thinking with both textual and visual sources, to document and share Indigenous knowledge and practices, to supplement online storytelling, to highlight and explore diverse histories and perspectives, and to provide detailed information around museum objects and their relevance to various topics. Teachers have shared how they have been using the platform to facilitate different types of learning, including to examine, compare and describe museum artifacts in groups and as a class, to consolidate learning at the end of a semester, to facilitate discussion and help students to make connections through visual learning, to examine the importance of symbols to culture, and more.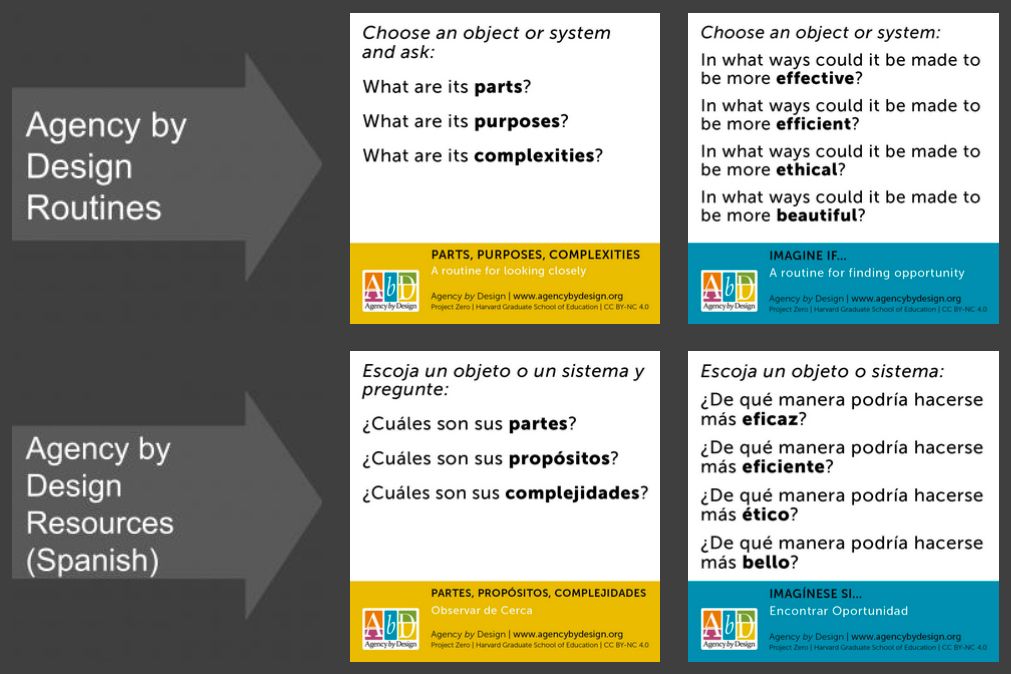 What are the benefits of using the Learning Lab? 
Schoolteachers shared many benefits of using the Learning Lab as part of their educational practice. These include being able to:  
Expand and enhance curriculum content  

Provide students with unique encounters with museum objects, and allow them to experience Smithsonian collections at a distance  

Collate resources which can be revisited and reused  
Add new perspectives and introduce diverse viewpoints to learning experiences  

Make cross-curricular connections  
Some schoolteachers shared that using the platform in their teaching helped students to make connections between texts, images, music and other media in their learning, and helped them synthesize and understand how artifacts relate to both each other and wider concepts and ideas.  
Smithsonian staff discussed how they found the platform useful as a tool for collaboration, for gathering resources and drawing inspiration from colleagues, embedding learning activities and background information into collections using the platform's unique tools, and for customizing content for different audiences. 
What are some of the challenges of using the Learning Lab and what could support its future use? 
Some of the main challenges mentioned by schoolteachers were around identifying and searching for resources suitable for specific topics and the time needed to create collections. Further ways to search for, browse, filter and customize collections were suggested, to help with tailoring content for the classroom more easily. Several teachers commented on the usefulness of Smithsonian-provided professional development opportunities, and made suggestions for further training which could be useful to support teachers' continued use of the platform.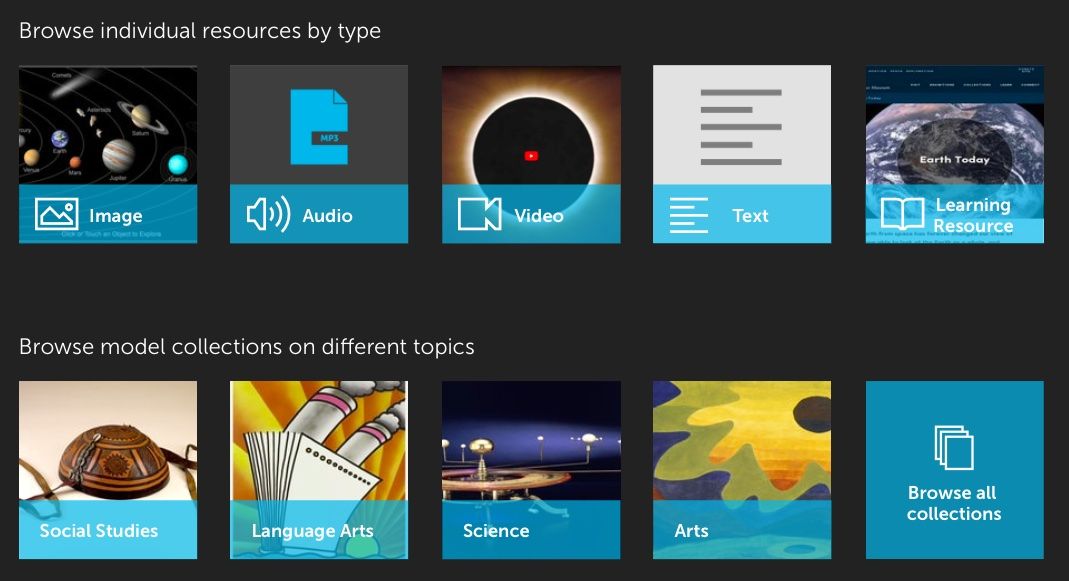 Understanding how the platform is being used by audiences was mentioned as important by several Smithsonian staff, as well as providing educators with a clear pathway to Smithsonian-created educational resources. Staff discussed how to more effectively facilitate and support the exchange of ideas, knowledge and resources between Smithsonian staff and external educators. During the conversations, suggestions were made for further tools to aid with the process of designing learning collections within the platform. 
Bringing Museum Resources to the Classroom and Beyond 
As the research has progressed, it has highlighted the multifaceted role of the Learning Lab in connecting the educational practices of museums and schools, and how it is being used to make connections between museum objects, histories, curricula, pedagogies, and communities. The platform's tools and content are being adopted to develop interactive learning experiences with both formal and informal learning outcomes, and both schoolteachers and Smithsonian staff have proposed a diverse range of ways that these activities could be supported further.  
Educators' insights are key to understanding how digital artifacts from museums and other cultural institutions can enrich learning experiences in the classroom and beyond, and the role of digital platforms in this process. This research project aims to highlight these insights as part of the Smithsonian Office of Educational Technology's ongoing research into the needs of educators and students, with acknowledgement of its vision "that educators everywhere cultivate curious, skillful, and engaged digital citizens".
 Smithsonian Learning Lab Collection: Project Zero Thinking Routines. Smithsonian Learning Lab, Smithsonian Office of Educational Technology, 14 Aug. 2018. Available at: https://learninglab.si.edu/q/ll-c/oWYbEjpf19oxcFUp 

Learning Lab Research. Smithsonian Learning Lab. Available at: https://learninglab.si.edu/about/research  

About the Smithsonian Office of Educational Technology. Smithsonian Learning Lab. Available at: https://learninglab.si.edu/about/Smithsonian-Office-of-Educational-Technology