Teachers Transform Learning With the Smithsonian at Their Fingertips
The Smithsonian Learning Lab puts the treasures of the world's largest museum, education and research complex within reach for educators and students.
---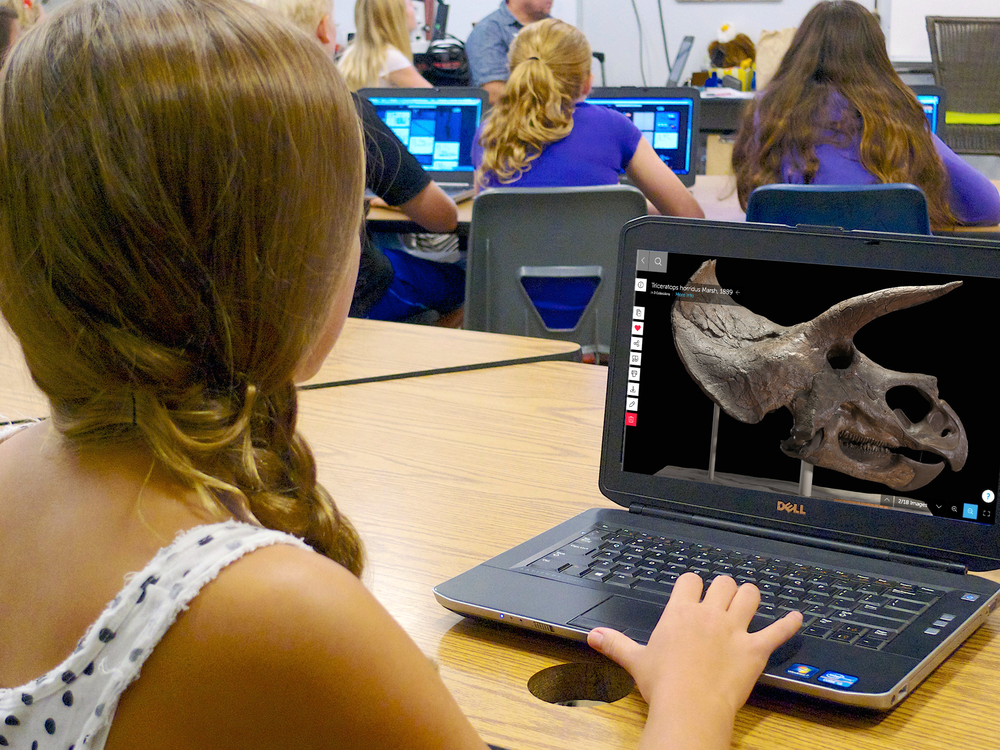 Are you looking for ways to help your students explore animal adaptations and wildlife conservation? Analyze primary sources? Create an art-making robot? Meet inspiring people who have shaped the United States? Develop the tools to "read" a portrait? Become historians? Design their own vehicle, pencil, or habitat? See if they have what it takes for astronaut training?
On the Smithsonian Learning Lab, students can engage in authentic museum-based learning experiences like these—all without being at a museum.
"Especially in public education, with funding not available for things like going to museums, it's an incredible way to get the museum to them." - High School Social Studies teacher participating in a Smithsonian workshop
The Smithsonian Learning Lab is a free online platform providing access to millions of digital museum resources from across the Smithsonian. Educators at the Smithsonian, and teachers all across the country, handpick and combine museum objects, photographs, videos, artworks, specimens, and even articles and websites into interactive learning experiences. Students can engage with these "collections" of resources directly on the Learning Lab—and educators can share them with colleagues locally or more broadly by publishing on the Lab.
Learning Lab collections can be designed for students to access directly, or for educators and caregivers to employ in their classrooms or at home. They can be as simple as a themed group of items or as complex as a complete lesson plan aligned to standards.
"It's evident that the Smithsonian worked with teachers when designing the Learning Lab. The flexibility, feature set, search capabilities, and social aspects make it great for learning."- Common Sense Education
While the Learning Lab was originally designed as a place for classroom teachers to design and share collections, it's now the home for thousands of expertly crafted collections published by Smithsonian educators. Here are just a few examples:
MAKE IT: Mixed Up Portraits is a classroom-ready Learning Lab activity. Through this collection, upper elementary students are challenged to create colorful self-portraits showing their emotions after learning about mixed media and portraits.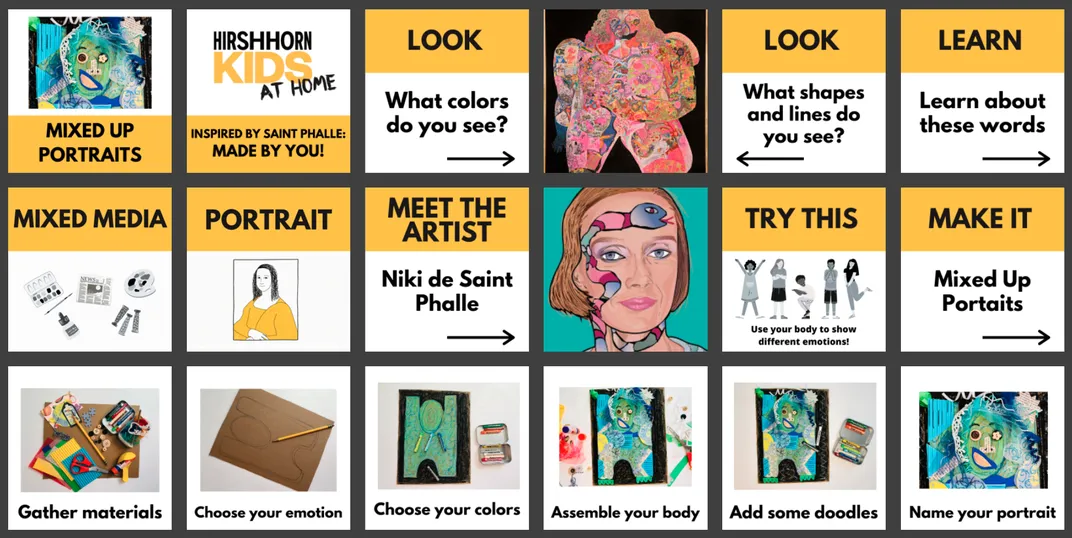 The Hirshhorn Museum and Sculpture Garden designed "Mixed Up Portraits" to guide teachers and students together in classrooms or for caregivers and children to do at home. It incorporates artwork from the Hirshhorn collections to encourage close looking, the exploration of artist information and art concepts, the performance of a movement activity, and step-by-step instructions to guide students as they create their own artwork, including visual examples.
For even younger students, the Smithsonian's National Zoo and Conservation Biology Institute and the Smithsonian Science Education Center have collaborated on "Inspiring Engineering through Empathy" collections on the Learning Lab to help students in grades K–2 accomplish engineering standards that guide STEM (science, technology, engineering, and math) learning. Inspiring Engineering Through Empathy: Red Panda includes both step-by-step teacher instructions for walking through the activity, just like a lesson plan, and real-life videos and photographs of Asa, a red panda who lives at the National Zoo in Washington, D.C. The collection also provides access to Smithsonian archival photographs and graphs to help students learn about red pandas, habitats, and animal adaptations.
Teachers can display the collection for students to see and watch, using it to guide them through play-based activities to learn about, connect with, and develop empathy for red pandas. Students then complete engineering activities using problem-solving skills to design a new habitat for Asa.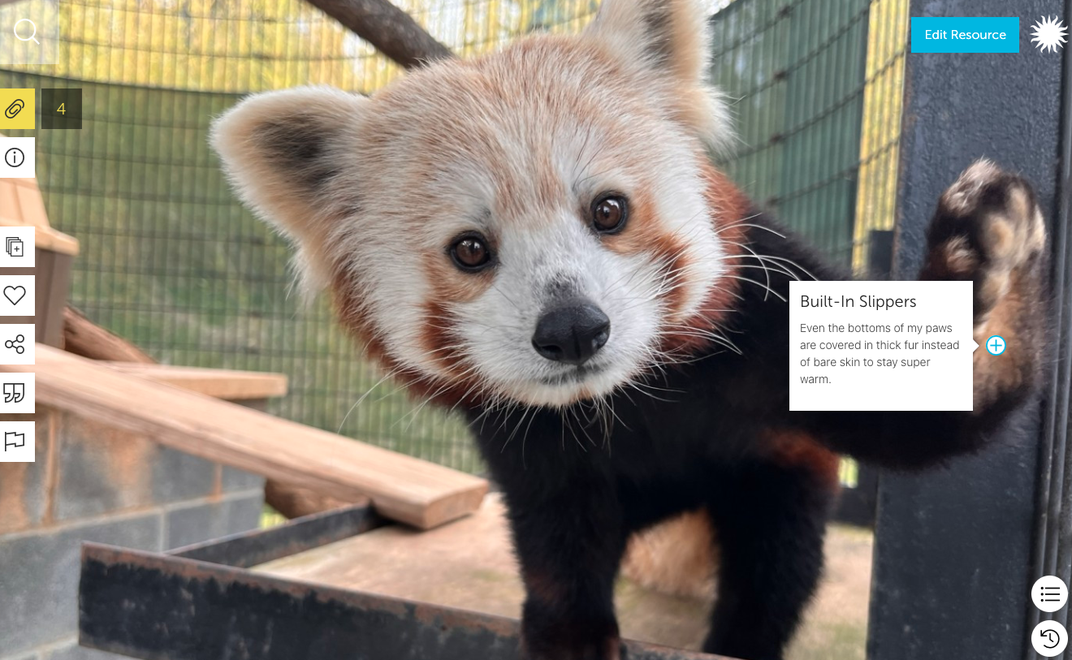 The National Museum of African American History and Culture designed the Learning Lab collection Learning History Through Objects: Free African Americans and Their Communities for students in grades 6–12 to explore independently. Students click through directions, thought-provoking questions, and explore knowledge and research from historians and other experts in the museum. They are also presented with a multitude of authentic museum objects (including artifacts, photographs, paintings, and historical documents) to interpret and analyze–empowering them to explore, question, and create history.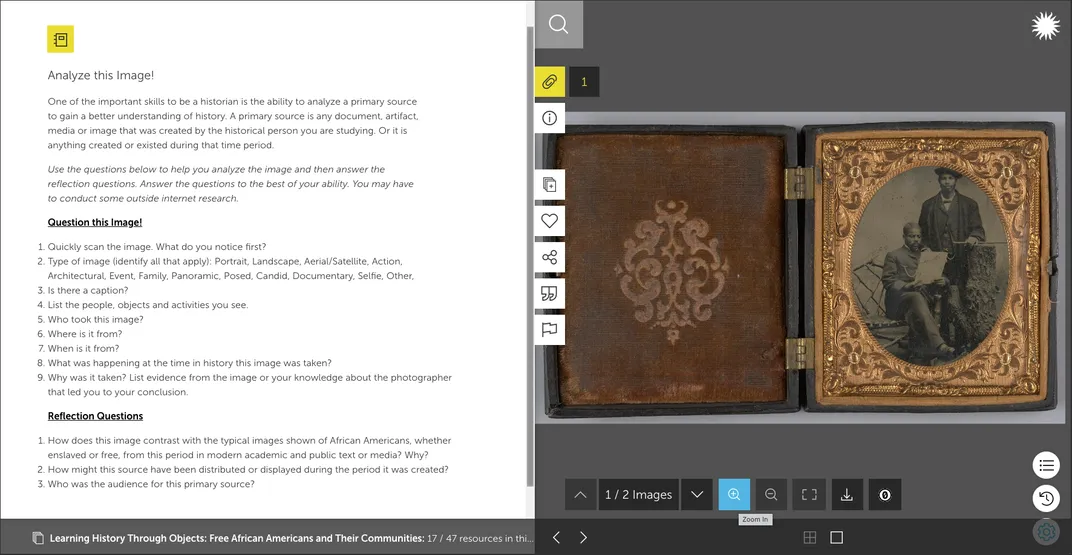 Since the Learning Lab first launched in 2016, the number of digital museum resources available has grown to over six million, and the Smithsonian has continued to build new tools for creating interactive collections with museum resources. The Lab showcases and highlights innovative and creative educational resources from across the Smithsonian–including its 21 museums, the National Zoo, our global research centers, and our libraries and archives. We encourage you to give it a try in your classroom to explore how it can provide students the opportunity to engage first-hand with authentic museum experiences; promote curiosity, critical thinking, and discovery; and build a culture of learning.
You can find thousands of learning opportunities with your favorite part of the Smithsonian here:
"Learning Lab has been a game changer for increasing the outreach and scope of…community-based research and education...." - Dawn Biddison, Museum Specialist, Smithsonian Arctic Studies Center in Alaska
Any educator is welcome to use the Smithsonian Learning Lab for free to create or adapt museum-based learning experiences for their students. Visit the Help Center to get started, access guides and video tutorials, and learn about upcoming professional development webinars!