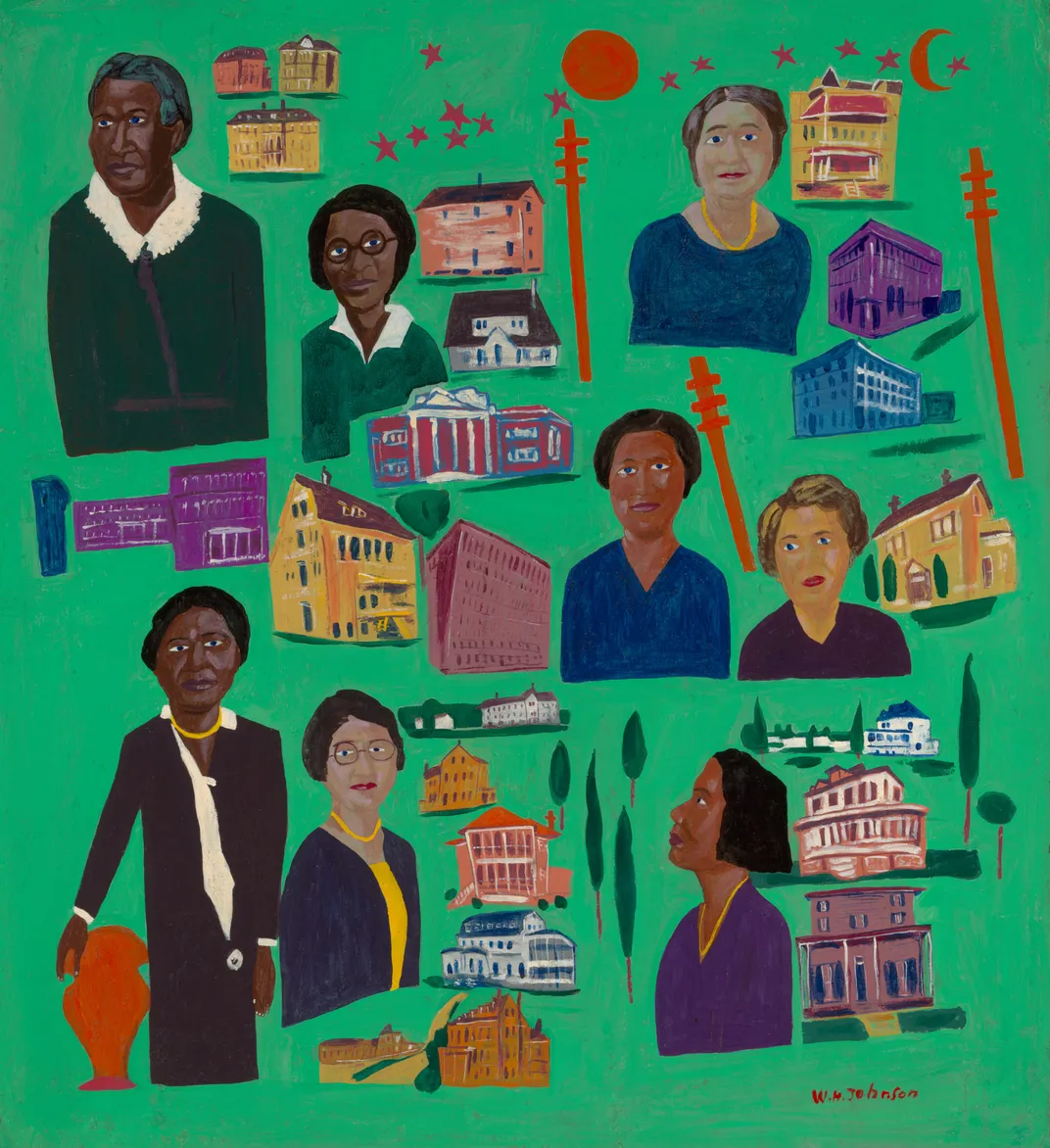 When I was a new museum educator at SAAM several years ago, I came across an artwork that I longed to know more about. Women Builders, painted in 1945 by William H. Johnson, depicts eight Black women, their portraits floating on a bright green background, surrounded by several miniaturized buildings. Who were these unnamed women, and what were their achievements? It was clear that Johnson considered their portraits important to preserve, but I felt like I was missing a key that would unlock their stories. 
This painting resurfaced for me in late 2020, when I began to develop digital educational resources to support SAAM's exhibition Fighters for Freedom: William H. Johnson Picturing Justice. Women Builders is part of Johnson's Fighters for Freedom series, a group of around 30 paintings made in the mid-1940s that pay tribute to historical and contemporary figures who made their mark in various struggles for justice and liberation.  
Like Women Builders, many of the artworks in the series were like puzzles begging to be solved: full of intriguing people, places, and symbols. I knew Johnson's work could spark learners' curiosity and prompt further historical inquiry, but that students and teachers would need two things to make sense of them: first, a key to decoding Johnson's visual references, and second, access to information about the historical figures themselves. These two ideas established the framework for two new digital education resources.  
Resource 1: Decoding the Paintings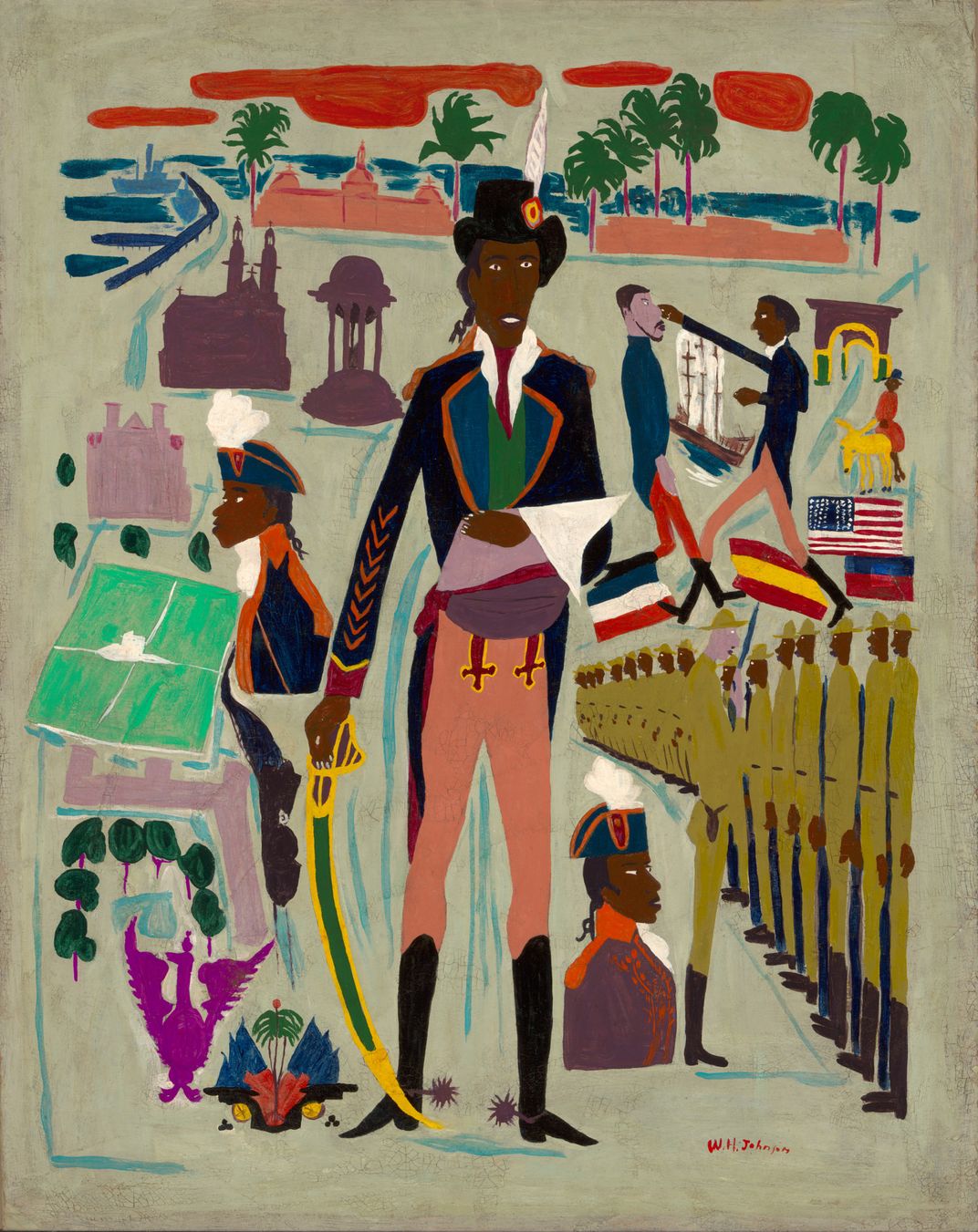 I knew early on that I wanted to use the Smithsonian Learning Lab to build a "Decoding the Paintings" resource. The platform, which allows educators and students to curate their own digital collections of museum resources, has an "image hotspot" tool which enables users to highlight and annotate specific parts of an image. I had a picture in my head of slowly moving a magnifying glass over a painting as information popped up to explain the people and imagery depicted, and I set out to create something as close to that as possible.  
Eight paintings were chosen to "decode," including images of iconic figures like Harriet Tubman and lesser-known names such as Nannie Helen Burroughs, a Washington, DC educator and activist who appears in Women Builders.  
Thankfully, I wasn't starting from scratch in researching the iconography of the Fighters for Freedom. The painting conservators in SAAM's Lunder Conservation Center had created visual reports for each artwork in the exhibition, identifying Johnson's source material and visual references wherever possible. My task was to translate this research for middle and high school audiences and develop questions that would prompt critical thinking.  
This was a fascinating process of discovery that gave me a greater appreciation for Johnson's artistic vision. While in some cases he seems to be reproducing images fairly directly from books, newspapers, and magazines, there are moments where he makes an unexpected choice that raises more questions than answers.   
One such instance is in the painting Toussaint L'Ouverture, Haiti. Alongside imagery with clear connections to L'Ouverture, the Haitian revolutionary leader of the late 18th century, there is a vignette that initially seems out of place. In the lower right corner of the painting, a troop of Black soldiers stand in a line facing a white leader, their uniforms of a style seemingly more fitting for World War II than the Haitian Revolution.   
This choice of Johnson's fascinated me. Was he suggesting a parallel between the (successful) Haitian fight to overturn slavery and the contemporary struggle for equality faced by Black soldiers in the U.S. military? Was it a statement about the resonance of L'Ouverture's legacy for African Americans in the 20th century? We may not know Johnson's intention, but I included another painting, Soldiers Training, Johnson made of a segregated Black troop during World War II for comparison, inviting students to think critically about what the artist's purpose may have been.  
Resource 2: Who Were the Fighters for Freedom?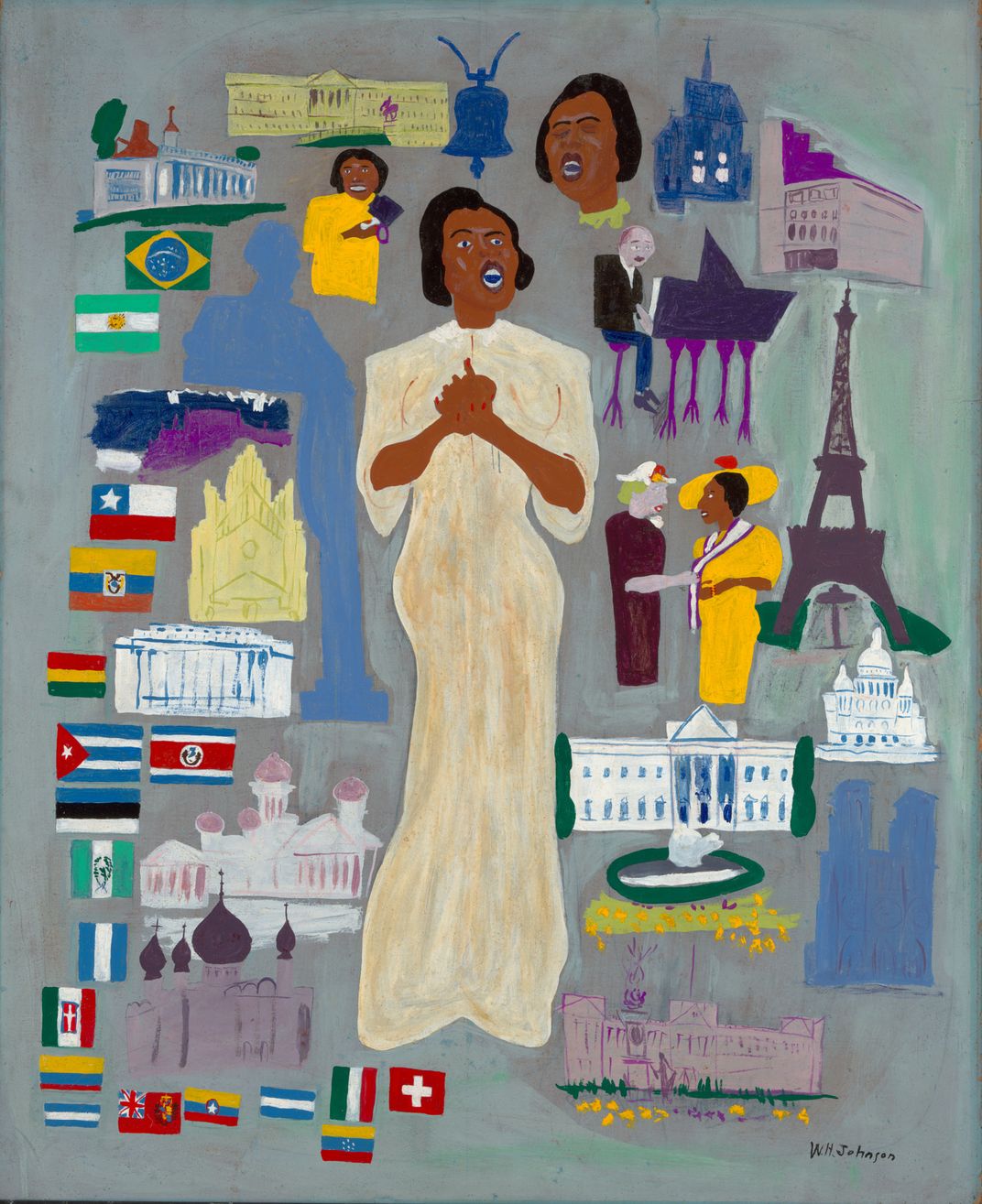 Our second resource began as a student guide to the biographies of select figures depicted in the Fighters for Freedom series, as well as Johnson himself. As I dug deeper into the paintings, however, the guide grew into a more expansive digital storytelling project incorporating a timeline, primary source connections, close-looking prompts, quotes, and reflection questions to help students make connections to their own lives.   
Our talented intern, Victoria Cho, used her graphic design talents to create a banner image and draft a layout and visual identity for the resource.    
One of the things I found most exciting about developing this resource was the opportunity to tap into the incredible breadth and richness of the Smithsonian. By connecting the paintings to cultural objects from other Smithsonian museums, we were able to add new dimension to Johnson's Fighters and raise interesting questions.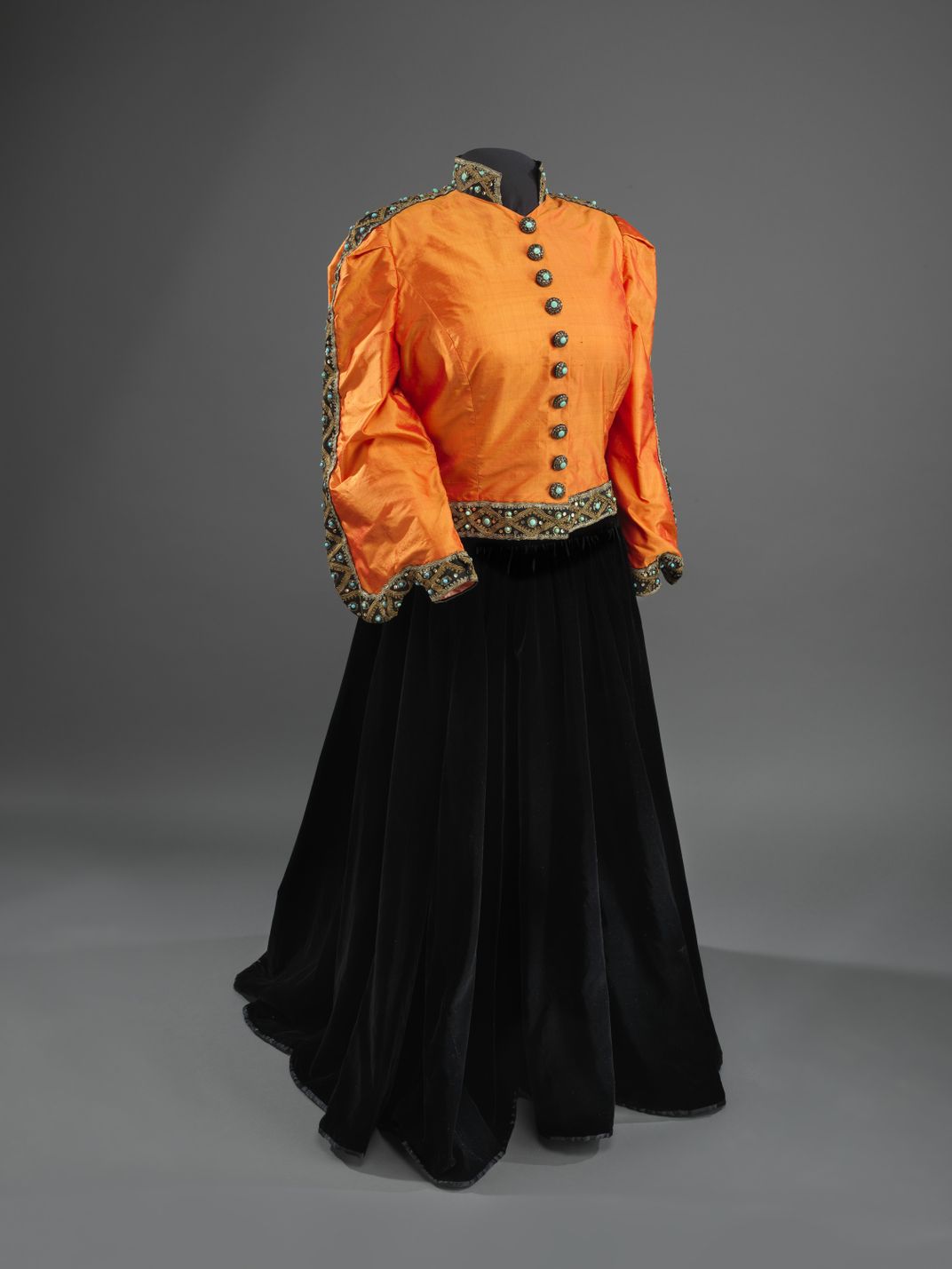 For example, the National Museum of African American History and Culture owns an ensemble worn by Marian Anderson in 1939 when she performed at the Lincoln Memorial after being barred from Constitution Hall due to her race, a critical moment in civil rights history. Pairing this outfit with Johnson's depiction of Anderson gives students the opportunity to consider what her clothing communicated during her historic performance, how it differs from the clothing she wears in Johnson's portrait, and how students use their own clothing to communicate.   
We also ask students to think about how Anderson used her power to make change and consider what kinds of power or influence they might have in their school, city, or country. How is Marian Anderson relevant to their lives today? 
To me, Johnson's Fighters for Freedom paintings feel as timely now as they must have in 1945, offering compelling entry points to histories that are too often underrepresented in classrooms and on museum walls. Reflecting both hard truths and triumphant achievements of the past, I hope they'll inspire students to become the next generation of changemakers.