SMITHSONIAN AMERICAN ART MUSEUM AND THE RENWICK GALLERY
Native American Arts in Focus: Sustaining Traditions—Digital Memories
Discover how artist Kelly Church is ensuring that centuries of Indigenous traditions are preserved for future generations with her beautifully woven basketry.
---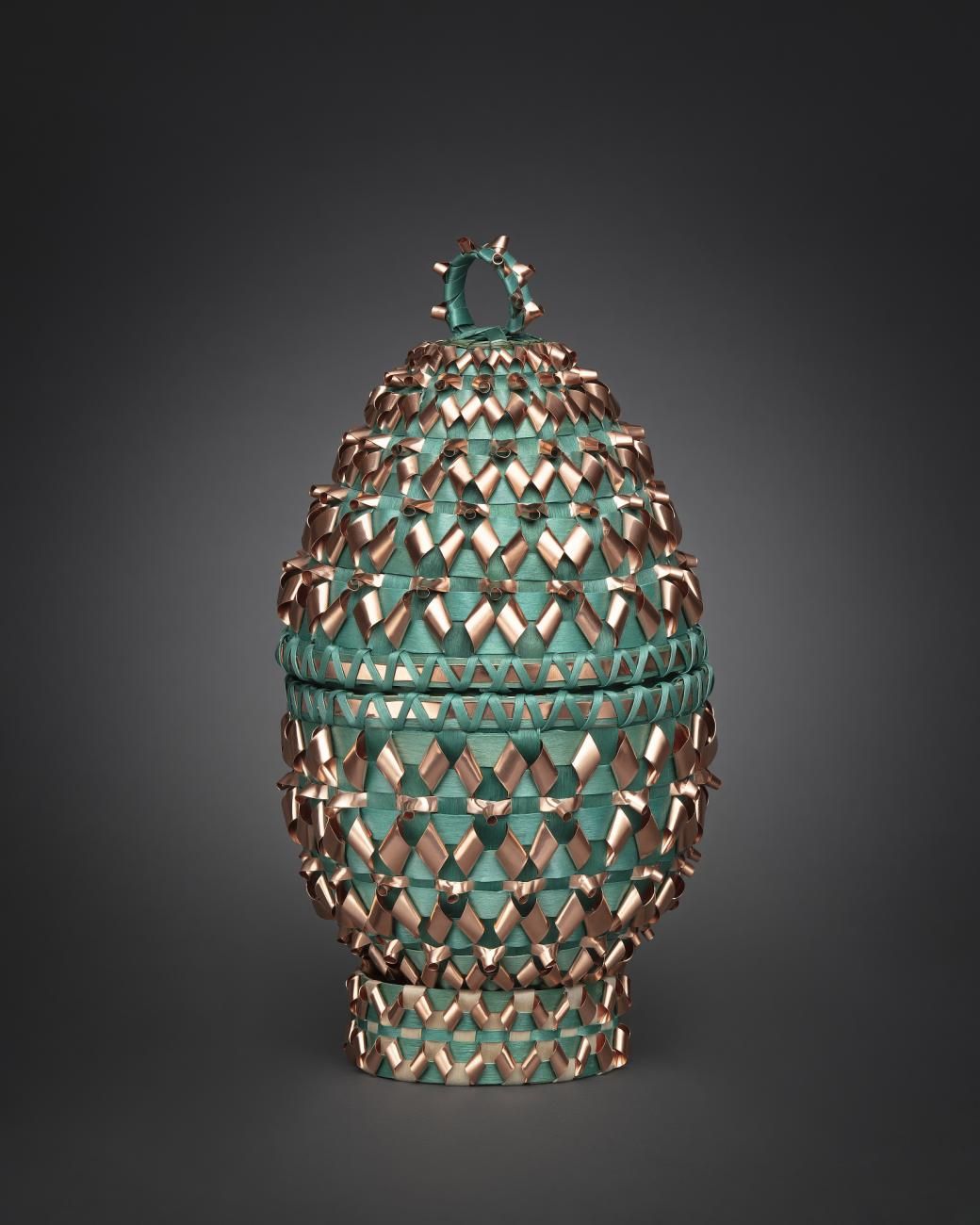 Kelly Church (Ottawa/Pottawatomi) is a celebrated basket maker known for creating elaborately woven vessels from ash trees. She is Anishinaabe, a group of Indigenous people from the Great Lakes region of North America that includes the Ottawa and Pottawatomi tribes. Church's beautiful egg-shaped woven vessel Sustaining Traditions–Digital Memories is part of SAAM's permanent collection and reflects deep ties not only to Church's community and ancestral legacy, but also to the natural environment where for centuries, the Anishinaabe have cultivated ash and other local materials for their basketry. 
Church uses the natural beauty of the basket to draw the viewer's attention. However, Sustaining Traditions—Digital Memories is more than a basket inspired by the Fabergé eggs of nineteenth-century imperial Russia. It is a piece deeply ensconced in metaphor and tradition. It serves as a time capsule for future generations of basket makers. It represents the past, present, and future of Anishinaabe communities and the holistic relationship they have with their material.
This combination of knowledge and understanding is passed down from one generation to the next. It brings communities together and ensures that they remain strong. From learning how to select the right ash tree and harvesting the wood to creating the splints and intricately weaving them together, creating baskets involves many members of a community engaging with one another and their environment. However, today the future of Anishinaabe basketry is under threat as access to healthy trees is becoming scarcer. An invasive insect species, the emerald ash borer, along with a changing climate, have decimated millions of ash trees in the United States. Church and her community are now faced with the possibility that the diminishing supply of materials will impact their traditions for generations.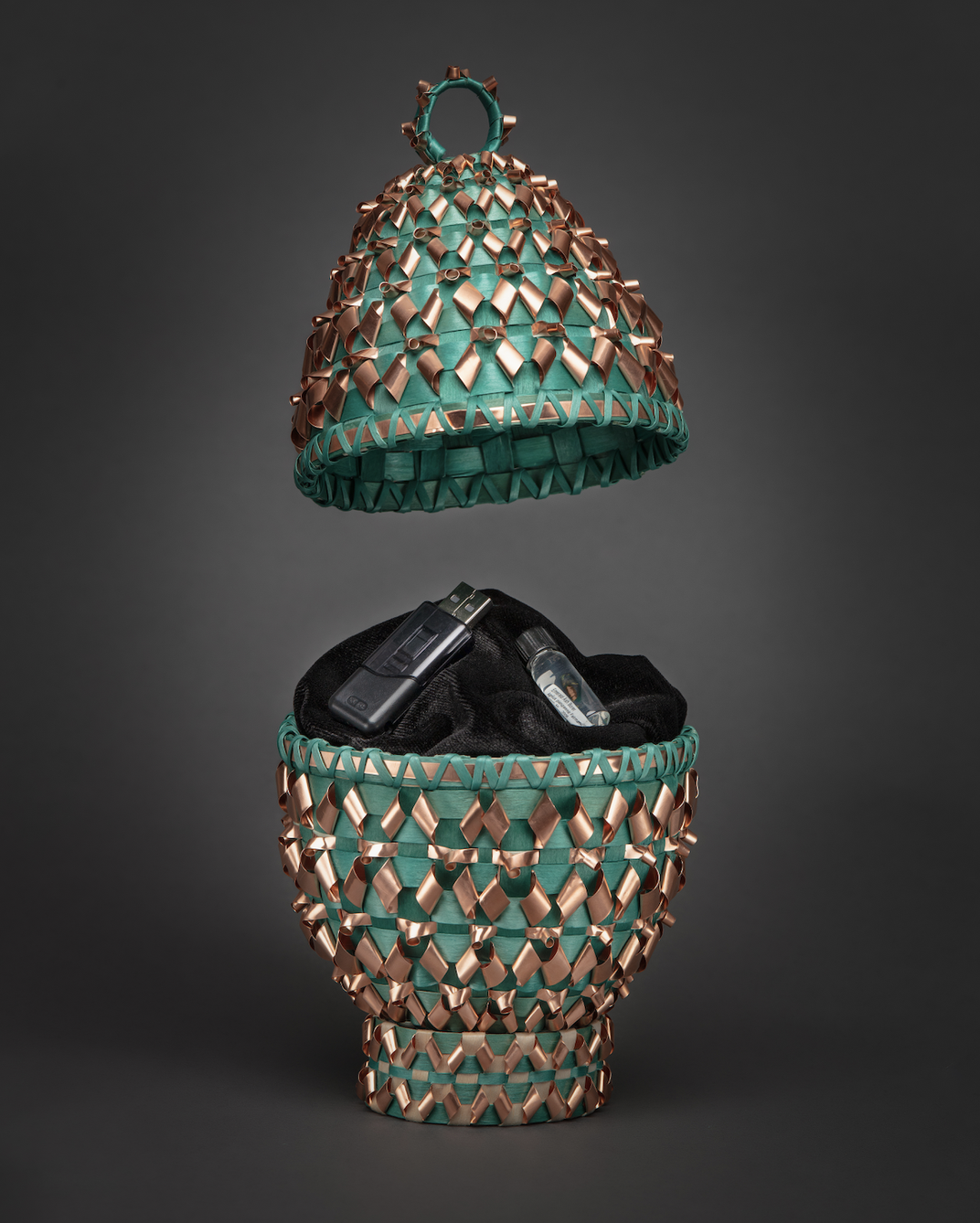 Inside the basket is a flash drive containing digital files including oral histories and descriptions of harvesting and basketry techniques. This historical record allows us to learn from the past, understand the realities of the present, and offer guidance on the direction of how to sustain and strengthen existing traditions. Also in the vessel is a vial containing an emerald ash borer as a reminder of how this menace is capable of decimating thousands of years of knowledge and practice. Church also selected the emerald color for the vessel as an homage to the destructive insect and a reflection on the dichotomy between superficial beauty and devastation. Woven embellishments of copper and fine silver mimic the metallic underbelly of the beetle and are included as a reminder of the fragility of nature and the world we live in. It also represents a transition of incorporating nontraditional material as a means of adornment and self-expression.
Kelly Church's work, as she describes it, is "not just about a beautiful basket, it's about everything that goes with it."
This story is based on Hearts of Our People: Native Women Artists exhibition materials and the accompanying catalogue as well as forthcoming materials for the exhibition This Present Moment: Crafting A Better World.