Chris Totten reflects on seven years of SAAM Arcade with a look back and a look forward to what's new in 2021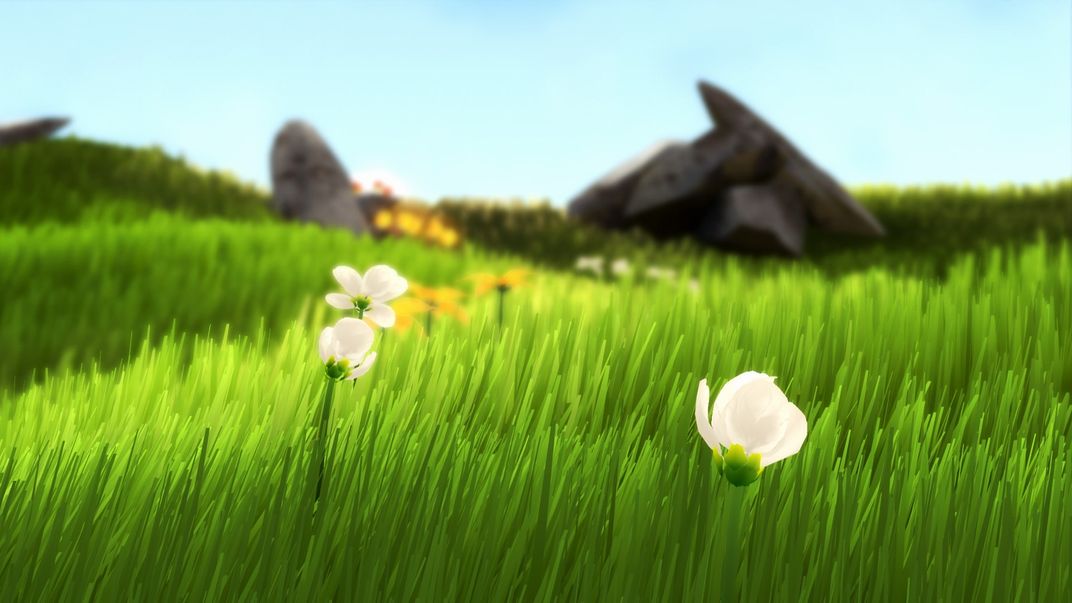 After seven years of the Smithsonian American Art Museum's annual event SAAM Arcade, it's appropriate to reflect on the theme of community. Community is how SAAM Arcade began, and it's the reason, in my opinion, that it continues as a yearly program rather than having been a one- or two-time event. SAAM Arcade continues to grow—having attracted national and international artists—while still keeping its close-knit vibe. It's a reunion of old friends as much as a meeting of new ones. That's what, I think, helped it endure through the pandemic-related challenges for events during the last year and a half and enter its seventh iteration.
The genesis of SAAM Arcade happened in 2014 during the Watch This! Revelations in Media Art exhibition. I was the chair of the Washington, DC chapter of the International Game Developers Association (IGDA), and one of our members was a volunteer at SAAM during the groundbreaking exhibition The Art of Video Games in 2012. This member asked if I would be open to talking with SAAM staff about potential game-based events. The conversation started at an opportune time for the local independent game development community; several members had within the previous year released commercial games, and with several more on the way. We wanted to find a festival that could serve the local community and let these developers connect with gamers. Likewise, events at SAAM during The Art of Video Games had broken attendance records and become an important milestone in the acceptance of games as an art form. With two games being part of the 2014 Watch This! exhibition (Thatgamecompany's Flower and Ed Fries' Halo 2600), SAAM sought to continue The Art of Video Games' magic through educational programs. In August 2014, we decided that we would hold a festival of independently-produced games to take place in December of that year.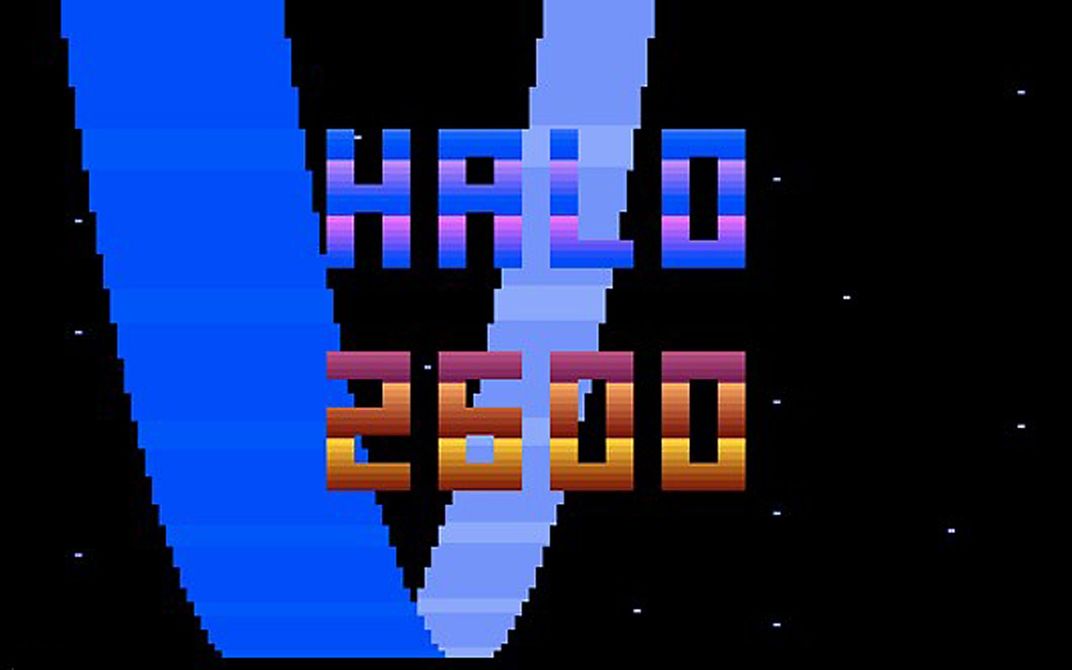 Building the program was also a community effort: we enlisted the IGDA chapters in Baltimore and Philadelphia, friends from the Music and Gaming Festival (MAGFest), and nearby universities. These groups helped us recruit developers to enter their games for consideration and judge the entries. While the IGDA chapters brought the indie games, MAGFest brought classic consoles and arcade machines as well as musical performers. While organized quickly, the first SAAM Arcade attracted thousands through the hard work of the developers and SAAM staff. Every year after that saw something new added to SAAM Arcade, from eSports competitions to concerts to educational workshops on how to make your own games. Every year, I'm consistently amazed at how the crowd includes both familiar faces and newcomers, representing diverse groups, backgrounds, and levels of gaming experience.
I'm often asked about the format of SAAM Arcade: how do I see it evolving? Will it become more about so-called "art games"? And why do we still need to have big-name commercial games at the event? When I'm asked these questions, I talk about my own experience at The Art of Video Games. Standing near the Atari 2600 display during a visit, I listened as two people laughed and talked about a time in college when they bought the same console during a blizzard so they'd have something to do while stuck inside. In that moment it was clear to me that these games weren't there to be on display in a museum as much as they were to draw out visitors' memories and create a tapestry of shared experiences—that was the art of video games.
That's what we've tried to preserve with SAAM Arcade. Each year when the event opens, families, tour groups, and even some non-gamers coincidentally visiting the museum wander in. Among my favorite sights are people of different backgrounds playing games together, connecting over shared game experiences, or introducing someone who's never played a video game to their first of many. Inevitably, these audiences migrate to the indie games, seeing similar digital DNA among the works. Conversation is struck and suddenly, the game player realizes that the person behind the table made the game they're playing! We always try to vary the types and formats of games at the event, so that by playing the works of the independent developers, audiences see how the limits of games and game design are ever expanding. Once an Arcade is underway, even skeptics say, "okay, now I get it!"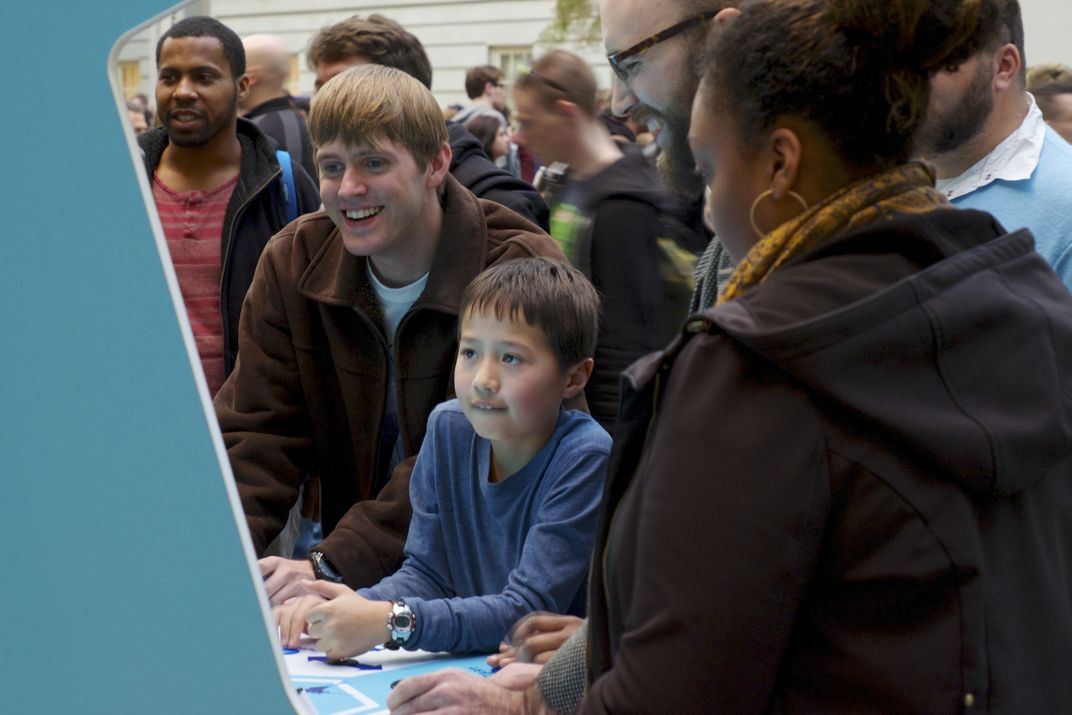 Since the first iteration of the Arcade, we've seen some really awesome evolutions. SAAM Arcade audiences now visit the indies first, ahead of the commercial consoles: one developer commented that the controller they brought was picked up when the event opened and wasn't put down until it ended! Another shift has been SAAM's expanding inclusion of games in the museum's other exhibitions. During the 2019 SAAM Arcade, I was taking in the American Myth & Memory: David Levinthal Photographs exhibition and saw a screenshot of the 1984 Apple II edition of The Oregon Trail. The game was shown to demonstrate the place that the Oregon Trail holds in the American consciousness. Meanwhile, a copy of the same game on display at the ongoing SAAM Arcade directed attendees to learn more about the Trail in the exhibition: the Arcade and exhibitions were now working together!
Among the most important work we've done has been highlighting the work of developers from underrepresented groups, work that is both continually necessary and long overdue. Since 2018, SAAM Arcade has offered an Indie Developer Showcase that centers around a unifying theme. In 2019 the theme Breaking Barriers encouraged developers who self-identify as coming from a minority group to submit games, and for anyone to submit games that addressed the needs of underrepresented groups. Some submissions included a tabletop game about early civil rights leader Ida B. Wells and a mobile game with more than fifty different accessibility options for players with low vision, dyslexia, and other disabilities. This work has inspired similar events around the country, giving opportunities for other communities to grow around indie games.
While we can't welcome crowds back to the museum's Kogod Courtyard for an in-person SAAM Arcade yet, we're excited for the opportunity to welcome more developers and players to the SAAM Arcade community through the online SAAM Arcade Game Jam. For the first time, SAAM Arcade won't just be a display of works, but a generator of them. Whether you're a developer, a game player, or someone wondering why games are in the museum, we can't wait to meet you at the Arcade!
SAAM Arcade 2021 Game Jam starts on August 2, 2021, at 11:30 a.m. ET and submissions will be open until August 7, 2021, at 7 p.m. ET.  Interested developers, artists, and creators have one week to create a brand-new game centered around our theme of Building Community, Embracing Individuality. The jam is hosted on itch.io with a dedicated Discord server hosted by IGDA DC. To learn more about this new and exciting SAAM Arcade format read our blog post on game jams.
Chris Totten, assistant professor of game design at Kent State University and founder of Pie For Breakfast Studios, has been a dedicated collaborator and partner of SAAM Arcade since its inception in 2014. This year SAAM Arcade features a week-long game jam hosted on itch.io beginning August 2. As the event gets underway, Totten reflects on how the amazing SAAM Arcade community has grown over the years.