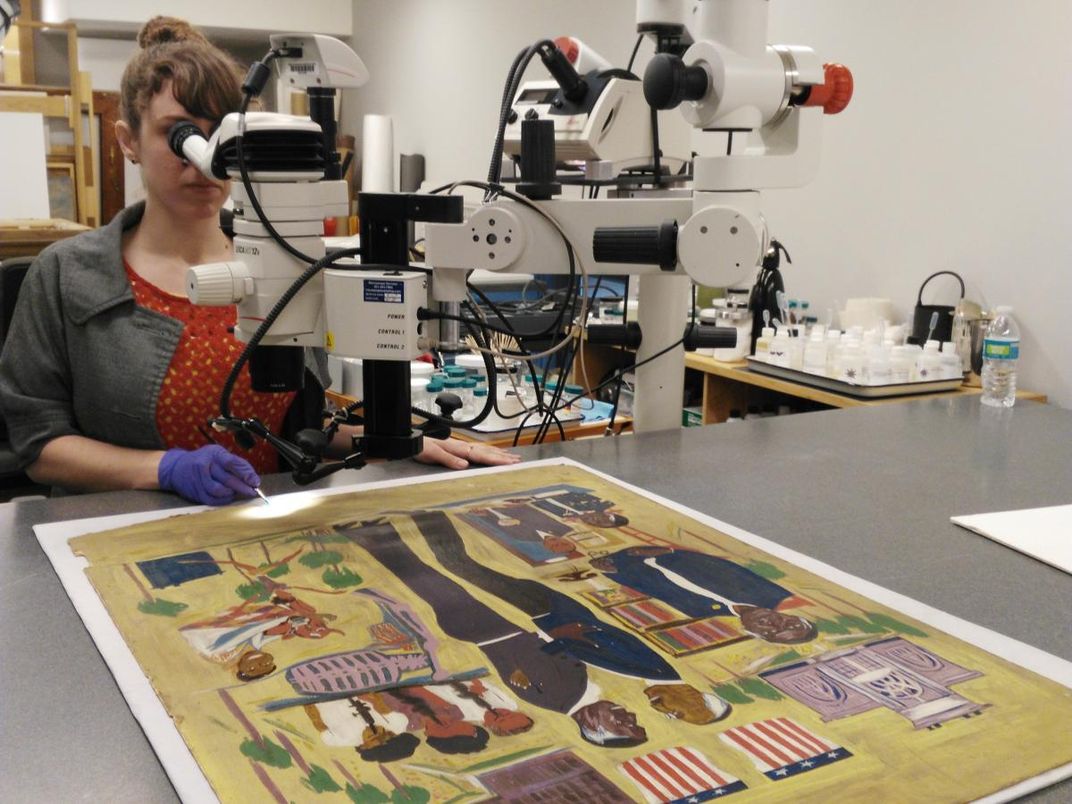 Keara Teeter, Samuel H. Kress fellow in paintings conservation (2019–2020), has been hard at work at the Smithsonian American Art Museum's Lunder Conservation Center, conducting a condition survey and conservation treatments of the Fighters for Freedom series in preparation for an upcoming traveling exhibition. Explore the series through her lens.
There are Americans who have spent their lives fighting for measurable change for civil rights issues. From artistic prints reproduced in William Still's book, The Underground Rail Road (1886), to the 1940–1970s photojournalism of Gordon Parks, art has been a powerful tool to document, commemorate, and encourage change going forward. William H. Johnson's Fighters for Freedom paintings reference images by Still, Parks, and others as a method of re-depicting important historical scenes and celebrating them through a new artistic medium.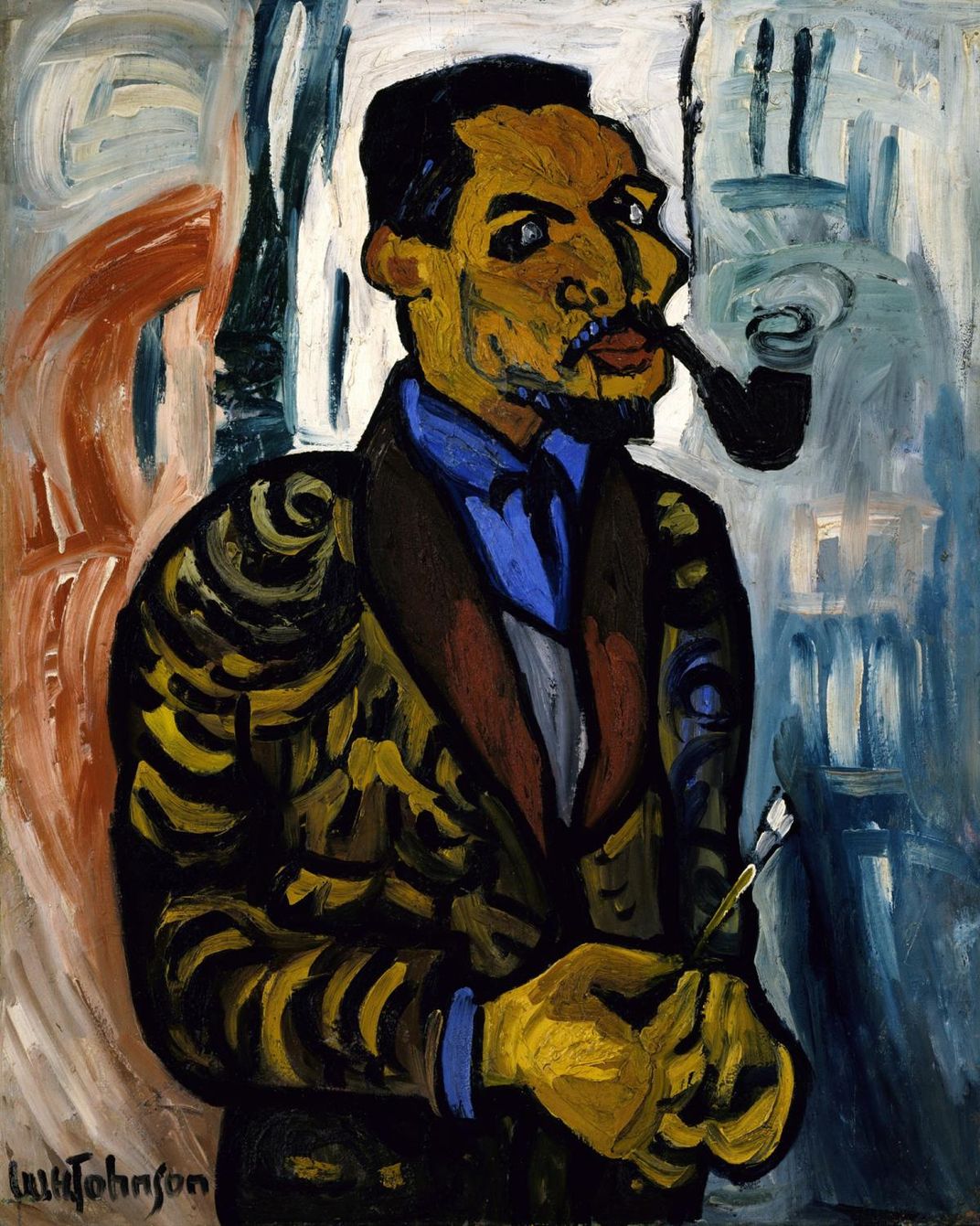 William H. Johnson (1901–1970) was born in South Carolina and moved to New York City as a teenager. He financed his own training at the prestigious National Academy of Design and became one of their most talented students. His achievements, however, were not always recognized. In his final year at the Academy, Johnson was turned down from the school's Pulitzer Traveling Scholarship. Outraged by this decision, one instructor personally fundraised $1,000 to finance Johnson's travel to study in Paris. Beginning in France, the young artist lived and traveled throughout Europe and North Africa for over a decade before returning to the United States. By 1945, having determined to "paint his own people" Johnson began creating the Fighters for Freedom series, shining a light on luminaries including Frederick Douglass, Harriet Tubman, Crispus Attucks, and Mary McLeod Bethune. This series—along with over 1,000 of Johnson's other drawings, paintings, and prints—and entered the national collection, the Smithsonian American Art Museum in 1967.

For my fellowship, I began surveying the entire series back in September and found that 26 of the 29 paintings in the series for the exhibition required conservation treatment. This was somewhat unsurprising given that, before coming to SAAM's collection, the paintings had crossed the Atlantic Ocean twice. As an art conservator, it has been an exciting challenge to deal with the variety of condition issues from water staining to paint loss and structural damages in the solid supports (paperboard, plywood, Masonite, etc.). Each treatment is unique. I must carefully choose which conservation materials are appropriate and ask:
Does this painting require structural stabilization and how can the composition be visually brought back together?
Can my additions be easily removed in the future without damaging the original artwork?
Will my palette remain lightfast or will the colors fade or darken over time?
If a new frame is required, how can it help reduce direct handling of the artwork in the future?
Treatment began by removing surface dirt and addressing major structural problems, such as replacing missing corners, stabilizing tears, and filling losses. Next, I turned to address aesthetic concerns such as retouching paint loss.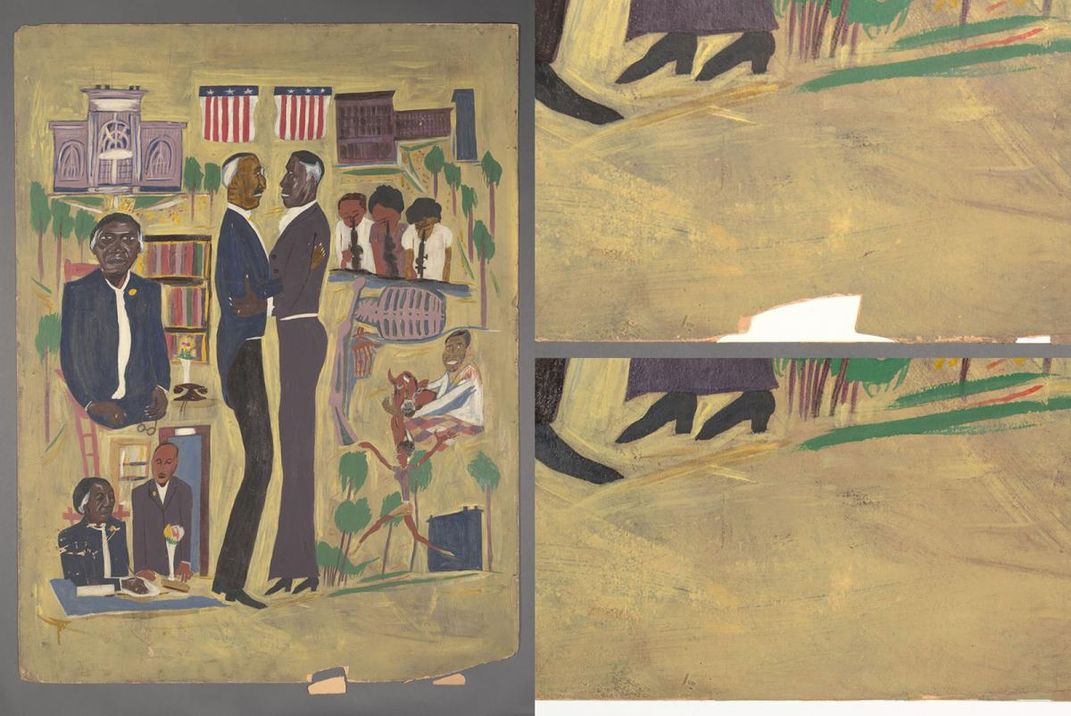 Beyond returning the paintings to their original appearance, the most fulfilling aspect in treating this series has been uncovering new information about the artist, his travels, and his use of materials. On the backside of some Johnson paintings, I found manufacturer's stamps (see image of Upson Board below) and shipping labels that were added during one of the artist's transatlantic voyages. On the front of many artworks, I found sketches Johnson had added in graphite pencil before he began painting in color.

By preserving these artworks today, the artist's message will continue to inspire future generations and elicit meaningful dialogue about the meaning of freedom. With the current Black Lives Matter movement and George Floyd protests, I think about who else Johnson might have chosen to include in his Fighters for Freedom series if he were still alive today. Although my work with the Lunder Conservation Center is just one part of a larger story, preserving this influential series is a snapshot into the enduring power of art. To learn more about Johnson's poignant artwork, read The Washington Post's recent article about SAAM's Moon Over Harlem and the Archives of American Art Journal's 2019 article about SAAM's William H. Johnson history paintings.
On November 5 at 5:30 ET, join Keara Teeter as she explains her conservation treatment of William H. Johnson's iconic Fighters for Freedom paintings as part of SAAM's Converse with a Conservator series.