Discovering four watercolors by Yayoi Kusama in SAAM's Joseph Cornell Study Center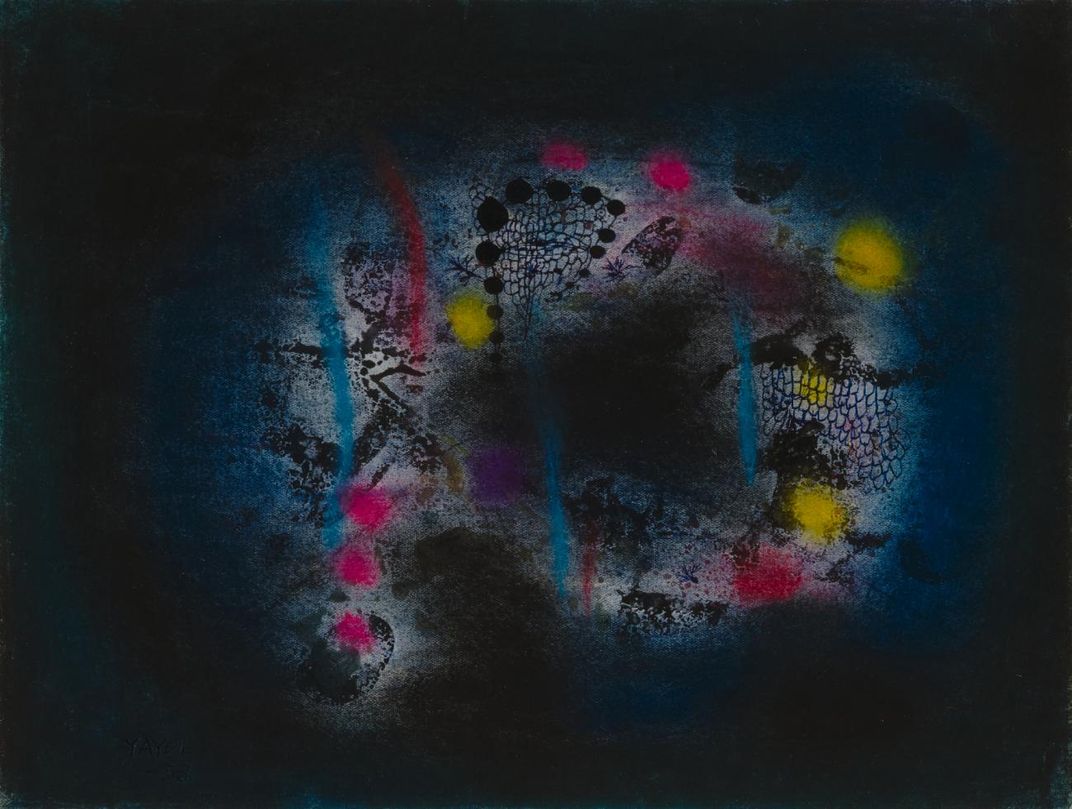 2019 saw many wonderful and important works enter SAAM's collection–photographs by Dawoud Bey, My Dreams, My Works Must Wait Till After Hell by the duo Girl, (Chitra Ganesh and Simone Leigh), a mixed-media work by AfriCOBRA co-founder Jeff Donaldson, and Judith Baca's historic mural Uprising of the Mujeres, among many others. But the most surprising new acquisition comes from our Joseph Cornell Study Center—a trove of Cornell's studio effects saved after the artist's death and administered by SAAM's Research and Scholars Center. Amidst the correspondence, photographs, and ephemera of Cornell's life, archivist Anna Rimel discovered four small watercolors by Yayoi Kusama. These unexpected treasures have now been transferred into SAAM's collection.
Today, Kusama is considered one of the most important artists in the contemporary art world, among the first artists from Asia to gain global prominence after World War II. It was a different story when Cornell and Kusama first met: he was an established figure in New York, known for his intricate box constructions; she was young and struggling. The two became friends in 1962 and remained close until Cornell's death a decade later. Cornell dedicated poems and artworks to Kusama, and they spent time at his home in Queens, where he lived with his mother, sometimes sketching each other. Aware of her financial difficulties, Cornell occasionally gave the younger artist pieces of his to sell, allowing her to earn a commission. He also bought the four works that are now in SAAM's collection—a purchase recorded by a receipt dated August 22, 1964, also preserved in the Cornell Study Center.
Rendered in watercolor, ink, pastel, and tempera paint, these delicate compositions were created in the mid-fifties and represent a crucial body of work that bridged Kusama's transition from Japan to the United States. Their imagery suggests microscopic or cosmological topographies, intimate spaces that she would later expand in her Infinity Mirror Rooms. They were among the roughly 2,000 works on paper Kusama brought with her when she left Japan in 1957, hoping to sell them to support herself. Arriving in New York City after a brief sojourn in Seattle, Kusama quickly become part of the avant-garde scene, creating astonishingly innovative new art in the context of pop and Happenings, minimal and post-minimal art, and by the late 1960s, the hippie counterculture.
In 1973 Kusama returned to Japan. Among the things she brought home with her were magazine cuttings that Cornell had given to her, from which she made intricate collages—surrealist-inflected images that were, in part, an elegy to her friend. The works testify to her deep bond with Cornell—a relationship Kusama has described as passionately romantic yet platonic—as well as to the artist's remarkable transnational career and unique role within the story of post-war American art.