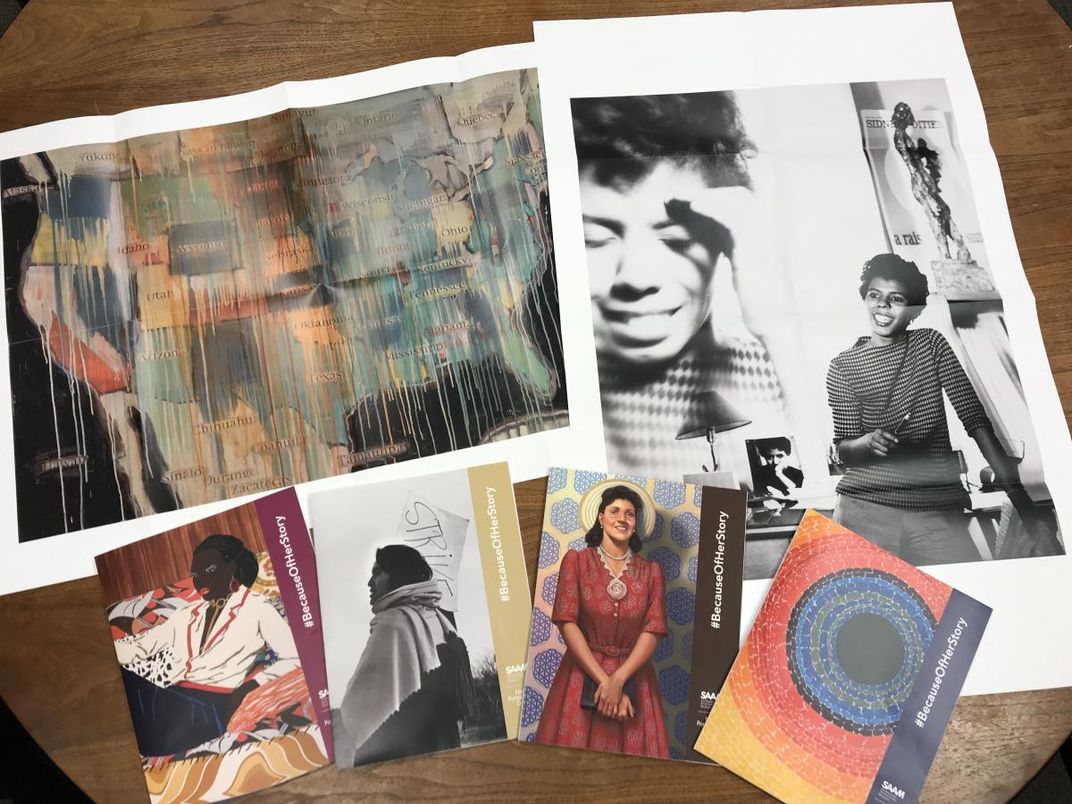 When you think of American women's history, what images come to mind? Whose stories do you remember learning about in school? Many Americans might have a similar shortlist, including well-known icons like Susan B. Anthony, Rosa Parks, Eleanor Roosevelt, and Harriet Tubman. While women's representation in textbooks and educational standards has grown somewhat in recent years, teachers often seek out external resources to help them integrate women's stories, particularly those from historically underrepresented communities, into curricula that are still largely centered around white men.
A new collaborative project between SAAM and the National Portrait Gallery (NPG) seeks to expand the images, voices, and diverse stories of women in classrooms around the country. Thanks to funding from the Smithsonian American Women's History Initiative ("Because of Her Story"), educators from both museums worked together to write and produce a set of six classroom teaching posters featuring three artworks each from SAAM and NPG's collections.
With input from classroom teachers, the six artworks were thoughtfully selected to surface lesser-known women's stories and offer interdisciplinary entry points for engaging students and connecting with curriculum. Each poster includes well-researched context about the artwork, artist, and/or sitter on the back, as well as close-looking questions and suggested connections to help teachers think of meaningful ways to use the images with their students.
The collaborative nature of the project allowed us to use both museums' unique strengths to our advantage, selecting a diverse range of artworks that approach women's history from different angles. The featured artworks from SAAM's collection showcase the perspectives of three female artists, whereas the three NPG artworks focus on the lives of the portrait subjects.
Jaune Quick-To-See Smith's State Names (2000) utilizes the visual language of abstraction and collage to make visible the indigenous presence in North America, and raise compelling questions about history, identity, and the power of place. Smith, an enrolled member of the Confederated Salish and Kootenai Tribes, is a leading advocate for Native American representation in the arts.
Alma Thomas taught art to students at Shaw Junior High School in Washington, DC for more than 35 years, becoming an art world sensation only after her retirement from teaching. Thomas broke barriers many times over. She was the first African American woman to have a solo exhibition at the Whitney Museum of American Art in New York, and the first to have a painting acquired by the White House's permanent collection. Her 1970 painting The Eclipse showcases her bold and unique vision, and her fascination with outer space in the years following the first moon landing.
Mickalene Thomas's dazzling Portrait of Mnonja (2010) is a celebration of the power, style, and beauty of black women. An artist with a deep knowledge of art history, Thomas has spoken about the importance of creating work that enables young women to see themselves positively represented in environments like museums, where black women – both as subjects of art and creators of art – have historically been marginalized, stereotyped, or altogether absent.
NPG's collection invites exploration of biography through the elements of portrayal. Kadir Nelson's 2017 portrait of Henrietta Lacks, whose story – her "immortal" cells were taken from her body without her knowledge or consent and used for numerous scientific breakthroughs after her death from cervical cancer – has only recently become widely known, and opens the door for discussion of ethics and institutional racism in medicine. George Ballis's striking black and white photograph of labor and civil rights leader Dolores Huerta (1966) offers a compelling entry point to discussing women's leading roles in activism, both past and present. David Attie's distinctive multi-image portrait of Lorraine Hansberry (c. 1960) invites us to consider the layered identities of the A Raisin in the Sun playwright, and their relationship to her writing.
To further support teachers in using these artworks in their classrooms, SAAM and NPG are offering a free, three-part webinar series this fall. Each hour-long webinar explores two of the six featured artworks, connecting them and other supporting artworks around themes such as activism or identity. The webinars are recorded and archived for those who are unable to participate live.
These new resources have received an enthusiastic response from teachers. 1,500 poster sets will be distributed to classroom teachers across the country, and teachers representing 39 states, DC, Canada, France, the United Kingdom, and the Northern Mariana Islands have registered for the webinars thus far.
The next webinar, "Who Tells Your Story? Exploring Women and Identity" will be held from 5 to 6 p.m. EST on Thursday, November 7, 2019. The third and final webinar, "Re-Making the Rules: Exploring Women who Broke Barriers" takes place from 6 to 7 p.m. EST on Thursday, December 5, 2019. Registration is open, and all participants will receive a free poster set.
More digital women's history classroom resources can be found by searching #BecauseOfHerStory on the Smithsonian Learning Lab.