On Maria Oakey Dewing's Garden in May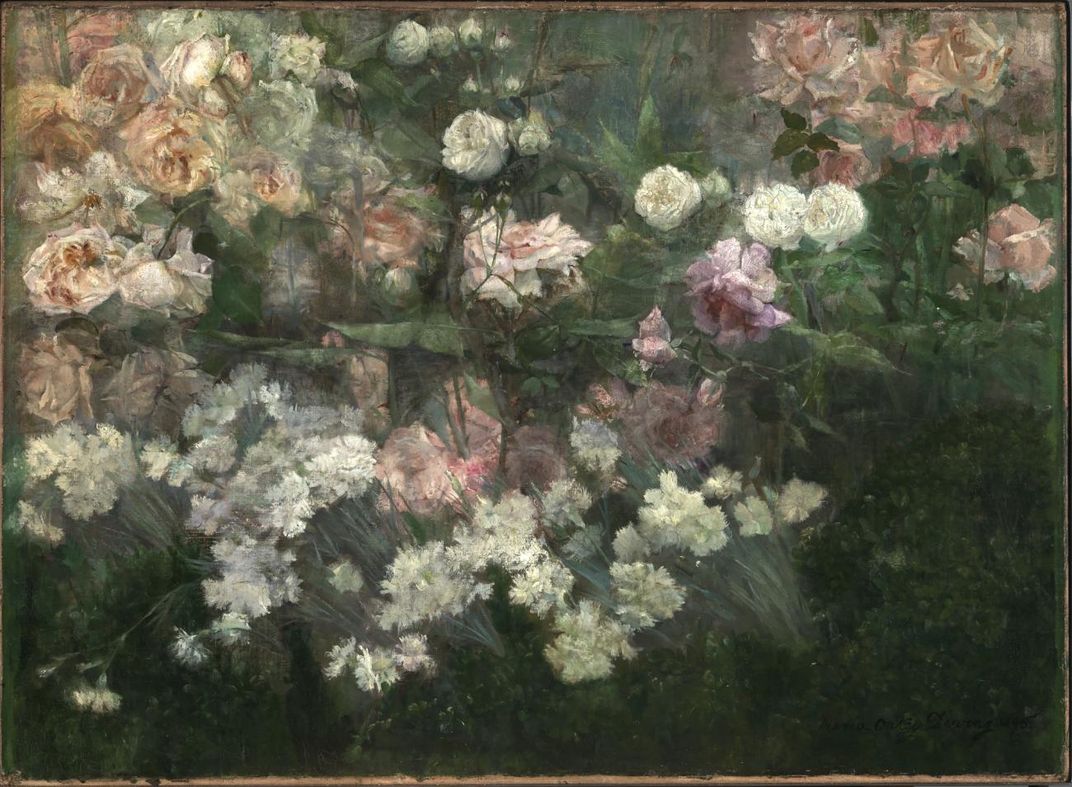 The Smithsonian's American Women's History Initiative ("Because of Her Story") asks us to consider the stories of notable figures in our history whose achievements have not always received the full appreciation they merit. October is the birth month of one such hidden figure, American artist Maria Oakey Dewing, who was born in New York City on October 27, 1845, a year before the Smithsonian Institution was founded. Her rare and wondrous Garden in May is one of the treasures of the Smithsonian American Art Museum. Dewing described herself as a "garden-thirsty soul," and Garden in May, the largest extant outdoor flower painting by the artist, certainly quenches that thirst, while also offering some food for the soul.
The painting is a total immersion into Dewing's New Hampshire garden. There is no horizon, hardly a hint of ground, and no lateral framing to this sea of soft hues and dark leaves and stems. It is "all-over" painting decades before the advent of Abstract Expressionism. Much of the color is kept to the surface of the canvas, and while there is little sense of space, the rich textural depth of the drifts of plants and their manner of growth are strikingly evoked. If there is a point of view, it is that of the gardener, on her knees, using her expert hands to untangle the dense greenery. All seems mysterious and uncomposed, a shivering, restless environment filled with sprays of flowers. The artist creates a muted symphony of envelopment for the viewer, bowing and blowing in the wind. There is almost a feeling of being underwater, subject to rhythmic eddies and currents. Dewing wrote about the individual flower as the ultimate abstraction. Here, grouped together, the luminous blossoms offer the possibility of pure self-loss amid the layered shadows.
The small number of paintings by Dewing that have come down to us hovers around two dozen. Why so few? Many have been lost, but many more were simply never painted. In her 20s as an art student, Dewing was known as a maverick of the aesthetic movement, an avant-garde thinker and progressive author, one of the most promising painters of her generation. However, upon her marriage to fellow artist Thomas Wilmer Dewing in 1881, her artistic production more or less ceased for decades while she took on the domestic duties that her period expected of a wife and mother. This unequal, gender-based distribution of professional roles is common to a number of artistic couples in the nineteenth century. Still, while her oeuvre may be small, it is undeniably fervent. As Dewing is reported to have said to the writer Oscar Wilde, "I must paint pictures or die."
John Davis is the Provost and Under Secretary for Museums, Education, and Research at the Smithsonian.