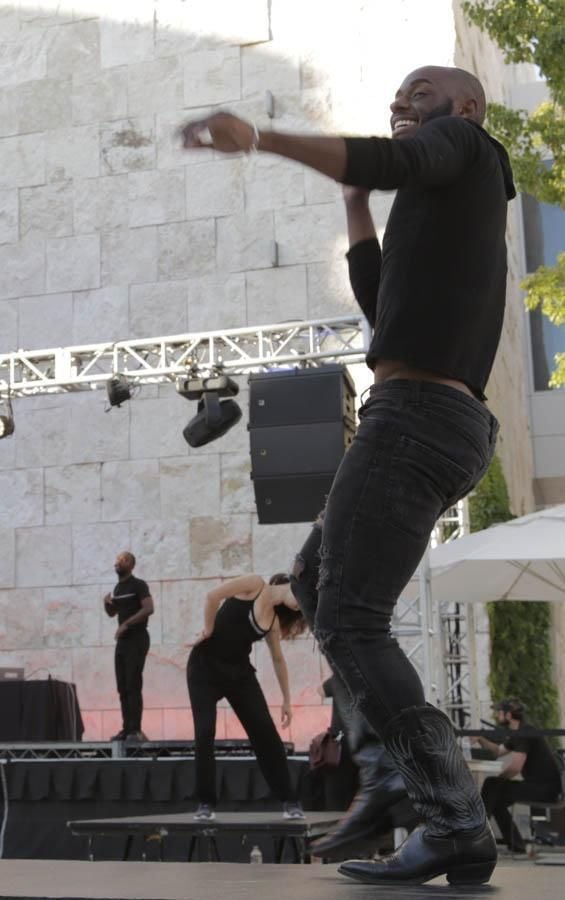 Saisha Grayson, SAAM's curator of time-based media, reached out to Fernandes to hear from the artist about this piece and about his larger practice.
How does the work you're presenting at SAAM, Free Fall 49, fit into your journey as an artist?
Free Fall 49 connects with and extends many threads in my practice; firstly, there is an exploration of the dancefloor as a political space, where a dancer might find safety, solidarity or experience agency. There is also the falling body positioned as a metaphor for a queer politic, wherein the dancefloor is explored as a space that can cause harm or injury to the dancer. Throughout my practice, I question power and hegemony within culture, such as the relationship between masks and the museum, or bodies and colonialism. In Free Fall 49, I am staging an installation with a space which is also a performance much like a queer dance party, but within the institutional space of the museum. There is a questioning in that gesture of how these different spaces are choreographed and encourage bodies to move in different ways. Creating these kinds of hybrid spaces have always been an important part of my practice.
At what point did you feel you could respond to the shootings in Orlando, and how has choosing to engage this event changed your work?
Before the shooting in Orlando, much of the research behind Free Fall 49 was ongoing. I was participating in residencies and making explorations in the studio around the falling body. Especially the falling body on stage or in ballet. I was exploring metaphors around the falling body and queer politics, exploring what it means to fall, to fail and to get back up; both within the context of ballet, dance and performance, and within our broader political moment.
When the shooting happened it was at first a great personal shock. I soon realized, through conversations with friends and community, that the effects of this event were much further reaching than in Orlando alone. The broader and even international queer community was affected. I also realized the confluence of my studio investigations where the body can fall but can always get back up and the Pulse Orlando shooting where forty-nine dancers fell but could never, physically, rise again. It felt important to memorialize these lives and to create a work in which queer performers and audiences could come together to experience the gesture of falling as an act of remembrance and the gesture of getting back up as an expression of our ability to overcome adversity; to experience the solidarity of dancing together again.
… we often fall and rise, not alone, but together.

— Brendan Fernandes
Tell us about movement, the body, and storytelling as they operate here.
In my work I often reference the queer body as political and as a representation of deviation. Whether we want or not, who we choose to love, the ways we behave, and where we come from are magnified through our bodies. This is especially true for queers of color, whose bodies are an intersection of race, gender, culture and sexual orientation. In this way, our stories are present in our bodies and our bodies have an important role to play in telling those stories. In a work like Free Fall 49 it is important for me to approach the subject matter—the Orlando Shooting—through the body because the memory of this event and for those Queers who became victims are now present in us. For some of us that presence may mean remembering the victims personally and for others it may be an anxiety or a feeling of being unsafe in spaces, like queer dance clubs, where we used to find sanctuary. That sense of safety in us was also attacked that night.
In my body, I also carry with me the experience of having been a dancer who had to leave the dance world due to injury. There is a sort of parallel here, where the gesture of falling for my body meant a significant change in my work and my trajectory as an artist. How we fall and who falls around us are important moments in our stories. This work explores our potential to find solidarity in recognizing that we often fall and rise, not alone, but together.
Your pieces have been performed at major museums recently—the Whitney, the Getty, the Guggenheim in New York City, and now SAAM. What role do you imagine or desire for museums in these moments—as social spaces, as places for ideas of social justice and activism?
Historically, museums have been spaces of hegemony. My practice has often been about finding space for critique within that history. As an artist I believe that my role in museums can be to challenge our understanding of how museums and their powers operate.
As an artist I believe that my role in museums can be to challenge our understanding of how museums and their powers operate.

— Brendan Fernandes
Increasingly, I think that museums are becoming aware of their politics whether stated or enacted. In our current political moment, artists and publics seem to be calling on museums more and more for change and for museums to speak up in the interests of their neighbors and the diverse communities they belong to. We have seen this with the protests surrounding the Sackler family's involvement with the Guggenheim [among other museums] and we are seeing this with the ongoing protests about Warren B. Kanders and the Whitney.
There is a sense that as our world becomes increasingly privatized and profit driven, and as artists make the ties between profit and violence more apparent, that public spaces (such as museums and galleries) should use their resources and influence to push back. I believe that one way these spaces can do this is to create space for artists and audiences to experience and experiment with new forms of agency and to imagine what future forms of freedom might look like. I think this is an important and political function of museums and galleries: imagining future freedoms, imagining future ways to show and consider art.
Who should come see Free Fall 49, and what can they expect?
Everyone! And not only to see Free Fall 49, but to participate in the performance and the event. Free Fall 49 is meant to blur the lines between a performance about dance spaces and being a space for dance itself. All should feel welcome to join us, to witness these dancers' labor and to dance alongside with them. This can be a moment to celebrate and to find solidarity if we want it to be, but more so, it is a critical gathering for people to come together and to dance.
On Sunday June 9 at 3 pm, the performance art work, Free Fall 49 (2017), by Brendan Fernandes will take over Kogod Courtyard as the centerpiece of Pride @ SAAM. In this realization, the piece will feature eight DC-based dancers and internationally-touring DJ and producer Lauren Flax (UTTU, The Bunker NY | Brooklyn). Over the course of a two+ hour House music set, the DJ suddenly stops the music forty-nine times, and the dancers collapse, lie still, and start again when the music resumes. The falls correspond to the forty-nine deaths in the June 12, 2016 Pulse Nightclub massacre in Orlando, Florida. The rising bodies offer resonant, unresolved metaphors for what comes next.
Share your experience (and follow along) on social media with #PRIDEatSAAM.
# # #
Related Blog Posts: Popping (Up) With Pride at SAAM, Beyond Black Boxes and Gender Barriers: A Year of Time-Based Media at SAAM