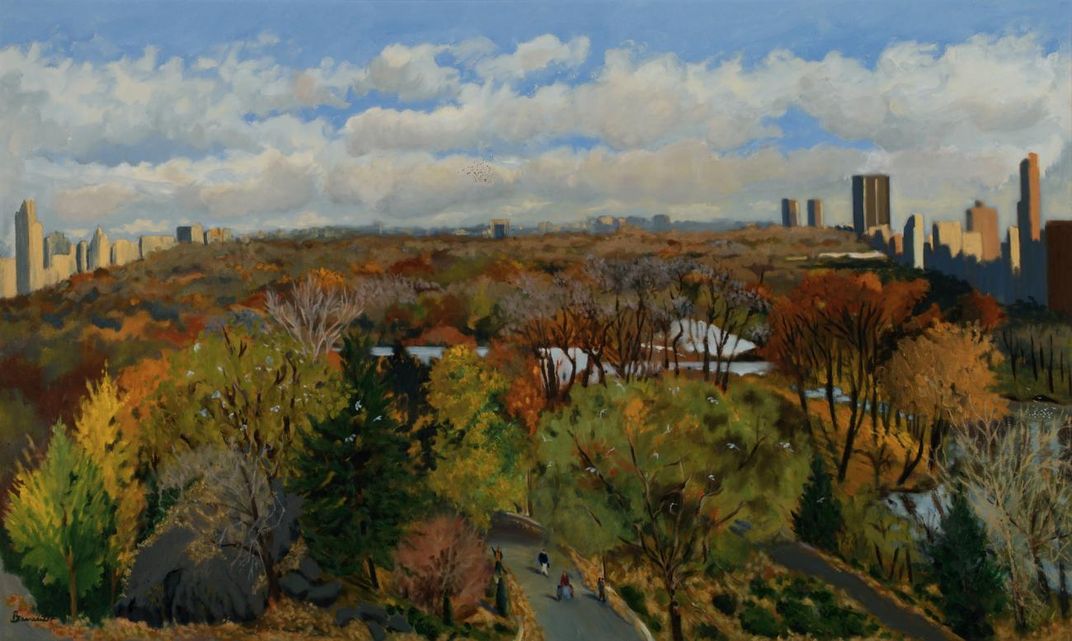 "I always paint nature. Nature is the boss," says the artist Tony Benedetto (perhaps better known as singer/performer Tony Bennett). The brilliant scene ablaze with fall color depicted in the oil painting, Central Park, is the view from the artist's window in Manhattan. The viewer can almost imagine him crooning one of his signature songs, Autumn Leaves, while painting it.
I was first drawn to this painting because of the subject matter – my favorite urban park, Central Park, in my favorite season, autumn – but also because of the artist's vibrant style and use of color. When I learned that Tony Benedetto, the artist, was actually Tony Bennett, the singer, I became even more attached to the painting since he is one of my all-time favorite jazz singers. I knew that Bennett was a painter but until then I didn't realize the Smithsonian owned his work and that this painting hangs prominently in the Luce Foundation Center's 20th Century Paintings section. Every time I look at the painting, I'm reminded that the world is a finer place because of Tony Benedetto's art and Tony Bennett's music.
In this painting, the artist captures the morning light reflecting off the park's ponds and vibrant fall foliage, conveying a sense of peace within the park, but also the fact that the bustling city looms just beyond its borders. It's also an intimate painting, the viewer might feel as if he or she is sitting at the window with the artist, looking out over the vast park.
Benedetto's identity as a painter is entwined with Central Park—he believes it nourishes his creativity and is his "antidote to urbanity." "I live in the city, but when I enter the park I'm in the forest." (Alex Vadukul, New York Times, Nov 27, 2015) He estimates he has painted or sketched more than 800 Central Park scenes in over two decades. He moved to his apartment on Central Park South so that he could be near it.
Benedetto, working under his birth surname, is a trained artist, having studied in the 1940s at the School of Industrial Arts (now the School of Art and Design) in New York City. Since then, he has continuously studied with private instructors, and works primarily in oil and watercolor. Even as a 20-time Grammy winner who still tours and records new albums, Benedetto makes time every day to paint and sketch, whether it's on the road or in his New York studio – all at the age of 92.
In addition to landscape painting, Benedetto is a prolific portrait painter. His portrait of Duke Ellington is part of the collection of the Smithsonian National Portrait Gallery.
This post is in honor of the Smithsonian's Year of Music, an institution-wide celebration.