Tomato Recipes
Chef Craig Von Foerster of Sierra Mar Restaurant at the Post Ranch Inn in Big Sur, California shares two of his favorite tomato recipes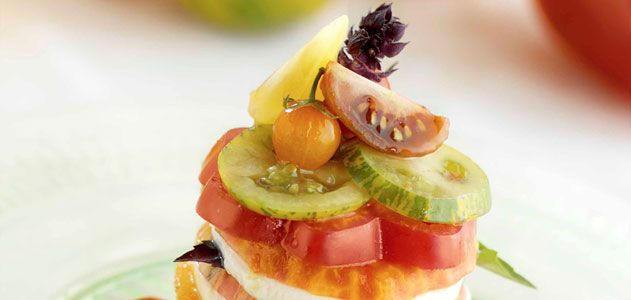 Adapted from the Sierra Mar Cookbook by Chef Craig Von Foerster
Thai Gazpacho

5 ripe tomatoes
1 ¼ cup rice vinegar
10 kaffir lime leaves*
4 lemongrass stalks, chopped
½ cup lime juice*
3 tablespoons fish sauce*
1 medium red onion, diced
1 hot house cucumber, seeded and diced*
2 cups green papaya, peeled and diced*
20 mint leaves, julienned
20 basil leaves, julienned
¼ cup cilantro leaves, julienned
2 tablespoons sriracha*
1 piece galanga, thumb-sized*
Cut tomatoes into quarters and crush in mixer with paddle attachment on low for 5 minutes. Put tomatoes through food mill or press through strainer to remove seeds and peel. What is left should resemble tomato juice.
Place vinegar, lime leaves and lemongrass in a pot over medium heat until simmering. Remove from heat and let steep. Once cooled, strain into tomato.
Add remaining ingredients, except for the galanga. Put over ice and chill about three hours, allowing the flavors to develop. Before serving, grate the galanga into the soup with a ginger grater or microplaner. Serves six.
*Items readily available in Asian markets
Layers of Heirloom Tomato and Buffalo Mozzarella

4 pounds heirloom tomatoes
1 pound buffalo mozzarella
Fleur de sel
Chianti wine vinaigrette**
Basil Leaves
18 blanched and peeled cherry tomatoes
Basil oil***
Select a variety of heirloom tomatoes and then slice the tomatoes and buffalo mozzarella about ¼ inch thick. Lay a slice of tomato down on a plate, sprinkle with fleur de sel and drizzle with a small amount of Chianti wine vinaigrette. Top with a slice of buffalo mozzarella and then lay a few basil leaves with tips protruding on each layer. Continue layering in this order to create three layers. Top with a few blanched and peeled cherry tomatoes; drizzle with basil oil. Serves six.
**Chianti Wine Vinaigrette

2 tablespoons chianti vinegar
1 teaspoon water
2 teaspoons shallots
¼ teaspoon salt
6 tablespoons extra virgin olive oil
1/8 teaspoon freshly ground pepper
Place the vinegar, water, shallots and salt in a bowl; let sit for 15 minutes. Add the olive oil in a slow steady stream while whisking constantly; add freshly ground pepper. Yields ½ cup.
***Basil Oil

1 ½ cups packed fresh basil leaves
½ cup canola or rice bran oil
For green oils (basil, mint, parsley), the amount of oil can vary slightly according to the size of the blender container used. Just remember you need enough oil to barely cover the herbs and be above the top of the blender's blades to ensure a smooth puree. Pick the basil leaves and submerge in water with a skimmer. Blanch for 15 seconds and then refresh under cold running water. Ring out the excess water, roughly chop the basil and transfer to the container of a blender. Add oil, cover and blend on high for 4 minutes. Pour into a cheesecloth-lined sieve over a bain-marie. Drain for 2 hours; store in a squeeze bottle and refrigerate until ready to use.