The Best Fish and Chips in Ireland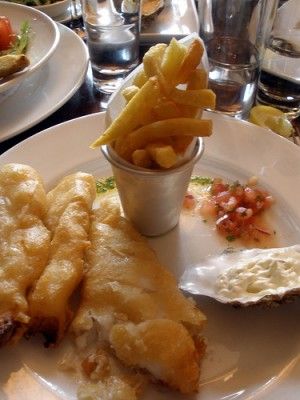 After a wonderful wedding and vacation, I'm back, and hugely grateful to Lisa and guest bloggers Abigail Tucker and Ashley Luthern for feeding the blog so richly in my absence!
Our honeymoon took us to Ireland and northern Wales, destinations which I confess attracted me in part because they aren't renowned for their cuisine. If we went to Italy, or France, say, I might have felt silently guilty for relaxing instead of gathering blog fodder—but I didn't expect the food in the U.K. to be anything to write home about (or write about at home).
But I forgot about fish. Especially fish and chips (fries), which between the two of us, we ordered nearly every day. It was tasty the first time we tried it, at a generic-looking seafood restaurant in Dublin, though we laughed at the unappetizing menu phrasing: "Served with mushy peas." And it was even better in a cozy pub on the west coast, with a side of live traditional music, after a walk beside the gorgeous Cliffs of Moher.
We spent the final night in Kinsale, a harbor town just south of Cork, motivated in part by its reputation as a gourmet hotspot. I'd read in a guidebook about an award-winning cafe and "chippie" (fish and chips shop) there called Fishy Fishy, which serves only the freshest, local, sustainable seafood.
Unfortunately, it was only open for lunch, and we arrived too late after a hairy day on those narrow, winding, drive-on-the-left roads. We tried to console ourselves with other dinner options, but couldn't decide on any of the menus we walked past, and ended up down by the pier. We were just about to backtrack to a hotel pub when I noticed one more sign.
"Two Fishy Fishies!" I squealed, sounding like a delighted toddler reading a Dr. Seuss book. Turns out that the original cafe was so successful that the owners, Martin and Marie Shanahan, opened a second, larger location by the pier a few years ago (my guidebook was a bit outdated).
I ordered something from the specials menu, a pan-fried turbot fillet served with mushroom risotto and a citrus-cream sauce with chives. It was stupefyingly good. Time to sound a toddler again: "Mmm," "Yummy," and "Wow," was the extent of our conversation for the first few minutes. My husband got the fish and chips, which he declared "the best in Ireland." The haddock was uber-fresh, the beer batter light and pillowy, and the fries artfully presented in a paper-lined silver cup.
On the walk back to our B&B, we popped into a bookshop, and I spotted "The Seafood Lover's Cookbook," co-written by Fishy Fishy's chef proprietor, Martin Shanahan. It doesn't include the fish and chips recipe (just as well, as it likely requires a fryer), but it does have a helpful section of fish preparation techniques, a glossary of fish names with notes on sustainability, and dozens of recipes that I look forward to trying. I'll be trying turbot again, too, which the book describes as "one of the prime fishes that suits all types of cooking" because of its moist flesh. (And I'm pleased to see can be sourced sustainably in U.S. waters as well.)
What is the best seafood you've ever eaten, and where?